When it comes to smartphones priced under the Rs 10,000, Xiaomi almost has a stranglehold on its competitors. Beginning 2017, the company launched the Redmi Note 4 starting at Rs 9,999 which went on to become the highest selling smartphone this year until the time of writing this review. Xiaomi also launched the affordable Redmi 4A and the sub-10k powerhouse, the Redmi 4 later in May. Xiaomi is now the top-selling smartphone brand in the top 50 cities in India.

Fast-forward to November 2017 and Xiaomi decided to add two more smartphones to the fray in the form of the Redmi Y1 and the Redmi Y1 Lite. The Redmi Y1 we reviewed packs in a lot for its price, as is the case with most Xiaomi phones. But one of its marquee features — the selfie camera — certainly has left a lot to be desired. Selfies taken in adequate daylight came out flat and overexposed, while night selfies, with or without the selfie flash were mostly unusable.

The Xiaomi Redmi Y1, priced at Rs 8,999 comes with a 16 MP front-camera along with an LED selfie flash, making it a smartphone targeted at selfie lovers on a tight budget. The Y1 also marks the introduction of the 'Y' series under the Redmi range which Xiaomi claims has been created to please the youth. Does it really manage to? Well, that's exactly what we are here to find out.
Build and Design: 7.5/10
Xiaomi's mid-range devices have started to sport metallic builds for a while now. We saw the Redmi 4 sport a metallic back with plastic caps at the top and bottom at a similar price tag. Xiaomi decided to go with a full polycarbonate finish with the Y1 which did make it feel a little flimsy for its price. The Redmi Y1 weighs in at 153 grams and feels quite light, but sturdiness was not an issue.
The volume rocker and power/standby button on the right-hand side give good feedback. The SIM card tray is located on the left-hand edge. The speaker grille and the microUSB port are placed at the bottom, while the 3.5 mm headphone jack and an infrared blaster are on the top edge. The front has a 2.5D glass on top of the display with an LED notification light, flanked by the front camera, earpiece, a proximity sensor and a flash.
There is nothing drastically different in terms of design. If you have used a Redmi phone, you should be familiar with thick bezels on the top and bottom of the display. However, the Y1 is thin given its size with a thickness of just 7.7 mm. Another thing worth mentioning is that thanks to the use of polycarbonate material on the back, the gold unit we received for the review did not show up any fingerprint smudges throughout my usage.
Display: 7/10
Xiaomi decided to opt for a larger 5.5-inch IPS HD panel for the Redmi Y1 with a resolution of 1280 x 720p and a pixel density of 269 PPI. While that is not too impressive on paper, the display in itself fared well in day to day usage.
I did expect to see pixellation while browsing through UI elements and in activities such as gaming but surprisingly it wasn't that noticeable. Xiaomi has done a good job here in making the display feel sharper than it is.
The 2.5D glass on top of the display also helps in providing a more premium look to the display here. While the colours look fine for the most part, I did notice a slightly warmer tone in the standard mode of the display. There is an option to turn the colour mode to 'cool' in the settings menu which solved the problem.
Viewing angles are good and so are the saturation levels. Sunlight legibility was good as well. Xiaomi claims a maximum brightness of 450 nits on the panel. But, on some games such as Modern Combat 5, the resolution is set to low by default, which looks bad.

Features: 7.5/10
The Redmi Y1 offers pretty much everything you might expect a phone worth its price to have, if not more. The smartphone features a 5.5-inch IPS HD display, a 13-megapixel primary camera and a 16-megapixel selfie camera with a bunch of modes and additions.
It houses a Qualcomm Snapdragon 435 (MSM 8940) chipset which comes with an octa-core Cortex A53 processor clocked at 1.4 GHz and along with 3 GB RAM for the base variant. There's 32 GB of internal storage which can be expanded up to 128 GB using the dedicated microUSB slot in the SIM tray. There's also a higher end variant of the Redmi Y1 sporting 4 GB RAM and 64 GB storage.

The Redmi Y1 also gets a 3080 mAh battery and a fingerprint scanner, placed at the back of the smartphone.
In terms of connectivity, the Redmi Y1 supports the use of only one 4G enabled SIM card, hence no dual-standby here for 4G users. There's no shortage of support for various LTE bands as well as Bluetooth 4.2 and Wi-Fi direct.
A worthy mention is the presence of the lesser spoken IR-blaster present in most Xiaomi phones which is always a welcome addition.
Software: 8/10
At the launch of the Redmi Y1, Xiaomi's lead product manager in India, Jai Mani took a lot of time and effort in unveiling MIUI 9. It was hence understood that MIUI 9 was going to be a major differentiator in the way one interacted with a Xiaomi device. Being a Xiaomi user myself, I was aware of most of what the complaints from MIUI users could be. For one, why is the notification drawer cluttered with notifications from a single app. Or even more basic things like why are app load times slower than on stock Android.

Having launched the Xiaomi Mi A1 with Android One in September, the company was already aware of what MIUI was going to be pitted against. The catchphrase for MIUI 9 was therefore set as 'lightning fast'. But is it really fast in comparison? The answer to that is a yes.
The unit we received ran the Global Beta (v7.10.25) of MIUI 9 through the period of the review. I did hope for an update to a stable build but surprisingly did not receive one. From the moment you start the phone, the first thing that strikes you is the new theme named 'limitless'. The app icons here immediately look sharper and pleasant to the eye. Xiaomi's also thrown in a bunch of well-optimised themes to chose from which can be accessed from the 'themes' menu, placed on the home screen by default.
Animations are snappier, app load times are marginally quicker and added gestures are an instant thumbs-up. The gestures here include a number of long-press or double press shortcuts for quick access to things like the camera, flashlight, screenshots and even launching Google Assistant. the gesture shortcuts here can be worked around and turned out to be pretty handy. Double tap to wake the screen was not forgotten either here. A few things that still do not make sense, however, are the optimisations added to the notification shade. Quick replies and notification clubbing have been added though I  still had to pinch into a notification to expand the contents.
Since MIUI 9 is still running based on Android Nougat 7.1.2, we do not have a time frame as to when an Oreo update will be out. Many could see this as a downside. That said, Android Nougat brings in split view, quick app switching and a bunch of under the hood improvements to MIUI 9. Long press app actions have been left out though, which is a bit of a miss.
Performance: 7.5/10
The Redmi Y1 sports a Qualcomm Snapdragon 435 SoC, a similar chip to the one included on the Redmi 4. The octa-core processor has been clocked at 1.4 GHz and sports an Adreno 505 graphics processor. App load times here are a little slow but MIUI 9 does ensure that they aren't painfully so.
The 3 GB of RAM also helps to switch between applications seamlessly. Quick switching between apps was also a breeze, even while doing so with relatively heavy apps. The phone performed as expected in the benchmark tests as well, with a score of 45167 on AnTuTu and a multi-core score of 2566 on Geekbench.
In terms of gaming, the Y1 held up fine despite slower loading times and choppy animations while playing heavy games. I tried playing Mortal Kombat X and Dead Trigger 2 for slightly less intensive titles and Asphalt 8 and Modern Combat 5 among the more demanding ones.
The Snapdragon 435 deals with gaming well here as I did not face any issues in gameplay for all the said games. My only issue here was the animation while browsing through the menu on Asphalt 8 which did seem noticeably sluggish. It did get warm while playing Modern Combat 5 for about 40 minutes but nothing enough to be worried about.
Cellular call quality was good and so was the network reception. VoLTE worked without any hiccups as well with a small 'HD' icon popping up under the Caller ID every time a call is made through VoLTE.
Camera: 6.5/10
On paper, the highlight on the Redmi Y1 is its 16 MP f/2.0 wide-angle front camera on the top of the phone along with a selfie flash. In my experience though, this camera was an absolute no show. Selfies taken in adequate daylight came out flat and overexposed, while night selfies, with or without the selfie flash were mostly unusable. The 76.4-degree camera struggled to focus in low light while noise levels were also pretty high.
The selfie camera otherwise includes a number of filters to chose from and adds a beatify mode which can be set to 'smart' or 'pro' while in use. The user interface is also familiar from what we have come to expect from Xiaomi phones.
The primary camera module does a better job than the front-facing camera. Daylight shots were clear with punchy colours and decent sharpness levels. Images were flat but were well detailed even when cropped in. Low light shots were unimpressive with a lot of noticeable noise even with the presence of an HHT mode for night shots.
The experience here was also marred by a similar focusing issue as was the case with the front camera. HDR is usable under daylight conditions but fails to perform in low light.
The manual mode which allows control over ISO and white balance did give me marginally better shots with minimum noise.
Video from the primary camera which is capped at a maximum of 30 fps at 1080p is well detailed under well-lit conditions. This is true for videos shot under artificial lighting conditions as well. One thing to note here, the footage on screen does look grainy but turns out to be alright during final playback. Video shot through the front camera is capped at 720p and is poorer in comparison to the footage gained from the rear camera. There is also a considerable amount of overexposure here which cannot be toned down in the settings.
Battery: 7.5/10
Battery life was also good with the 3080 mAh unit lasting me throughout the day consistently with about 18 percent to spare with moderate use involving voice calls, browsing, social media usage and about an hour of music playback.
While the Snapdragon 435 in the Redmi Y1 does allow Qualcomm QuickCharge 3.0, the charger bundled by Xiaomi with the phone does not. The Y1 took me about an hour and 45-50 minutes to charge from about 15 percent to a full 100 percent.
The phone lasted 8 hours and 38 minutes in PC Mark's Work 2.0 battery performance test which is about average but should last you a day with ease. The larger display compared to the Redmi 4 and 4A here could be playing a part in the reduced battery life here.
Verdict and Pricing
The Xiaomi Redmi Y1 packs a lot of what we have seen in this year's budget smartphones from the company. The Y1 sticks to most of what has worked for the company with an attempt to up the notch a little by including a 16 MP selfie camera. 
The idea here is unique in the sense that there are not many smartphone brands which have a selfie smartphone at a price of Rs 9,999 for the 3 GB RAM variant and Rs 11,999 for the 4 GB RAM  variant. Full marks for the attempt, but the performance of the selfie camera did not really deliver to my expectations.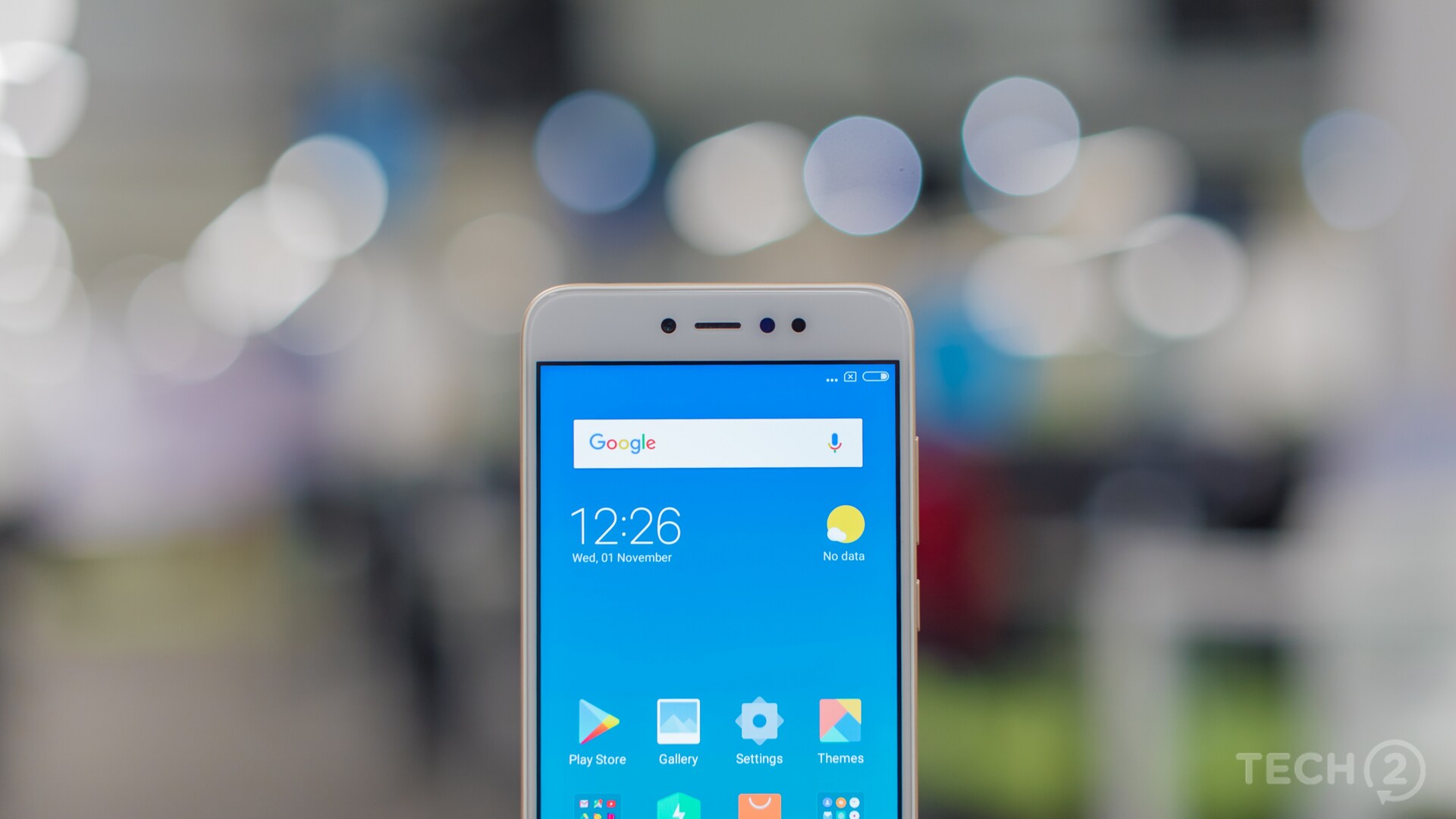 The Redmi Y1 does bring a lot to the table given its price but is lacking in the camera department. Image: tech2/Rehan Hooda
MIUI 9 on the device we received was yet to receive an update during the duration of the review, which was a major disappointment since the stable build may definitely bring in some additions and polishes to the OS. We will keep you updated in case there are any improvements in the overall performance, as soon as we do receive the update.
If you forget that this is meant to be a selfie camera, the Y1 does still come across as a good buy for college students. Whether the Y-series will be able to consistently attract the younger crowd is something only time will tell. The Redmi Y1 certainly has some issues and some younger buyers may be tempted to look at alternatives. The Redmi Y1 also faces competition from the likes of the Lenovo K6 Power and its very own Redmi Note 4 which still manages to sell like hotcakes. Then there is the Redmi 4 which was launched in May and offers a better value proposition because of a similar chipset and a better battery life but is quite difficult to get your hands on one. And if we are talking budget devices, then Xiaomi also just announced the Redmi 5A, which has all the makings of becoming a new budget ruler. Xiaomi Y1, in essence, is competing with its own siblings.
Find latest and upcoming tech gadgets online on Tech2 Gadgets. Get technology news, gadgets reviews & ratings. Popular gadgets including laptop, tablet and mobile specifications, features, prices, comparison.