Samsung launched its Galaxy S20 series this year, which includes the Galaxy S20, Galaxy S20 Plus, and Galaxy S20 Ultra. Of these, I was sent the Galaxy S20 Plus for review, which I used for a few weeks. I used the phone as my primary device, with every app I generally use installed on it, all the games I play, and I was using its camera a lot to update my Instagram feed too – this also helped in the phone's real-life battery test.
For anyone who is Aergia on Earth, here's my review in three lines:
The Galaxy S20 Plus has a fantastic design, it has a gorgeous edge-to-edge display, its battery lasts quite long, and it can take on power-intensive tasks very smoothly. However, sometimes the camera, and usually the fingerprint sensor, spoils the experience. But despite being far from the ideal smartphone, it's still close to the best in most other categories, which justifies the eye-watering price tag.
Interested enough to learn more? Here's my detailed review.
Beautiful display, but the design isn't on fleek
When you look at the Galaxy S20 Plus, the first thing that will catch your attention is its beautiful edge-to-edge display. As the name suggests, the Plus variant is larger than the regular model, and it comes with a 6.7-inch display. That screen size is fantastic for people who consume a lot of video content through their smartphones, and even for gaming-enthusiasts. Some people, in general, prefer a large screen device, for ease of multi-tasking, and for them too, the Galaxy S20 Plus has a very suitable screen size.
It's not just the size, the display quality of the Galaxy S20 Plus is also gorgeous. The phone's 6.7-inch Dynamic AMOLED display has a resolution of 3200x1440 in a 20:9 aspect ratio. So, it's tall, sleek, and super crisp. Add to that a 120-Hz refresh rate for smoother scrolling, and you have yourself a winner.
Although the Galaxy S20 Plus' 120-Hz refresh rate is only available at an FHD+ resolution — it's 60 Hz at QHD+, I personally think that was a great decision from Samsung to save on battery life.
Having said that, while the display size and quality on the Galaxy S20 Plus are top-class, if you have tiny hands like mine, you may not appreciate the form factor of the device so much. Similar to the Galaxy S9 and S10 series, the Galaxy S20 Plus has a long-ish design, but to give you a screen real estate of 6.7-inches, the phone's dimensions had to be stretched from all sides, which makes it difficult to comfortably hold it in the palm of your hands.
Also, considering women's clothes rarely have pockets, and even when they do, they aren't even big enough to fit a pack of M&Ms, the S20 Plus isn't easy to carry around in a pocket either. Even for men, first of all, it won't be easy to fit in the breast pocket, and even if you manage it, don't! You will break that display I've been hyping so much. The only thing that's not 'plus' about the phone is the weight — the phone is surprisingly sleek and light!
Further, the Galaxy S20 Plus has a very generic-looking glass design, but the variant I have is grey in colour, and personally, I think even though it's a dull grey, it's refreshing to see such a simple and subtle colour option in the midst of the sea of exotic colour gradients all around me.
However, what I don't like is the unbalanced, chunky camera module at the back. It's boring to look at and when you place the phone on a surface camera side down, touching anywhere on the display makes it wobble.
Lest I forget: This massive phone doesn't have a 3.5 mm jack (though it comes with AKG Type-C earphones), and Samsung removed the physical button to trigger Bixby, so thank God for that!
Performance isn't an issue
If you make a list of the top specs you'd like to see in a phone, it's more than likely that the Samsung Galaxy S20 Plus is packing it. This beast is powered by a Samsung Exynos 990 chipset (believed to be a Snapdragon 865 SoC-equivalent), with 8 GB of RAM. And it's undoubtedly fast. Gaming, video-viewing, multitasking, or even just scrolling through social media is a breeze. I didn't once notice slow-down or lag while testing it.
The Galaxy S20 Plus also lets you pin up to three apps to RAM, so that they stay open at all times, offering you unhindered computing with those apps.
The variant I am testing has 128 GB storage, which is expandable up to 1 TB. And the support for expansion means you aren't running out of space, ever!
However, for a smartphone that was so impressive in terms of performance, I was surprised to see the laggy and unreliable in-display fingerprint sensor on board. I was rarely able to unlock the device on the first attempt using the fingerprint sensor. You don't expect such a glitch in a flagship device that costs Rs 74,000.
Samsung uses a side-mounted fingerprint sensor on the Galaxy Z Flip (review), and I prefer that any day over this in-display one in the S20 Plus. It's just so slow and frustratingly unreliable.
For software, the Galaxy S20 Plus uses One UI 2.0, which is a skin atop Android 10. I really have no complaints with this interface. The UI offers a lot of flexibility when it comes to customising the lock screen clock, grid size, layout of apps, always-on display, clock color or even the quick settings panel. It's also quite user-friendly.
I am both impressed and disappointed by the camera
I know this could be controversial, but I prefer Galaxy S20 Plus' front camera to the rear camera, and that's not because I love taking selfies. Though that's also a good enough reason for some.
Before I get into details, here's what the S20 Plus' camera array includes:
10 MP punch-hole selfie camera
64 MP 3x telephoto camera, 12 MP wide-angle camera, 12 MP ultra-wide camera, Depth sensor
ToF sensor
30x digital zoom
I'll echo the issue a lot of other reviewers faced with the Galaxy S20 Plus – it smoothens the face too much. But that's an issue, I found, limited to the rear camera of the device. Even in the 'natural mode', the camera tends to post-process images into an almost unnatural version of your face. The front camera is not affected by the odd image processing issue; its pictures have more details and are sharper.
Another reason I prefer the phone's front camera over the rear is due to the issue of over-saturation of images. When I received the devices, the first picture I clicked from it was of my mother in a well-lit living room, and the images came out so warm and over-saturated that it almost made her look jaundiced. I clicked a few other objects after that, and I noticed that the over-saturation was apparent in all kinds of shots and most lighting conditions, but it only looked bad when you clicked a portrait. In the same lighting though, this issue didn't occur with the front camera.
Also, to make sure the jaundiced images weren't the result of a poor display — extremely unlikely, I know, but I had to be sure — I also exported the image to my laptop, and noticed the over-saturation persisting.
Notably, a week into reviewing the device, Samsung rolled out an update, which came with some improvements for the camera app, which did fix the issue that made my mother look so pale and yellow. However, like most Samsung phones, the saturation level still remains on the excessive and warmer side.
Do note: there's nothing wrong with brighter and warmer tones in an image, but that's something worth keeping in mind when you choose a smartphone camera that works for you.
I also have a third reason for my preference of the front camera: Auto Focus!
Even in broad daylight, the Galaxy S20 Plus struggles with focus, especially when the subject is close to the camera. And make no mistake, when I say close, I don't mean a distance of 10 cm, I am talking about at least a distance of half a foot. However, I noticed this mostly happens if you are even slightly against the light. This issue doesn't occur when you click subjects that are further away, or when the light is directly falling on the subject.
The Galaxy S20 Plus' rear camera also struggles with focus when you take a photo of anything moving. You will mostly get blurry images. By default, it's shutter speed is also slow. However, this problem is fixable. All you have to do is switch to the Pro mode when you know your subject isn't still.
What's amazing about the Galaxy S20 Plus' camera is that, while it has its fair share of issues, landscapes, portrait images with good lighting, and selfies, turn out anywhere from acceptable to gorgeous.
Click on the Flickr album below to see all the images clicked (in full res) from the Galaxy S20 Plus.
Also, the improved ultra-wide angle lens and 64 MP telephoto lens together take some beautiful pictures.
The Galaxy S20 Plus lets you take anything between 0.5x to 30x zoom. Though it only supports optical zoom up to 3x, anything beyond that is hybrid. Anything clicked up to 3x zoom comes out crystal clear, with all details retained and apt sharpness in the image. Beyond that, you will start to notice a drop in quality, which won't make it hard to guess that 30x zoom doesn't retain much detail as such, and images are more like a coloured silhouette of something really far away from you. Also, don't even try to click on 30x with the phone handheld, you'll get a headache!
Samsung has improved the night mode on the Galaxy S20 Plus. It retains a lot of detail and captures a good amount of lighting. However, with that artificially added light in the image, the end result sometimes looks very unnatural. In many cases, I preferred clicking with the night mode switched off, even though that led to loss of details.
Further, the Galaxy S20 Plus also features 8K video recording, which was introduced as one of the highlights of the device at the time of launch. But I'd totally be able to do without it. While you can record high-res content, what do you do with 8K video right now? It's not like you have anything to watch it on, and high-res video is simply harder to process and edit.
It's probably good marketing for Samsung to be able to claim to be one of the first ones to introduce the feature in early 2020, but currently, the feature isn't practical.
Standard video quality on the S20 Plus is quite good. Videos have good details and come out quite stable, even when shot handheld. The Galaxy S20 Plus also has an option to zoom audio, which means, while shooting a video, if you close in on a subject, the audio also zooms in accordingly. A good addition to the video mode is that Samsung now lets you switch from rear to front camera while recording, without needing to pause or stop the video.
The battery's a champ
Samsung Galaxy S20 Plus is powered by a 4,500 mAh battery. I used the phone's display on both the default 60 Hz refresh rate mode and at 120 Hz. Of course, the latter is quite heavy on the battery, so with the higher refresh rate, after using multiple apps on the phone and playing a few games, the battery lived for a good 9-10 hours.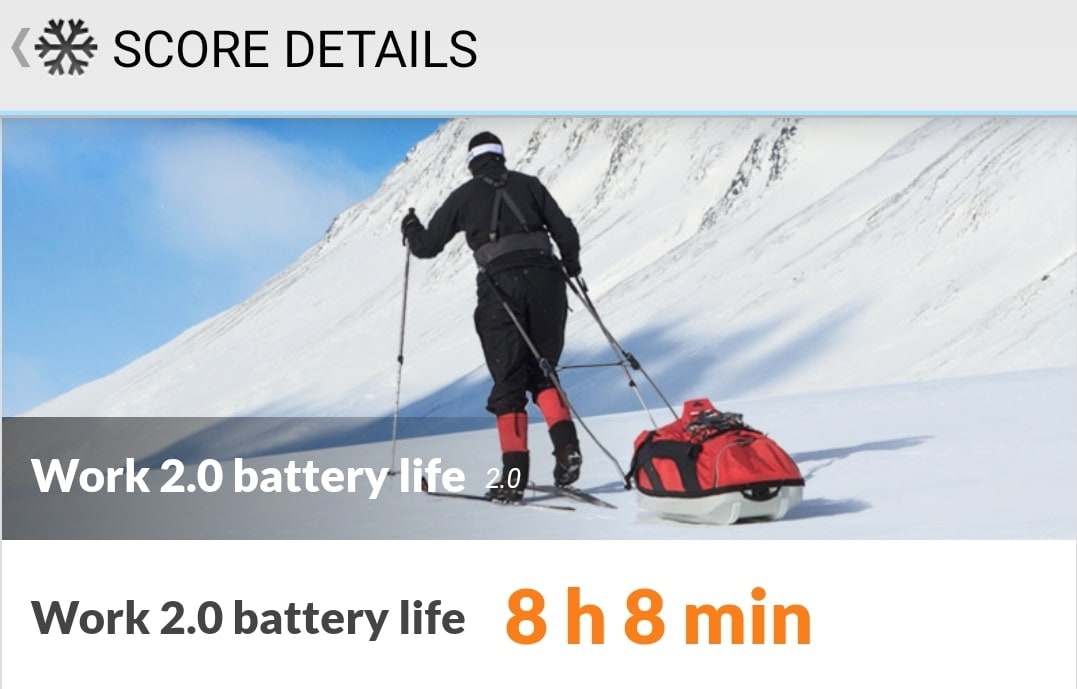 At 60 Hz, however, battery life improved dramatically, and the phone went on to last for well over a day (sometimes two days, depending on usage) on a single charge.
The Galaxy S20 Plus comes with a 25 W fast charger in the box that takes the battery from zero to full in about an hour and 10 minutes.
Does the phone justify its price tag?
It all comes down to whether the S20 Plus is a flagship device that's worth flagship money. So, is it?
There is no doubt that the Samsung Galaxy S20 Plus is quite expensive. It sells at Rs 73,999 in India, but it's still far cheaper than an iPhone. The phone has its flaws, but it's also really appealing.
Let's look at it this way, with the Galaxy S20 Plus, you get:
✓Good design
✓Good battery life
✓Beautiful display
✓Top-of-the-line hardware
✓Versatile camera
✓Decent software
ㄨIn-display fingerprint sensor
ㄨImage processing in some scenarios
The pros and cons above should be able to help you decide. Do note, Samsung has been able to make a lot of improvement to the camera app via software updates, and while it still isn't perfect, I'm hoping that camera quality will continue to improve over time. So, you will primarily have to make peace with its janky fingerprint sensor.
If you can get over that, and despite these minor niggles, rest assured that the Samsung Galaxy S20 Plus is one of the most well-rounded Android phones out there today, and it's well worth the price.
Find latest and upcoming tech gadgets online on Tech2 Gadgets. Get technology news, gadgets reviews & ratings. Popular gadgets including laptop, tablet and mobile specifications, features, prices, comparison.