The Samsung Galaxy A8 Plus replaces the Galaxy A7 (2017) this year, a smartphone Samsung launched in March last year. What Samsung typically likes to do with its A series is bring down a few of its flagship features into a more affordable package, and the Galaxy A8 Plus is no different in that respect.
At a price of Rs 32,990, the Galaxy A8 Plus incorporates a version of Samsung's most talked-about flagship smartphone feature of 2017, its Infinity Display. Keeping aside the Galaxy S8, S8 Plus and the Galaxy Note 8, the Galaxy A8 Plus is the first phone to feature the company's tall 18.5:9 Super AMOLED display. Unlike the S8's display, this one doesn't curve around the edges.
The phone also features IP68 water and dust resistance along with the Always-On display features that work really well with OLED screens.
While all of that sounds great on its own, the price tag means that the Galaxy A8 Plus will go up directly against the heavyweights of the segment, namely, the OnePlus 5T and the Honor View 10. Having spent a while with the phone, Samsung seems to be a little late in its attempt to match up to both its rivals, which already sport a taller display and offer better processing power and even a better set of cameras. But for people who care about how their phones look or just do not need an industry-leading processor onboard, it should be a great buy, right? Let's find out.
Build and Design: 8/10
The design of the A8 Plus is surely a winner this year. It would be safe to say that Samsung has completely overhauled the look and feel of the series, giving it the look and feel of a premium phone. The sandwiched metal and glass design which we saw adorn the Galaxy Note 8 back in September, finds its way to the Galaxy A8 Plus.
The overall frame of the phone is marginally taller than last year's A7 at 159 mm, but it is also marginally thinner than its predecessor. Both the front and back of the phone features a slab of glass running right from the top to the bottom, which is rounded at the ends. Between the two 2.5D curved glass slabs lies a layer of metal which conceals the antenna bands well.
The camera module on the back is also flush, with absolutely no outward protrusion, hence you don't really have to worry about damaging the phone's protective glass layer every time you land the phone on its back. Buttons and edges on the phone are rounded off perfectly, making it a very appealing device to look at. The cherry on top is certainly the inclusion of IP68 water and dust resistance, though I'm not much of a swimmer myself.
The A8 Plus has an odd speaker grille, which is on the right of the phone, above the power/lock button. This does seem a little odd in the beginning but I did get used to it pretty quickly. On the left of the phone, we have the volume buttons and a single SIM tray. The bottom features a USB-C port and a 3.5 mm headphone jack, while the top holds an additional SIM and microSD card slot.
The only area where Samsung really needs to work on is where it positions its fingerprint scanner. The rear-mounted fingerprint scanner is placed right below the primary camera module on the A8 Plus, and I'd keep swiping the camera with my finger every time I wanted to use the fingerprint reader. While this may not be as big of an issue of placement as on the Note 8, I did get annoyed by it to the point that I completely stopped using the scanner on the phone.
Features: 7.5/10
The Galaxy A8 Plus comes with a 6-inch Full HD+ Super AMOLED display which has a resolution of 1080x2220 pixels. The phone is powered by Samsung's own Exynos 7885 octa-core chipset along with a Mali G71 graphics processing unit to handle graphic-intensive work. The processor features two Cortex A73 cores clocked at 2.2 GHz and six lower-powered Cortex A53 cores clocked at 1.6 GHz.
The variant launched in India, which is the same as my review unit, comes with a generous 6 GB of RAM and 64 GB of internal storage, which is further expandable through a dedicated microSD card slot.
The Galaxy A8 Plus also features a 16 MP camera on the back, which has an aperture of f/1.7 and PDAF (phase detection autofocus) support and an LED flash. On the front, it gets a dual-camera setup with one being a 16 MP sensor and the other an 8 MP sensor. Both sensors have an aperture of f/1.9. Video shooting capabilities are however capped at 1080p at 30fps on both the front and rear cameras.
The phone gets a 3,500 mAh non-removable Li-ion battery which is marginally smaller than last year's A7 but should not be an issue for most users. The battery can also be topped up quickly thanks to the inclusion of Samsung's Adaptive Fast Charging feature.
On the connectivity end, the phone includes support for Wi-Fi 802.11 a/b/g/n/ac, Wi-Fi Direct, Bluetooth 5.0, GPS and a rear-mounted fingerprint scanner. In terms of sensors on the phone, Samsung includes a rear-mounted fingerprint sensor, accelerometer, gyro sensor, proximity sensor, a compass and a barometer. The A8 Plus also has face-recognition software built in, which does help given the unergonomic placement of the fingerprint scanner.
Display: 7.5/10
Samsung is known to make the best AMOLED displays in the smartphone industry and the panel on the Galaxy A8 Plus is more or less a testament to that. The gorgeous 5.99-inch Super AMOLED panel is certainly one of the best in the segment and rivals the ones on the OnePlus 5T.
The display, which operates at a resolution of 1080x2220 pixels is plenty sharp with a pixel density of 411 PPI. Compared side-by-side to the Galaxy Note 8, which has a sharper 1440x2960 display, the A8 Plus' display looked quite comparable.
Given that Samsung does like saturated colours, the colour tones were pleasing to the eye, though they are not true to life. In other words, the display isn't colour accurate. Whites are off and have a yellowish tinge while reds by default do look rather orangish. though that can be calibrated in the display settings up to a point. I did binge watch a lot of shows on Netflix on the device and the display just seemed to have enhanced the viewing experience altogether. The display gets adequately bright as well (do remember to crank it down if you are killing the lights) with no issues when viewing text on the display even under direct sunlight.
Overall, I had very little to find fault with when checking out the display on the A8 Plus. There was the issue of colour accuracy as well, of course.
The display settings tab also lets you adjust the icon framing to your liking, while also adding a blue light filter for reading in the dark.
Software: 7/10
Samsung's always playing catch up when it comes to shipping a phone running the latest version of Android. The Galaxy S8 Plus, despite being a premium mid-range smartphone, ships with Android Nougat 7.1.1, and the company has no comments yet on when to expect an Android Oreo update. Thankfully enough, it does at least ship with the December 2017 Android Security patch.
That said, the Samsung Experience launcher handles great for regular day to day use. Animations are smooth and fluid with a ton of advanced customisations such as fingerprint gestures, smart capture and dual account support for certain messaging apps.
Samsung has thrown in a Game launcher, which provides a number of options for hardcore gamers. These options include a screen record feature and a switcher which lets you turn off notifications while you're playing a game. Regular features like a one-handed mode (which I found myself using quite often) and multi-window support is also part of the software package here.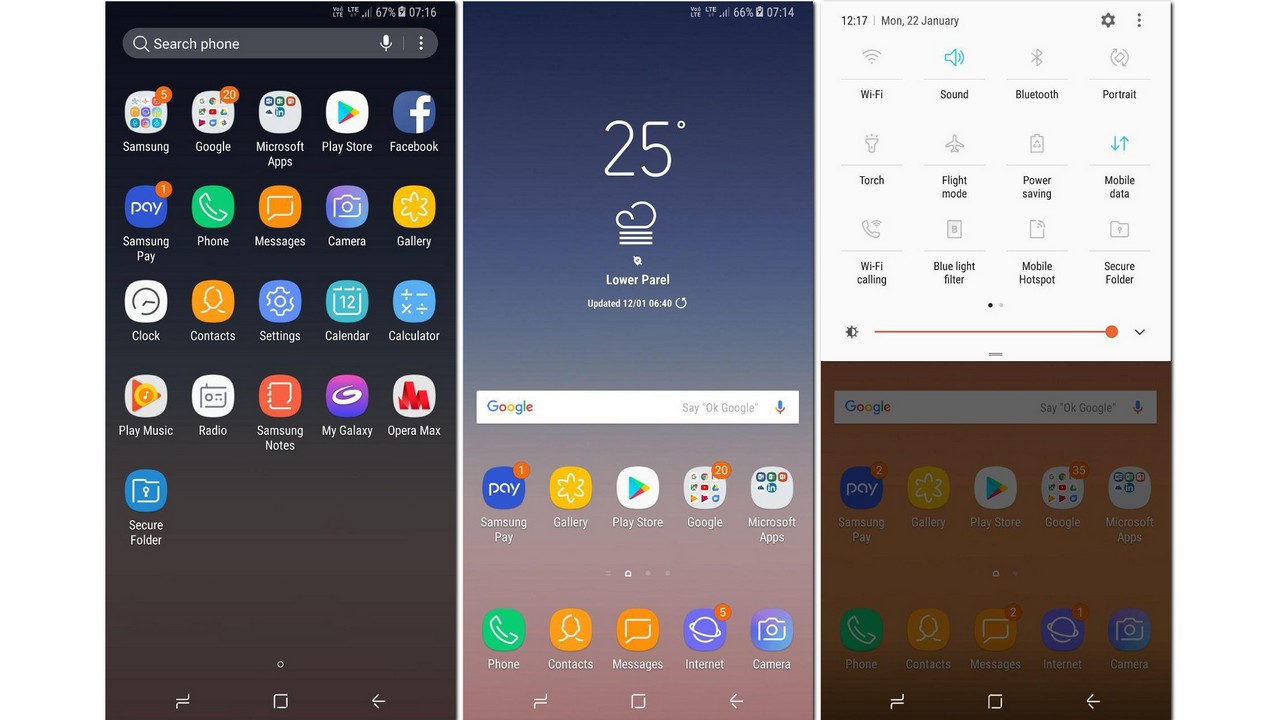 Samsung Pay, which we saw on the Galaxy A5 last year, also makes a comeback. With support for Magnetic Secure Transfer (MST), which lets you pay at any POS counters without having to pull out your plastic credit/debit card, it can be extremely convenient. Updates like UPI support also come in handy.
Performance: 6.5/10
The A8 Plus sports the same Samsung's Exynos 7885 octa-core chipset that we saw on the Galaxy A7 last year. The chipset handles regular tasks and even certain demanding tasks with relative ease, but it does falter when it comes to handling heavy gaming titles. Given the price of the phone, I was expecting Samsung to up the game here since rival companies like OnePlus are able to pack in flagship chipsets at similar prices.
Samsung does include 6 GB of RAM and 64 GB of storage, which works wonders for multitasking and using applications in split-view mode, but the lack of firepower does come through quite strongly.
I did try out a number of games on the phone, from regular titles like Alto's Adventure and Angry Bird: Star Wars to more intensive ones like NOVA: Legacy, Injustice 2 and Asphalt 8. I did not face any major issues playing any of these titles, though there I did notice frame drops while playing Injustice 2 and Asphalt 8 at their highest settings. Temperatures were also relatively cool under extended gaming sessions.
Call quality and network reception were excellent and so was the water resistance. Now an IP68 rating does allow you to submerge the phone completely in water for up to 30 minutes to a depth of up to 1.5 metres but my test was limited to dipping it in a bucket of water. The speaker on the side is also average and certainly not comparable to stereo offerings. It does at least get loud enough for a single speaker. What is an advantage with the odd positioning is that you don't muffle the speaker while watching videos or playing games.
Camera: 7/10
Now I was expecting the camera performance of the A8 Plus to be good since Samsung spent a chunk of their time explaining how capable the sensors on the phone are. I did mess around with the camera a fair bit and it does shoot some well-detailed pictures in well-lit conditions. The single 16 MP sensor on the back does feel a little dated on paper but does a good job with its f/1.7 aperture lens.
Pictures were sharp with good contrast and pleasing colours for the most part, though noise does creep in under low light conditions. The lack of Optical image Stabilisation does hurt the Galaxy A8 Plus a fair bit, with shots being hazy even when lighting was not really an issue. The camera interface in itself is simple and intuitive, with not too many modes and options. Though it might seem a little restrictive in terms of options (this includes the lack of options in manual mode) for serious shutterbugs.    
Samsung's focus though, is certainly more on the front side, where Samsung throws in a dual-camera setup with both cameras having an aperture of f/1.9. That's not all! Samsung reaches out for its bag of tricks and throws in its Live Focus feature for the front cameras, letting you click some great selfies. Live Focus, which was first debuted by Samsung on the Note 8, lets you adjust background blur after having shot the image.
Given the competition, I do wish Samsung had included OIS as it would have improved overall camera performance by a margin. Overall though, the A8 Plus does get the job done, without too many frills and fancies.
Battery: 8.5/10
The phone easily lasted me an entire day with almost 35 percent to spare on a regular basis. The phone does have a 3,500 mAh battery, which is large, but given the 6-inch display size, I was certainly not expecting such stellar battery performance here. My average day comprises a lot of phone calls, emails, messaging, browsing through social media as well at least a couple of hours of music and video playback.
Samsung's Adaptive Fast Charging lets you juice up really quickly. Charging the device up from 5 percent to 93 percent took me an hour and 35 minutes. Unlike Apple, Samsung also supplies the fast charger in the box so you don't need to spend extra on a fast charger.
We usually run PCMark Work 2.0 battery test on the device for a more objective battery score, but the test failed to complete on the device despite multiple attempts. I did average a screen-on-time of about 7 hours throughout my review period, which is very good.
Verdict and Price in India
The Samsung Galaxy A8 on paper seemed a device that could really raise Samsung's presence in the mid-premium smartphone segment, which has been dominated by OnePlus and Honor for a while now. Since Samsung's A series is not really its flagship lineup, but it's an important phone that has a vast market to capture, one dominated by OnePlus and Huawei.
For the most part, the phone does a good job. What it fails to do though is to measure up to the likes of its competitors in the bracket, who offer a lot more. Given a choice between a OnePlus 5T and an A8, say, I'd opt for the former. You're getting a newer version of Android, better performance, a fractionally better display and comparable camera performance. The A8 offers a better build and a Samsung Pay.
That said, the A8 is, undeniably, a great option. It's only when comparing side-by-side that you'll notice a real difference against the competition, making it a compelling buy.
At a price of Rs 32,990, its competitors are the OnePlus 5T which is a better performer and also the Honor View 10, which has a better rear camera. The Nokia 8, which is priced slightly higher at Rs 37,999 also falls into the reckoning and makes a good showing for itself with a better-performing Snapdragon 835 chip and a better build and design.
Find latest and upcoming tech gadgets online on Tech2 Gadgets. Get technology news, gadgets reviews & ratings. Popular gadgets including laptop, tablet and mobile specifications, features, prices, comparison.