Oppo's F series lineup has always been its claim to fame in the Indian market because of how good a selfie camera it manages to pack. The newest addition to this line-up is the Oppo F7 and Oppo seems to be sticking with its winning formula in 2018 as well.
Priced at Rs 21,990, the base variant of Oppo F7 is priced slightly higher than its predecessor, the Oppo F5 but not by much. Oppo, however, does introduce a number of changes on its new phone that makes it feel like an upgrade to the F5 while holding on to its "selfie expert" tag. The key set of changes here include a fresh design featuring a notch, an improved processor, as well as a new AI-powered selfie camera that could beat smartphones priced much higher when it comes to image quality.
Launching a few days after the Vivo V9 which bears almost an identical look and internals as the Oppo F7, Oppo does have its work cut out in trying to even the competition. But whether the F7 actually commands the price that Oppo has set for the phone, or does it pale in comparison to lower-priced options is something we need to find out and so we begin.
Build and Design: 7.5/10
While we all have our reservations about the "notch" which seems to be coming to more and more smartphones these days, there is no denying that it is here to stay, at least till there is a better place to hide the front-facing camera and other sensors. The Oppo F7 also gets a notch, which changes the overall look of the phone drastically.
The front of the phone is nearly all display, leaving aside the notch and a thin bottom bezel. On the back of the phone, we get a sandwiched glass-like design with the O-shaped fingerprint scanner, the rear-facing camera and the Oppo branding.  We are yet to confirm whether the transparent slab on the back is made of plastic or glass, but we will update you once we receive a response from a company representative.
The Oppo F7 is also not the slimmest with a thickness of 7.8 mm, but that can be ignored since Oppo does try and cram in a marginally larger battery. The buttons are otherwise well-made and are not too stiff. We would have liked Oppo to include a USB-C port instead of a micro USB port but it does keep the 3.5mm headphone jack which is a definite plus.
One thing that does come as a slight disappointment though is the fact that the phone is predominantly made of plastic, making it look and feel cheaper than it should be. This would not affect most people as the F7 is otherwise sturdy and is also relatively light at just 158 gms but it certainly makes the phone feel less durable. Now, I personally did not have issues gripping the phone, but my colleagues and friends who I passed the phone around to, did complain that the Oppo F7 is rather slippery. The other thing that you have to keep in mind is that the glass-like slab on the back is a fingerprint magnet.
Features: 7.5/10
In terms of features, the Oppo F7 sports a 6.23-inch FullHD+ display with an aspect ratio of 19:9 and a resolution of 1080 x 2280 pixels. Oppo has also thrown in a full-screen gesture support which works similar to that on the iPhone X.
Inside, the F7 is powered by an octa-core MediaTek Helio P60 SoC which makes its debut on the Oppo F7. The Helio P60 chipset comprises of four Cortex A73 cores clocked at 2 GHz and four Cortex A53 cores also clocked at 2 GHz. The chipset also features a Mali-G72MP3 GPU for graphic-heavy tasks.
The base variant phone comes with 4 GB of RAM and 64 GB of onboard storage and there is a higher-end version with 6 GB RAM and 128 GB storage. Both phones have the option to expand the storage using the microSD card slot.
As for the camera, the F7 packs a 16 MP camera on the back with a f/2.0 aperture, 1080p video recording and dual-tone LED flash. As for selfies, the smartphone will have a 25 MP camera in front.
On the software front, the Oppo F7 runs on the company's ColorOS 5.0 built atop Android Oreo 8.1. There is also a rear-facing fingerprint sensor and connectivity options such as 4G VoLTE, Wi-Fi, Bluetooth and GPS/A-GPS. The phone also features a 3,400 mAh battery.
Display: 7.5/10
As mentioned before, the Oppo F7 embraces the notch and that could immediately set you off if you hated it before, but this was the first device with a notch that I had personally used and I got over it after a day.  
The notch is impractical, ugly and seems very odd but once you let that slide, you do learn to appreciate the almost edge-to-edge 6.23-inch Full-HD Plus LTPS IPS LCD display on the Oppo F7. The phone does have a bezel towards the bottom of the display, but the rounded edges ensure a screen-to-body ratio of 82.5 percent which will leave you in awe for at least a few days. It does feature a different aspect ratio of 19:9 but that did not seem to hamper the viewing experience in any way.
Oppo does like the display to show slightly cooler colours but you can go ahead and tweak that up to a certain point in the setting menu, to your preference. Colours are vibrant and true to life, unlike saturated AMOLED displays which would be a plus for those who prefer more accurate colours. The display is also sharp at 421 ppi, making the display convenient for reading text as well.
The only area which I think could have been improved is the peak brightness of the display. The Oppo F7 is certainly bright enough to be viewable under most lighting conditions but under bright sunlight, I was able to see or read very little of the display. Oppo does throw in Gorilla Glass 5 protection on top but where it does miss out is an oleophobic coating on top which again makes it very prone to fingerprints or even dust for that matter.
Software: 8/10
Oppo's ColorOS interface has always been similar to iOS and ColorOS 5.0 is no different. Having tried out Oppo's lacklustre ColorOS 3.2 on its budget-oriented A83 smartphone about a month back, I was amused to see a ton of issues to be solved on the flagship F7 which now runs on the latest version of Android Oreo.
Color OS 5.0 is smooth on the Oppo F7 with neat system animations, poppy icons and a system-wide search tool that lets you find contacts, apps and messages with a single swipe down gesture.
You also get most of the features baked into Android Oreo-like long-press quick actions, quick switching. In a bid to try and please iPhone users, ColorOS also brings features from iOS such as full-screen gesture support. Now, full-screen gestures were a part of ColorOS 3.2 as well but it was more of a half-baked feature rather than a usable one. That seems to have changed on the Oppo F7.
You also get a widget drawer on swiping left which is reminiscent of the drawer we see on iOS and also on Xiaomi's MIUI 9. Oppo has also added a game acceleration mode which allows you to run games smoother and with fewer disturbances. Another feature I found myself using was the smart drawer while playing games. This allows you to access WhatsApp, Messenger and a couple of shortcuts such as a screen-recording button and a screenshot button. The smart drawer is tucked towards the side and does not become obtrusive while playing, which I found to be a neat implementation.
You also get a full-fledged Theme store as well as a Wallpaper Store for those who love customising their phones. Another key addition is Oppo's new facial unlocking system which is very quick. It certainly is not as secure as Face ID or Samsung's Iris Scanner but it does add a level of convenience if you wish not to use the fingerprint scanner.
There is only one small issue that I found irritating and that is the inability to swipe away notifications. ColorOS 5.0 requires a two-step process to clear notifications which I'm sure was unnecessary and pointless at the same time.
Performance: 8/10
While the Oppo F7 is a camera-oriented smartphone, it is certainly no slouch in terms of overall performance. While general browsing and usual day to day tasks were handled by the F7 with relative ease, it also turned out to handle gaming quite well. This can mostly be attributed to the MediaTek Helio P60 chipset that the phone features.
What Oppo completely left out of their product presentation and surprisingly so was that the F7 uses MediaTek's newest octa-core Helio P60 chipset. This chipset is built using the 12 nm FinFET fabrication process is also the first chipset platform featuring a multi-core AI processing unit. What this translates to is that the processor is built to power AI applications and at the same time bring features from higher-end chipsets like deep-learning facial detection, object and scene identification and smarter camera functions to mid-ranged devices like the Oppo F7.
Based on data provided by MediaTek, the Helio P60 is up to 12 percent more power efficient overall and up to 25 percent more power efficient when it comes to gaming, in comparison to the Helio P23 which the Oppo F5 featured.
I played demanding titles like Asphalt 8: Airborne, Dead Trigger 2 and Need for Speed: No Limits on the phone for extended periods without little to no hiccups at all. Temperatures were also well within normal limits.
As for audio quality, the single bottom firing speak is loud but being a mono setup, it can easily be blocked off while watching a video or playing games. Call reception and call quality on a VoLTE network were excellent and so was the audio from the 3.5 mm headphone jack of the Oppo F7.
Camera: 7.5/10
If you are considering getting the Oppo F7 then you are certainly a person who cares about taking a lot of selfies and photographs on your smartphone. On paper, the Oppo F7 features a single 16 MP f/1.8 sensor on the back of the phone and a 25 MP f/2.0 sensor on the front for selfies and video calls. While that sounds utterly unimpressive, AI does play a major role in adding a bit of value to what the phone seems to lack in terms of hardware.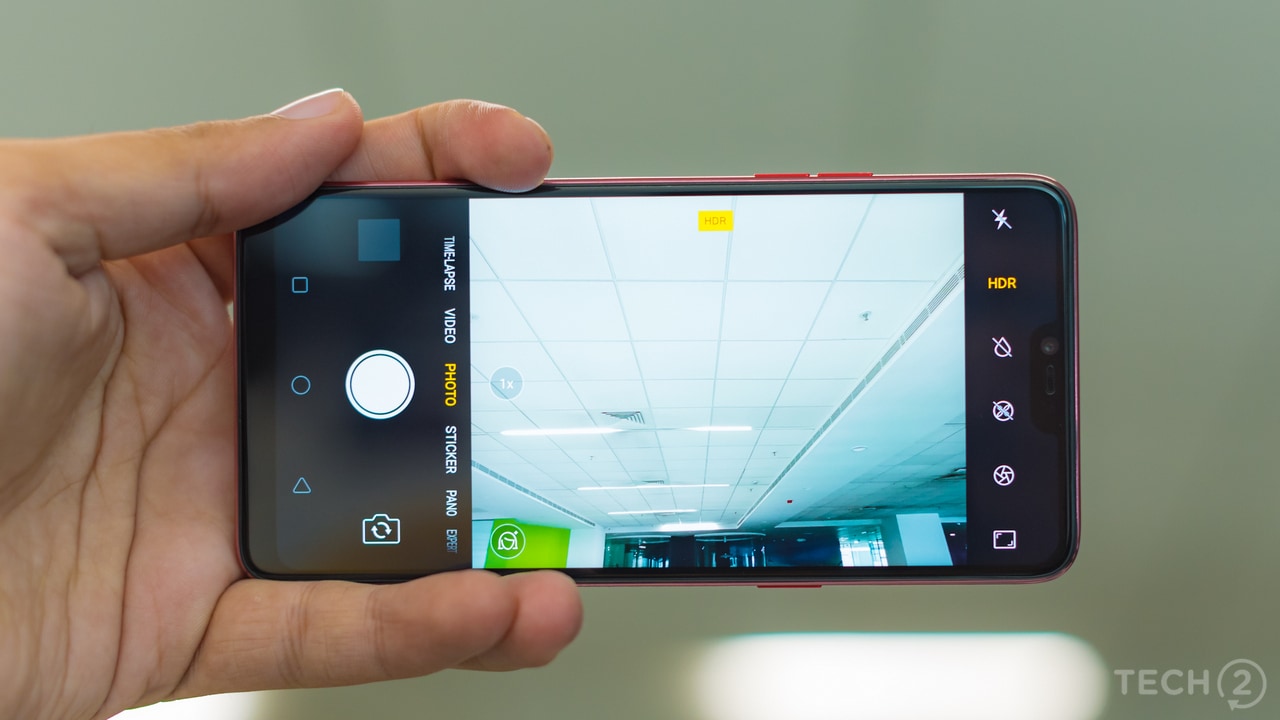 The F7 features a single 16 MP f/1.8 lens on the back. Image: tech2/ Rehan Hooda
Now, Oppo spent a long time explaining most of their artificial-intelligence enabled features such as AI selfie, AI Beauty Technology 2.0 and AR Stickers. What these features enable are a range of optimisations to people's faces and scenes shot through the front as well as the rear camera on the Oppo F7. Oppo has also thrown in what it calls AI Scene Recognition that is able to intelligently identify 16 different scenes and objects in real-time as you shoot.
The Helio P60 powered camera is also capable of real-time HDR while clicking selfies and later learns how to edit your images based on your general editing history. The camera app comes with a number of regular modes including — time-lapse, video, sticker, panorama and expert.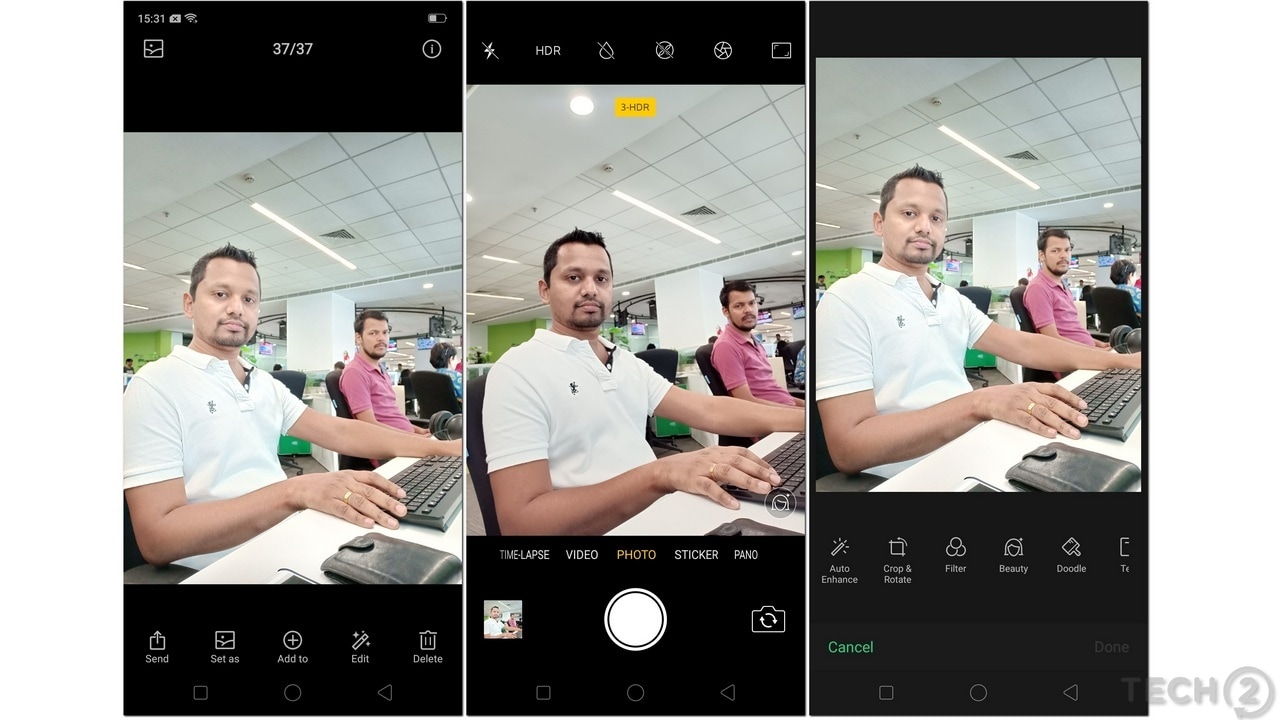 As for results, you do get very pleasing images with both the front and the rear camera. The AI Scene Recognition actually seemed to make a difference in my testing and the images turned out to be much more pleasing than it actually should have been. What I mean is that the camera does a lot of post-processing to make the images look more vibrant and what it feels is more pleasing to the eye. This would appeal to most who intend to click a selfie and post it on Instagram, but not so much for someone who wishes to further play around with the raw image.
You can check out the images and videos I shot with the phone here.
The camera also has a tendency to apply an HDR-ish filter on the phone which is not always likeable. As for the selfies, the need to always make the subject look fairer seems to be a real issue. Dusky-coloured skin tones here look creepy and the over-smoothening beautifier just makes it worse. Portrait mode is also a hit and miss on most occasions.
As for low light shots, the images shot were soft and almost unusable but it did get better when there was adequate artificial lighting. Oppo does throw in a full Pro mode called "Expert" mode which does allow manual control over most of the settings, making night shots which are less noisy. Video, however, is unimpressive due to the lack of any stabilisation. The F7 can shoot at a maximum resolution of 1080p at 30 fps through both front and rear cameras but quality here really takes a hit.
Battery Life: 8/10
With the Helio P60 SoC powering the Oppo F7, the 3,400 mAh battery seemed to perform well under daily and heavy usage conditions.
Using it as my daily driver, I saw the F7 deliver a day's worth of battery life with 30-36 percent battery to spare, depending on usage. My usage included, the usual WhatsApp, Instagram, Telegram, two email accounts on separate applications, streaming an hour or two of music and video streaming, about an hour of calling and about an hour of gaming each day.
The phone returned with a score of 7 hours and 57 minutes on our standard Work 2.0 Battery Life test. Oppo does not include any fast-charging capabilities here so if the phone does run out of juice, you are out of luck. Topping the battery up from about 14-18 percent to 95 percent takes roughly two hours.
Verdict and Price in India
The Oppo F7, at first sight, might easily strike you as just another Oppo smartphone which just looks premium because of the notch. But Oppo's F series, being its flagship lineup certainly does more justice to the brand trying to merge a superlative selfie experience while being an equally capable daily-use phone.
After spending a fair amount of time with the Oppo F7, it can be said that it is a worthy successor to the F5 and the F3 which did have great front-facing cameras but did not really set the benchmark in their price-segments for being an overall competitor. With the likes of the Xiaomi Redmi Note 5 Pro and the Vivo V9 offering a comparable, if not better camera quality, it does boil down to overall preference and the Oppo F7 ticks most of the requirements when it comes to that. The full review of the Vivo V9 will be coming out shortly and we will also be doing a complete camera comparison of the Oppo F7 and the Vivo V9, so I would advise prospective buyers to hold on till then.
At a price of Rs 21,990, it is Rs 1,000 cheaper than the Vivo V9 and the Moto X4, offering a comparable performance overall. It does hence boil down to personal preference, but if taking selfies while having a stylish looking device which does not break the bank is what you are looking for, then the Oppo F7 is definitely a serious contender.
Find latest and upcoming tech gadgets online on Tech2 Gadgets. Get technology news, gadgets reviews & ratings. Popular gadgets including laptop, tablet and mobile specifications, features, prices, comparison.