Everyone remembers how OnePlus quietly shied away from its aggressive "flagship killer" campaigns of old. They used it with the OnePlus One and then the OnePlus 2. With the OnePlus 3 we saw a more matured OnePlus, which had grown up to produce a fine smartphone that balanced out the hardware versus price factor pretty well. The formula worked really well for OnePlus and, almost overnight, the budget flagship segment was born.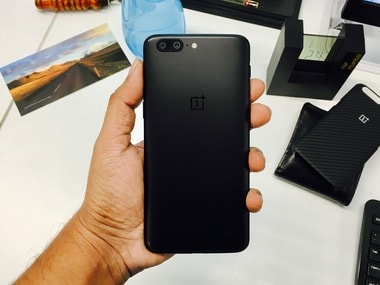 The formula worked very well for the OnePlus 3, but competing Chinese brands (with deeper pockets) have adopted the formula for themselves. Brands like Huawei have since improved upon the formula and are beginning to offer something similar at a lower price (a lot lower than OnePlus). And they can afford to do this because of their aforementioned deep pockets.
Makers of premium flagship smartphones (Samsung, HTC, LG) have mastered their stuff as well, offering taller displays that let you see more content, better camera hardware that lets you click great low light photos and smarter software that actually helps with the UX (in short, the stuff that they should have done before). The underlying motif here is that of refinement, not just gimmicks.
So has OnePlus done its homework? Has the brand offered something new to refine the OnePlus experience? Has design and construction improved?
It's been a month since I started using this OnePlus flagship, and I don't think OnePlus has a satisfactory answer for the above questions.
Build and Design: 7/10
If you have read my review of the Huawei Honor 8 Pro, and my Honor 8 Pro versus OnePlus 5 comparison, you will already know, that I am not really happy about the OnePlus 5's design nor its quality.
Having reviewed the OnePlus 3T about six months ago, I still recall that the 3T did see a few upgrades when it came to the finish of the device. Few owners may have noticed this, but there were subtle refinements. For example, the perforations on the speaker grille were shiny and bevelled in comparison to the old OnePlus 3 model.
This is because it had a few extra runs on the CNC machine, making the usually sharp corners a bit rounded and smoother to touch. The finishing was not just better around the speaker grille, but everywhere else as well.
Sadly, this finish did not make it to the OnePlus 5. Despite the rounded body, the finish isn't very good. If you place your finger on the camera ring or the USB cut-out, you'll note that the edges are sharp. These edges are so sharp, in fact, that I could use the camera ring to scrape a sheet of cardboard.
The front looks great with a 2.5D glass screen, but run your fingers from the center on to the sides and you can feel the squared lipping, this, once again, feels low quality. I must note that the lipping is a necessity to protect the display from cracking when a phone drops to the ground; but there are better ways to pull it off. Everything else is pretty much the same and you could mistake the OnePlus 5 for a OnePlus 3T also, provided you have both in the black finish.
The only good bit about the design is that it feels solid. Those buttons may dig into your digits (and scrape them) when you try to find them, but the body does feature that solid unibody feel we have come to expect from OnePlus. It's also slimmer, with smaller bezels and has lost a few grams of weight (from 158 grams to 153 grams), which could be due to the smaller battery.
All-in-all the design, which seems to have been borrowed by OnePlus' bigger sibling Oppo (on the R11) is nothing great. Add the black matte finish and it will remind you of an iPhone 7 Plus (unless you have been living under a rock). Add the bad finishing process and it really does not deserve a mention. And when you round it all up, the new design is not exactly an improvement over the previous model, but is far worse than the OnePlus 3T.
Features: 8.5/10
The OnePlus 5 features a 5.5-inch full HD Optic AMOLED display that snuggly fits into a smaller frame, which now also holds a battery with a smaller capacity. Inside, we get a Qualcomm Snapdragon 835 clocked at 2.45 GHz featuring an octa-core setup. We received the top-of-the-line unit with 8 GB RAM and 128 GB of internal storage in Midnight Black. There's no room for expandable memory here and I highly doubt that you will need any more of it either.
As for the cameras, the OnePlus 5 features a dual camera setup at the rear with a 20 MP + 16 MP sensor. The 20 MP (Sony IMX 350) sensor features 1.0 µm pixels, an f/2.6 aperture and a telephoto lens setup. The 16 MP camera features a Sony IMX 398 sensor with 1.12 µm pixels and an f/1.7 aperture with the usual wide-angle lens. The 20 MP unit features phase detection autofocus (PDAF) while the sharper 16 MP unit features a dual camera autofocus (DCAF) system (more on this in the Camera section).
Connectivity options include support for 4G, 3G and 2G bands with support for two nano-SIM cards. You also get Bluetooth v 5.0 (the only smartphone other than the Galaxy S8 to have this), Wi-Fi 802.11 a/b/g/n/ac, NFC, GPS and a USB 2.0 Type-C port at the bottom. Add to this long list, a fingerprint reader, which thankfully still sits on the front of the device.
Display: 6.5/10
The display on the OnePlus 5, as reported by many is the same Optic AMOLED unit as on the OnePlus 3 and 3T. As opposed to the OnePlus 3 and 3T it fairs a lot worse and this is mainly due to the mounting of the display, which as confirmed by the folks at XDA, is upside down.
While the upside down mounting is probably due to some space restrictions, there is a strange jelly effect, which I noticed during the entire term of my review. The effect is so persistent that it could be mistaken for a UI effect.
Once you notice it, it takes over your brain inducing this almost nauseating lag whether you are scrolling slowly from the top to bottom, bottom to top, left to right or right to left. The effect is visible when you scroll slowly (which is what normal human beings do), while browsing through photos, threads in chat apps, YouTube and pretty much everywhere else. It is particularly noticeable when you are reading through text and there's suddenly an image in the middle of it. The lag means that it creates this minimal delay in filling up those pixels, which visually looks like the pixels are trying to keep up with your scrolling.
No matter what the explanations given online tell you, or how much your OnePlus evangelist pal *cough*Rehan*cough* tries to justify it for you, it's there, and there's nothing that can be done about it.
I can understand a software issue or even a faulty speaker, but when a display is messed up, it's very frustrating. If there's one thing you'll be engaging with the most, it will be the display. Why would you mess with that? If you are fine with it the jelly effect, then be my guest and buy a OnePlus 5! Else you should probably buy a OnePlus 3T instead (it uses the same display, but it's mounted the right way up).
To those who're wondering, mounting a display upside down matters. A screen is designed to refresh pixels properly in only one direction, change that direction and the uniformity of the refresh rate suffers.
Apart from the 'jelly effect', the display is still the same old Optic AMOLED full HD unit. It's bright enough outdoors and does a good job indoors, but with so many QHD displays out there, it's not really capable of displaying sharp text at the smallest text settings. Times have changed, and while I appreciated how OnePlus stuck to the full HD unit on the 3T, it's getting old now, and that pentile unit is starting to age in comparison to flagships. I would not complain about the 6 GB RAM model, but when the 8 GB model costs as much as an LG G6, you better have something good to show off.
The full HD display also means that VR content (when or if ever supported in the future) will not look great (apart from the jelly effect, which in itself should cause some serious nausea in VR). Huawei in its Honor 8 Pro too offers a QHD IPS display. The smartphone is not Daydream certified, but it sure feels future proof, a guarantee that OnePlus would earlier provide. But not today.
Software: 8/10
The OxygenOS software on the OnePlus 5 is the latest and greatest that Google has on offer. OnePlus is known for pushing out timely software updates and I can see many ex-Google Nexus owners, reaching out for OnePlus devices, now that they have no place to call home. Almost stock Android software is what will make many call the OnePlus a poor man's Pixel. It may not be as smooth as a Pixel despite having twice as much RAM, but it gets the job done.
The software runs light, and it's easy to tell that there're not going to be any slowdowns. Coming to customisations, there's the usual stuff you'd expect from OnePlus, from the ability to change the icons, to changing the display profiles and changing the themes, of which there are three in all with various accent colours (like on Windows Phone).
Performance: 8/10
While OnePlus was caught cheating with benchmarks, our unit was a final production one that was provided to us on launch day. Clearly, things have been "fixed" here and the OnePlus 5 behaved without showing some abnormally high scores in the synthetic performance benchmarks in comparison to the rest of the flagships that have been launched this year.
The software did a pretty good job, but if you have used a Google Pixel, you won't find the OnePlus 5 as buttery smooth as the latter. The 8 GB of RAM however, will help you keep more apps active in the background, so don't be surprised if you paused a session of Asphalt 8 Xtreme and returned to it a day later only to be greeted with a resume screen. It's that good. Still, it is wise to keep in mind that even the 6 GB RAM model will get you the same level of multitasking performance.
Here's how the OnePlus 5 fares against the competition.
Coming to gaming, I threw every single graphic-intensive title at it and the OnePlus 5 ran all of them without any stutter. Whether it's Real Racing 3, Asphalt 8 Xtreme set to XHPDI and Best Quality or even the new Sims Mobile. Load times were super-fast and the graphics and frame rates top notch. What was disappointing however, was the placement of the loudspeaker, and the speaker itself.
Holding the smartphone horizontally with the fingerprint reader to the right easily blocks the speaker. While jamming away on a high-end game, you may suddenly wonder why the sound turned off, soon realising that it's your thumb that gets in the way and blocks all sound out. The speaker itself sounds tinny and really not that impressive. My solution to the above was to plug in to the 3.5 mm headphone jack and game away without worrying about the speaker's annoyances Audio quality while listening to music was great. But it's not comparable to the stuff you can get say on an LG G6 or an iPhone 6s (which is my daily driver).
Voice quality was great at both ends, and yet again, there's nothing worth talking about on this front. In short, the audio department is pretty much stuck with getting the basics right and the OnePlus 5 does that just fine.
Sadly, at Rs 37,999, you expect something better than just "fine".
Camera: 7/10
I have done a camera comparison with the Huawei Honor 8 pro versus the OnePlus 5. When it comes to bokeh images or those with an enhanced depth of field, the dual camera setup on the Honor 8 Pro does a far better job, leaving the OnePlus 5 in the dust. When it comes to standard images, the OnePlus 5 takes the lead producing images with better colour reproduction (I said better, not accurate). The colours however, are not as accurate as I would like them to be. While I would have excused this from OnePlus at Rs 29,000, at Rs 38,000-paying customers will expect better.
Click on the image below to check out our extensive OnePlus 5 camera sample gallery.
Noise is not a problem in daylight shooting scenarios, but in dim lighting, there is a clear loss of details thanks to aggressive noise-processing algorithms. Switch to low light or even twilight and the landscapes shots look like paintings. Switching to the telephoto lens with a higher f/2.6 aperture delivered more details in scenarios like an indoor coffee shop (check out samples in the Flickr album), which was very surprising.
This should not have been the case. Why would an image shot at a smaller aperture and higher ISO offer more detail than one shot at a larger aperture and lower ISO?
The OnePlus 5's wide-angle camera (16 MP, f/1.7 aperture) uses a focussing system called DCAF (not a misspelled CDAF). DCAF stands for Dual Camera Autofocus, one that uses the both lenses to lock focus. As per the Qualcomm's patent:
"Scene distance is used in combination with contrast-detection autofocus to achieve maximum sharpness in the image."
In short, the 16 MP primary sensor uses contrast-detection autofocus (CDAF) and will quickly lock focus after comparing outputs from both lenses. This works well in daylight scenarios, but switch to low light or dim light and the camera will keep hunting for a focus lock or may not lock on properly. In short, your low light shots (like the sequence I shot on the street at night) may be a hit or a miss. They may turn out to be really sharp and well exposed or just have no details whatsoever.
And this focussing issue, along with the lack of Optical Image Stabilisation (OIS) and Phase Detection Autofocus (PDAF) results in not too crisp images in low light. Maybe the camera is unable to focus accurately this leads to soft images in most dimly lit or indoor scenarios.
The 1.6X telephoto lens (No, it's not a 2X lens) delivers decent images. With a bigger 20 MP sensor coupled with a smaller f/2.6 aperture, its only use is to get close-ups of scenes or people who are already close to you, but with better detail because. Focussing also seems faster. If you are thinking of shooting a bird up on a tree, those shots will not turn out too great, especially if there's harsh light in the background.
OnePlus should have stuck to a single lens camera and perfected it instead of switching to a confusing dual lens system that is neither here nor there. As a throwback, I revisited the OnePlus 3, and the results were as I expected, and that's not very good news for the OnePlus 5.
The OnePlus 3 managed to click better photos in low light, was able to focus better and deliver more details thanks to OIS and PDAF. Of course both cannot be compared to the premium flagships like the HTC U11 or the Samsung Galaxy S8, but the OnePlus 3 delivered images that carried more details as opposed to the rather flat looking images thanks to the confusing implementation of DCAF. In short, the OnePlus 5 will deliver brighter images, but is a bit of step down in comparison to the OnePlus 3T or the 3.
Battery: 8.5/10
With a 10 nm chipset and a full HD display to drive, I expected some great battery life scores despite the drop in capacity, and OnePlus sure delivered. The OnePlus 5 has moved from a bigger 3,400 mAh battery to a 3,300 mAh battery.
This is indeed one good excuse to upgrade to a OnePlus 5 this year if you are using an old OnePlus 3 and are tired of the unimpressive battery life.
With my daily usage the smartphone was usable well beyond a day. For power users who place a lot of calls, or even game a lot, getting a day (24 hours) of use will be easy. Indeed, it seems like OnePlus' gamble with a smaller footprint (lighter, too) and a smaller battery has paid off. Using our standard PC Mark Work 2.0 Battery Life test, we got a good 10 hours and 17 minutes. Great stuff indeed!
Verdict and price in India
After using the OnePlus 5 for a month, it is evident that the old OnePlus formula does not work anymore. But did OnePlus see this coming to begin with?
OnePlus fans will still be treated to the best hardware but not at the sub-Rs 30,000 price tag. Then there's the bad display, decent camera and the unpolished finish of the device.
Who should buy a OnePlus 5?
At Rs 37,999 the 8 GB RAM/128 GB storage variant, is not worth the price (nor the hype).
Upgraders coming from a OnePlus 3 will see value in the battery life so it justifies for an upgrade to the 6 GB RAM variant.
Those coming from a OnePlus 3T need to think twice because the device in their hand looks original, is better finished (by a mile) and showcases similar real-world performance, save for the battery life (which is not a giant leap in comparison to the 3T).
Instead of paying Rs 37,999 for OnePlus 5, you are better off with a "less gimmicky" LG G6 that now sells online at Rs 36,790, offers a wide-angle (fish-eye) lens, a 18:9 5.7-inch FullVision display and offers memory card storage expansion up to 2 TB (64 GB internal). It's also much better finished
New customers who are looking to jump onto the OnePlus hype train will find the 6 GB RAM / 64 GB storage variant at Rs 32,999 attractive because it offers a Snapdragon 835 with a level of performance that is unmatched at this price point and the smartphones below it.
Premium flagship owners need not bother as the OnePlus 5 will not match or deliver anything better or close to a Galaxy S8 or an HTC U11, and it does not look any better either. Let me state it more plainly, the OnePlus 5 is not a "flagship killer". It's simply a powerful phone with great battery life, an old (that's also upside-down) display and an average dual-camera.
Indeed, OnePlus did not see this coming. It built a smartphone using the same old formula, with updated hardware and software, but it missed the price bracket and the niche it created.
As a result, the OnePlus 5 crossed the value-for-money mark and entered the premium flagship territory, which is dangerous middle ground. When you're spending 40,000, why wouldn't you spend just a little bit more and grab a true flagship instead of a wannabe one?
In that quest to provide something better, OnePlus gave us a half-baked flagship that is neither a OnePlus 3 nor a Galaxy S8. OnePlus for now seems stuck in a limbo. Maybe a OnePlus 5T could do better.
If you can live with what the OnePlus 5 represents, you won't mind the phone in the slightest.
Find latest and upcoming tech gadgets online on Tech2 Gadgets. Get technology news, gadgets reviews & ratings. Popular gadgets including laptop, tablet and mobile specifications, features, prices, comparison.