If my experience with MSI laptops is anything to go by, the company certainly makes some intelligently-designed products. The laptops are usually built with gamers in mind and factors like thermal management and usability are given a high priority.
The MSI GE62 7RE Apache Pro is the latest such offering from the company. Its specifications are quite standard as far as gaming laptops go in this price range, but it's not just a spec sheet that defines a great product.
Can this MSI product be described as a great product, however? Let's find out.
Build and design 7.5/10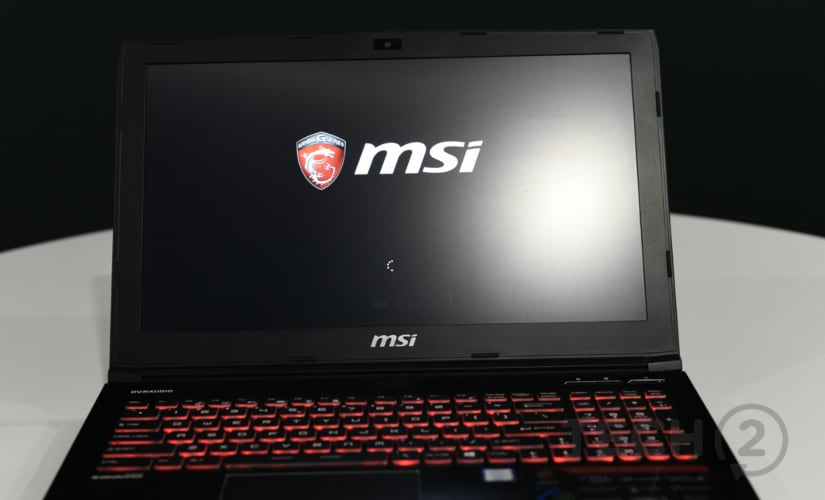 As with most gaming laptops with an eye for performance, the laptop is large, a bit heavy and seemingly well ventilated. The entire outer portion seems to be made from brushed aluminium, and this includes the lid, palmrest and trackpad.
Everything feels solid and there's little by way of flexing.
Peek through the bottom grill and you'll spot some extensive copper plumbing. I was happy to note that there seemed to be plenty of room for airflow as well, lending confidence in the device's ability to perform without excessive throttling.
Keyboard and trackpad: 6.5/10
The keyboard is backlit with RGB LEDs and is on par with the best laptop keyboards in the business. There's sufficient travel and almost no flex, making for an excellent typing experience.
As on other 15.6-inch laptops we've tested, the keyboard includes a proper numpad and arrow keys.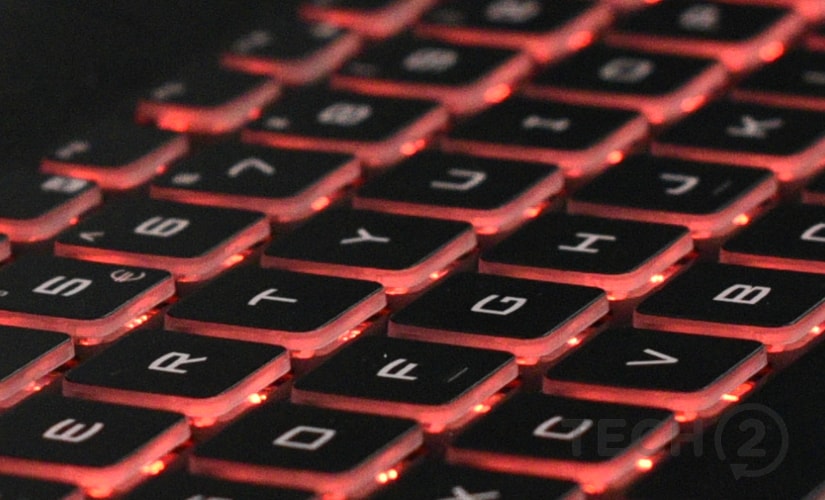 The one irritating aspect of the keyboard is the fact that the Windows key has been moved to the right, its traditional spot being replaced by an Fn key. I personally hate this layout because I use the Windows key a lot for shortcuts. If you're fine with it, however, this won't be a bother.
While the keyboard is good, the touchpad is disappointing.
The touchpad is reasonably sized, but its design is what is frustrating. The surface of the touchpad is brushed aluminium and not glass. A glass touchpad is smooth and has an even surface friction, making it pleasant to use. Metal touchpads are also fine, but they don't feel as good as glass.
The GE62 uses a metal trackpad, which is fine, but the brushed metal finish isn't smooth. The ridges and valleys on the trackpad are quite prominent and I noticed that my finger tended to slide along those ridges. This hampers precision as the trackpad would sometimes detect a tap as a small movement. This was irritating to use on a daily basis.
Features: 8.5/10
The laptop is well-kitted out for its asking price. You get an Intel Core i7 7700HQ CPU, an Nvidia GeForce 1050Ti GPU, a 128 GB SSD, a 1 TB HDD, 16 GB of DDR4 2400 MHz RAM, a 15.6-inch display with FHD resolution (1920x1080) and an assortment of ports. These assorted ports include a LAN port, two USB 3.0 ports, one USB 2.0 port, an HDMI port, a mini DisplayPort, a USB 3.1 Gen 2 port via USB-C, a headphone jack, a dedicated microphone jack and an SD card reader. Though it's as good as irrelevant today, the laptop also features a DVD drive.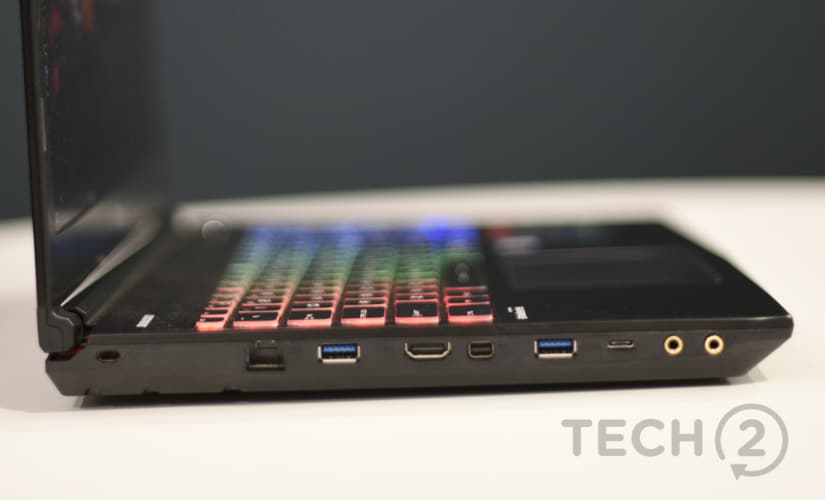 The complement of software is also rather good and, as mentioned in our earlier review of an MSI laptop, surprisingly useful. We won't dwell on the details, however. Suffice it to say that the bundled monitoring software is good and the bundled audio tracking software is niche, but can be useful. Simply head over here to find out what we thought of it the first time around.
A 2.1 speaker system is included in the system.
Display: 6/10
The display on this laptop was something of a disappointment. It's not that bad when you're using it normally or are gaming on bright maps, but performance in darker areas can be quite bad.
The device is particularly bad when it comes to black levels and contrast and we saw some of the lowest scores that we've seen in this class.
White levels are good and banding and artefacts are almost non-existent. MSI normally puts some rather nice displays on its laptops and I'm disappointed that this wasn't the case here.
I'm not saying that this is a bad display, far from it; all I'm saying is that I've seen better. The display on the similarly priced and specced Asus GL553VE offers much better black levels.
Performance: 8.5/10
Given the specifications, the performance is excellent. The GE62's nearest rival, the GL553VE, gets beaten by a handful of points and fps in just about every test. This indicates to me that the thermal management on the MSI device is slightly better than on the GL553VE. Our temperature recordings bear this out.

To throw some numbers around, the GE62 managed 46 fps at standard settings in Ashes of the Singularity, 60 at Ultra in Hitman Absolution, 73 at Ultra in Doom, 45 at Very High and no AA in Rise of the Tomb Raider and 47 at Ultra in Gears of War 4. All tests were run at FHD (1920x1080). Clearly, the MSI device is perfectly capable of some very decent FHD gaming. Tone down the settings to medium, and you'll comfortably hit the 60 fps mark.  
Thermal performance was also good. We saw 43 C on the CPU at idle and 95 C under 100 percent load (Prime95). Under gaming, temperatures rarely crossed the 80 C mark. At the same time, the base of the device and palm rest didn't get too hot, though it's best to have the device on a table. At 100 percent load, spots on the base touched 43 C.

Under sustained load, where we converted a video with handbrake, this MSI laptop finished the task almost 50 percent faster than the competing Asus unit. This is testament to the thermal management of MSI's device. Over long gaming sessions, the MSI unit should, in theory, give you better performance.
Speakers were adequately loud but not impressive. They're loud enough to enjoy movies without having to turn on the subtitles.
Battery Life: 3/10
Battery life was abysmal, but then, what can you expect from a gaming laptop? In our standard battery life test, the MSI unit conked off in about an hour and 48 minutes. While gaming with Nvidia BatteryBoost enabled, it managed to survive about 40 minutes.
Don't expect all-day battery life from a gaming laptop.
Verdict and price in India
This MSI device is in a very competitive spot in the market. A number of gaming devices from HP, Lenovo, Dell (Alienware) and Asus are slugging it out in this space. These devices offer similar specifications at a similar price, and picking between them isn't as easy as glancing at a spec sheet.
Compared to the Asus GL553VE, the only competing device that we've tested in this space, I think the MSI GE62 7RF Apache Pro sneaks ahead. The display and touchpad are slightly worse than on the Asus device, but not markedly so. The GE62's strength, however, appears to be in thermal management and dealing with sustained loads, and in this regard, it measurably outpaces the competing Asus unit.
If I had to choose between the two, I'd go for this MSI laptop, but it's not an easy decision. And, MSI, please, put in a glass trackpad next time.
Find latest and upcoming tech gadgets online on Tech2 Gadgets. Get technology news, gadgets reviews & ratings. Popular gadgets including laptop, tablet and mobile specifications, features, prices, comparison.