After the initial announcement of the BlackBerry KEYone at the Mobile World Congress (MWC) earlier this year, BlackBerry fans who have been hanging on to their Passports, Classics (or Privs) once again got excited for two reasons. First, they were happy to know that BlackBerry had not put its smartphone plans to rest and secondly, that there is now another BlackBerry device to look up to, one that should successfully merge Android with the true BlackBerry experience that was once BlackBerry OS.
Last year, I reviewed the BlackBerry Priv. The year prior to that, BlackBerry was still clinging on to BlackBerry OS 10 with the "abnormal" Passport and the "retro" Classic. At the end of my review I came to the conclusion that the Priv was a bit of a confused device. It was neither a BlackBerry in terms of user experience, nor was it a stellar Android flagship because it simply could not do anything better than existing competitors. And then, there was the sky high Rs 62,990 price tag (it's now retailing at Rs 30,000 online).
With the launch of the BlackBerry KEYone Limited Edition Black in India, I was just looking out for two key improvements: The capacitive keyboard and BlackBerry's integration with Android. Because, frankly speaking, there's not much that would help BlackBerry differentiate its product from a Samsung, HTC or even a OnePlus smartphone out there; especially when you keep in mind its Rs 39,990 price tag.
Strangely, there were a lot more improvements, but it all boils down to one essential BlackBerry element, its keyboard.
Build and Design: 8/10
I fell in love with the design of the BlackBerry KEYone when it was first announced at the MWC earlier this year. The Limited Edition Black launched in India is no different and the unit I received for review comes from TCL as well. So apart from the Black finish, the 4 GB RAM and 64 GB of storage options, there's really not much of visual difference between the two models.
Body
The design looks pretty good. It is however very subjective. I came across a couple of smartphone users who said that it looked old and dated. When I asked them why, they simply pointed to the keyboard on the front. "Who uses a keyboard on a smartphone these days?" went the common refrain.
Others, especially BlackBerry fans, drooled over its design and appreciated the finish and quality. Add to this the heft at 180 grams that adds to the premium feel.
I felt that the KEYone was a fresh and modern take on BlackBerry's classic design ideas. There's the front face with a 3:2 display and the capacitive navigation keys just below it followed by the physical QWERTY keypad (that is also touch sensitive).
As mentioned in my first impressions, BlackBerry has gone in for a 'blacked-out' look. Almost every surface of the body comes with a matte-black finish, save for the polished keys, the camera ring and the BlackBerry logo on the back. The smartphone uses four materials for its construction, glass, plastic, metal and rubber (or silicon) which is one too many for a smartphone these days. But it is how BlackBerry puts it all together that is quite impressive.
On the front, there's the camera lens at the top with a glass insert for the sensors. Down below is the Gorilla Glass covered display. On the back is camera lens and then a centrally-aligned BlackBerry logo a little below that.
Next up is the rubberised back that does a good job at keeping your KEYone in your hand. This is a necessity as the location of keyboard is at the bottom of the phone. Had there been a metal back like on normal smartphones, the KEYone would keep slipping off and flipping out of your hand while typing on the keyboard.
As for every other bit that I have not mentioned above, it uses metal.
All-in-all, the design of the BlackBerry KEYone sure left me impressed, it had a mix of sharp and rounded corners at the right places and the multi-textured surfaces brings back memories of the good old days of creative smartphone design, which is basically the era before Apple showed up.
Keyboard
The Keyboard of the KEYone is good, but BlackBerry or TCL (or Optiemus) could have done better. The keys feature better travel compared to the previous Priv, so they don't bottom out that easy. But they do feel spongy. In short, they still do not match the physical keyboard of the BlackBerry Bold Touch 9900.
Typing was a bit of a problem, because the keyboard has a short height, as I often ended up pressing two keys initially, but after a few days I began to find them accurately thanks to muscle memory. The keyboard could have been taller, but BlackBerry wanted a taller display, so they seemed to have compromised on the keyboard to allow for a device that actually works fine with one-handed use.
BlackBerry has also made the keyboard capacitive. Just like the Priv, you can swipe in two directions to switch tabs in an app (if it's enabled) or scroll through lists (chats, emails, images and more). It sounds like a great idea, but in reality, it's not well thought out (more about this in Performance).
The keyboard by far is the best one you can get on an Android smartphones these days (there's really no competition). So if it's a keyboard you are after, then you have no choice but to look at the KEYone.
Features:  7.5/10
The BlackBerry KEYone features a 4.5-inch IPS LCD display with an odd, 3:2 screen ratio covered by Corning's Gorilla Glass 4. Below it sits the capacitive keys for navigation. Inside, you get an unusual candidate for a flagship smartphone, the Qualcomm Snapdragon 625 that is clocked at the usual 2 GHz. Flagships are expected to carry an 800-series Snapdragon chip, or its equivalent. There's 4 GB of RAM and 64 GB of internal storage that can be expanded using the hybrid SIM tray by inserting microSD cards of up to 2 TB in capacity.
As for the other highlight of KEYone, it is the rear-facing camera. The unit is the Sony IMX378, which is the same camera module that also came in the Google Pixel (which was pretty good). The camera includes a 12 MP sensor with Phase Detection Autofocus (PDAF) and a lens with an f/2.0 aperture. It lacks OIS so the camera heavily relies on EIS for both video and still images. The front-facing camera is an 8 MP unit with an f/2.2 aperture but comes with a fixed focus lens setup.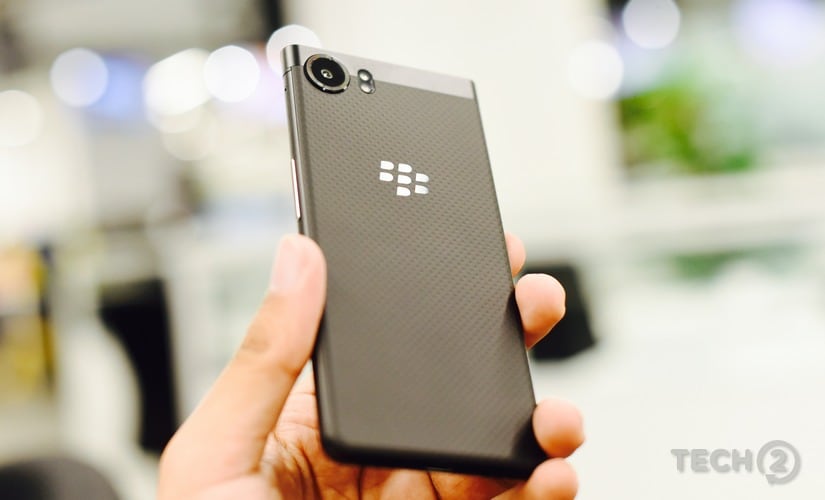 Quite the unique combination of features and hardware
Coming to connectivity you get support for Dual 4G SIMs with VoLTE using a hybrid SIM tray that lets you swap one SIM out for a microSD card. There's Wi-Fi 802.11 b/g/n (2.4 GHz), 802.11 a/n and ac for 5 GHz, 4G mobile hotspot, Bluetooth v4.2, NFC, an FM Radio and a USB Type-C connector with OTG support.
Powering it all is a 3,505 mAh battery.
But since this is a BlackBerry, there's more. The fingerprint reader does not sit on the back, but on the front, and it has been smartly embedded into the spacebar key, which literally makes it invisible.
While unlocking the phone, two tiny lights blink to give you a hint that you need to place your finger on that key. It is a miniscule feature, but rarely do we come across it on smartphones.
Another feature related to the physical keyboard are the shortcuts, where every key can be customised to launch a particular app or feature.  You can assign function to all 52 of them to call on any app (native or third-party). There's also the 'Convenience' key that can be assigned to open any app, which is available below the volume rocker on the right side.
Display: 7.5/10
The display on the BlackBerry KEYone is a rather odd one. It is a 3:2 ratio IPS LCD display with a 1,620x1,080 pixel array. It still manages to look taller, sitting above what appears to be a shorter keyboard.
As for the display itself, it is sharp at 434 PPI and it was hard for me to spot a stray pixel anywhere no matter how closely I looked at text or the icons. The LCD screen was bright both in outdoors and in direct sunlight conditions. However, the adaptive brightness feature was a bit problematic. It would often dim the display a bit too much. Thankfully, it is something that can be adjusted in Settings, so it wasn't much of a hindrance.
Colours looked a bit saturated and the display tended to showcase cooler tones overall. But the hue could be changed in the Settings app under Display Settings.
Software: 8/10
The BlackBerry Priv comes with Android 7.1 and there are plenty of customisations. There are customisations to the user interface and the way the software is handled to deliver the rather aggressive battery life times I have experience during my week-long review period.
Starting with the user interface, it almost looks like stock Android with stock-looking icons, the usual app drawer and a Spartan notifications tray and settings menu.
The software ran fine, but wasn't buttery smooth. Indeed, you cannot expect things to be this way because of BlackBerry's customisations (there's the Hub and the Productivity Tab) and the fact that there is a power efficient Snapdragon 625 chipset inside. But it ran smoothly nonetheless.
The KEYone comes with a Power Center application, found in the app drawer. This is different from the standard Battery settings in the Settings app and will let you customise and control how each app consumes the available power from the battery.
We have seen resolution changes before on the Samsung Galaxy S8 and then on the Huawei Honor 8 Pro as well. They let you run the smartphone at a lower resolution to lower the graphics load that will suck up less power.
On the KEYone, BlackBerry takes things a step (or may be two) further. You get per app power customisations here. These are usually available upon rooting and tweaking your smartphone to quite an extent, but BlackBerry has conveniently delivered the same in an app.
You can tweak the brightness level when a particular app is launched along with resolution, and even the frame rate! So if you happen to be an extreme WhatsApp user, you can save battery life when using the app by reducing the brightness, reducing the resolution and even dropping the app's frame rate down to 30 fps (instead of 60). You can do this for not only one, but for every single app you installed or that comes preinstalled, including the BlackBerry launcher (or home) app. I did notice that some games like Real Racing will crash upon changing the default power usage from Balanced to Performance.
At the same time, BlackBerry Hub is the same old stuff I used on the Priv, and its sole reason to exist only comes from the fact that it displays a history of your notifications. Its problem lies in the fact that is not well integrated into third-party apps. So if you get a WhatsApp notification all you can do is swipe to delete it from your Hub view or schedule it to appear again in while. You just cannot reply inline, like on  the BB 10 Hub. Clearly, the standard Android notifications shade is more practical and time saving as tapping on a WhatsApp message in the Hub will simply open up the app.
As for the Productivity Tab, it is an always available floating tab that will show you recent emails, contacts and calendar updates. Somehow I wished that BlackBerry would do away with the Hub and include everything, including notifications, in the productivity tab, but then again, you have a notifications tray on any Android smartphone for that and it's accessible with a simple swipe from the top.
Performance: 7/10
Indeed this is one area where the BlackBerry KEYone does fall short. The benchmarks scores are strictly on par with budget smartphones. When I say budget, I mean smartphones like the Xiaomi Redmi Note 4 that come with a similar chipset, RAM and storage bits, but are priced around Rs 12,000 (instead of Rs 40,000).
But as I said in my first impressions, it is not what you have but what you do with it that really matters.
From the software section, it is easy to see that BlackBerry has done plenty of work under the hood.
Then there's BlackBerry's promise of delivering one of the most secure Android smartphones out there. It uses a hardware root of trust, which adds security keys to the processor. In short, it makes the data in your smartphone really hard to get to (read impossible) for a thief, if your smartphone is stolen.
This however does not really slow down the smartphone by any margin. Being a business or productivity focussed smartphone the BlackBerry KEYone can play every single game available on the Google Play Store. There are no slowdowns and no heating issues whatsoever. The games that I tested (Real Racing 3, Asphalt 8: Xtreme, Dead Trigger 2, Aqueducts, Subway Surfers) did run with lowered texture settings.
There is the cropped 3:2 view (instead of the usual 16:9), that kind of gives you that claustrophobic feeling while playing games. Add to this the left aligned display thanks to the physical keyboard and it's not exactly the best smartphone to play games with. So if you are into serious 3D gaming, the KEYone is not the device for you.
Having used the Passport and then the Classic followed by the Priv, the call quality was pretty decent in my opinion. Listening to music using my headphones was a good experience where the KEYone delivered balanced highs and lows without going heavy on the bass notes. The speaker was loud, but it sounded tinny so it is not something you can use during a call unless you are in a quiet place, let alone listen to music. Then there's the keyboard. So you have a physical keyboard with a track pad-like keyboard surface that recognises two gesture swipes (top to bottom and left to right and vice versa), which also means you don't have to touch the display. That also means you have more viewable screen real-estate without your meddling digits getting in the way. Well, that may have been BlackBerry's idea behind it, but in reality it is far from the truth.
The touch sensitive keys are limited to the first three rows. The bottom row with the prominent space bar (embedded with a fingerprint reader) and the symbol and shift keys are inactive. In short, unlike the Priv, that had a taller track pad like space (a replacement for the optical trackpad), the area on the KEYone for swiping is reduced to barely an inch. This now means that you have to swipe and swipe and swipe, with limited inertial scrolling. Add to this the jittery detection of your finger (unlike the Priv) and I was better of scrolling using the display. Scrolling by touching the display worked a lot smoother as compared to the capacative keypad.
On older BlackBerry devices when you scrolled though messages, or a menu, you would obviously want to click on a selection at the end of it (it is what normal human beings do). The tiny trackball (or even the side scroll wheel) allowed for this (and was mighty accurate in my opinion) as well. The touch gestures on the KEYone's keypad only allow for scrolling. So you scroll through a long list and then you have to reach out to the display, (that starts far up) to tap on your selection. You cannot even move a cursor while typing an email on the BlackBerry Hub. To move the cursor, select text, copy text, you have to move to your fingers to the display, which is mounted higher than usual on a smartphone.
In short, navigation is a complete mess and you are better off using the display for interacting with the software. Had BlackBerry provided the ability to select software buttons as you swipe, the implementation of the same would have been a welcome move. But as of now, the touch-happy keyboard on the KEYone is only good for typing.
Camera: 7.5/10 I really had high expectations for the camera on the BlackBerry KEYone ever since it was launched. As mentioned in the Features section, it packs in the same camera module, which is also found on the Google Pixel. But again, as mentioned earlier, that does not really warrant great camera performance.
The Google Pixel uses plenty of software trickery (HDR+ included) to deliver photos like no other. Oddly, that also works well because the Pixel features a Snapdragon 821 and a laser assisted focusing system. Clearly, that humbler 625 chipset in the KEYone is nowhere close to the Pixel. But by no means is its camera performance bad. The camera delivered well-exposed photos with well-balanced colours.
Noise was always under control. This was visible in some dim and extreme low light photos that somehow managed to capture some detail despite that f/2.0 aperture lens.
The HDR Auto mode was pretty good it's just that there was plenty of ghosting visible in the images, especially with moving objects.
Focusing was instantaneous in daylight and fast in low light as well. My only gripe here is the automatic night mode, which seems to kill some of the details in some low light images.
The lack of optical image stabilisation is indeed a big miss here and the camera could have benefited plenty from it. Low light images could have been crisper as well.
Most of the images shot however lack depth. The photograph of my nephew is a good example of the same problem. It literally looks flat despite the subject being well isolated from the background. The same goes for the landscape images, it's really hard to tell what object is ahead or behind simply because the focus is a bit too soft.
Video recording too was pretty impressive with options for 4K 30 fps, 1080p 60 fps and 1080p 30 fps with enhanced stabilisation.
Overall, the camera on the BlackBerry KEYone may not beat the Priv, but it stands up well on its own and comes quite close to the Huawei Honor 8 and the OnePlus 5, if not beating them in some areas.
Battery: 9/10
If battery life is your concern, then you really need to look no further, the KEYone is the smartphone for you. The device may not be built for media consumption (like the massive Xiaomi Mi Max 2), but it beats the pants off any flagship smartphone out there by a mile.
While our standard PC Mark 2.0 Battery Life test gave a good 10 hours 42 minutes, with my daily usage, I literally lost track of when I had last charged the smartphone. My daily usage consists of shooting a few photos, downloading apps via Wi-Fi, video steaming for about 2-3 hours on Wi-Fi, three email accounts on push sync with WhatsApp, Slack and Telegram buzzing all day long. Oh and lets not forget about an hour of 3D gaming.
The device needed to be charged once in two days! I often ended up with figures like 1 day 22 hours since last charge, which sounds unrealistic and abnormal after I just reviewed the OnePlus 5. With the OnePlus 5 and a Qualcomm Snapdragon 835 inside I would end up with figures like 19 hours since last charged before plugging the device in.
So yes, the KEYone with its combination of a smaller 4.5-inch display, a Snapdragon 625 and a 3,505 mAh battery has delivered the goods when it comes to flagships, with almost two days of battery life.
Verdict and pricing in India
Back in the day, we had BlackBerry devices for email, and regular Nokia phones for (what was called) multimedia and even the N-gage for gaming.
Then Steve Jobs showed up with the Apple iPhone took down all those categories (altogether in one go). Today, we have Android smartphones that can literally do everything a BlackBerry can.
In this cutthroat crowded market, the BlackBerry KEYone diverts ever so little from the norm. There's a keyboard for beginners and then there's the capable camera and finally the battery life, one that has no competition.
But are you ready to deal with a physical keyboard?
At Rs 39,990, customers will find it hard to ignore the LG G6 (at Rs 36,790) and the OnePlus 5 (at Rs. 32,999). Out of the three competitors, the G6 even offers a taller 18:9 display with IP 68 water and dust resistance. More importantly, it can do everything the BlackBerry can do, save for security, the camera and that impressive battery life.
BlackBerry fans and some brave Android souls who are tired of the boring candy bar designs and virtual keyboards will get something different with the BlackBerry KEYone. The design is a breath of fresh air in the Android world, and so are those battery life times. Both of these should be enough to make the KEYone a worthy buy even at Rs 39,990… for some.
As for the rest, they will simply shy away and either go in for an LG G6 or a OnePlus 5 because nobody today wants to deal with the same old physical keyboard. The one that BlackBerry has been harping about for the past 14 years but has not innovated on since the Quark. It's about time BlackBerry reinvented the smartphone keyboard!
Find latest and upcoming tech gadgets online on Tech2 Gadgets. Get technology news, gadgets reviews & ratings. Popular gadgets including laptop, tablet and mobile specifications, features, prices, comparison.