Aditya MadanapalleNov 01, 2017 13:22:45 IST
WhatsApp has rolled out its "Delete for Everyone" feature on iPhone, Android, Windows Phone and the web client. The feature is meant to allow users to delete messages sent by mistake, to either an individual or a group. The recipient and the sender should have the latest version of WhatsApp for the feature to work, and users have a window of seven minutes to delete the message, after which the user can delete the message for themselves, but not for everyone.
The feature was in beta testing for over a year, and is finally available on the main client. Users have to tap on the message to be deleted, select delete, and then choose the "Delete for Everyone" option. Multiple messages can be deleted at once, as long as they were all sent within the seven minute window. The message does not disappear without a trace on deletion. Instead, it is replaced with the words "This message was deleted" for other users, and "You deleted this message" in the account of the user who deleted the message.
The deleted message actually leads to more questions. The feature was presumably introduced to save users the embarrassment of having to say "sorry wrong chat" after sending a message by mistake. After that, people could move on with their lives, with the knowledge that the text was not a topic of discussion. A bubble that says a message was deleted however, leads to more questions from say inquisitive kids, nosy relatives, curious neighbours or bored carpoolers. WhatsApp is being used for all kinds of things now, and in some situations at least, it just leads to more questions over the missing message, and unnecessary conversation.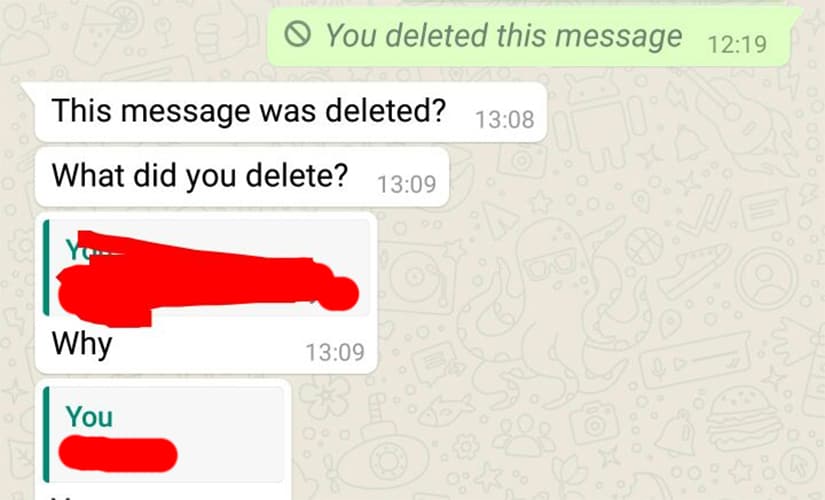 Find latest and upcoming tech gadgets online on Tech2 Gadgets. Get technology news, gadgets reviews & ratings. Popular gadgets including laptop, tablet and mobile specifications, features, prices, comparison.