Aditya MadanapalleAug 28, 2017 20:42:28 IST
Tata Trusts along with a Toronto based organization known as the World Council on City Data is undertaking a City Data India initiative to help transform the lives of millions of urban residents in the country. The program has been launched to complement two flagship urban development programs by the Government of India, the Atal Mission for Rejuvenation and Urban Transformation (AMRUT) and the Smart Cities mission.
The game-plan for the City Data India initiative is to build and enhance a culture of data and accountable governance in the selected partner cities. The long term goal is to help the authorities and citizens make better data informed decisions. Building up the data capabilities in India will allow more informed investments in necessary infrastructure, as well as allow for systematic city planning.
The initiative will allow Indian cities to join a global network of cities that are committed to using data to improve the lives of their citizens. The cities in the project have various classifications, including Aspirational, Gold and Platinum. The three Indian cities listed currently on the project are Jamshedpur, Surat and Pune. Out of these Jamshedpur and Surat have a Gold classificiation while Pune has a Platinum classification.
These three cities are the initial "pilot" cities under the city data initiative. Another five cities have been added in 2017, Ahmedabad, Bhubaneswar, Chennai, Vijaywada and Bhopal. Future plans include expansion to fifteen other cities with medium to high levels of data preparedness. The idea is to identify cost effective solutions to the challenges faced by Indian cities in infrastructure and operations. The effort is expected to improve the effectiveness of central and state government investments in these cities.
The City Data Initiative will allow Indian cities to join a local and global network of cities with ISO 37120:2014 certification. The certification allows cities to compare their progress with other cities. This will allow for realistic benchmarks and targets that the cities can reach. The standard hopes to enable better planning, and guide the policymakers.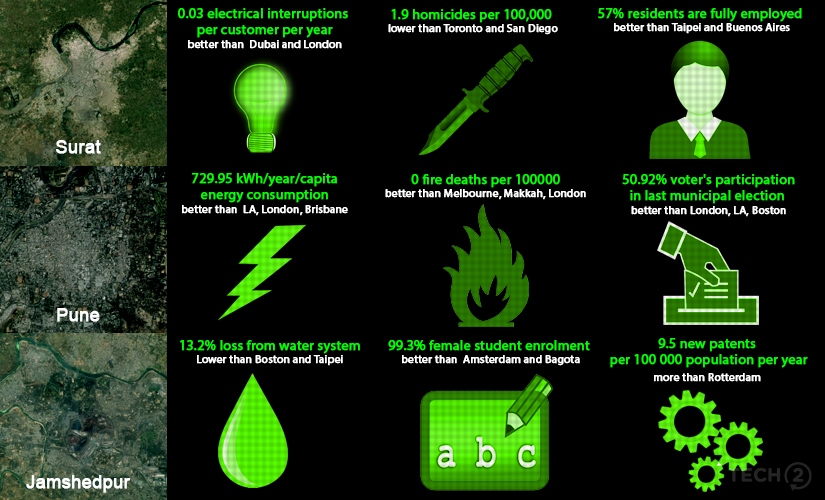 There are some interesting insights in the data collected from the Indian cities participating in the pilot program. 57 percent of the population in Surat has full time employment, which is higher than other cities in the world such as Buenos Aires (44.78 percent), Taipei (44.8 percent), and San Diego (40.1 percent).
Surat also has a relatively low homicide rate, with only 1.9 homicides per 100,000 people, compared to 2.1 in Toronto and 2.32 in San Diego. It turns out that Surat is also better than London or Dubai in delivering electricity. There are only 0.03 interruptions per customer per year in delivering electricity, while London has 0.19 interruptions and Dubai experiences 0.14.
Jamshedpur is another city that does well on the indicators in the standard certification. Most of the electricity (99.2 percent) is provided through authorised access. There is very little wastage of water compared to other Indian cities, with water loss from the system at 13.2 percent. The figure is lower than Boston (14.2 percent) and Taipei (16.7 percent).
Jamshedpur also has achieved a high rate of female student enrollment, at 99.3 percent. This is better than Bagota, Amsterdam and Beunos Aires. More people in Jamshedpur complete their secondary education than people in Toronto.
Jamshedpur files for 9.5 new patents for every 100,000 residents, which is higher than Rotterdam (7.5), a major industrial center in Europe. These indicate the economic health and development in a city. Tata Trusts has taken up the agenda of data driven governance to enable holistic development of the nation.
When it comes to voter registrations, Pune is number one in the world along with Barcelona, Eindhoven and Melbourne, and has performed better than London, Amsterdam, Brisbane, Boston and LA. Pune's comes it at 18th among cities among the world in terms of voter participation, with 50.92 percent turnout in the last municipal election. Although Pune is lower on the list, it has done better than cities like London (38.65 percent), Amsterdam (50.3 percent), LA (9.91 percent) and Boston (13.63 percent).
This article is the third part in a series of articles exploring the initiatives by Tata Trusts to use technologies to drive societal transformation. The previous articles in the series covered the DRUV project, and the DELTA program. 
Find latest and upcoming tech gadgets online on Tech2 Gadgets. Get technology news, gadgets reviews & ratings. Popular gadgets including laptop, tablet and mobile specifications, features, prices, comparison.