Aditya MadanapalleNov 22, 2017 14:03:25 IST
One of the biggest obstacle to achieving digital inclusiveness in India is the lack of regional content in local languages. Access to services and applications is simply not available in local languages, and there is very little that regional language speakers can actually do with a smartphone. Even in 2016, feature phone sales exceeded smartphone sales.
Something as simple as sending messages, posting on social media platforms can be a challenge for local language speakers. One of the companies addressing this gap is Indus OS, that provides a smartphone OS and App Store in Indian languages.
Another leading company active in the localisation space is Reverie Language Technologies. Their Indic Keyboard Swalekh Flip allows users to type in 22 regional Indian languages, and can be installed on any Android or iOS device.
We spoke to Debashish Roy, vice president of product and innovation at Reverie Language Technologies, and Vivek Pani, one of the founders of the company, to explore more about Swalekh Flip and the advantages that it offers over other Indic language keyboards. What we found out was that a lot of thought and effort was put into the design, to allow for speed and fluidity in the typing experience, while removing the unnecessary keys from view.
Debashish Roy says, "We have designed the Swalekh Flip keypad keeping in mind the Indic typing experience. When I say the Indic typing experience, it is different from the English typing experience. English does not have the set of characters which you have in Hindi. So when you design a keypad (for Indic languages), you cannot just put every key in the input layout, and increase the number of rows and columns. Doing this ends up with a very bad ergonomic experience for the user. What we have tried to do is maintain the uniformity of the layout across different languages, whether it is English or any other Indic language. The number of rows remains four and the key size remains the same across all the languages."
There is also a layering system, that just does not let users type junk text. Roy explains, "We have implemented a unique layering system, which is based on the nature of the Indian languages. This keyboard is also special in a way that it will not allow anyone to create wrong or nonsensical formations. For example, you cannot put a matra on a consonant if the consonant already has a matra. If you already have the 'aa ki matra' on a consonant, you cannot put 'oo ki matra' again on the same consonant. On some other keyboards, you can append any number of matras to a consonant, or even type any number of matras even without a consonant.
The abundance of input tools for Indic languages is largely driven by user-generated content. As such, if the web is filled with wrong content, then searching and sorting for such content goes for a toss. The language actually takes a hit.
An example is supposed you type 'aam' (आम), we know that you have to use  'aa' (आ) directly and then 'ma' (म). These are the two strokes we have to give. If a keyboard allows 'a' (अ) and also an 'aa ki matra' (ा) and this goes and sits on the web. The content gets created differently. If that happens, and somebody is searching for a particular content, then the user gets only the content that matches the way in which the word has been entered.
That way today we have very little content in Indic languages. Tomorrow, when more content gets created, then these sorts of challenges would be inevitable. That is why on our keyboard you cannot type a matra unless you have typed a consonant, and if you have already typed a vowel, it will not allow you to type any matra on that. Another example is on many keyboards you can put a 'choti e' matra (ि) and put a 'badi e' matra (ी) also. That is a nonsense formation. So one of our USPs is to avoid that."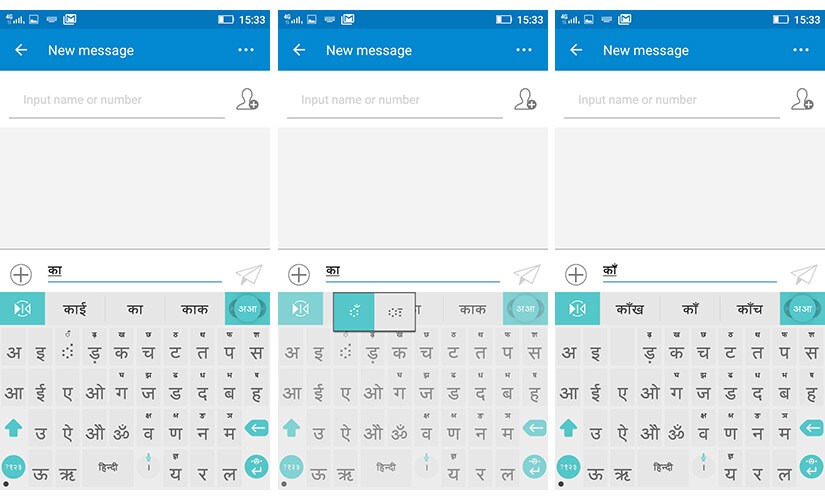 Another user experience oriented design measure that Reverie implemented was to have a system where users see only the most used set of characters. Roy explains, "So we have pairs of characters in Indian languages, such as 'ka kha' and 'ga gha'. The 'ka' is called alpapran and the 'kha' is called mahapran. There are exceptions, but in general both the alpapran and mahapran are not used together in a word. So we kept the alpapran on one layer, and all the mahapran is in another layer. Because of this, the typing becomes faster, and it allows us to maintain the size of the keyboard at four rows, and the size of the keys remain the same.
This way, the typing experience in Indian languages becomes better. Similarly, on the vowel side, vowels are 'a aa e ee', and there are matras, 'aa ki matra' (ा) or 'e ki matra'. The vowels and the matras are also represented in different layers. So, when you have not typed any consonant, you will not see any matra on the keyboard. This means that the keyboard will not even allow you to type any matra. What you would see are the consonants and the vowels. But the moment you have typed in the consonant, the matras show up, then the user can go ahead and type in the matras."
Users in India are conservative when it comes to the bandwidth consumed, as well as the memory footprint of an app. Swalekh is decidedly light-weight, and does not require an internet connection to be used. Roy says, "Then we have kept the keyboard as light as possible. Other Indic keyboards which provide similar capabilities have got about twenty MB, but out keyboard file size is less than 6 MB. In our keyboard we give offline phonetic typing. Phonetic typing means the transliteration typing. If you choose a particular language, say Hindi and you choose a phonetic mode that is English, you can type in English and the output is in Hindi. So if you type 'kya kar rahe ho' in English, it will automatically start giving the output in the Devanagari script. All of this happens completely offline, so you do not need coverage for this."
Vivek Pani adds, "In an English keyboard usually you have ten keys in one row, and four rows in all. So that makes enough space for your thumb, and people are used to those. But every Indian language keyboard that is available other than Swalekh, they have compromised it (the layout) because Indian languages have many characters. So what they do is that they add at least eleven columns, or sometimes thirteen columns, and more than four rows, somewhere like six-seven rows. When you do that the key sizes become smaller, and also the space that you have to use the application also becomes smaller. But in Swalekh, we still have ten columns and four rows, so that is exactly the kind of experience that you get in English. The keypad adapts to what is being typed so that the users are able to type quickly and correctly. "
One of the strong points of the keyboard is that the keys are arranged in the sequence of the varnamala. This means that users do not have to learn the layouts used in regional language typewriters, but can instead start typing right away by following the familiar arrangement of vowels and consonants that they learned in school.
Roy explains, "It starts with the vowel sounds on the left and the consonants towards the right. All the main vowels and consonants are on the base layer, the matras and less used consonants are on the next layer, so the typing becomes faster."
I then asked if there were any language-specific challenges that the designers experienced while crafting the keyboard. Debashish Roy said, "Yes, there are specific challenges to some languages. Let's say I have to write ICICI bank in Hindi. In English, there are just five letters. But the moment you want to write that in Hindi, your 'I' itself is two characters long, so the five characters long word would end up being eight characters long, and the characters take even more space in languages such as Malayalam. Those sort of problems occur when you translate from one language to another. We do also face a lot of UI specific problems, and we have found ways to handle those as well."
We enquired about a specific comparison. One of the most commonly used tools for typing in regional language is the Indic keyboard offered by Google itself. Debashish Roy says, "As I mentioned, one thing is the memory footprint. The Google Keypad is at least 20 MB in size, Swalekh is less than 6 MB. You can still type a lot of nonsense formations on the Google Keypad, but that is not possible with the Swalekh Flip. This is one of the most important advantages in terms of usability. Then comes the layout size, the Google Indic Keyboard has five rows. Swalekh has kept the keyboard height the same as the English keyboard. Ultimately, the screen size is not reduced for Indic languages. We do have autocorrect and next word prediction in Indian languages. We try to evolve the keypad according to the typing behaviour of the user. Another advantage we offer is the various modes of typing available on the keyboard. Suppose you selected Hindi or any of the 22 languages available on the keyboard, then each language provides you with three modes of typing. One is in English, the second one is your native mode using the script, and the third one is the phonetic mode. The phonetic or transliteration mode is offline.
There again, you have next word prediction. Transliteration happens on the fly, so while you are typing there are suggestions on the top, which you can select from. In order to enhance the experience of the user, we keep tweaking the rankings of the suggestions in terms of frequency of use.
For example, if 90 out of hundred users select a particular prediction, we increase our ranking for that prediction. This is also how we enhance the user experience by taking the feedback and improving the transliteration engine. This is completely offline, and the transliteration engine is actually Reverie's greatest strength. The advantage is that it is lightweight and it sits inside the app itself. Others use online transliteration, which has a slower response."
Another important advantage that Swalekh has over the Google Indic Keyboard is that Swalekh supports 22 languages, while Google's keyboard supports only 11.
We asked how access to localised content and applications can transform the technology landscape for Indians. Vivek Pani says, "We have seen reports by Google that the total amount of Indian language content on the internet is less than 0.1 percent. Whereas English, compared to that is at 56 percent. Which means that English content is at least hundred times more than all the Indian language content put together.
But, if you look at the way people consume text-based content in India, then 92 percent of all print is in local languages. Only 8 percent is in English. All of this content, which is available only in print, will become available in the digital medium as well. People will be able to consume this content through the web as well. The objective is that the content should start becoming available, and people should start interacting with the digital medium as well.
People will be able to create content on their own. Already, for every new internet user, nine out of ten don't know English at all. Perhaps, by next year it could be ten out of ten who would not be knowing English at all. That is the kind of growth that is definitely happening in Indian language content."
There are other features on the Swalekh Flip keyboard as well, for example, users can customise the appearance with a theme. There is a mode switcher to rapidly toggle between two languages, as well as a cursor that allows users to make quick edits or navigate to a particular portion of a copy pasted piece of text. The languages supported by Swalekh are Hindi, Bengali, Telugu, Marathi, Tamil, Gujarati, Kannada, Malayalam, Odia, Punjabi, Assamese, Nepali, Bodo, Dogri, Konkani, Maithili, Manipuri, Sanskrit, Kashmiri, Sindhi, Urdu, Santali and English. Developers can integrate the multi-lingual keypad into their own applications by signing up on Revup, the developer portal for Reverie.
Swalekh Flip is available for free for Android users on the Play Store and Apple users on the App Store
Find latest and upcoming tech gadgets online on Tech2 Gadgets. Get technology news, gadgets reviews & ratings. Popular gadgets including laptop, tablet and mobile specifications, features, prices, comparison.