tech2 News StaffFeb 26, 2018 01:14:02 IST
When it comes to the Samsung Galaxy S9 and S9 Plus, there's nothing left to the imagination. A series of leaks in the days leading up to the launch of the device told us absolutely everything we needed to know about the phone's builds, design, and cameras.
To recap, the phones are both powered by the flagship Qualcomm Snapdragon 845 SoC and Samsung's Exynos 9810, depending on market. The S9 will include 4 GB of RAM and the larger S9 Plus will include 6 GB of RAM. The screens remain the same 5.8-inch and 6.2-inch units we saw last year.
Storage options also differ this year, and you get the option to choose between 64 GB, 128 GB and 256 GB variants. MicroSD cards of up to 400 GB in size are also supported.
The biggest features of the new phones, however, are their cameras. The smaller S9 will include a dual-aperture 12 MP camera (f/1.5 and f/2.4) while the larger S9 Plus will include a pair of rear cameras, one a dual-aperture unit and the other, a fixed aperture (f/2.4) one.
In terms of design, there's almost nothing new and except for the rear cameras, you won't be able to tell the S8 phones apart from the S9 devices. Thankfully, one major change is that the fingerprint sensor has, more sensibly, been returned to the rear-centre of the device.
Water and dust resistance remains.
That's the boring stuff. Here's what's interesting.
Dual-aperture: What is it?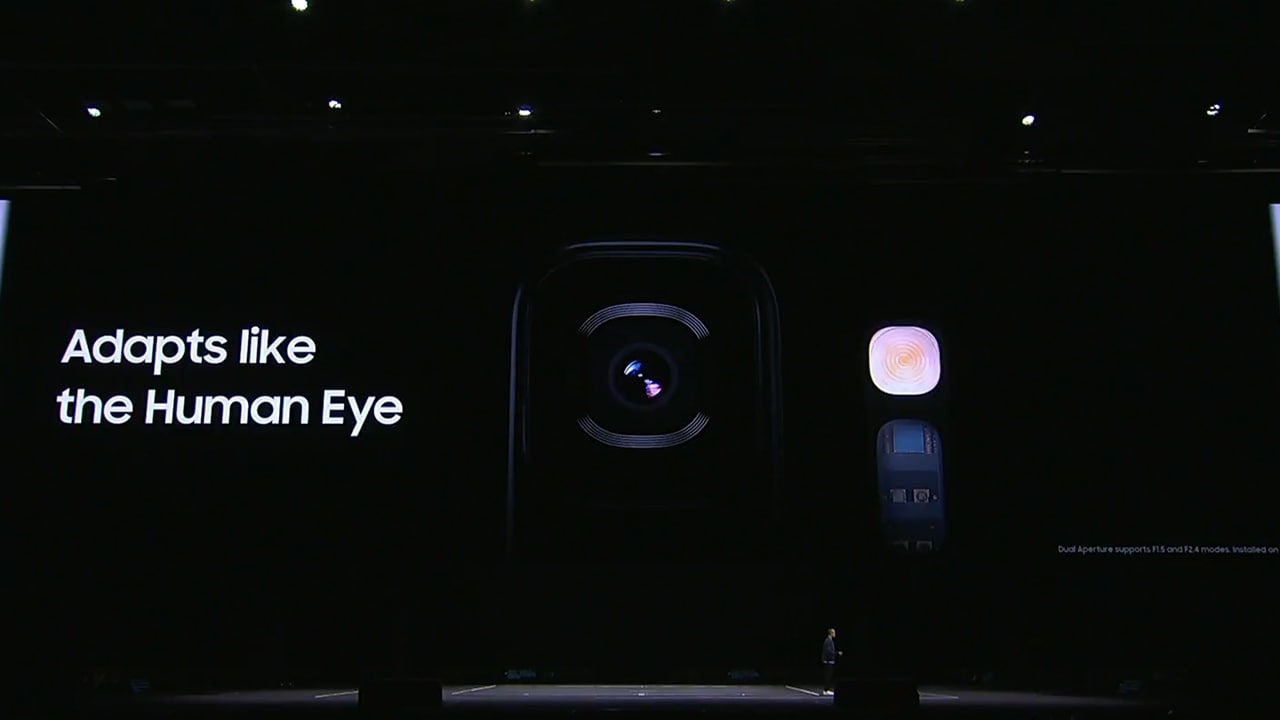 The dual-aperture camera is easily the most fascinating aspect of the new phones. Normally, a tiny smartphone camera only comes with one aperture. The aperture is the size of the opening that allows light into the camera. The larger the aperture, the more the light that enters the camera and the clearer the image in low-light.
However, there's also a down-side to this. Larger apertures lead to shallower depth-of-field and after a certain point, result in reduced sharpness. With the S9, Samsung has opted to offer a wider aperture than any other smartphone camera before it along with a much smaller aperture.
The camera software picks an aperture that it deems is ideal for a given lighting situation and goes with what is more suitable. By default, the camera will go with the smaller, f/2.4 aperture, resulting in images that are extremely sharp. When the light is low, the camera will automatically switch to the much brighter f/1.5 mode.
A faster camera = A better camera
With the S9, it's not just the apertures that are new. Samsung has added DRAM to the camera sensor module itself, something that Sony had done with its XZ1 smartphone. DRAM is an ultra-fast, low-latency memory that's useful for handling large volumes of data.
The new @Samsung #GalaxyS9's camera packs in the ability to shoot #SuperSloMo video at 960 fps! Catch up on more details about Samsung's latest flagship here. #MWC18https://t.co/qyPMn3nupl pic.twitter.com/DiWJVKQXU3

— Tech2 (@tech2eets) February 25, 2018
By integrating DRAM into the sensor module, Samsung, like Sony, has created a high-speed buffer for the camera. Due to this, the camera can handle large amounts of data, i.e, take a very large number of shots and process them, 4 times the amount of data when compared to the S8, in fact.
This also, Samsung says, helps reduce noise in shots.
As a bonus, the camera can now support an incredible burst rate of 960 fps. That's four times faster than the fastest speed on the iPhone X. This incredible slow-motion mode only lasts 0.2 seconds, but that 0.2 seconds of footage will translate to 6 seconds of footage when played back in real-time.
One of the USPs of the @SamsungMobile #GalaxyS9 and #GalaxyS9Plus is the Super SloMo feature that lets you shoot slow-mo videos at 960fps. @ankitv gave it a spin at the demo booth and came away impressed. He plans to make horror shorts with this feature. What would you do? #MWC18 pic.twitter.com/seEjReXEAy

— Tech2 (@tech2eets) February 25, 2018
Given the extremely small window for recording, the camera app includes a feature that lets it track a certain portion of the screen for motion. The moment fast motion is detected in that portion, it starts recording.
Another thing to note is that the 960 fps burst only happens at 720p.
On Sony's XZ1, the burst was quite frustrating to use as the video so captured was very grainy. Hopefully, Samsung has done something about the issue.
The slo-mo footage can be converted into a gif and shared and can also be set as your lock-screen image.
Since no audio is recorded while recording at 960 fps, the camera app automatically adds music.
The dual-camera on the S9 Plus supports a wide and a tele lens. Both cameras support OIS. The Plus supports a depth-effect portrait mode feature called live focus where blurring can be added after the fact.
Animoji AREmoji
Taking a leaf out of Apple's book, Samsung has added support for AREmoji (Augmented Reality Emoji).
In principal, AREmoji works just like Animoji, where 3D emoji track your facial expression in real-time.
Samsung, however, takes things a step further by creating a virtual avatar in your likeness. The S9 phones don't use Face ID like 3D maps, but they can capture a 2D image of your face and use that to fashion a virtual avatar.
1st look at #GalaxyS9 #ARemojis.
Front camera shoots your selfie and animates your face to 16 expressions. Can customise face, outfit, accessories. Works across all messaging and social media apps. Makes GIF of animation.
Looks way cooler than @Apple animojis. pic.twitter.com/VkaAPcBA0X

— Tech2 (@tech2eets) February 25, 2018
This avatar can be animated and customised to your liking.
AREmoji can be sent to any device, not just Samsung ones, but it's not clear what format they'll be going in.
The phone will also create 18 unique animated AR emojis based on your likeness.
This may not seem like a big deal right now, but we suspect that the AREmojis will soon have a big future in VR (virtual reality).
As a bonus, Samsung has partnered with Disney and has brought Mickey and Minnie to AR. You can also play any character from The Incredibles.
Even in the demo videos, it was apparent that AREmojis did not track as well as Animoji, but we'll have a thorough test for you when we get our hands on these devices in the next few weeks (hopefully).
Health, fitness and a smarter Bixby
Samsung was eager to talk about the new health and fitness features of the new phone. While Samsung mentioned that the S8 was the only smartphone to feature a heart-rate sensor, the new S9 phones feature an updated sensor that can also be used to measure blood-pressure. As usual, all of this data will be managed by the Samsung Health app.
The updates to Bixby, however, are far more interesting. In the health and fitness department, Bixby you can now point Bixby at your food and Bixby will automatically figure out what you're eating and its nutritional value. For people who strictly monitor their diet, this could be a life-saver.
Other updates to Bixby include a make-up overlay, which can be used to help you determine make-up of your choice. Better yet, Samsung has partnered with several cosmetics brands and if you like a particular shade of lipstick, say, Bixby can order that shade for you.
Bixby is also compatible with Google's AR Core.
The AV experience
While the displays remain the same at 5.8 and 6.2 inches, we suspect that Samsung is using the more colour-accurate displays that it used on the Note 8 series of phones.
Samsung claims to have significantly boosted the brightness of the displays, making them more vibrant for use in bright daylight.
This time, however, it's the audio department that's received a massive upgrade.
The S9 phones feature dual-speakers with Dolby Atmos support. These speakers, claims Samsung, are the loudest yet on any Samsung device.
Our beloved 3.5 mm headphone jack still remains.
Other upgrades: Wireless charging, DeX and more
The phones now support "fast" wireless charging, a horizontal home-screen and multi-tasking features that don't force you to quit an app just to answer a message.
Lastly, Samsung says that they've worked with partners to ensure excellent trade-in value for those trading up their older Samsung Galaxy phones for the S9. We're not sure whether this will apply to India, however.
The phones will work with the DeX dock from last year, and will also work with something called a DeX Pad. The DeX Pad will let the phones lie flat, allowing them to be used as touch-pads. External displays up to 2K in resolution will be supported.
The phone also supports some sort of Face Unlock mode that is using some sort of limited 3D mapping technology.
Pricing and availability
The phones start at a price of $720 and $840, a tad below the current price of the Galaxy Note 8.
The devices will be available in Midnight Black, Titanium Grey, Coral Blue and Lilac Purple (we're certainly thankful that Samsung didn't fall for Apple's Rose Gold nonsense).
India pricing and availability is unknown at this time.
Find latest and upcoming tech gadgets online on Tech2 Gadgets. Get technology news, gadgets reviews & ratings. Popular gadgets including laptop, tablet and mobile specifications, features, prices, comparison.