Sheldon PintoOct 11, 2017 16:54:54 IST
Samsung today launched what it claimed to be a budget tablet offering in the form of the revamped Galaxy Tab A (2017). The new tab packs in entry-level specifications and comes with the bare basics with a few plus points like a 5,000 mAh battery with a claimed 14 hours of video playback.
At the media briefing, Samsung pitched the device as a mobile entertainment powerhouse, that gets you more than what you would get from a smartphone. But with a price tag set at Rs 17,990, is it even worth it on paper?
Build and design
The design of the 2017 Samsung Galaxy Tab A is not much of a sea change when compared to the current crop of tablets it currently has on offer. There's the typical Samsung design with rounded corners, thick bezels and the device weighs 364 grams, which feels a bit too heavy for a tablet with an 8-inch display.
As for the materials used, there's glass on the front, a metal back plate on the rear with a sandwiched plastic chassis in between that extends to top and bottom edges on the back.
There's a USB Type-C port at the bottom edge and a 3.5mm headphone jack at the top. The bottom edge also hosts the primary mic and the speaker. Yes, the device can place calls over 4G, 3G and 2G networks, and also packs in a earpiece for those who are brave enough to hold up tablet to their mugs while placing a call.
Display
The budget tablet packs in a WXGA TFT display sporting a resolution of 1,280 x 800 pixels. That resolution spread out across 8-inches of diagonal screen space sounds like a recipe for disaster. Fortunately, it does not look all that bad and the pixelation thanks to the upgraded TouchWiz (GraceUX) UI (that has yet to make it on the premium Tab S3) made it passable.
The display was bright enough indoors during my short hands-on, but only our full review will give us a better idea about its performance outdoors. However, Samsung did mention that it had bumped up the brightness levels from 400 to 480 nits because the company wants to pitch it as a capable PMP.
Chipset, storage and RAM
Priced at Rs 17,990, you would expect some budget specifications on a budget tablet, but that's not really the case here. The price seems a bit high, considering that you get an entry-level quad-core Snapdragon 435 inside. Couple that with a measly 2 GB RAM and 16 GB ROM and its not exactly what you would expect from a budget mobile device these days, given the Chinese competition the smartphone space.
Of course this is a tablet, with an 8.0-inch display, but you can get a Xiaomi Mi Max 2 with a Snapdragon 625, 4 GB RAM and 32 GB internal storage and a 6.4-inch display (and a 5,300 mAh battery) at Rs 14,999.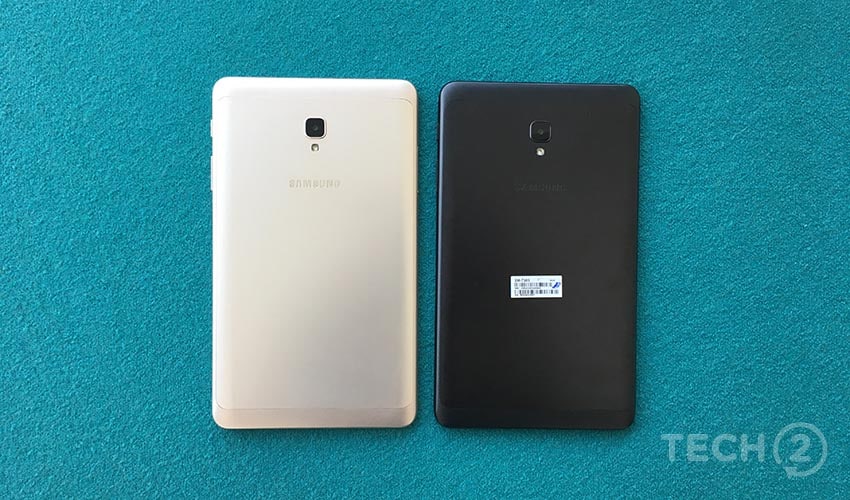 OS and software
The 2017 Samsung Galaxy Tab A is powered by a customised version of Google's Android Nougat. The TouchWiz layer feels new and fresh in comparison to the Tab S3 and feels more like the newer range of smartphones like the Galaxy S8 and the Note 8.
Samsung has included a brand new software addition to its tablet lineup by offering Bixby. I would have called it the third device from Samsung with its new digital assistant, but this is a half-baked version of Bixby as it only has Bixby Home and Bixby Reminders built in. The device does not allow for voice commands similar to the functionality on the Galaxy S8 and Note 8 so I am not really sure where to use it or how useful it will be in day to day use.
Camera
The Samsung Galaxy Tab A features an 8 MP camera with an f/1.9 aperture, AF and an LED flash on the rear. On the front you get a standard 5 MP unity with an f/2.2 camera. The tablet segment is not really a place to look for when it comes to quality cameras. It is however a segment where the front-facing camera is more important than the one at the rear because of video calls. Samsung said that it had worked on its camera for its budget tablet, but we will be able check that only after putting the camera through its paces in our full review.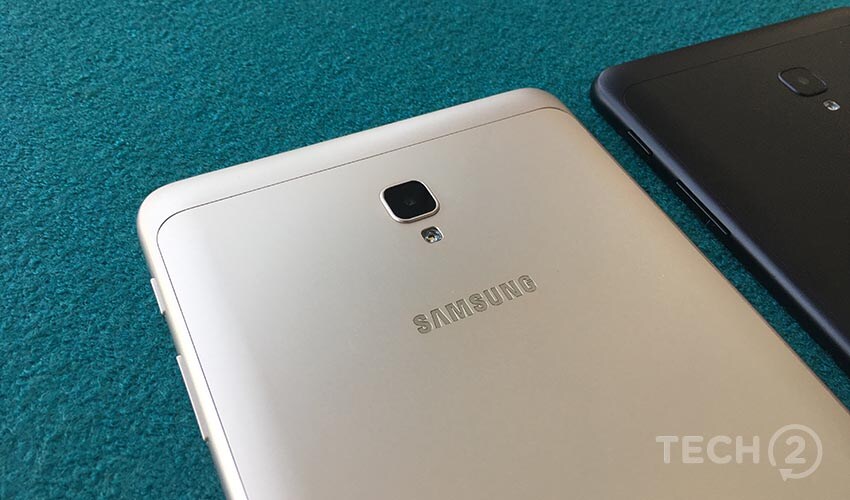 Battery and connectivity
A 5,000 mAh battery may seem pretty large for a smartphone, but in the tablet space, it is not much to talk about. As mentioned earlier, the Xiaomi Mi Max 2 packs in a 5,300 mAh battery, so there it really up to the software and the use of a low-powered Snapdragon 430 chipset to deliver that claimed 14 hours of video playback. But keeping the WXGA display in mind, we will have to wait and watch how it performs in our standard PC mark battery test and whether it survives our day, given its flexibility to answer calls.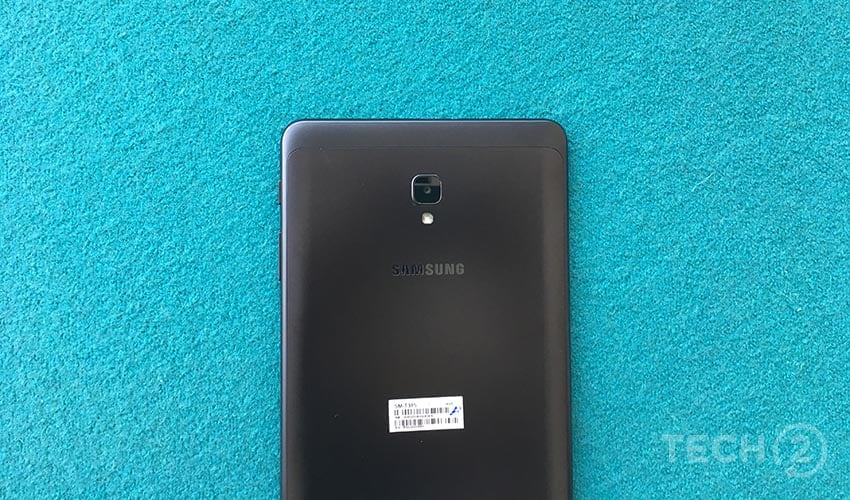 Verdict and price
From my initial hands-on, the 2017 Samsung Galaxy Tab A seems like a decent offering from the Korean electronics giant. But it is obvious that the pricing needs to be worked upon when you consider what the competition offers at the same price.
How does it perform in day to day usage? Does the battery actually last for 14 hours on continuous video playback? We will know better only after our full review.
Find latest and upcoming tech gadgets online on Tech2 Gadgets. Get technology news, gadgets reviews & ratings. Popular gadgets including laptop, tablet and mobile specifications, features, prices, comparison.