Mehul Reuben DasFeb 17, 2023 20:38:58 IST
Pros
– Display
– Performance
– Cameras
– Exceptional Battery
– Understated, but premium design
– Speakers
– Long software update commitment
– Features of the S-Pen suite
– Tons of interesting features to explore
Cons
– 45W wired charging, with no charging brick in the box
Price: Rs 1,49,999
Rating: 4.75/5
On the surface, it seems that Samsung really hasn't done much to update the S22 Ultra from last year. On paper, it seems that the Galaxy S23 Ultra has been given just a few minor updates, a basin spec bump. However, dig a little deeper, and you'll see that there are a ton of refinements and tweaks made to the S23 Ultra, all of which add up to give the ultimate experience that is possible from an Android Phone.
There's no point in beating around the bush – money no bar, the Galaxy S23 Ultra is the best Android smartphone that you can buy. Make no mistake, in 2023, all other smartphone brands will copy what Samsung is giving to its customers with the S23 Ultra in their own flagships. Clearly, Galaxy S23 Ultra is the smartphone to beat this year. 
Of course, Samsung has bumped up the spec for the S23 Ultra. The device is powered a new Snapdragon 8 Gen 2 SoC that has been specially tuned for it, and it gets the ISOCELL HP2 200MP sensor. However, it is the little things, the infinitesimal fine-tuning that Samsung has done, that sets the Galaxy S23 Ultra an edge above the rest. But do they work? 
Samsung Galaxy S23 Ultra 5G review: The design
There are smartphones that put on fancy costumes and masks to look premium, to give users a premium feel. The Galaxy S23 Ultra does not need to put up a costume – it just is premium. 
The design of the S23 Ultra may be best summed up using an old adage – new wine in an old bottle.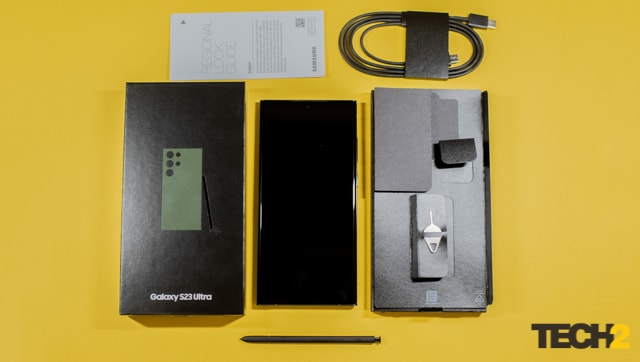 Although from a distance the S23 Ultra looks exactly the same as the S22 Ultra, people do notice that you're carrying something premium, something really expensive and luxurious Despite its design from last year, the S23 Ultra still manages to turn heads. That's how timeless and elegant it is.
The Galaxy S23 Ultra is built like a tank and you feel that the moment you pick the device up. Using it singlehandedly will be a bit challenging for some people, but if you are coming to the S23 Ultra from a big device, it won't be an issue.
Our test device was a dark green unit, which looked particularly stunning, thanks to its matte finish. Other than green, you get to choose from a plethora of colours – phantom black, cream, graphite, sky blue, red and lime. Mind you though the last four colours are only available on Samsung's website.
On the front, you get the same 6.8-inch display as last year, but this time, the display has been pushed to the edge to give it a little more curve and comes with Gorilla Glass Victus 2. There are virtually little to no bezels present, except at the bottom lip, where you get just a hint of a bezel. At the top, you get a punch-hole cutout at the centre, which houses the front-facing camera.
On the right, we get to see the volume rockers, as well as the power button. The buttons feel a lot more solid compared to last year's flagships. The sides have been squared off a little because of which the S23 Ultra has somewhat of a flatter edge. This makes handling the device much easier. The frame is made using recycled armour aluminium which gives users the feeling of solid build quality.
At the bottom, we see a speaker grille that houses one of the speakers, as well as the USB Type-C port, and the SIM tray. You also get the housing for the S-pen here.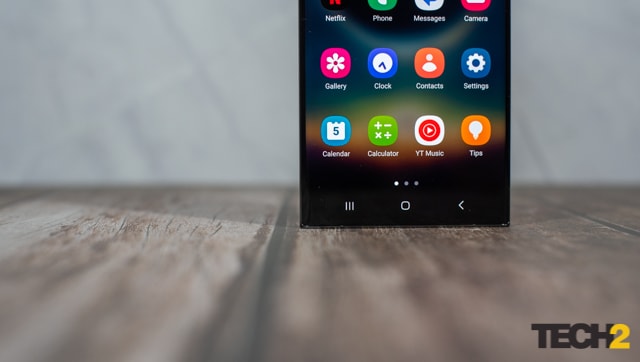 The camera lenses and flash are located on the upper left side of the rear panel, all on their own, instead of being placed in a separate camera module. This gives the device a premium and somewhat minimalistic appeal from the rear. 
Samsung has gone to great lengths to ensure that the exterior of the S23 Ultra is made using recycled PET, glass and aluminium. Both the front and rear panels are made using Corning's latest Gorilla Glass Victus 2, and use 22 per cent recycled of glass.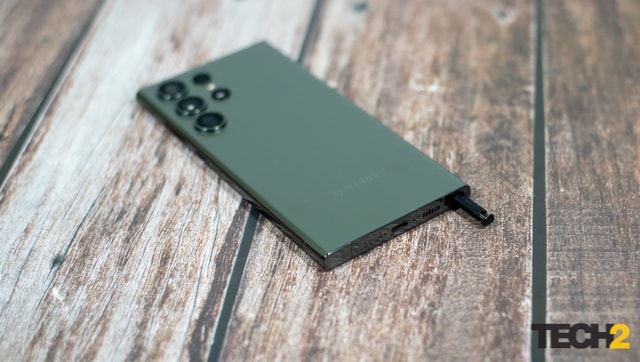 Samsung Galaxy S23 Ultra 5G review: The display
The S22 Ultra had one of the best displays in a smartphone last year. In fact, so good was the display last year, that Samsung decided to go for the same panel for the S23 Ultra. 
The Galaxy S23 Ultra has Samsung's Dynamic AMOLED display at a size of 6.8-inches. The display has an adaptive refresh rate of up to 120Hz, a resolution of 1440 x 3088 pixels, is compatible with HDR10+, and has a peak brightness of up to 1750 nits.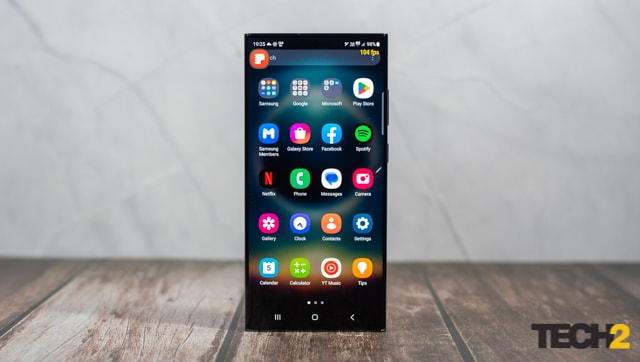 All these specs and other numbers on a sheet really don't do justice to the display. It still is, the best display on any smartphone on the market today. The colours you get from the panel are vibrant, rich and properly saturated. The images are sharp and crisp. Even under direct sunlight, we had no issues whatsoever in reading off of the screen and viewing content.
Speaking on content, content consumption on the S23 Ultra is a truly joyous experience. HDR and Dolby Vision content. The Dynamic AMOLED 2X display on the S23 Ultra comes with Samsung's Vision Booster. The display also covers 100 per cent of the mobile color volume in the DCI-P3 colour range.
Samsung Galaxy S23 Ultra 5G review: The camera
The highlight this year for the Galaxy S series is the S23 Ultra using a Samsung's ISOCELL HP2 200MP sensor. It's accompanied by a 12MP wide-angle camera, as well as a pair of 10MP telephoto cameras with 3x and 10x optical zoom. The camera also has optical image stabilisation and laser autofocus, as well as a Super Resolution Zoom with digital zoom capabilities that go 30x and 100x.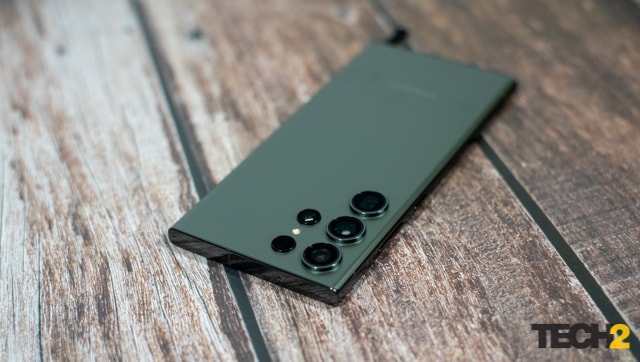 By default, the 200MP ISOCELL HP2 sensor shoots 12MP binned photos, essentially combining 16 pixels into a single bigger pixel. The photographs it captures are simply amazing.
Samsung's normal oversaturation is present in the S23 Ultra as well, but that's a choice that people have come to love. The cameras of the S23 Ultra produce some seriously eye-catching images.
Images shot in the sensor's normal 12MP mode have more realistic colours and details than those obtained using the sensor's full 200 megapixels. 
Samsung's object identification and optimization algorithm do not work in 200MP mode and there were small variations in white balance and sharpness when switching to other cameras. This makes sense because professional photographers and video graphers prefer photographs with flatter colour profiles, which make post-processing easier. 
The zooming capabilities of the S23 Ultra, are in a different league. They are revolutionary, making the camera much more flexible than any other phone on the market today. The 3x and 10x zooms have superb quality, and the 30x zoom pretty good as well. And, while the 100x is still not perfect, it is far superior than every other smartphone out there.
As for the front-facing camera, the 40MP front-facing camera from last year has been replaced with a 12MP sensor, but this time, we get Super HDR and 60fps video. The photographs look as detailed as before, but this time around, they have a better dynamic range and feel more punchy.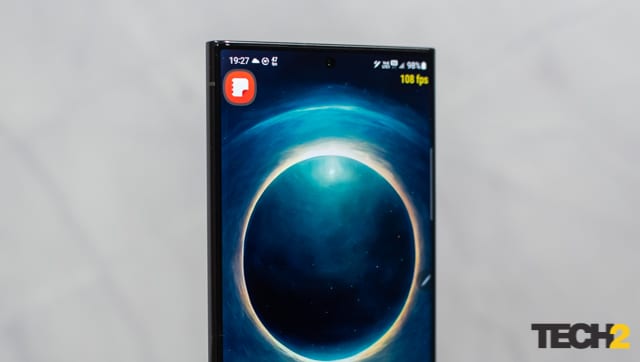 In terms of video, the upgraded 2X OIS on the S23 Ultra is a wonderful feature that works brilliantly. We have seen clips from high mirrorless cameras on expensive DJI gimbals that don't look as smooth as the footage from the S23 Ultra.
There's also the new 8K/30 fps option up from 8K/24 fps last year. It's convenient to be able to crop in for more information.
Consider this – Ridley Scott made a short film using the S23 Ultra, and if its good enough for a filmmaker who has given us hits like Blade Runner, Gladiator and The House of Gucci, island many more, it sure is more than good enough for the rest of us. 
For some unedited, raw photos taken using the S23 Ultra, click here.
Samsung Galaxy S23 Ultra 5G review: The performance, software experience and UI
The Galaxy S23 Ultra, by a mile is the fastest Android smartphone on the market. Yes, there are other devices that are powered by Snapdragon's 8 Gen 2 SoC, but the S23 Ultra uses a custom 8 Gen 2 chipset that has been overclocked and tuned specifically for this device.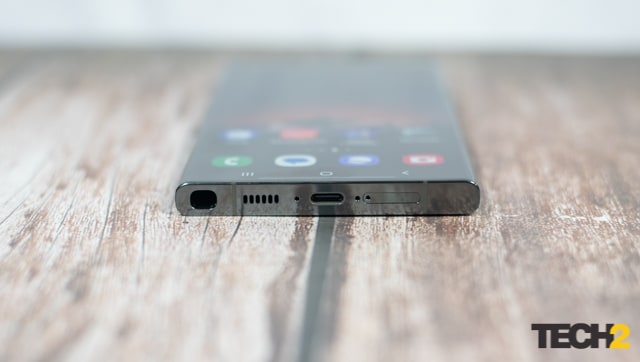 Our test unit had 12GB of LPDDR5X RAM and 256GB of UFS 4.0 internal storage. It's actually a good thing that Samsung has increased the storage in the base unit from 128GB to 256GB. Unfortunately, you don't get a microSDXC slot.
In day-to-day tasks, the Galaxy S23 Ultra just glides by everything, no matter what you ask of it. And when you try to push its limits by going bonkers, it hardly breaks a sweat. 
We tried pushing the S23 Ultra to the edge to see if it showed any chinks in the armour, if it overheated or if the SoC throttled in any way. We are happy to report that despite throwing everything at it, the S23 Ultra just took on the punishment and performed exceptionally. We browsed the internet extensively, took a ton of 200MP photos and 8K videos, took several calls on speaker, ran one daunting benchmark after the other, played some really intensive games, and watched some pretty stunning HDR videos one after the other, and yet did not see the device getting uncomfortably warm, or see any drop in performance.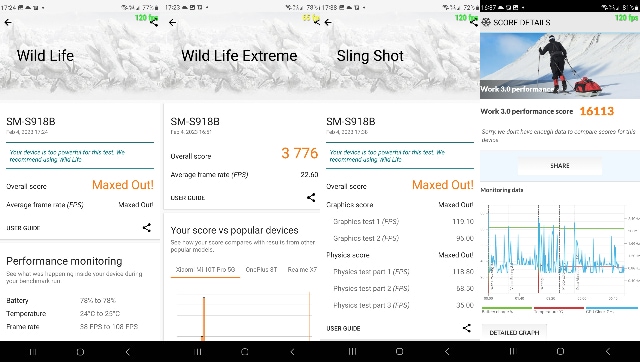 It easily takes care of seriously demanding games like Genshin Impact, and Apex Legends at the highest setting, at 60ps without any issue. We also get ray tracing support at a hardware level, but then, there are no games to test that feature out. 
The Samsung Galaxy S23 Ultra runs on OneUI 5.1, which is based on Android 13. There are a ton of features, and you will need days to completely go through all the features that OneUI 5.1 gives you, at this level.
As for connectivity, the Samsung Galaxy S23 Ultra comes with all the bells and whistles that you would expect a modern-day flagship device to have. However, it does not have WiFi 7, which the Snapdragon 8 Gen 2 supports. 
Finally, we have the S-Pen. The Note series was one of my all-time favourite series of smartphones so when Samsung decided to pull the plug on the series, it was a little disappointing. However, the S22 Ultra and the S23 Ultra have truly stepped up and taken over the role of the Note devices.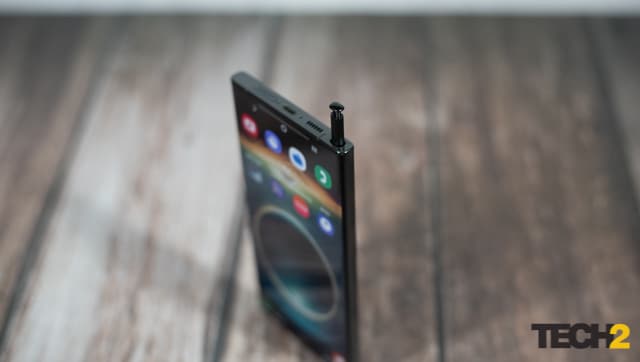 The pen, for most people, may seem a little gimmicky but people who know how to use the S-Pen and have grown accustomed to using it regularly will find it extremely hard to move to a device that does not come with a stylus. 
What is commendable, is the fact that with the Galaxy S23, Samsung is promising four Android OS updates and 5 years of security updates, so this can be a device that you can use for a really long time. 
Samsung Galaxy S23 Ultra 5G review: The battery life
The Galaxy S23 Ultra has the same 5000mAh battery as last year. However, the battery life will take you by surprise. Without any sort of optimisations, we were getting around 6-7 hours of screen on time with 70 per cent brightness, with about a quarter of power still left after a 16-hour day. The S23 Ultra can easily be an all-day device.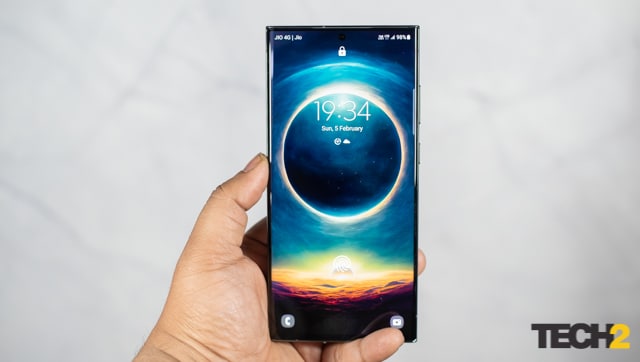 The charging speed is a bit unimpressive. The Galaxy S23 Ultra supports 45W wired charging, provided you have a supporting charging block. The device also does not come with a charging brick, but only with a USB-C to USB-C cable. 
Given what other manufacturers are giving their users in terms of battery charging technology, and how even some budget midrange phones have over 100W fast charging, The S23 Ultra should have supported at least 80W fast charging. Good thing that it does support wireless charging and reverse wireless charging as well.
Samsung Galaxy S23 Ultra 5G review: The verdict
The S23 Ultra is everything that a high-end, flagship-level device should be. It has a stunning display, a solid build, a great array of cameras and way more performance than one would actually need in a phone. For people complaining about Samsung reusing an older design, consider this – da Vinci did not paint a new version of the Mona Lisa every year now, did he?
Yes, the smartphone is expensive – not prohibitively so for some people, but definitely for most. With that being said it's the most feature-rich Android smartphone available, and you'll be hard-pressed to find something better. If you are of those few who can actually afford the S23 Ultra, and are looking for a smartphone, we can wholeheartedly recommend the Galaxy S23 Ultra – this isn't just an annual upgrade of Samsung's Galaxy S series for 2023. The S23 Ultra is a new yardstick, the new benchmark for all premium flagship smartphones.
Find latest and upcoming tech gadgets online on Tech2 Gadgets. Get technology news, gadgets reviews & ratings. Popular gadgets including laptop, tablet and mobile specifications, features, prices, comparison.