02:04 (IST)
The event has ended
Thanks for joining our LIVE Blog. Hopefully we shall know more about the S10 5G soon. Till then see you and good night!
02:04 (IST)
Here's the new Samsung Galaxy S10 5G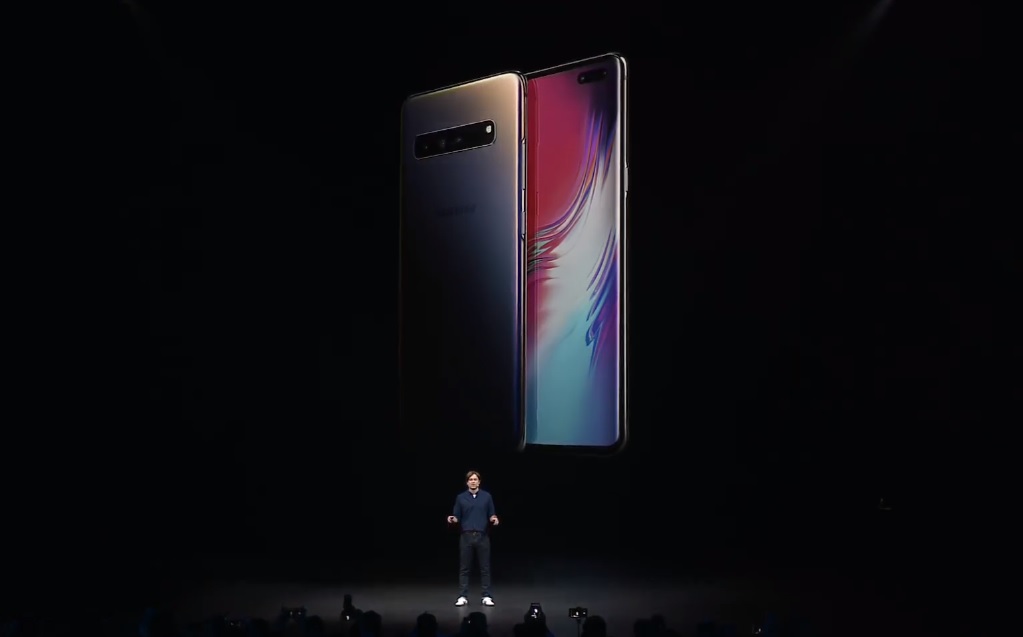 01:56 (IST)
Samsung's new Galaxy wearable price starts at $199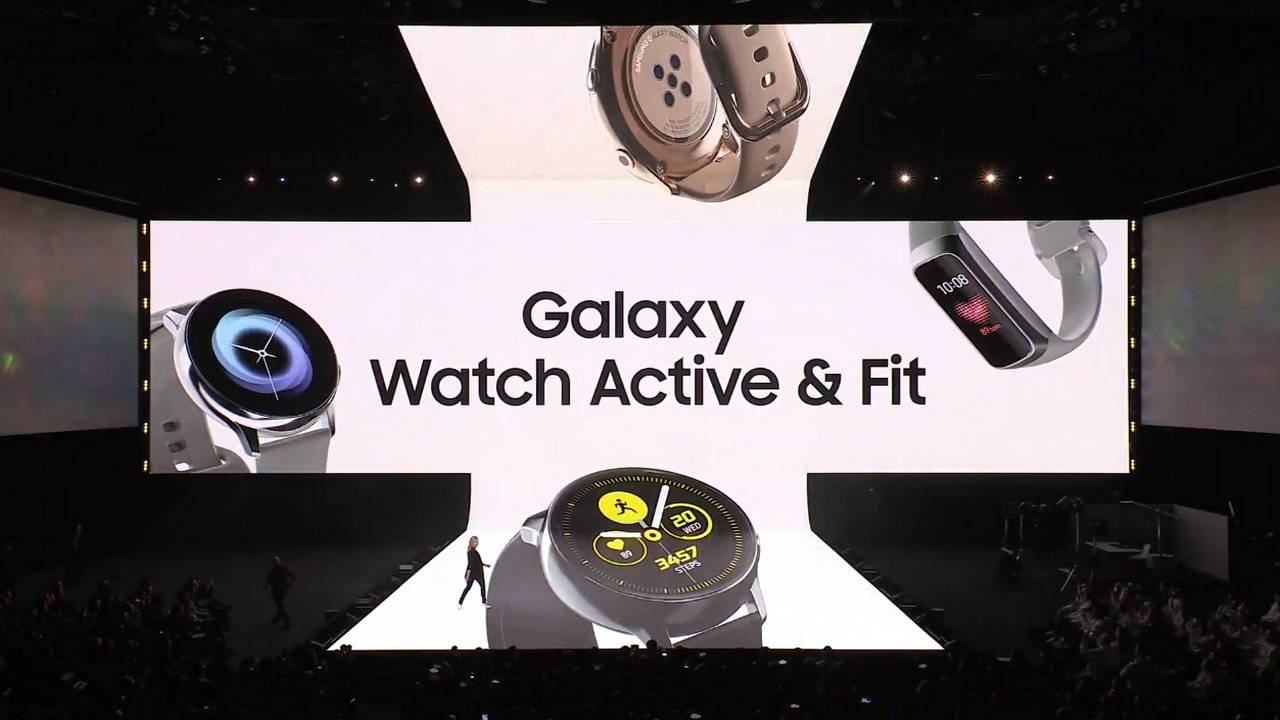 01:55 (IST)
S10 5G Carriers
Samsung has partnered with Sprint (super cringy video by Sprint Corp CEO Michel Combes btw), Vodafone, and Deutsche Telekom for 5G. Samsung has been in partnership with Verizon on 5G since 2017.
01:51 (IST)
S10 5G specs
The phone will have a 6.7-inch Dynamic AMOLED display and 4,500 mAh battery making it the biggest display and battery on a Galaxy device. The fourth camera in question is a 3D depth sensor. Samsung says it can adjust background blur in real time and will be used for AR.
01:49 (IST)
Galaxy S10 5G has been announced
So it looks like the 5G S10 is real. Looks to have four cameras on the back. Otherwise looks the same as the S10 Plus.
01:46 (IST)
Okay some 5G announcement is coming in
Are we going to see the 5G S10 Phone?
01:44 (IST)
An oops moment while demoing wireless charging on the S10
01:42 (IST)
Galaxy Watch Active and Galaxy Fit announced
Galaxy Watch is waterproof, has 60,000 watch faces, and more. The Galaxy Fit weighs just 23 grams and is also water resistant. Both devices have an AMOLED display. Galaxy Fit can run for a week on a single charge. Both devices can also track six different exercises and you can manually add your routine as well. Both devices also have heart rate monitors as well.
01:41 (IST)
Samsung's new wireless earbuds, Galaxy Buds launched at $129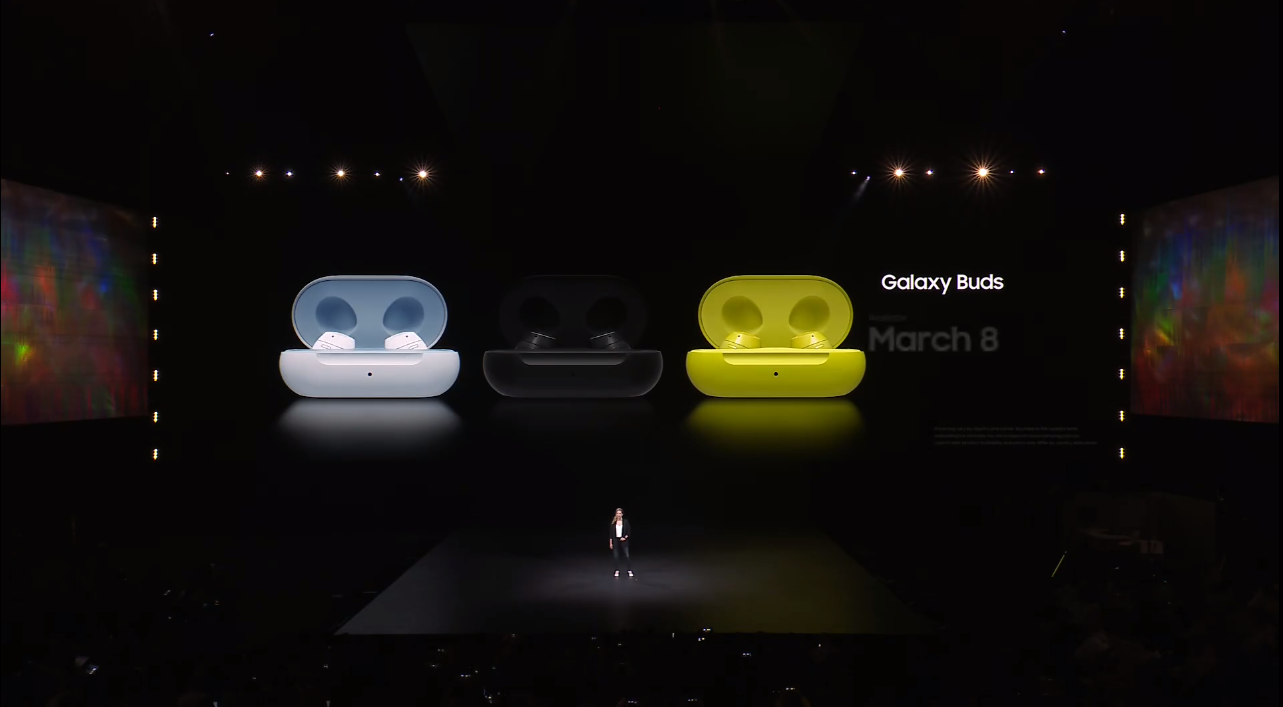 01:38 (IST)
Samsung Galaxy S10 series will hit store shelves early next month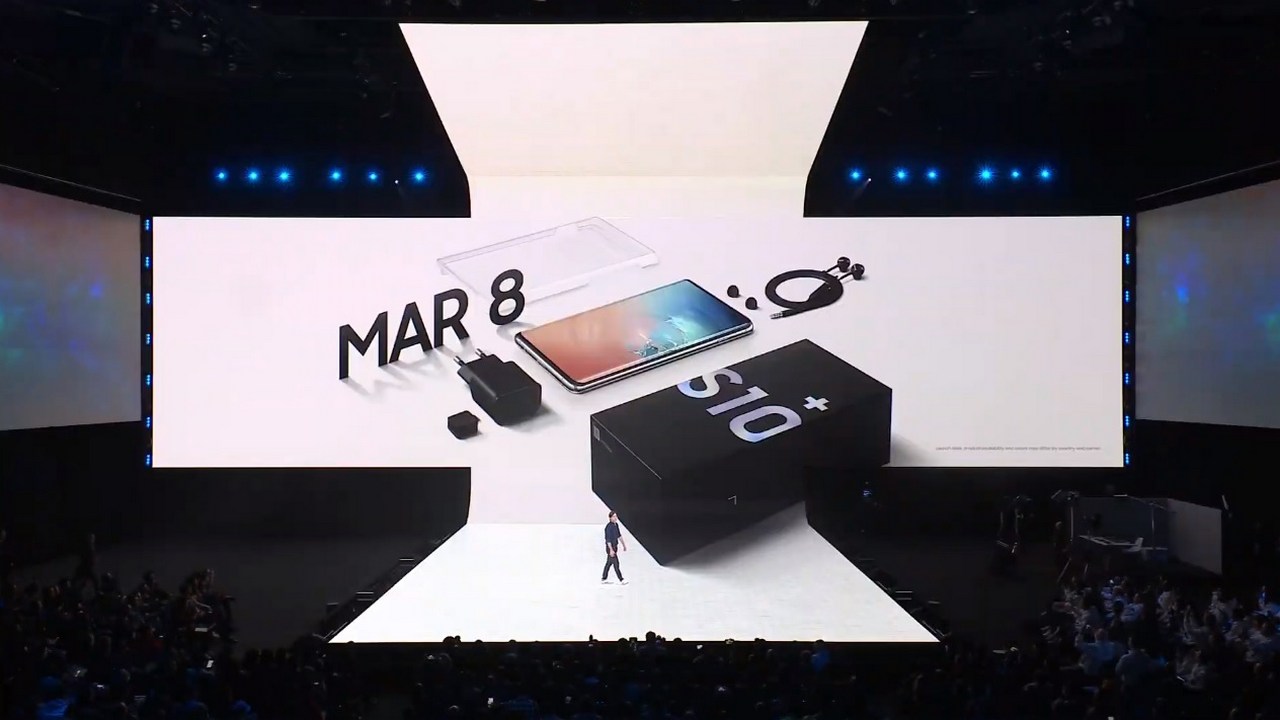 01:37 (IST)
Galaxy Buds time
The sound on the Galaxy Buds has been powered by AKG. Adaptive Dual mics let you listen to outside voices depending on the noise level. 30 percent smaller than the IconX. 5 hours of call or 6 hours of music on a single charge. They are Bixby enabled so voice commands can be used. Spanish, German and Italian languages have been added. Galaxy S10 can charge the Buds wirelessly. Prices start at $129 and can be purchased from March 8.
01:33 (IST)
S10 Prices
S10 - $899
S10 Plus - $999
S10 E - $749
March 8 is when the phone becomes available for sale.
01:30 (IST)
Three Variants
We have the S10, S10 Plus and S10 E as this year's S10 variants. This is the first time three S-series phones have been announced. But Samsung makes no reference for this. Prolly cause of all the leaks.
01:28 (IST)
Reverse Wireless charging.
The S10 has reverse wireless charging capabilities. The S10 itself features Wireless Charging 2.0 to charge the phone 2X faster than before. Network switching also has some AI thing going on to help you switch to a better network. Wi-Fi 6 compatibility has also been announced for the S10. 20 percent faster speed than the S9. 4X better connectivity in crowded Wi-Fi areas as well. Lot's of things going on for the S10
01:26 (IST)
Samsung Galaxy S10 Performance
Top-end S10 variant will go up to 12 GB RAM and 1 freaking TB of internal storage. You can expand to 1.5 TB with micro-SD card. Go lord. Under the hood we shall see the Exynos 9820 or Snapdragon 855 depending on the region. Gaming is a focus here with the partnership with Unity. S10 Battery is going to last 25 percent longer than the S9. Samsung is promising an all-day battery.
01:24 (IST)
Good news for Instagrammers!!
Galaxy S10 now features a dedicated Instagram mode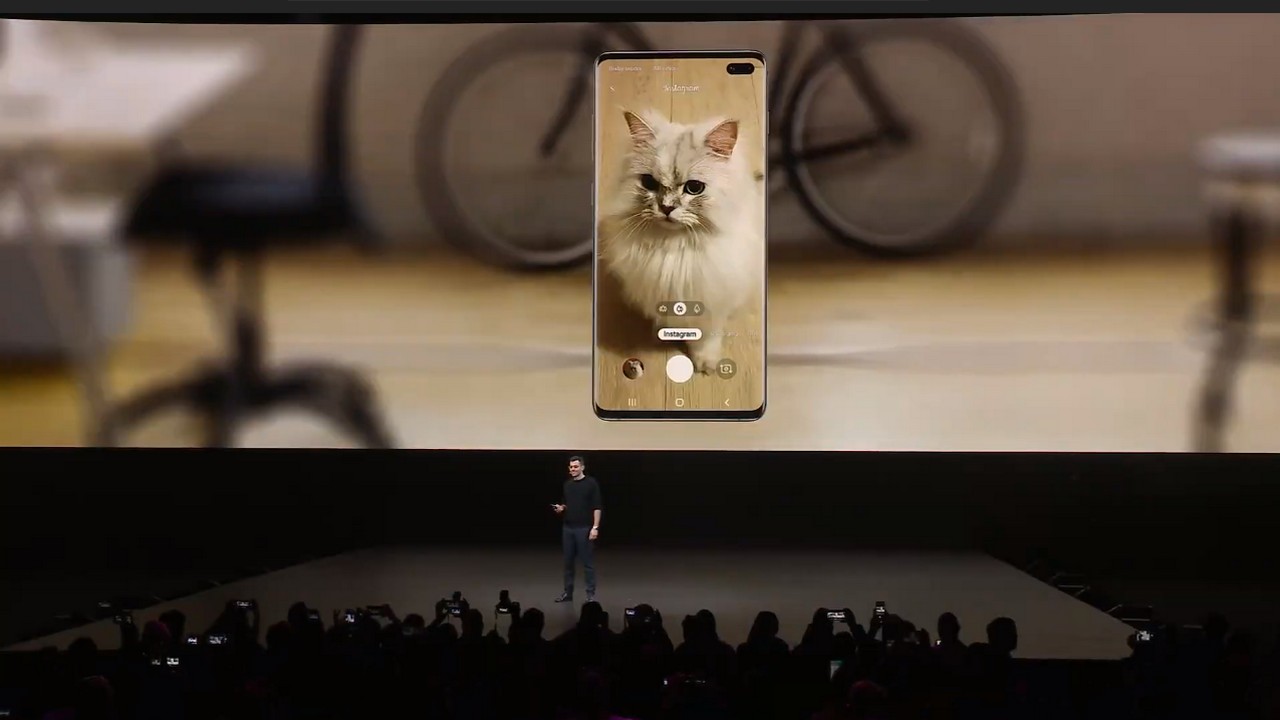 01:20 (IST)
Adam Mosseri, Head of Instagram is here for some reason
Receives a bigger cheer than expected from the crowd. S10 will have a new Instagram mode in the native camera app. This will let you access all of Insta's features from the camera app.
01:18 (IST)
S10 front camera
Dual-Pixel tech added on the front camera. S10 Plus will have dual-cameras on the front. There is a depth sensor for bokeh photos and the camera is also capable of recording UHD 4K videos.
01:16 (IST)
Adobe Premier Rush being demoed on stage
Not as powerful as Premier Pro but Rush looks quite refined for a mobile device. Video Editing looks quite snippy and fast. Again we will have to test it to give a final verdict. The app will come later this year.
01:15 (IST)
The new Samsung Galaxy S10 can record HDR10+ video, ultra-wide panorama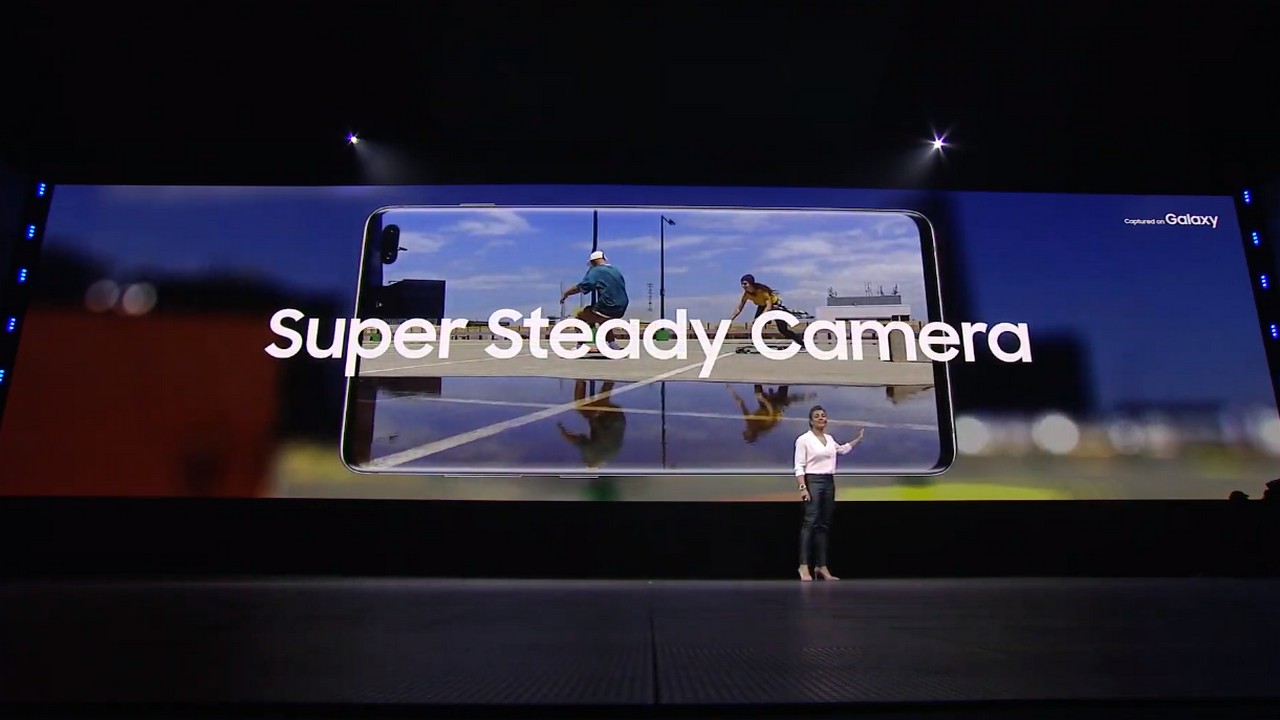 01:13 (IST)
S10 Video recording
S10 can record videos in HDR 10+ making it the first device to do so. Quite impressive. Tonal mapping techniques optimise colours for every scene and every frame. The S10 also includes a video editor called Premier Rush in partnership with Adobe as well.
01:11 (IST)
Samsung boasts the Galaxy S10's new camera features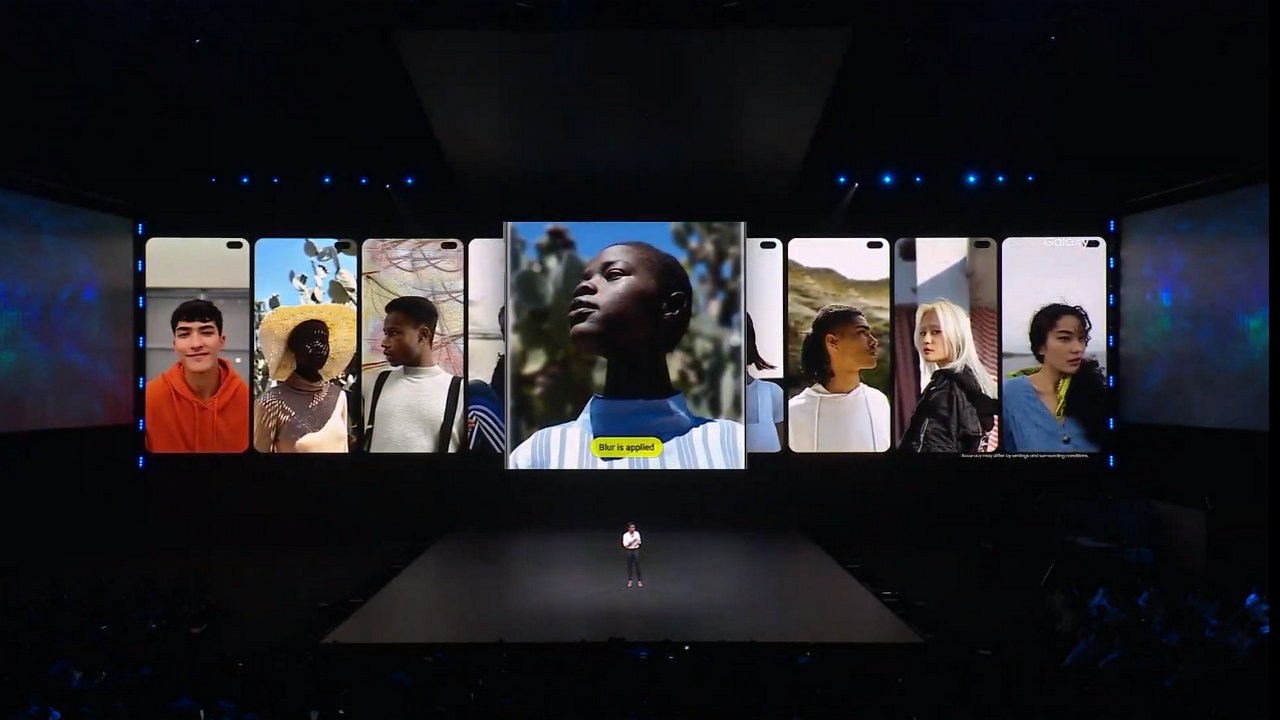 01:11 (IST)
S10 Camera effects
Background Blur can be applied in real-time and the blur can be changed. AI algorithms and the NPU lets you recognise a large number of scenes and optimises the photo accordingly. The S10 can recognise 30 different scenes.
01:08 (IST)
S10 Camera
The S10 will have a triple-camera system. There is a wide angle camera, tele-photo lens and a massive 123 degree ultra-wide lens. Variable aperture looks to be retained, as expected.
01:06 (IST)
S10 fingerprint sensor
In-display Ultra-sonic fingerprint reader on the S10 is the first time for a phone. Basically Ultrasonic >> Optical sensor (like the one seen on the OnePlus 6T). S10 has a "vault-like" security to prevent unauthorized access.
01:04 (IST)
Galaxy S10 Display
The punch-hole display is quite visible on the S10. It was first seen on the Galaxy A8S. This phone has the Infinity O Dynamic AMOLED display which is the first in the world. Samsung says this is going to be the most colour accurate display on a mobile device. The phone is HDR 10+ ready.
01:03 (IST)
The 2019 Galaxy S10 flagship series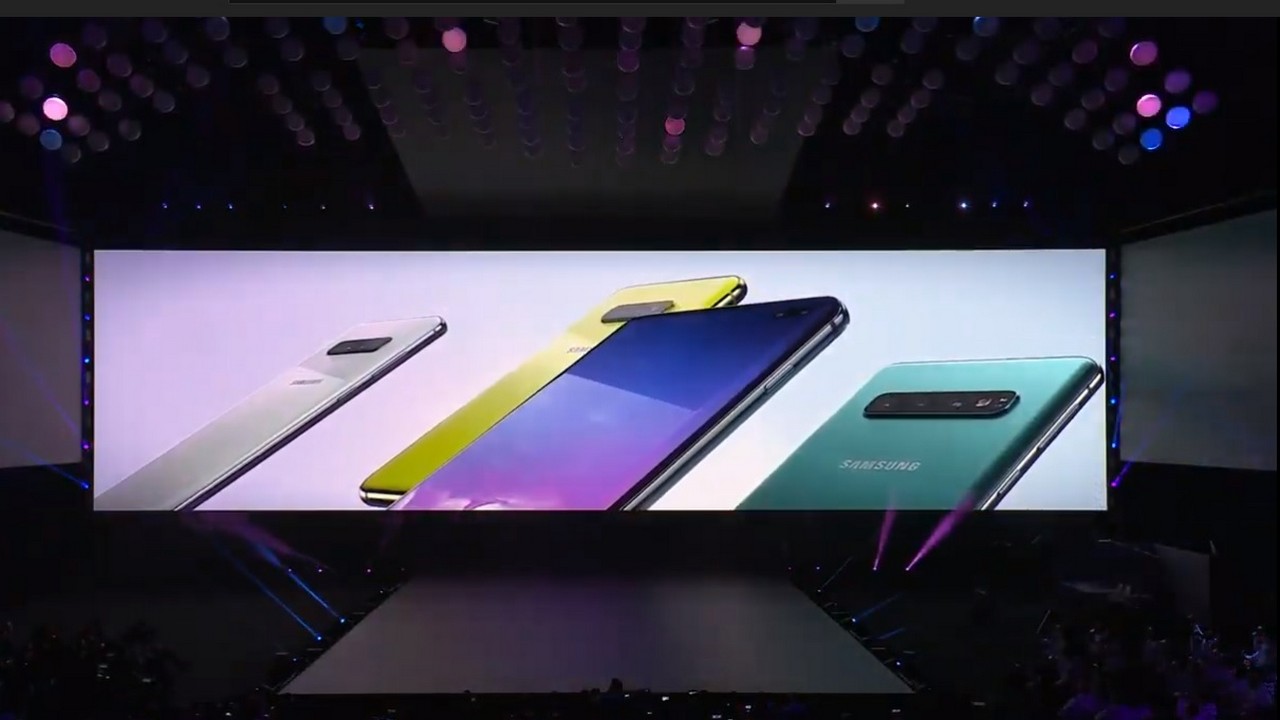 01:00 (IST)
The Galaxy S10 is here
The Galaxy S10 has been finally revealed and it looks.......... exactly like the leaks. Big surprise. That is not to say that the S10 still looks incredible. The S10 Plus is what we are looking at right now. Suzanne De Silva, Director of Product marketing is here to explain the device.
00:53 (IST)
Samsung's CEO DJ Koh showcases the brand's first foldable phone at the Galaxy Unpacked stage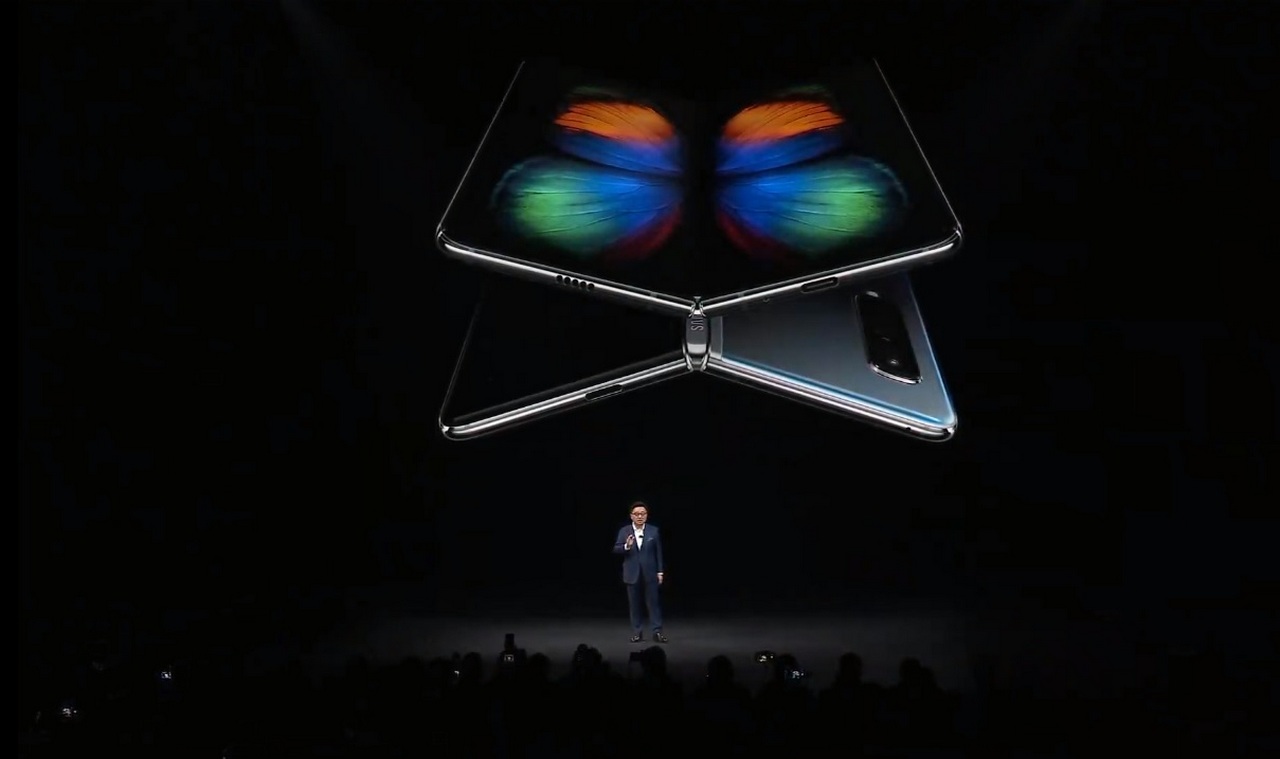 00:53 (IST)
Galaxy history lesson
Since 2010, there have been 2 billion Galaxy smartphones sold. Quite an astounding number from the number smartphone maker in the world.
00:48 (IST)
The S10 moment has come
Samsung Mobile CEO DJ Koh has taken the stage to unveil the Galaxy S10-series
00:47 (IST)
When folded, the Galaxy Fold offers a 4.7-inch display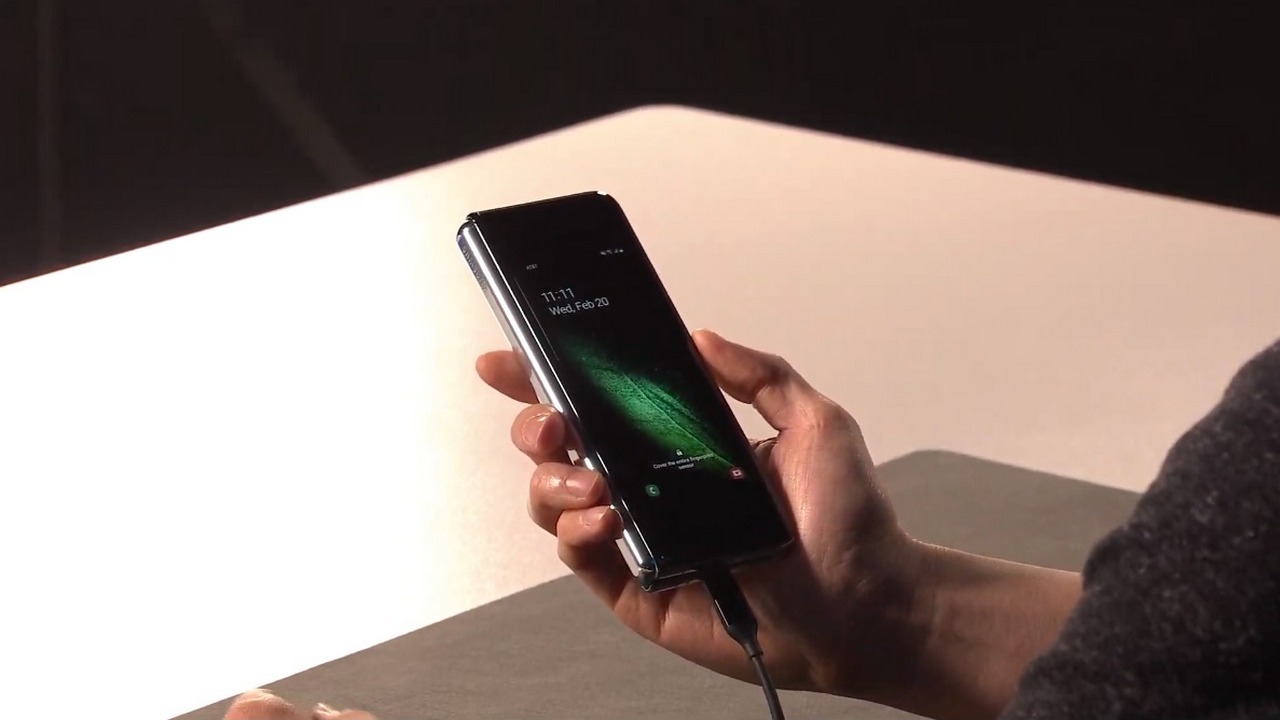 00:47 (IST)
Galaxy F Price and availibility
The Galaxy Fold will be available starting from April 26th in the US for a price of $1980 (Woah). It will have a 4G LTE and 5G model. You will definitely have to sell a kidney and a limb to get one of these.
00:44 (IST)
Galaxy F: First Look
We have our first close up look at the Galaxy Fold and how it functions. Looks quite cool at first glance. The triple-app functionality seems quite seamless at first glance. We will have to test it ourselves to find out.
00:42 (IST)
Galaxy Fold Performance, Battery and Camera
With 12 GB RAM, 512 GB internal storage and a 7-nm chipset make the Galaxy Fold a complete beast. UFS 3.0 support means that the Fold is extremely fast as well. The Fold also has two batteries giving it a massive battery life. The phone has three cameras on the back., one on the fold and two on the front to give a total of six cameras. Absolute insanity.
00:40 (IST)
Samsung Galaxy Fold offers three feature multitasking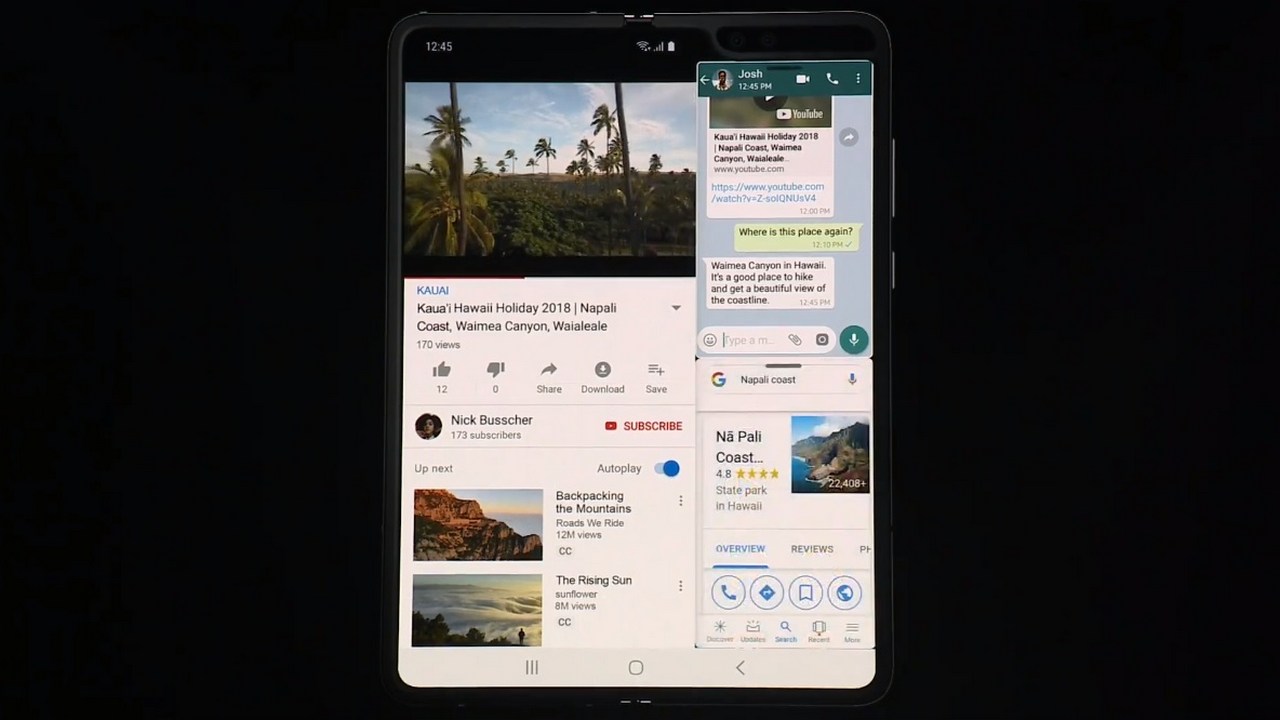 00:39 (IST)
Galaxy Fold Features
The sound on Galaxy Fold is given by AKG. The phone will have three-app multi-tasking when completely opened up. This is the first time for a smartphone. Each screen is said to work completely on its own. You can switch between both the screens seamlessly using a feature called App continuity. Samsung has worked with Google and YouTube for the Galaxy Fold.
00:37 (IST)
Samsung Galaxy Fold, the brand's first foldable display smartphone is claimed to define a whole new category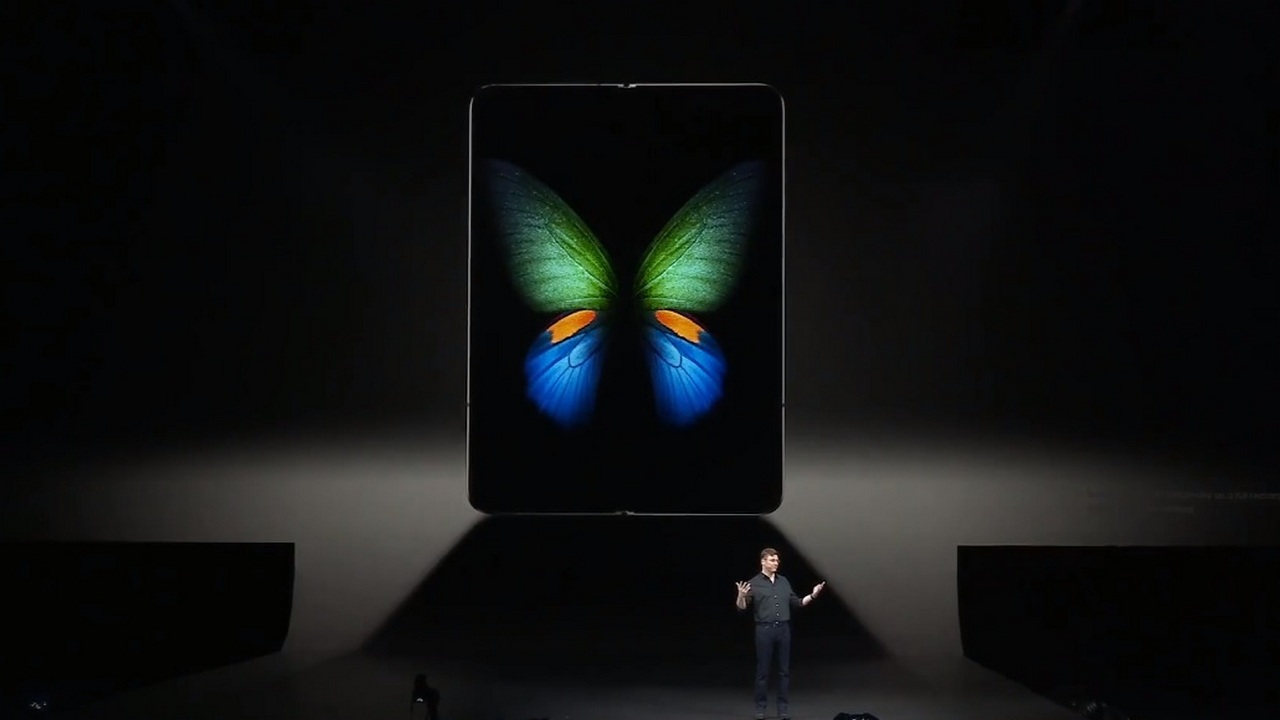 00:36 (IST)
Galaxy Fold Display
The Galaxy Fold has a 4.6-inch display when it is folded. Unfolded has a 7.3-inch display. The Galaxy F has a hinge which lets the user fold the phone. There are four colours to choose from. The hinge colour can also be customised.
00:34 (IST)
Galaxy Fold
It seems we are going to start with the folding Galaxy Fold smartphone. Justin Denison, Senior VP of Marketing for Samsung has taken the stage.
00:33 (IST)
The event has started!
Let's get on with it then.
00:28 (IST)
The event is about to begin
Samsung is now officially about to unveil the Galaxy S10. Here is a leaked photo which has done so a week back.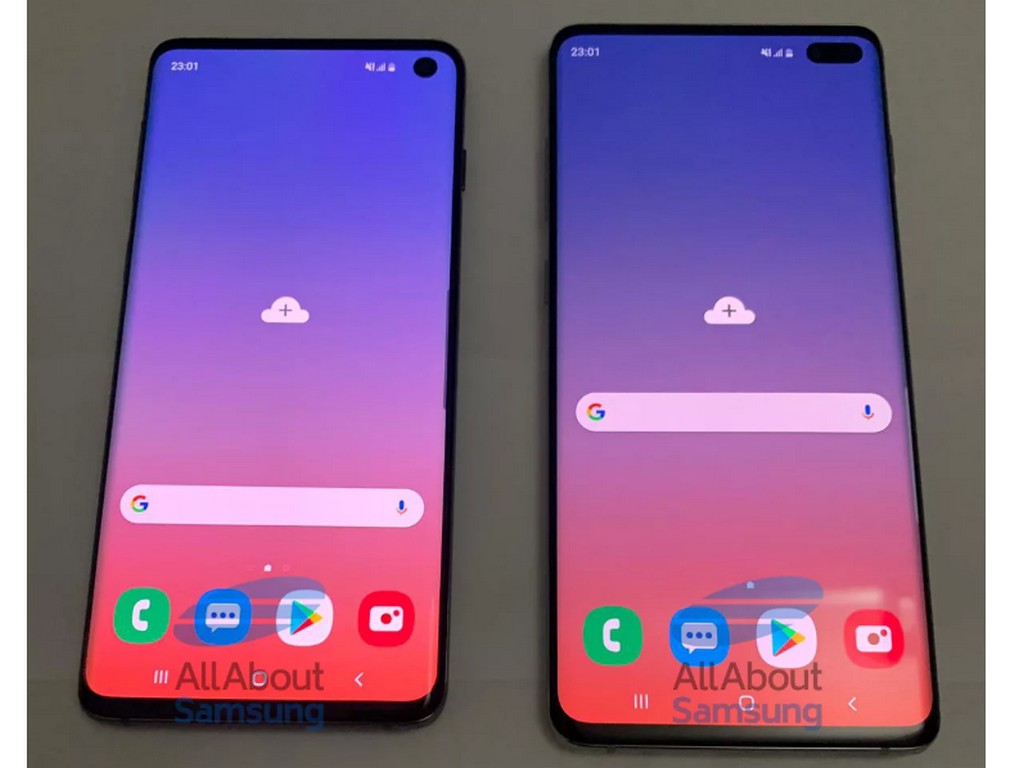 00:15 (IST)
00:10 (IST)
Samsung Live stream for the S10 launch
If you wish to catch all the action live from San Francisco then you can head over here to Samsung's official live stream link for the event. Or you can watch the YouTube embed below.
00:06 (IST)
00:00 (IST)
Here's a refresher on the Galaxy S10
We have an entire piece which details what you can expect from the Galaxy S10 series right here.
If you are wondering how we managed to get so much information before the launch even happened then we must tell you that the S10 happens to be currently Samsung's worst kept secret. From leaks to renders to the company themselves tweeting about the phone, Galaxy S10 has left nothing to the imagination.
23:52 (IST)
Hello and welcome to our LIVE blog of Samsung's Galaxy S10-series smartphones
Samsung will be announcing three phones today in its S10-series lineup along with new devices such as the Galaxy Buds, Galaxy Watch Active and also the company's first folding smartphone called the Galaxy Fold.