FP StudioJun 12, 2018 16:03:19 IST
Xiaomi has been the market leader in the mid-range segment for several months. That's changing quickly and is facing the most fierce competition. The ASUS ZenFone Max Pro and Huawei's Honor 7c arrived to challenge Xiaomi's dominance. OPPO's online-only brand RealMe joins the battle with a new powerful smartphone - RealMe 1 and pushes the envelope further.
All the features that you aspire in a phone are now available at an affordable price point. A premium finesse, a metallic body, large display with 18:9 ratio, up to 4 GB or 6 GB of RAM, up to 128 GB storage, fingerprint sensor, and Face Unlock - everything is available. The RealMe 1 goes an extra mile to bring an AI-powered chipset that benefits in clicking better photos and battery management.
All three new entrants pack a plethora of challenging features, that too at a lower price. Of course, they do have a standard set of features such as a nearly 6-inch display with minimum bezels. It's no longer surprising that none of them have a physical home button. All three phones feature a hybrid SIM tray that can hold two SIM cards and a microSD card at the same time.
Battle of the specs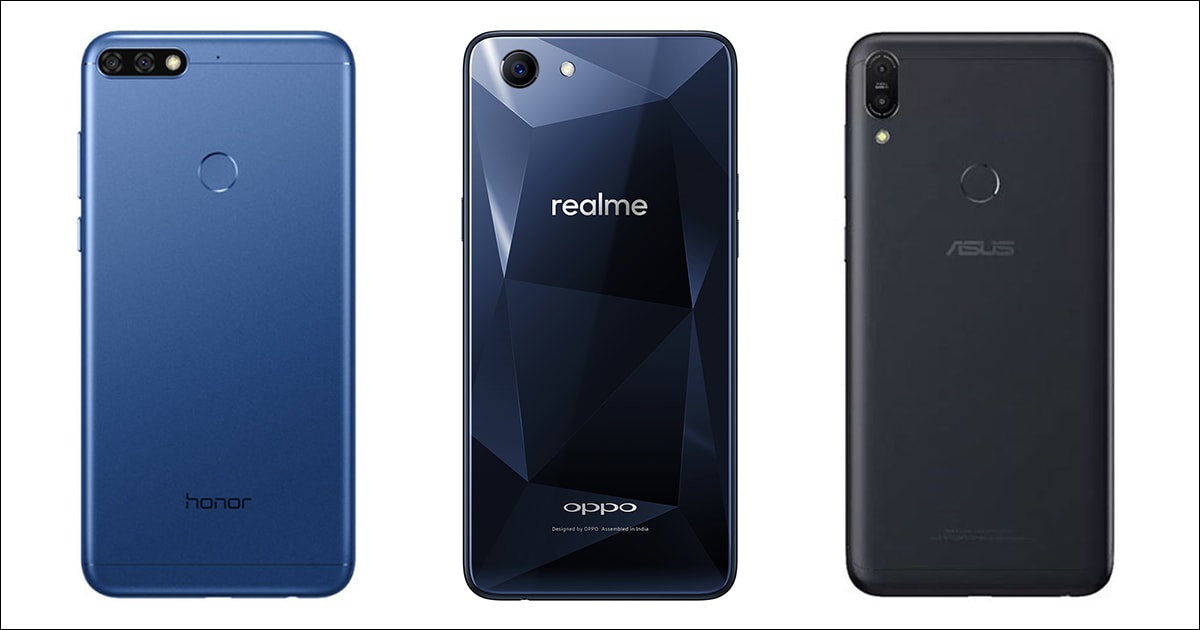 Instead of trickling down the hardware and features from premium models, the companies now focus on bundling powerful specs. The RealMe 1's AI-powered octa-core MediaTek Helio P60 chipset is made with a 12nm FinFET production process, thereby promising low energy consumption. Under the Zenfone Max Pro M1's hood is a 14nm production process-made octa-core Qualcomm Snapdragon 636 chipset. Compared to those two, the Honor 7c packs a relatively modest octa-core Qualcomm Snapdragon 450 chipset made using 14nm fabrication process. Out of these three, the RealMe 1's Helio P60 can pull higher benchmark scores and consume relatively less power.
Avid mobile gamers, you should pay close attention to the marginal differences in the GPU. The Adreno 509 GPU in the ZenFone Max Pro M1's Snapdragon 636 SoC might run graphics-heavy games more efficiently. You might struggle a bit with the Mali G72 MP3 GPU in Real Me 1's Helio P60 SoC and Adreno 506 in the Snapdragon 450 of Honor 7c.
All three phones try to push the 18:9 aspect ratio as a standard in the mid-segment. The RealMe 1 and Zenfone Max Pro M1 have 1080x2160 pixel resolution which makes the text crisper and visual elements appear sharper. That's why 720x1440 resolution puts Honor 7c on the backseat.
A little extra
The dual cameras on ZenFone Max Pro M1 (16MP + 5MP) and Honor 7c (13MP + 2MP) may appeal to shutterbugs or the camera frenzy. However, RealMe 1's AI-powered camera software gives it an edge over the other two. The AI-powered modes promise good looking selfies and better scene recognition that doesn't waste precious seconds. On the other hand, Zenfone Max Pro M1 and Honor 7c promise soft-lit selfies owing to the front-facing flash on them. However, the Zenfone Max Pro M1 gains a higher ground 4K (2160p) video recording.
ZenFone Max Pro M1 trumps its opponents with massive 5000 mAh battery capacity. The RealMe 1 has a potential to impress with AI battery management for its 3410 mAh battery. Meanwhile, Honor 7c promises longevity for the battery without fast charging.
Each phone offers a little extra in distinct areas over the other models. On the software front, the Android Oreo implementation and custom skin layer are how each company aims to differentiate itself from others. Although, only ASUS has managed to get pure Android experience by warding off its Zen UI skin, just for the ZenFone Max Pro M1. So Honor 7c retains the EMUI 8.0, and RealMe 1 has OPPO's ColorOS 5.0.
All three phones have overlapping features while outranking each other in specific areas. That's why the price is one of the major deciding factors. The top-end model of Honor 7c (4GB+64GB) is selling for Rs 11,999 on Amazon. The lower end of the Honor 7c was sold out within two minutes during its first flash sale, and it's expected to sell out the same way during its second flash sale of May 31st. So, you have to be quick on clicking 'Buy Now' if you want to get your hands on this phone.
The Zenfone Max Pro M1 (6GB+64GB) is going for Rs 14,999 on Flipkart, and the phone was sold out in under a minute during both of its flash sales. The third flash sale for Zenfone Max Pro M1 will be on 31st May and you have to be extremely alert in order to get this phone.
The RealMe 1 (6GB+128GB) Diamond Black sits in a sweet spot at Rs 13,990. The benchmark-topping AI-powered Helio P60 chipset in the RealMe 1 packs a mean punch with a great combination of up to 6 GB of RAM and 128 GB of storage. While all of these features are amazing there is also a downside. The stocks of RealMe 1 almost vanished in seconds during its first flash sale. But worry not because the second flash sale will be held on 1st June at 12 PM on Amazon.
This is a partnered post. 
Find latest and upcoming tech gadgets online on Tech2 Gadgets. Get technology news, gadgets reviews & ratings. Popular gadgets including laptop, tablet and mobile specifications, features, prices, comparison.