Sneha SharmaApr 12, 2019 18:06:09 IST
"Let the games begin".
The war for YouTube's 'Iron Throne' seems to have begun as the regime of the long-standing Felix "PewDiePie" Kjellberg is speculated to come to an end who has been ruling the Kingdom of YouTube with a humongous 65 million subscriber base. His contender is T-series, which is an Indian music production company that is just 6 million followers behind.
T-series boasts a fan-base of subscribers, which are under 60 million for now. The company was launched in 1980, that eventually turned out to be the biggest production companies in the world and now it has become the second most popular channel on YouTube.
For the past five years, the infamous Swedish comedian has been at the top, but now the battle is in full swing.
All about the numbers
T-series has apparently been gaining approximately 1,50,000 followers per day on an average, and is said to take over the number one spot in less than six months. On the other hand, PewDiePie is been gaining around 29,000 daily subscribers. According to the report in the YouTube tracker, Social Blade the formula shows that PewDiePie might hit 70.9 million subscribers in six months and T-series will boast 85.4 million.
Location matters
T-series took birth in India, which houses more than 1.3 billion people. According to a report in Statista, India is just behind China with more than 460 million internet users, and that base is expected to grow up to 635 million by 2021.
T-series runs on Bollywood content, which is filled with latest songs and item numbers that are widely consumed in India. For example, the song Dilbar from the movie has around 200 million views. The channel also provides such content to audiences around the globe, for consumers who have limited source of Bollywood masala.
So if one tries typing Bollywood in the search bar, T-series might be the first one to pop up in the list of recommended videos.
PewDiePie was tagged as the "King of YouTube" in July 2013 as he reached out to audiences in countries like Sweden, Italy, France and the UK, while also building up a fan base in the United States as explained in the video by Game theorist Matt Patrick according to the report in Polygon.
"The only way I can stay relevant is to get the Indians subscribing to me," Kjellberg said in the video. So if PewDiePie is looking to rule over the hearts of Indians, maybe he should look into doing a Bollywood item number.
Eyeballs
The top five videos in both the channels are far from being compared. T-series rules the viewership aspect, for example, the top viewed videoon T-series, Guru Randhawa: Lahore (Official Video) has got 559 million views on it whereas there are only 83 million views in the video A Funny Montage by PewDiePie.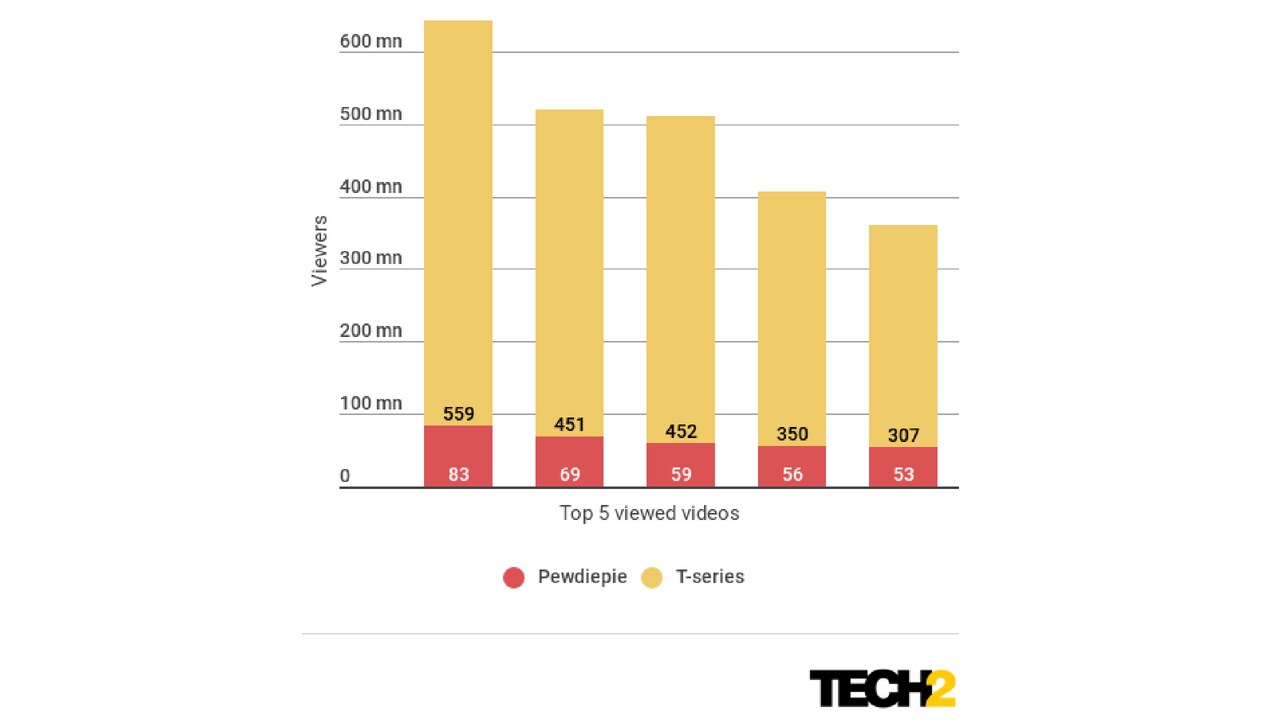 Mobilisation of subscribers
PewDiePie seems to be doing everything he can to retain his throne and has called out to his army, which he refers to as "army of 9-year-olds" to stop T-series from becoming the biggest subscribed channel on Youtube. The content creator might be jokingly rallying his fan base, but they seem to have taken it seriously, though.
Our Lord Pewdiepie is under attack, his regime is being questioned. Are we just going to sit back and let him be taken over? NO! We will fight, I'm calling all the kids of the internet, let's save Pewdiepie before it's too late. pic.twitter.com/0joBoNrhPI

— MrBeast (@MrBeastYT) August 29, 2018
Dear 9 year olds We are ready for the war! Every indian subscribe to @TSeries and unsubscribe @pewdiepie . 🇮🇳 💪 — RaFaZ aaDeeZ 🎵 (@Rafaz_aadeez) August 30, 2018
Is it even a fair war?
PewDiePie is just one person, an independent content creator, whereas T-series is not an individual person, it's not a personality, it's a company. Both the channels provide content that are of completely different genres. T-Series joined YouTube in March 2006 and has published 12,600 videos whereas Kjellberg joined in April 2010 and has posted 3,600.
The dethroning, if it would take place, would definitely be a significant moment in the Kingdom of YouTube, but PewDiePie would still remain the most subscribed solo content creator if T-series dethrones his channel. Nevertheless, we have our popcorns ready for this epic YouTube war!
Find latest and upcoming tech gadgets online on Tech2 Gadgets. Get technology news, gadgets reviews & ratings. Popular gadgets including laptop, tablet and mobile specifications, features, prices, comparison.