FP Studio Jul 11, 2018 19:13:27 IST
Motorola has outdone itself with the Moto E5 Plus. It's BIG!, big screen, big battery, big design and big value for money. It ticks all the boxes for the Indian customer.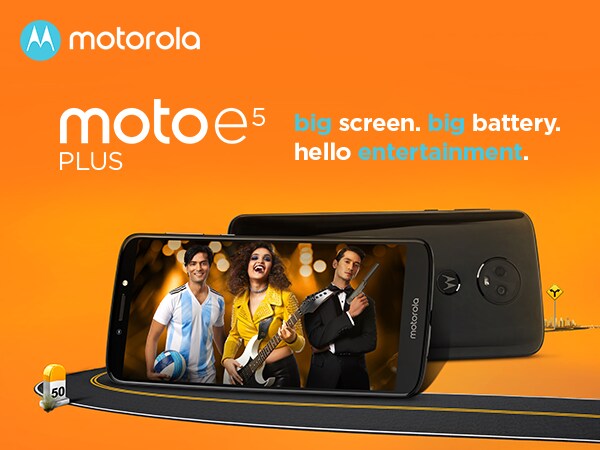 We love entertainment, and we love to get a lot of bang for our buck. Most of our entertainment, be it music, video or sports, is increasingly getting consumed on our phones, and boy, does the Moto E5 Plus is here to deliver it all! It is THE phone for entertainment buffs.
Display
The Motorola E5 Plus has a massive 6 inch Max Vision HD + IPS 18:9 display. The screen is huge and you can watch videos without straining your eyes to catch the smaller details. Actually, the screen is large enough for a couple of people to watch it without pushing someone out of the way. The sound quality is crystal clear. Props to Motorola for this!
The phone runs with an 18:9 aspect ratio with a 720*1440 display, and it is super tall. You have a lot of room to play with without feeling uncomfortable. This phone makes your entertainment bigger.
Battery
The battery, oh dear Gadget Gods, the battery! It's a whopper at 5,000mAh.  and gives you around 18 hours of non-stop video playback, 200+ hours of music playback or 20+ hours of web browsing. Games, movies, videos and music will never have to be put on hold if you are on this device.
Performance
The phone is powered by a Qualcomm Snapdragon 430 processor running at 1.4GHz with 3GB of RAM. The phone has 32GB storage that you can augment with a dedicated microSD card slot that is expandable up to 128 GB. You'll have to work extremely hard to run out of space for your photos, movies and videos in the E5 Plus.
Camera
The camera on the phone is pretty decent. A 12-megapixel rear camera with 1.25um big pixels is good for this price range & allow for good low light photography. Face detection and laser autofocus work well on the camera, and you will not be disappointed with the quality of pictures on this phone. Colour quality is above average. Front facing flash gives you better selfies even in low light.
Design
The E5 Plus is a beautiful smartphone. The Moto E5 Plus takes a lot of the design elements that we saw on last year's Moto X4 and gives it a new twist that works really well. The 3D arched back, the reflective wave pattern on polymer glass back, the rounded corner glass panel with the smooth edges give it a very premium, glossy look. The phone looks remarkable in either black or gold.
Fingerprint Sensor 
The sweetest part of this phone is the instant unlock with the fingerprint reader on the imprinted Moto logo at the back of the phone. A lot of customers have been clamouring for this and Motorola has finally done it.
This is a partnered post. 
Tech2 is now on WhatsApp. For all the buzz on the latest tech and science, sign up for our WhatsApp services. Just go to Tech2.com/Whatsapp and hit the Subscribe button.