NASA is exploring the interior composition of Pulsars with an astronomical instrument mounted on the International Space Station known as the Neutron star Interior Composition Explorer (NICER). Pulsars are the dead bodies of stars that are spinning rapidly with twin beams of radiation. When these beams cross the Earth, they appear to pulse, much like a rotating lighthouse. The internal composition of the Pulsars are not well known, which is what NICER is trying to decipher.
There are protons, neutrons, superfluid neutrons, ions, electrons and elements such as helium and hydrogen in a Pulsar. However, it is unknown what makes up the inner cores of these bodies. Additionally, scientists do not know the kind of effect the extreme pressures in the Pulsars have on the mixture of the constituents. Precise measurements from the NICER instrument allow for the measurement of the radii of the Pulsars with an accuracy that is an order of magnitude greater than other state of the art approaches.
The beams from the Pulsars are so regular that when they were first observed, scientists could not believe that the signals were coming from a natural object. The mysterious body was named LGM-1, after Little Green Men, as it was speculated that the Pulsar could be a sign of an intelligent alien race. It was only after discovering more Pulsars that scientists accepted that they were a natural phenomenon. The first known Pulsar is now known as PSR B1919+21, and the NICER instrument observed it.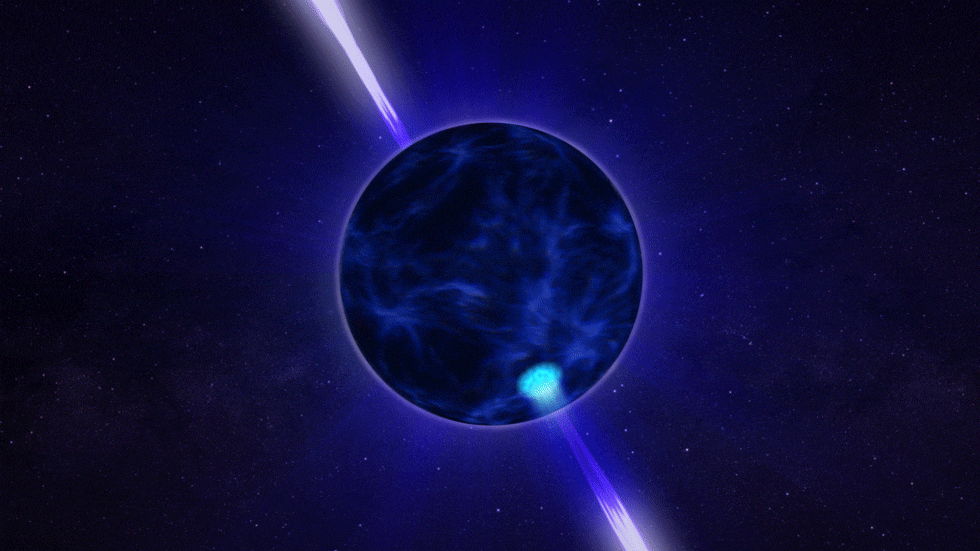 The NICER mission is also paving the way for developing global positioning system -like capabilities for the entire galaxy. The Pulsars act as a regular beacon and are extremely precise in their regularity. This allows them to be used in the same way as GPS satellites in orbit around the Earth use atomic clocks. Zaven Arzoumanian, the NICER science lead says, "You can time the pulsations of Pulsars distributed in many directions around a spacecraft to figure out where the vehicle is and navigate it anywhere. That's exactly how the GPS system on Earth works, with precise clocks flown on satellites in orbit."
The galactic scale positioning system could support future interplanetary missions to Mars and satellites of the gas giants. The capabilities will be technologically demonstrated by the Station Explorer for X-ray Timing and Navigation Technology (SEXTANT) component of the mission. While the method has been demonstrated in lab conditions, SEXTANT will demonstrate navigation using Pulsars in space by using the observations from NICER's X-Ray telescope to calculate the exact position of NICER in orbit.
Updated Date: Aug 03, 2017 14:55 PM