PartneredMar 23, 2018 14:08:02 IST
If Roti, Kapda aur Makaan was the war cry for middle-class Indians of the previous century, the upwardly mobile, aspiring Indian of today desires a little more. The focus has shifted firmly away from roti and kapda to makaan and not just any makaan. As technology makes deep inroads into every aspect of our lives, today's generation looks to move from simple houses to the convenience and comfort of living in smart homes.
Smart homes are defined as residences that use internet-connected devices to enable the remote monitoring and management of appliances and systems. These appliances include everything from the refrigerator, air conditioner, television among other devices which can connect via the home Wi-Fi and can be controlled remotely from virtually anywhere.
Smart home appliances are only now beginning to make their presence felt here and Lloyd has taken a leadership position in this nascent market by launching air conditioners with built-in Wi-Fi. The Lloyd Wi-Fi ACs are built for ease-of-use and convenience. They can be controlled via an app on your smartphone as well as the remote which means you don't have to worry anymore about leaving the AC on as you leave home for a week on a business trip or vacation. If you are not sure, you can always check via the app and if indeed you have forgotten to switch it off, do it from wherever in the world you are.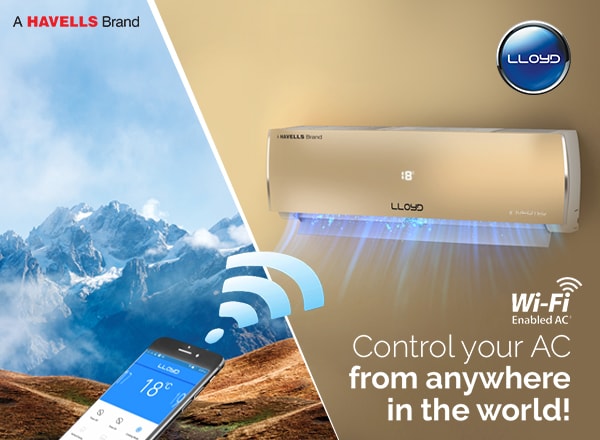 Another big convenience of being able to work the AC via the smartphone app is never having to worry about the remote. You don't need to look for it, don't have to change the batteries when they are dead or even bother if the remote is damaged. Your phone is as handy as the remote. Finally, imagine a scenario where you are returning home on a hot summer day and want nothing more than to sit back and enjoy your favourite movie. The only problem is, your home is too hot for any such comforting thoughts and it is going to be a while before your AC can get the room to the temperature you want it to. With the Lloyd Wi-Fi AC, you can switch on the AC remotely even as you begin your commute home, so by the time you get there the temperature is just what you want it to be.
Apart from the Wi-Fi functionality, these ACs also incorporate 4D Express Cooling technology. This basically allows the ACs to suck in 20% more air from the room, meaning the room gets cooler much faster than it would with similar tonnage products. Lloyd has also paid extra attention towards building low-noise products, so you get the cool comforts of its gadgets without the disturbing sound that often ruins the pleasure of air conditioners.
So with summer threatening to burst through almost any day now, give your home the first smart makeover. Get yourself an AC that fits in perfectly with your modern lifestyle.
This is a partnered post. 
Find latest and upcoming tech gadgets online on Tech2 Gadgets. Get technology news, gadgets reviews & ratings. Popular gadgets including laptop, tablet and mobile specifications, features, prices, comparison.