12:59 (IST)
Next flash sale
The next flash sale will take place on the 30 August at 12 PM
12:43 (IST)
Out of stock!
Congratulations to all the lucky JioPhone 2 buyers and whoever didn't get through, there's always a next time! :)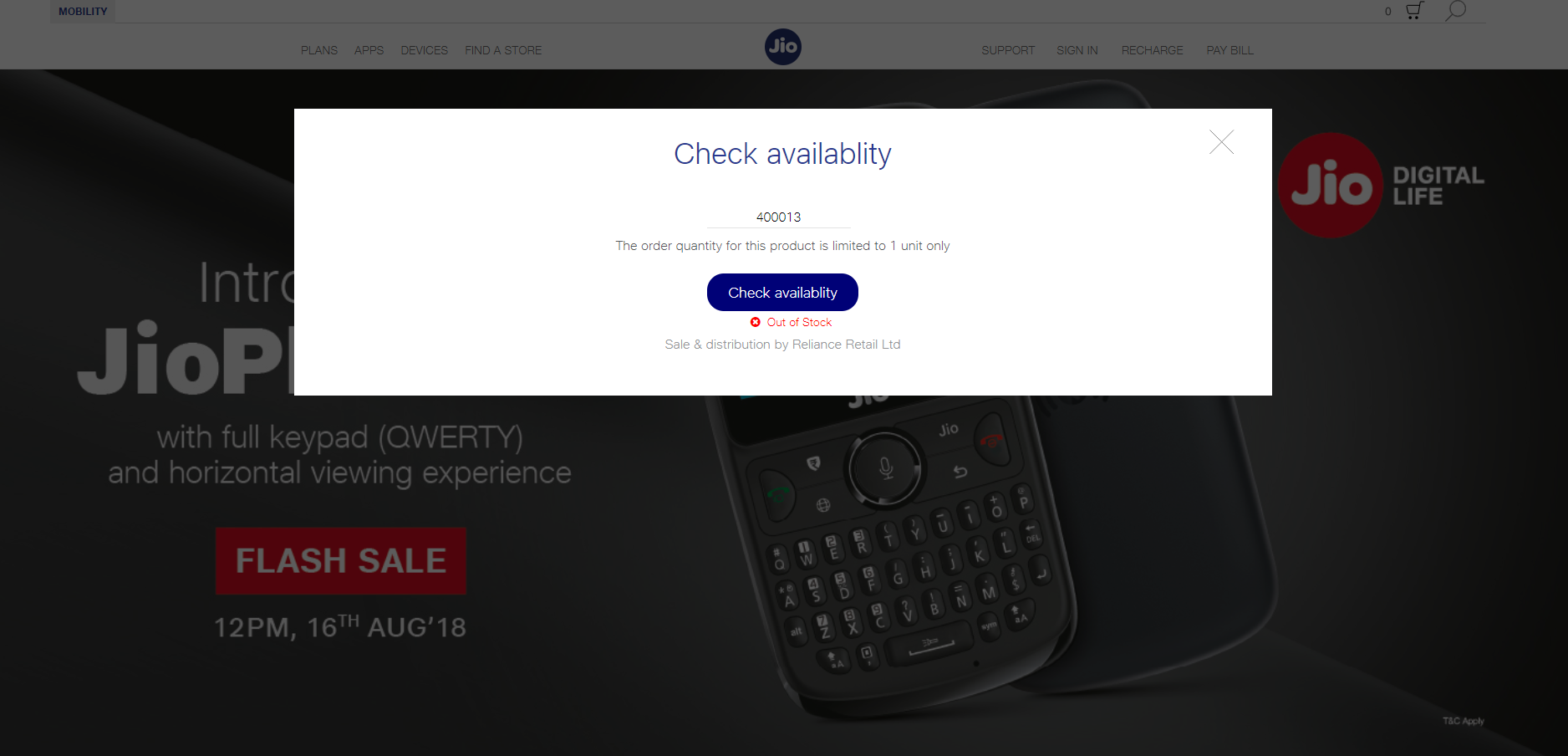 12:35 (IST)
Multiple language support
JioPhone 2 comes with a simplified interface covering 22 Indian languages.
12:30 (IST)
Check-out details
Once you're through the first step, then fill in your personal details and press continue.
12:24 (IST)
12:21 (IST)

Let the fingers do the talking
JioPhone 2 comes with a QWERTY keypad with a display size of 2.4-inch QVGA.
12:17 (IST)
12:13 (IST)
Total amount
Rs 3,098, including the delivery charges
12:09 (IST)
Rs 99 for shipping charges
The JioPhone 2 will be at your doorstep within 5-7 business days.
12:05 (IST)
Delivery details.
12:05 (IST)
The site's down!
12:02 (IST)
The clock strikes 12!
The flash sale has begun. Grab your JioPhone 2 from Jio.com, NOW!
11:50 (IST)
Feature phone advantage over entry-level smartphones
With JioPhone and an affordable internet plan, paired with the Jio content library, feature phone buyers get a lot of value overall.
11:40 (IST)
JioPhone hits the 25 million milestone
At the 41st Annual General Meeting (AGM) of Reliance Industries, its chairman and managing director Mukesh Ambani announced that 25 mn JioPhones have been sold to date.
11:30 (IST)
JioPhone is one of the most popular phones in India
With the added functionalities and strong retail presence across India, the goal that I have now set for our #Jio team is to enable 100 million users on this #JioPhone platform in the shortest possible time and create another world record: Mukesh Ambani at #RILAGM

— Flame of Truth (@flameoftruth) July 5, 2018
11:07 (IST)
10:01 (IST)
Everything you want to know about JioPhone 2