Nandini YadavMay 18, 2018 10:57:18 IST
Besides all the #GymToday #OOTD and #WhatIAte stories that we put on Instagram, a lot of them are quotes, stories or some really relatable stuff that we see on our timelines, posted by other people.
Until now, the way to do that was to screenshot the other person's post and then share it on your profile as a Story. But Instagram has now made that so much simpler.
Instagram has rolled out a new feature which lets you share other people's posts as Stories. Unfortunately, you still can't share other people's Stories on your own. We have currently spotted the feature on Android, and we are hoping that it will gradually rollout to all users by the end of this week.
Basically, you spot a post by someone on your timeline, and your mind immediately goes like, "Me Too Man!". Instead of screenshotting the posts, and then cropping the image, and then adding the credits, all of this now gets done with a single tap. You hit the share button, the little origami plane-like icon, and you'd see above the list of your friends, that there is now an option to 'Create a Story with this post'.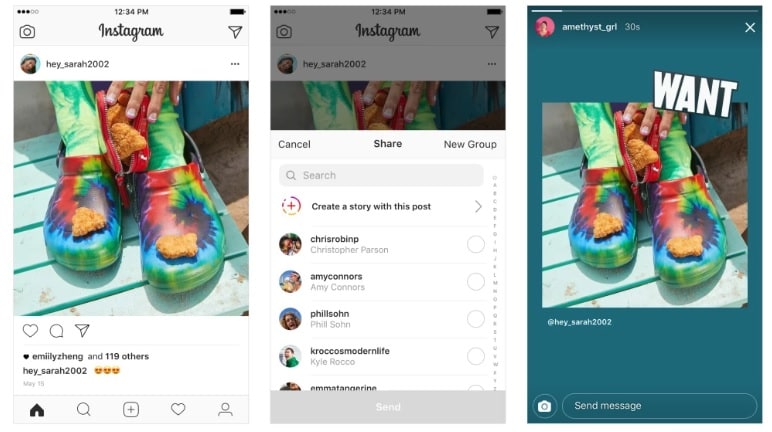 When you tap on that, Instagram will lead you to your Stories. You'll notice the image you have shared has already been resized, the person you have shared it from has already been tagged. You can just add your own stickers, or text or doodle, whatever you wish to, and you are ready to post.
Snapchat, please take note, there is a reason that the feature, which was originally yours, is now doing better on Instagram. Except for giving a chronological field to its users, it has genuinely been analysing the way a person uses Instagram.
Lately, Instagram has been paying a lot of attention to the way its Stories feature is used. The last few updates by the platform have seen efforts for enhancing the experience of the Stories feature. The most recent was an emoji slider that was launched, which is essentially a sticker for a poll, answers to which are given in emojis.
Find latest and upcoming tech gadgets online on Tech2 Gadgets. Get technology news, gadgets reviews & ratings. Popular gadgets including laptop, tablet and mobile specifications, features, prices, comparison.