Aditya MadanapalleOct 10, 2017 17:49:37 IST
About every ten years or so, a disruptive new technology extends essential services and connects more people and businesses. In the mid 80s, it was the personal computer, in the mid 90s it was the world wide web, in the mid 2000s it was the smartphone. Now we are in the mid 2010s, and as Google's Sundar Pichai pointed out in the Made by Google event in October last year, the decade ahead belongs to artificial intelligence.
One of the major ways in which artificial intelligence changes how we interact with technology is chatbots. An Indian Startup, Haptik is a leading end to end chatbot platform the world over, and has been in the business for over four years. We spoke to Aakrit Vaish, founder and CEO of Haptik, to understand more about the chatbot space and Haptik's plans for the future.
Vaish says, "Haptik as a company has been around for four years now and over this period we have taken various twists and turns much like any other technology startup but at least the one piece that we have remained consistent with from the time that we started was that chat or bots are going to rule the world. Basically for us when we started in 2013, we started with a simple thing that everybody is spending most of their time inside messaging apps. Which means that messaging or chat is becoming the primary interface of your smartphone. So, there should be a lot more happening within these messaging interfaces than simply talking to your friends. There should be scores, there should be transactions, and there should be utilities."
In March 2014, Haptik launched a customer service oriented chatbot app. In 2015, Haptik became the official personal assistant of the Mumbai City Football Club, as well as providing a customer support chatbot to Swipe Telecom. Haptik evolved into a full-fledged personal assistant, providing information on products and services, apart from customer support. In 2016, Haptik added a SmartWallet capability that allowed users to make transactions through the platform.
"Messaging should be so smart because it is so easy to use. We have evolved over the years and fundamentally today what we are is an end to end chatbot platform where we build chatbots out for consumers, enterprises, brands across any of the different channels of communication. It can be mobile apps, websites, within Facebook messenger, now there is WhatsApp coming out, within mobile web... any of these things. We build bots for utility, customer support, QnA, services, transactions, across the board. It is really kind of horizontal chat end to end bot platform that can be used to build any kind of bot, and that can be deployed anywhere," Vaish explains.
We probed into the technology supporting this platform, which supports so many applications. It is surprising to note that not only has Haptik developed all the technologies that they use in house, which is their primary strength, but they have also open sourced part of their technology, so other chatbot companies can use Haptik's code in their offerings.
Vaish says, "Our entire technology stack is completely built in house. We don't use any other provider, we have our own bot development and maintenance tools, we have our own natural language processing and artificial intelligence engine, and our chat platform is an end to end technology which is our core strength. In fact, we were one of the first companies in the world to open source the key parts of our chatbot technologies. That process has been made, accumulated across all our different products and services we handle about five million chatbot queries a month. According to our research and calculations, we are one of the top five chatbot platforms in the world."
The component that does the heavy lifting for Haptik's platform is its natural language processing (NLP) capabilities. Before the advent of NLP technologies in computers, users had to talk to computers through very specific commands. For example, in the Windows command line interface (CLI), users might have to type in "ipconfig" to know their ip address, instead of simply asking "what is my ip address?" To start up the CLI, users have to type in "cmd," and say typing in "console" will not be accepted as a valid input. These commands have to be learned by the users. NLP allows computers to understand what humans are trying to say in the language that humans use, instead of making the users learn computerese.
Vaish explained to us how the NLP works at Haptik, "One of the key parts of our NLP is a technology called NER, which is named entity recognition. The way named entity recognition works is, this is the part that we have open sourced, if you just Google Haptik NER you will find it. Any developer or any chatbot company can use this technology that we have built for their own bots as well. So, what NER is, let's say you send a message, "Hi!, I want to book a cab." Then, in that message, the key parts is to detect the main keywords, based on these main keywords, the chatbot will be able to figure out what the right decision point should be. So, let's say when you message I want to book a cab, the main keywords are book and cab, so those are the two main words. What NER does is scans through each message, identifies those two main keywords, and sends its back it our database, and our database receives "book and cab" and based on that we send back cab options and whatever the next step is. So that is one key part of our entire technology."
For an end user, what matters is the experience of using a chat interface. The user does not care about the complexity of the machine learning algorithms and the natural language processing going on behind the application or interface. These are technologies trying to provide the same experience as a human agent would, and sometimes things go wrong. Haptik tackles this problem by allowing humans to seamlessly step in if the machines are not up to the task. The Haptik platform only gets better as the machine learns from the humans stepping in.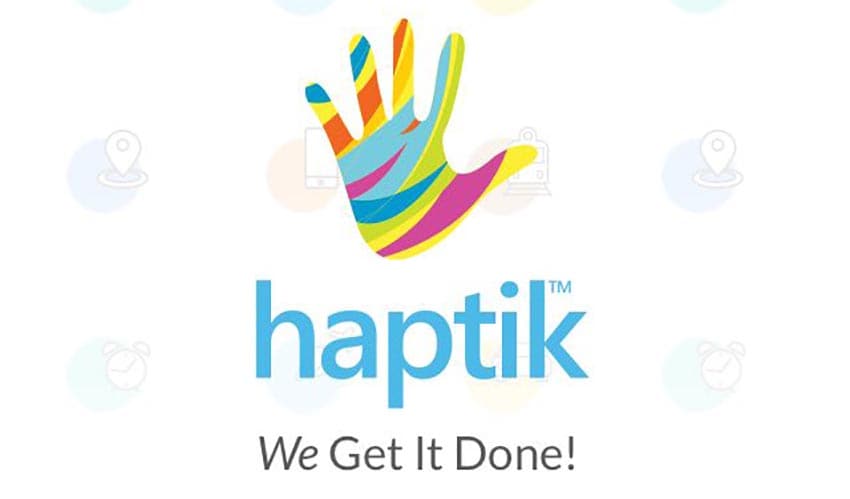 Vaish says, "The second part of our technology is that whereas most of our technology is automatically done through chatbots, we have also have human intervention. Let's say the bot did not understand what the user is saying, then we have people taking over the chat and processing it forward. If you use Haptik and you start using any Haptik bot, you will not even come to know when the bot went to a human and when the human went to a bot. The transition is very smooth, and that is a feature that we built, to make the bot to agent transition happen very quickly. The best part about all of this is whatever messages that the agents are sending, those messages are automatically reused again to make the bot better. So, the next time a user asks the same question, the bot will automatically understand and knows how to respond."
The end result is that people enjoy the experience of using Haptik. Each action or encounter on Haptik's digital assistant app shows a separate name, usually familiar ones such as Rahul and Ankita. This makes it look like you are interfacing with an actual person, instead of one singular AI. Sure, machine learning supports the advanced capabilities of the platform, but a key part of the success of Haptik is figuring out how to make the daily lives simpler for people. If using Haptik, users have to visit fewer web pages, install fewer applications, and navigate directly to the information they need through a natural, text based interface, without having to learn how to use an app or know where to find something on a website. This answers the important question, why would people want to use Haptik?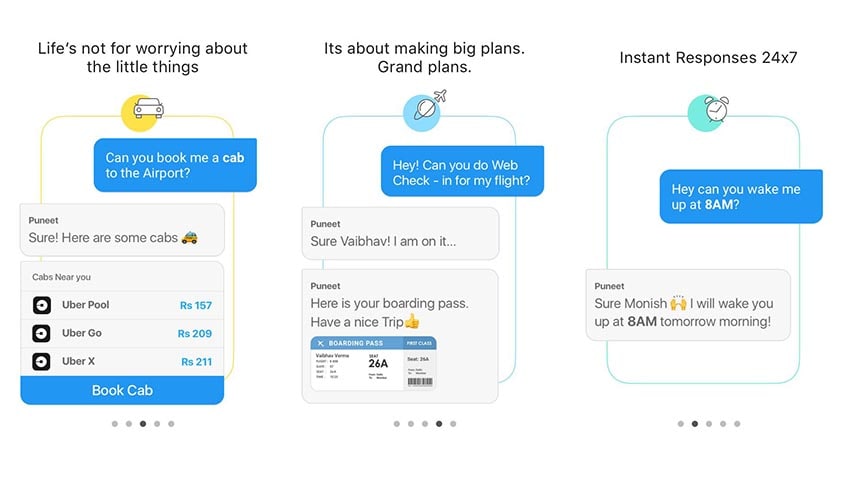 Vaish says, "For example I had Quora answer about this a few months back. For me, a chatbot is as much as a design problem as it is a machine learning problem. It is very important to design it well and make the content really amazing, and machine learning can complement it and make it better. That is something that we talk about to people a lot."
2016 was the year when major technology companies in the United States warmed up to the idea of chatbots. Microsoft launched a bot directory and a chatbot SDK. Facebook started allowing developers to create chatbots on Messenger. Google introduced its smart assistant, Allo. However, chatbots have been thriving for years on instant messaging services in many Asian markets, and the ecosystem in China is quite mature. We asked Vaish why chatbots have not yet been wildly popular in India.
"We are trying to make that happen right?" Vaish says, "As one of the largest chatbot companies in the world, that is what we are trying. A lot of my time goes in just basically evangelism. Talking to brands, companies, talking to users about why bots are better, how bots will make things better. What is the key focus on a bot, how a bot should operate, what should we focus on a bot. I would say it is a more mature ecosystem but bots are not being used by millions of people. There is a Microsoft bot for example, but the fact is that there are not that many. Same thing in the US, there are only about three or four that are very popular, besides that, not that many. I think globally as an industry we have a long way to go, we have a long way to evangelise the space and just make it more prevalent."
What Vaish is explaining here is that chatbots are a mature technology, but they have not seen the widespread adoption so far. Eventually, using a chatbot will be as conventional as navigating to a website, or using an app. Besides, users may just end up finding a chatbot within these websites and apps.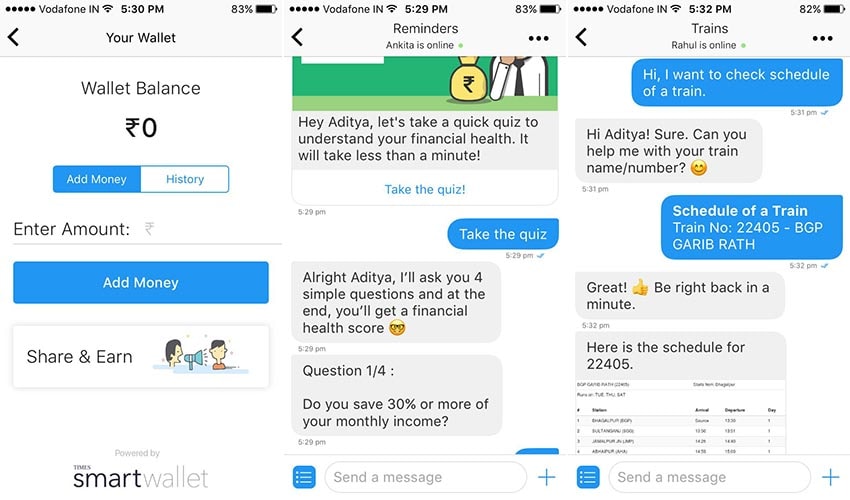 Human computer interaction has evolved over the years, chatbots are the latest in a series of new ways for humans and computers to communicate with each other. There was the command line, then applications, then web pages, web applications and smartphone apps. Despite these new and easier ways to interact with computers, users can still fire up the command line when required. According to Vaish, chatbots will not replace applications or websites, and instead will be infused and integrated within them.
Vaish says, "What I really talk about is this is not really a new kind type of technology, it is just a different way of doing things. It is a bigger transition than the one from websites to apps. Sure, the advent of smartphones had a big role to play, but it was the same type of screen. You would still click, it would open something and you would go on. When it comes to chatbots, it is completely different, it is a completely different interface, and a completely different way of doing things, so it will take time.
Bots are going to be everywhere, so according to us, Chatbots will not replace apps, they won't replace websites, they will just be everywhere, they will be inside apps, inside websites, inside voice search engines, embedded tightly with operating systems, they will be separate apps, they will be on Google Home or Amazon Alexa. It will get to a point where the concept of user interface will go away and it will just simply be either send a text message or a voice message and get something done. Whether you do it through a device or another app or another website that does not matter."
Telegram has some exclusives such as the Game of Thrones Dead or Alive bot, chatbot games, a chatbot and chatbot applications. It has one of the most evolved chatbot ecosystem around. We asked Vaish if Haptik had any chatbots on Telegram. Vaish responded, "No. Nobody uses Telegram in India (laughs) We would love to build for Telegram, but when we tried doing it, we realised that there were like ten people who were using it."
In both Telegram and Allo, one of the favorite passtimes of the Tech2 team is playing chatbot games. These include quizzes where users have to be the first to respond, or HTML5 based games. There is usually a score card. We found out that Haptik is working on something exciting in this space. Vaish says, "All that I can say right now is that we will announce something very soon. I agree, chatbot games are going to be very exciting. "
Find our entire collection of stories, in-depth analysis, live updates, videos & more on Chandrayaan 2 Moon Mission on our dedicated #Chandrayaan2TheMoon domain.