Tech2 News StaffSep 01, 2017 19:22:21 IST
Ola has announced that it has become the first mobility partner for Indus OS. Indus OS is the second most popular smartphone operating system in India after Android, and enjoys a user base of over 8 million users. Users of Indus OS will be able to avail Ola services in English and twelve regional languages, which together caters to approximately 95 percent of the Indian population. There is no need to install another application, Ola services will be deeply integrated into the operating system through the built in messaging application on the OS.
On opening the default messaging apps, users will have to chose Ola from the list of suggested brand accounts. The GPS location is automatically detected, and the available ride options are displayed. The user then confirms a ride, after which the ride details are displayed through the user. All of this takes place through a simple chat interface, which is easier and more familiar to use than an app for many users in India. The approach also saves on battery life for the users. Additionally, if any messages have information indicating that the user needs to travel, such as a doctor's appointment or a movie ticket booking, Ola will pop up as a recommendation.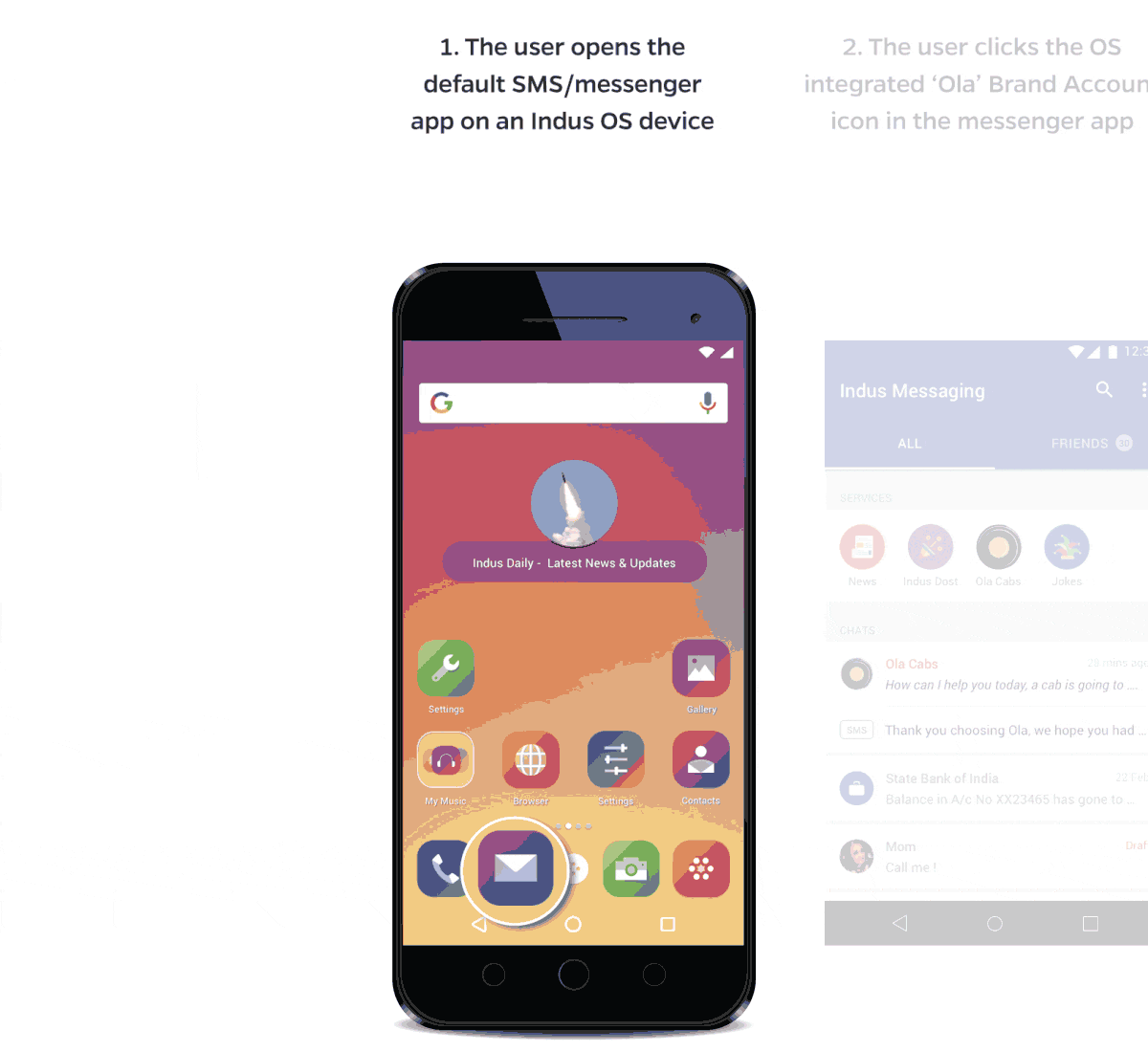 Nitin Gupta, VP, Engineering at Ola said, "Mobility is for everyone, irrespective of language and location. The growth story of Ola is thus, based on unique innovations, built to cater to unique needs and challenges of India and Indians. This partnership with Indus OS is a big step in catering to such use cases and ensuring that access to reliable mobility solutions reaches everyone who needs it in the most contextual and intuitive experience."
Rakesh Deshmukh, Founder and CEO, Indus OS, said, "We are extremely excited to partner with Ola to launch Indus OS platform's first Brand Account. Ola being the largest mobility platform in the country, with maximum availability across categories, this partnership will be a true value for our users. We understand the real needs of the Indian masses and believe in ground-up innovation to solve for those needs. Ola's integration within Indus OS will allow users to access Ola's services with minimal data and battery consumption and in the language of their choice."
Indus OS is a made for India smartphone operating system, with a number of approaches that keeps in mind the way users interact with technologies here. There is no need for an email account to download applications from the app store, and a number of essential applications are available out of the box. The Indus keyboard is a patented innovation that presents character sets as Indians have studied them in schools. Indus OS is installed on the device in the factory itself, and are available with smartphones from Micromax, Intex, Celkon, Karbonn and others.
Find latest and upcoming tech gadgets online on Tech2 Gadgets. Get technology news, gadgets reviews & ratings. Popular gadgets including laptop, tablet and mobile specifications, features, prices, comparison.