Internet Service Providers (ISPs) across the country have started blocking Internet Archive. According to a report by Medianama, popular ISPs in the country like Airtel, Tikona, BSNL, Hathway, MTNL and Jio across a number of regions started blocking the Internet Archive Wayback Machine.
The website started showing the error message 'Your requested URL has been blocked as per the directions received from Department of Telecommunications, Government of India. Please contact administrator for more information.' when users tried to access the website.
The report also points out that 'Internet Archive' reached out to the government of India but they have not received any response at the time of writing. According to the report, Chris Butler, the Officer manager for Internet Archive tried to reach Department of Telecom, Ministry of Electronics and Information Technology but all the attempts have been left unanswered. This is curious because 'Wayback Machine' by 'Internet Archive' is one of the most used websites used by users to check the history of any given web page at any given time.
This is particularly useful to check and catch any instances of information tampering from any authority or administration regardless of private or government ties. This is also critical at fighting people propagating Fake News where publications, government or individuals that engage in spreading controversial and incorrect facts may be held accountable with definitive proof. We tried to access the website on Jio and Airtel Mobile data connections in Mumbai and were greeted with the block messages.
We were able to bypass the block by replacing 'http://' with 'https://' at the beginning of the URL or by simply adding 'https://'. The major contention with this block is the fact that the block messages do not give us any information about the block. We don't know why the website has been blocked as this website does not aid any illegal activity in the country like piracy or pornography.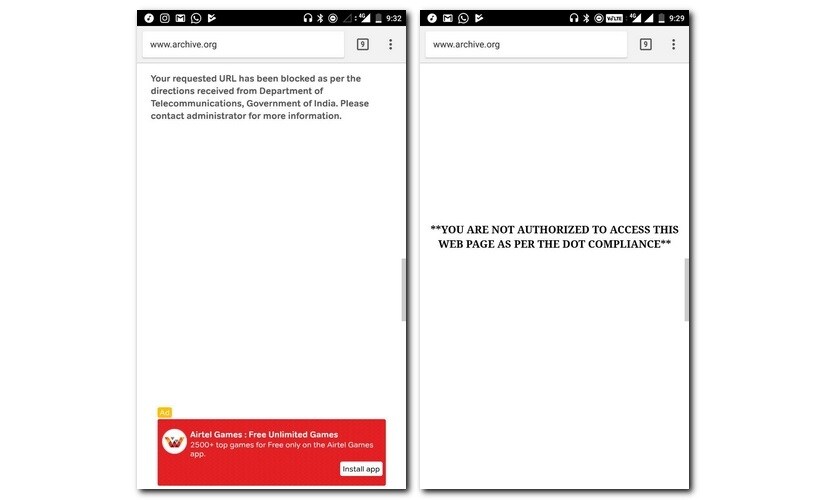 The interesting thing to note here is that Internet Archive is a non-profit organisation based out of San Francisco that works as a 'digital library'. It has been archiving the internet for over 20 years. As pointed by Internet Archive in a blog post, the 'digital library' has archived more than 510 billion web objects. All the web objects that this library archives are time-stamped and this includes about 273 billion web pages from more than 361 million websites. According to the blog post, all this data has taken over 15 petabytes of data storage.
According to the report, the blockage is inconsistent at the time of writing as some users can access the website on some occasions and other times they are being hit by the block message. One thing to note here is that Internet Archive is not limited to storing web pages and instead, the website also hosts a large number of free content like music, movies, videos, and softwares which have run out of copyright. According to an estimate, the 'digital library' holds about 'three million public-domain books'.
Disclaimer: Reliance Industries Ltd. is the sole beneficiary of Independent Media Trust which controls Network18 Media & Investments Ltd.