20:21 (IST)
That's it folks! Thanks for joining in!
Head over to tech.com for more on all the products launched today and follow us on our social media channels.
20:19 (IST)
MORE PRICES!
Huawei FreeLace - EUR 99
Huawei Watch GT - starts at EUR 229
Huawei 12000 40W SuperCharge Power Bank - EUR 99
Huawei FreeBuds Lite - EUR 119
20:14 (IST)
PRICES! FINALLY!
Huawei P30 (6 GB/128 GB) - EUR 799
Huawei P30 Pro - EUR 999 (8 GB/128 GB), EUR 1099 (8 GB/256 GB), EUR 1249 (8 GB/512 GB)
Both will we available starting 26 March in Europe.
20:07 (IST)
"Fusion of Fashion and Technology"
There is no pin or button on the glasses, and they are IP67 water and dust resistant.
Inside the arm there's a charging module, antenna, dual mic, chipset, speaker and battery.
They use beam-forming technologies and AI noise reduction to provide crisp, clear audio.
20:01 (IST)
Huawei says the new Smart Wear Eyegear will make you look more handsome (Ok! If you say so)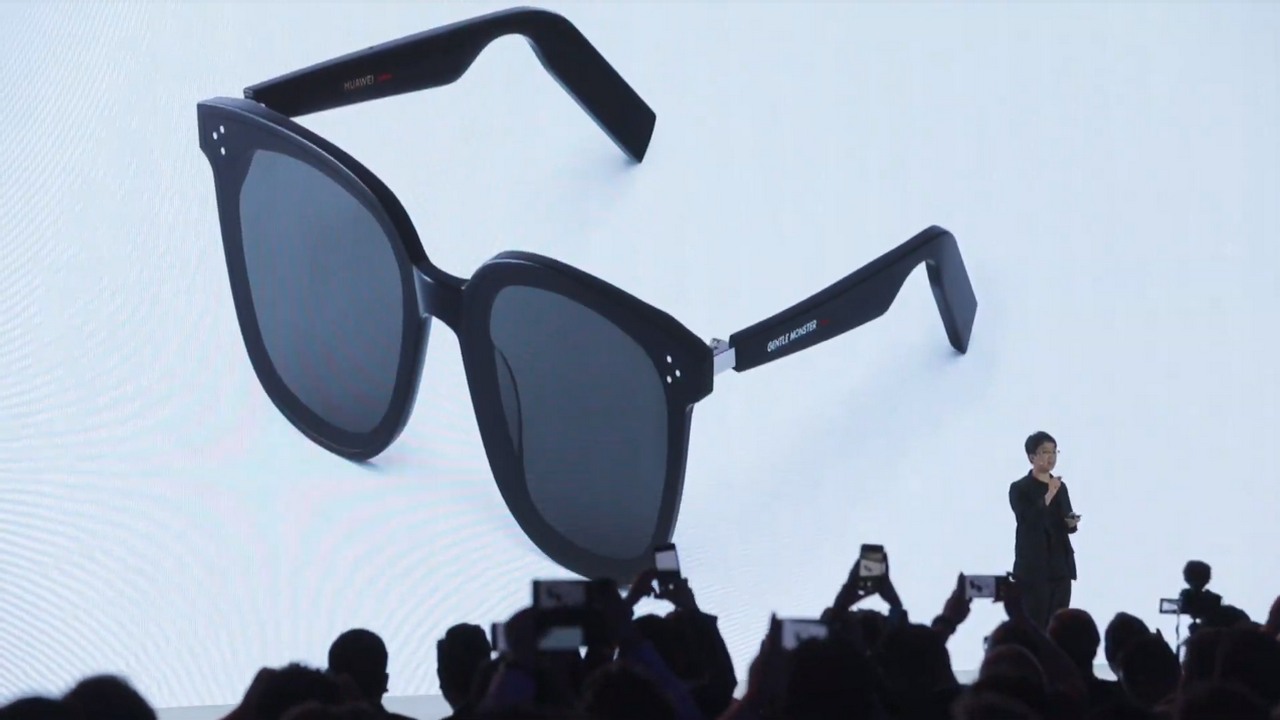 19:58 (IST)
All new shades! yaay! (Wait... wasn't this a tech event?)
They look like sunglasses but are actually smart eyewear.
Huawei's collaborated with an eyewear company named Gentle Monster for these shades.
It's not clear what they do just yet.
19:56 (IST)
Huawei FreeLace plug and pair to charge neckbuds announced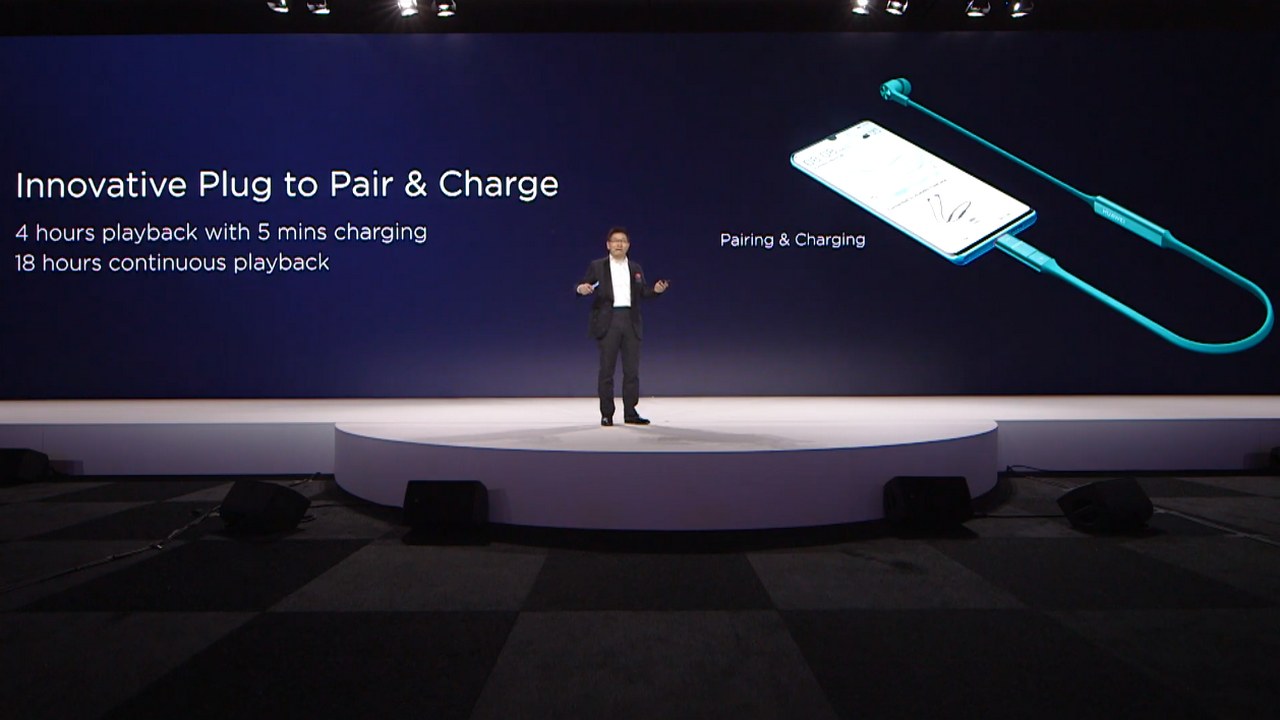 19:54 (IST)
All new Huawei Freebuds Lite!
Huawei FreeBuds Lite launched with 12 hours battery life (with battery case).
There's a new colour for the Huawei Watch GT too, with a 46 mm titanium case and 42 mm ceramic bezel model with 1-week battery life.
There's a new triathlon mode for the Watch GT which will arrive on watches via a software upgrade from today.
19:50 (IST)
Richard Yu isn't done! Say Hello to the Huawei FreeLace!
The Huawei FreeLace wireless headphones comes with 4 hours playback from just a 5-minute charge.
Huawei also claims up to 18 hours of playback on a single charge.
The buds are magnetic and clip together around your neck when you're not using them.
19:47 (IST)
Huawei launches its 12,000 mAh 40W SuperCharge Power Bank
Bi-directional USB charging which lets you charge not only your phone but also smaller laptops
There are companion products for the P30 series too, including a pink glitter case (which looks awful), as well as more traditional flip and wallet cases plus a dive case which waterproofs the phone up to 10 metres
19:45 (IST)
Huawei showcases an embellished Pearl Pink case for the P30 Pro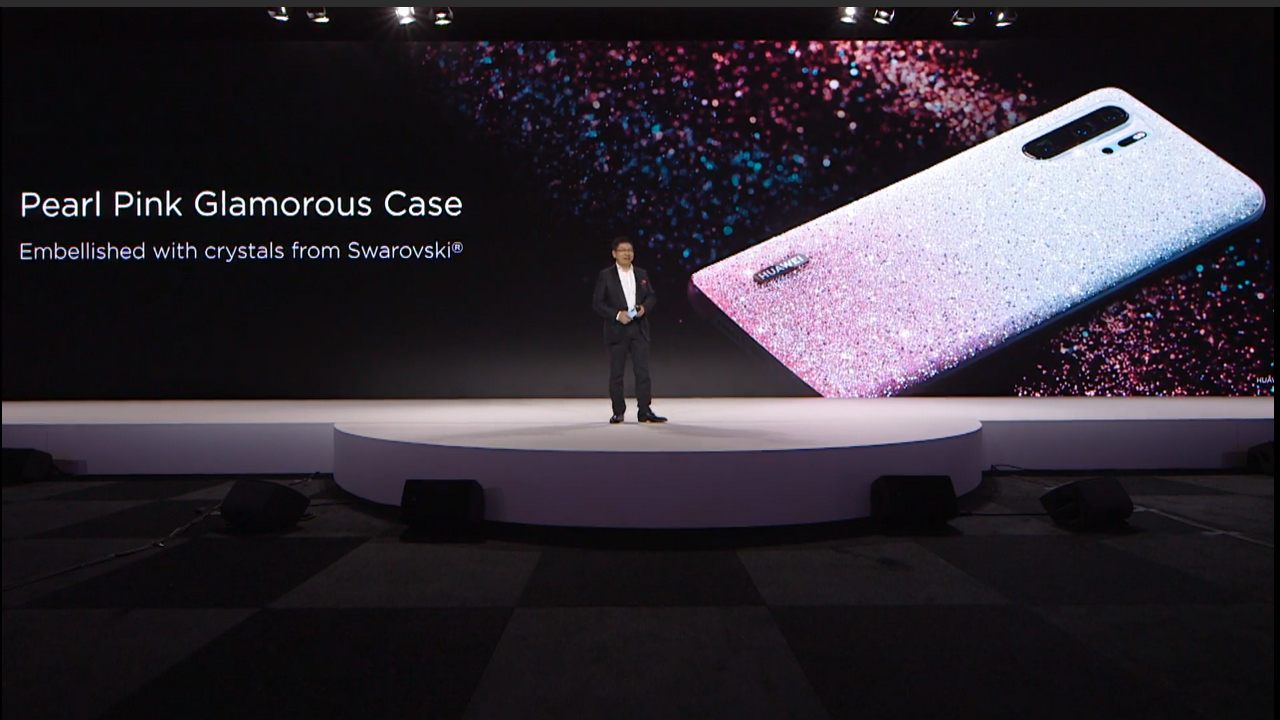 19:40 (IST)
Huawei P30 and P30 Pro: EMUI 9.1 based on Android Pie
You can press the power button for one second to launch Google Assistant at any time.
Hold it down longer to switch off or restart the handset.
There's support for Google's AR Core as well, with AR Measure, allowing you to accurately measure real-life objects.
19:38 (IST)
Battery details on the Huawei P30 Series
There's Huawei's 40W SuperCharge, giving you 70 percent juice in just 30 minutes.
You also get fast 15W wireless charging, and the P30 series features reverse wireless charging allowing you to charge other devices on the rear of the phone. Something we've seen on the Mate 20 Pro.
19:35 (IST)
The internals on the P30 and P30 Pro
CPU performance is up 75% (Kirin 980), GPU is up 46% and NPU is up 226% over last year's P20 Pro, and the P30 series offer "instant app launch".
Huawei claims this is over 1 second faster than the iPhone XS Max.
The phones also have a hybrid dual-SIM card tray, with one space doubling as a storage card reader.
19:31 (IST)
Huawei P30 series dual view video can capture a close up and wide-angle view simultaneously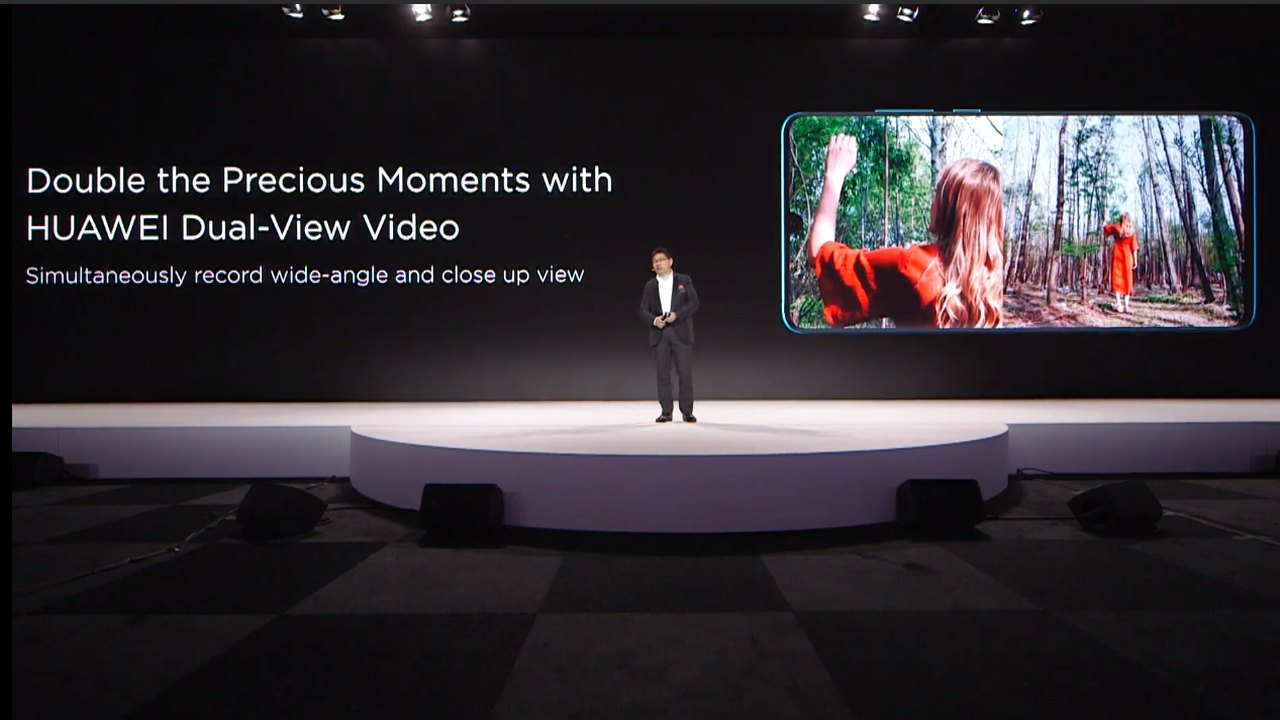 19:31 (IST)
We can't finish the camera segment without DXOMark scores can we?
The Galaxy S10 Plus, Mate 20 Pro and P20 Pro all scored 109, but the P30 Pro has scored 112, climbing right to the top of DXOMark overall rankings.
19:28 (IST)
More video features on the P30 and P30 Pro
Huawei introduces a new Dual-View video mode, something we've been waiting to see. This essentially uses the ultra-wide lens and the telephoto lens simultaneously to shoot video. Similar to Nokia's Bothie mode, but with rear cameras.
"Can you use the zoom on video?" I hear you scream. Well, there's good news as you can do just that - but not up to 50x by the looks of it, it appears to max out at 10x zoom.
19:27 (IST)
Video on the Huawei P30 and P30 Pro
This time, Huawei's no only focussing on photography but also videography.
The P30 Pro features a low light video mode as well and works quite well if on-screen examples are anything to go by.
It offers brighter low-light video recording and steadier video with dual OIS and AIS working together to reduce motion blur.
19:18 (IST)
It's funny how Huawei's decided to leave the Google Pixel 3 and Pixel 3 XL out of their comparisons though
It could be because Huawei's collaborated with them at some stage. But that's just our guess.
19:09 (IST)
Zoom capabilities of the Huawei P30 and P30 Pro cameras
The Huawei P30 Pro comes with AI HDR+, which should keep exposure levels even across your photo, with no dark or blown-out areas.
Huawei claims the P30 has best in class zooming performance with a 3x optical zoom and 5x hybrid zoom and 10x digital zoom.
The Huawei P30 Pro has the world's most powerful super zoom lens technology with a 5x opticial, 10x hybrid and a staggering 50x digital zoom. Yes you heard that right - 50X!
We will definitely put Huawei's claims to test when we review the phone but the examples on screen look absolutely stunning!
19:08 (IST)
Huawei P30 Pro has ISO 409600, the highest ISO range on a phone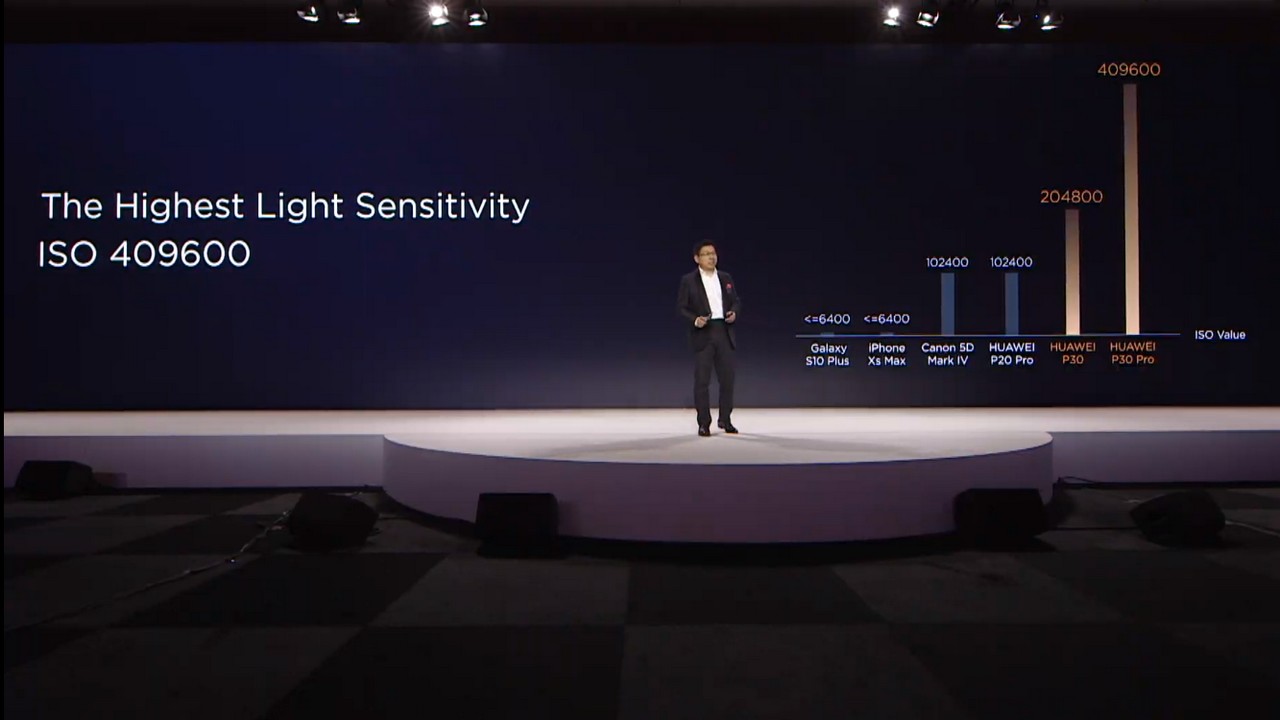 19:04 (IST)
And the worst joke of all time award goes to.... Richard Yu!
Talking about the P30 Pro's incredible Night Mode, the CEO attempts to take a jab at Samsung's Galaxy S10 series and says "The Galaxy can't shoot images of the Galaxy."
**Cringe**
19:02 (IST)
More on the cameras!
The 40 MP camera is the world's first to use RYYB (red, yellow, yellow, blue) sensor rather than the industry standard of RYGB).
Huawei claims will allow for 40% more light to be taken in, which should result in better low-light pictures.
This is unbelievable! Huawei says the P30 Pro can achieve an ISO sensitivity of 4,09,600 while the P30 can reach a whopping 2,04,100. This is unheard of when it comes to smartphone photography!
Both the phones will feature Huawei's new Handheld Night Mode and a new Long Exposure mode.
19:00 (IST)
Huawei P30 gets triple cameras at the back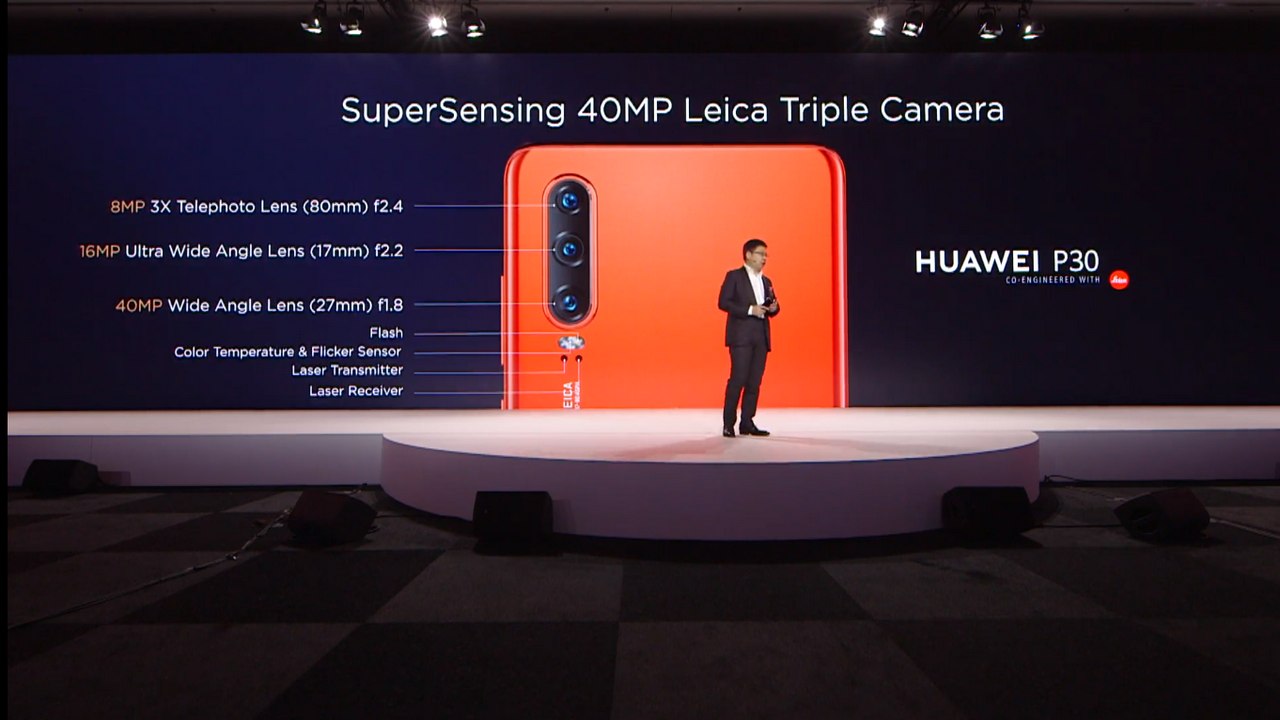 18:55 (IST)
"A new chapter in Mobile photography"

40MP Leica Triple Camera setup.
The three cameras on the P30 are a 8 MP telephoto, 16 MP ultra-wide, and 40 MP wide-angle lens.
However, the P30 Pro offers more, with four rear cameras. There's a 20MP ultra-wide, 40MP wide-angle, 8MP 5X telephoto and a ToF (time-of-flight) depth-sensing lens.
18:53 (IST)
*Huawei P30 series gets a vibrant Amber Rise colour scheme*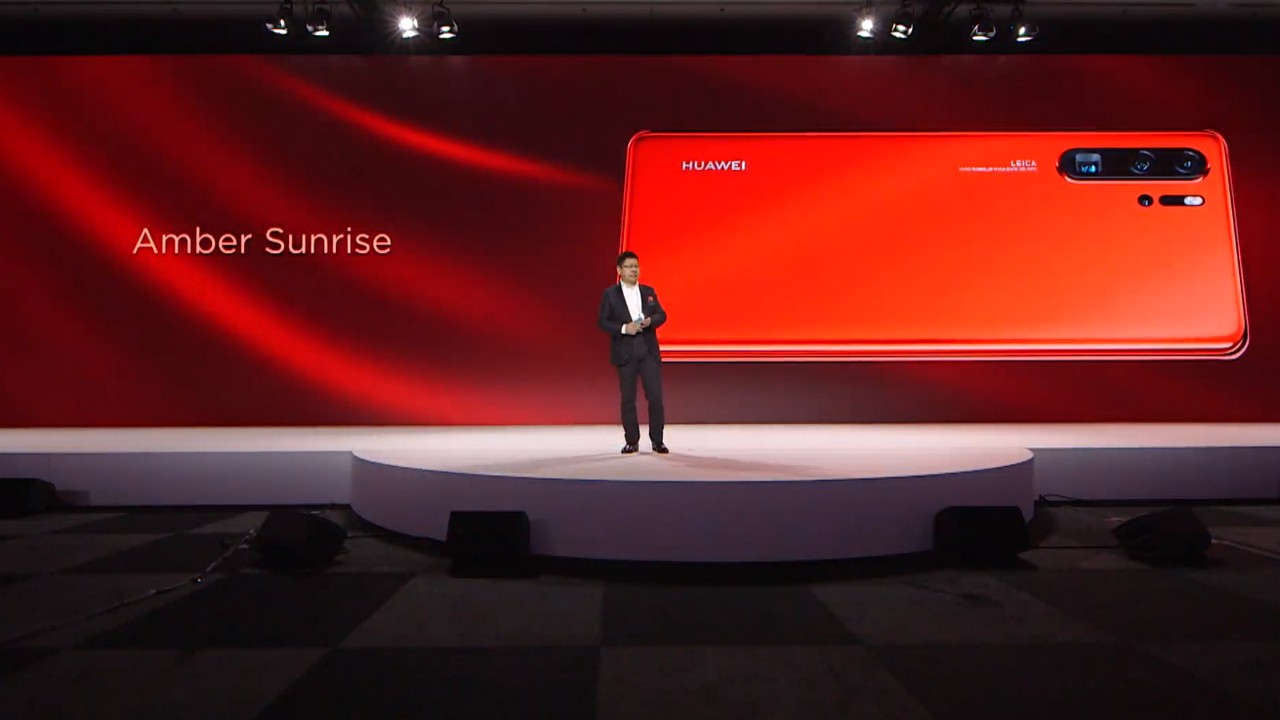 18:51 (IST)
Display and colour variants on both phones
Huawei P30 to feature a 6.1-inch AMOLED display
The Huawei P30 Pro, meanwhile, gets a larger 6.47-inch AMOLED display
The P30 and P30 Pro will be available in five colours - Pearl white, Classical Black, Aurora, Breathing Crystal and Amber Sunlight
18:46 (IST)
First glimpse of the Huawei P30 and P30 Pro
Richard Yu shows both the phones off for the first time and they both look stunning.
6.8 mm thick, smaller notch, super thin bezels and also lighter at just 192 grams.
18:45 (IST)
Huawei's CEO Richard Yu showcases Huawei P30 Pro with dew-drop style display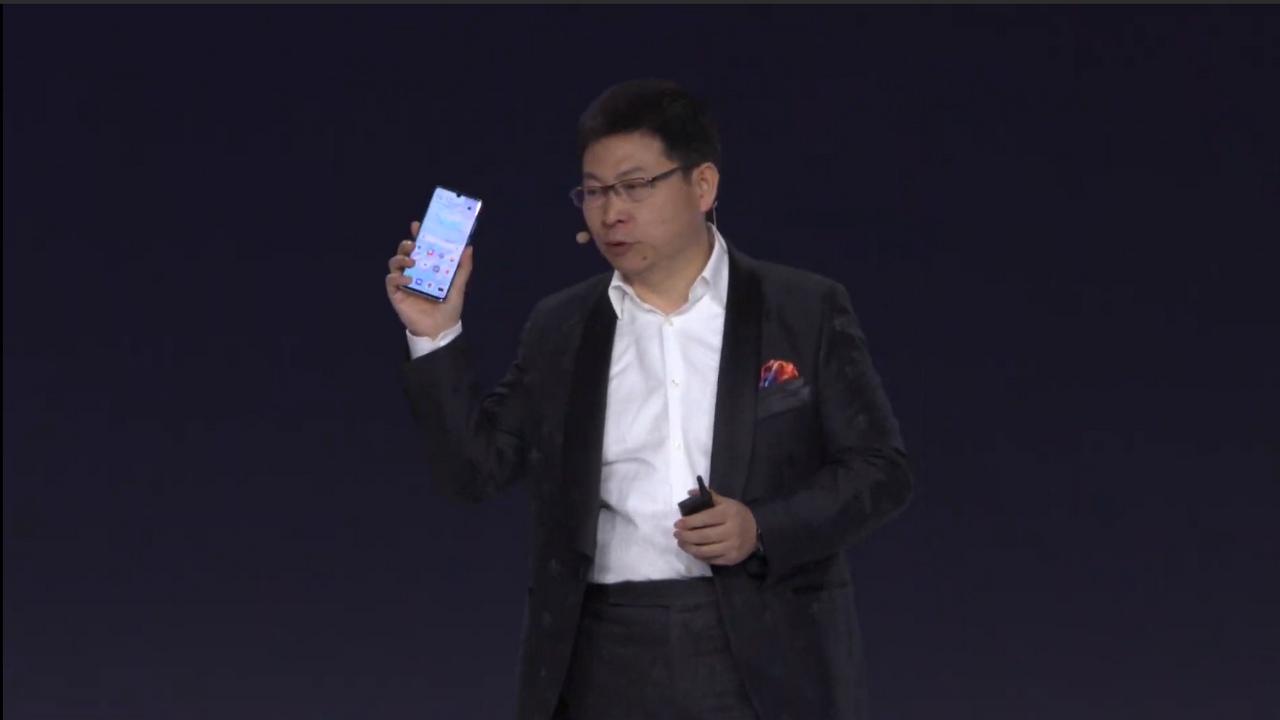 18:41 (IST)
And we've begun! CEO of Huawei's Consumer Group, Richard Yu takes stage
Yu talks about how important a device like the P20 was for the company.
He talks about TrackUI, Huawei's new machine learning tech while helps the visually impaired read and learn better.
Yu also talks about the legacy of the P Series and how 'photography' is definitely the focus of the series.
18:35 (IST)
The event is expected to begin shortly
The P30 and P30 Pro will surely be stunning devices but will we see an overhauled version of EMUI? Well, fingers crossed!
If Samsung can do it, we're sure Huawei can do it as well.
18:31 (IST)
18:23 (IST)
18:21 (IST)
18:11 (IST)
18:09 (IST)
Hello and welcome!
Huawei is expected to begin with the event in roughly 20 minutes. Fun fact: They particularly seem to like Paris a lot for their global launches.