Diwali, the Hindu festival that celebrates the victory of good over evil and light over darkness is right around the corner. This festival is celebrated in autumn everywhere where people light diyas and crackers to celebrate the occasion.
However, the celebration is not limited to lighting diyas and crackers as the festival is also associated to annual purge of waste and old stuff where people go and buy new stuff for their home or as gifts for their loved ones. Demand for electronics including large and small home appliances, personal electronic equipment, computing devices and smartphones peaks every year as the festival approaches.
E-commerce giants such as Amazon, Flipkart, Paytm Mall and Snapdeal hold annual sale events around this time to attract potential online buyers to their platforms with attractive deals and offers. The offers and deals result in peaked demand for electronics including smartphones. Buyers generally go for the best available option in the market in the spirit of festivities.
Over the previous year, smartphone markers have started moving towards dual camera setups. The companies are using different types of implementations for the dual camera setup to ensure that the photo quality of the primary camera is better than the competition. So considering that it is less than a week to Diwali and the importance that camera quality holds for a smartphone buyer, I have made a life of best seven smartphones with dual camera setup on the back. However, two smartphones from the lot, Samsung Galaxy Note 8 and the Apple iPhone 8 Plus are one a different level when it comes to the image quality of the photos taken from the dual camera setups on both flagships.
Samsung Galaxy Note 8
The Note 8 is Samsung's first attempt at a dual camera setup and the resulting images are impressive both in bright daylight as well as low-light conditions. Note 8 does exhibit just a 0.5 percent difference in the images shot from the Galaxy S8 Plus. The device comes with dual 12 MP cameras on the back, and it is one of the first smartphones to pack a dual OIS system.
As noted in the detailed review, the images produced are simply stunning for a smartphone. With HDR set to Auto, there is literally no shooting scenario that will make this smartphone camera break a sweat. The autofocus system is quick to lock onto a subject no matter how dim the lighting. Add to this the rock-steady dual OIS on both the standard and the telephoto lens and you have quite an arsenal for shooting that is enough to keep a DSLR enthusiast happy. The images produced are clean, have noise well under control and showcase excellent dynamic range. The colours may look a bit saturated on the smartphone, but they look perfectly fine when you view them on a bigger display.
Apple iPhone 8 Plus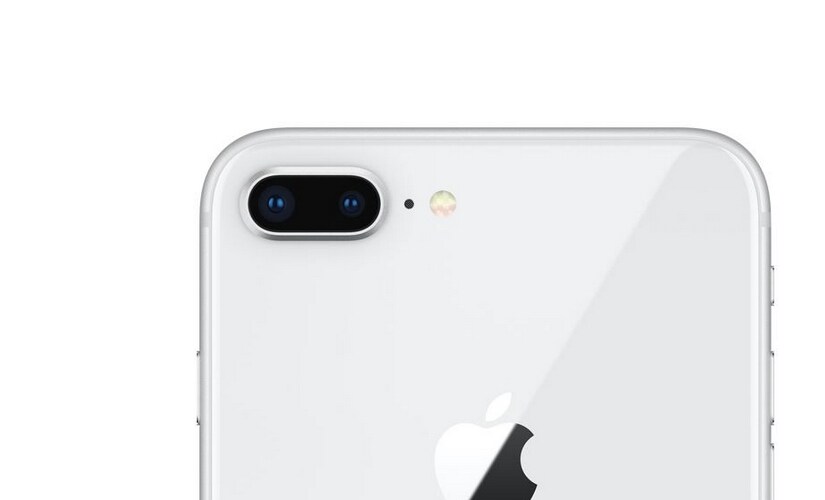 Apple iPhone 8 Plus comes revamped the camera mechanism on how the smartphone takes the images when compared to iPhone 7 Plus. The company has packed a 12 MP wide-angle camera module with BSI sensor and f/1.8 along with a 12 MP camera module with 12 MP telephoto with f/2.8 aperture. One of the most interesting aspects of the new camera is the improved portrait lighting mode along with OIS. Portrait lighting mode uses AR to generate artificial light on your face, creating effects like stage light or studio light.
Apple has also added OIS to the main camera along with a Quad-LED setup, tone flash with slow sync, wide-gamut colour capture, body and face detection, Auto-HDR.
The interesting thing to note here is that both, Galaxy Note 8 and iPhone 8 Plus have scored the same score with it comes to imaging benchmarks conducted by DxOMark. This gives us a hint that both the smartphones are almost comparable to each other when it comes to the hardware and the final image. The preference to buy one of these two smartphones depends on what Operating System the user wants to use.
Other dual camera smartphones in the market
Apart from the best, there are a bunch of other dual camera smartphones available in the market. Potential users should not expect a performance comparable to the Note 8 and iPhone 8 Plus as the camera performance takes a hit in dimly-lit conditions.
OnePlus 5
When it comes to bokeh images or those with an enhanced depth of field, the dual camera setup on the Honor 8 Pro does a far better job, leaving the OnePlus 5 in the dust. When it comes to standard images, the OnePlus 5 takes the lead producing images with better colour reproduction (I said better, not accurate). The colours, however, are not as accurate as I would like them to be. While I would have excused this from OnePlus at Rs 29,000, at Rs 38,000-paying customers will expect better.
Noise is not a problem in daylight shooting scenarios, but in dim lighting, there is a clear loss of details thanks to aggressive noise-processing algorithms. Switch to low light or even twilight and the landscapes shots look like paintings. Switching to the telephoto lens with a higher f/2.6 aperture delivered more details in scenarios like an indoor coffee shop which was very surprising.
The OnePlus 5's wide-angle camera (16 MP, f/1.7 aperture) uses a focusing system called DCAF. DCAF stands for Dual Camera Autofocus, one that uses both lenses to lock focus. As per the Qualcomm's patent: "Scene distance is used in combination with contrast-detection autofocus to achieve maximum sharpness in the image."
In short, the 16 MP primary sensor uses contrast-detection autofocus (CDAF) and will quickly lock focus after comparing outputs from both lenses. This works well in daylight scenarios, but switch to low light or dim light and the camera will keep hunting for a focus lock or may not lock on properly.
The 1.6X telephoto lens (No, it's not a 2X lens) delivers decent images. With a bigger 20 MP sensor coupled with a smaller f/2.6 aperture, its only use is to get close-ups of scenes or people who are already close to you, but with better detail because.
Honor 8 Pro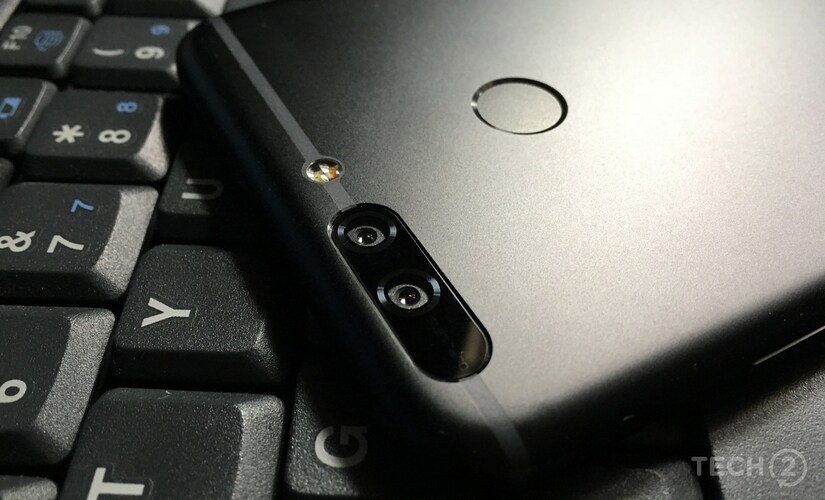 Huawei includes the same old 12 MP sensors from the Honor 8 which again deliver similar levels of quality and sharpness as before. Honor 8 Pro, thanks to its laser AF combined with PDAF was quick to focus in any given scenario.
Photographs clicked in daylight showcased impressive colour accuracy and sharpness. Users can tone down or turn up details like Saturation, Brightness and Contrast to your liking by heading into the 'Image Adjustment' setting in the camera app. The camera tends to overexpose images in brightly lit scenarios, so users will need to turn on the HDR mode manually whenever the setting is too bright.
The Monochrome mode, which lets users click pictures in black and white are impressive as Huawei directly uses the information from the sensor without any software tweaks. The bokeh mode is impressive in the images. The feather selection is pretty accurate and easily delivers the exceptional bokeh when compared to other smartphones, both in its class and even compared to the Samsung Galaxy S8 (which only has a single camera on the back). The OnePlus 5 fails terribly in this area.
Xiaomi Mi A1
After the Mi 6 that was announced in April this year, this is Xiaomi's second foray into a dual rear camera sporting smartphone. There are two 12 MP sensors, one of them having a f/2.2 aperture with a 26 mm focal length which is the wide-angle camera, whereas the other zoom lens has a f/2.6 aperture and 50 mm focal length. Thanks to this arrangement, you get 2x optical zoom out of the box. The video camera is capable of shooting at 2160p at 30fps and 1080p at 60fps. On the front, there is a 5 MP selfie camera.
Since the native Google camera app does not support dual camera setups, you get a custom Xiaomi camera app. The interface of the app is quite similar to the one we have seen on MIUI OS sporting Xiaomi phones. You get the filters on the left and camera switcher on the right-hand side and at the top, you have the direct button to activate portrait mode, one to activate the HDR mode and another to activate the flash. Options throw up familiar features such as panorama mode, manual mode, Beautify mode, Square mode, Group selfie mode among others. In the video section, you get slow motion and time-lapse features as well.
When it comes to camera performance, the daylight shots come out well. Focusing is quick and the photo is packed with details. Yes, there is a loss of detail around the edges, but nothing that takes away from the photograph. Colours appear lively as well. The tap to zoom function isn't the quickest around and you see a definite lag before it actually switches from 1x to 2x optical zoom. Nothing that a future software patch cannot fix.
Things change drastically when you operate the camera in low light. On most occasions, the camera was not able to lock onto a focus. And at times, even after locking on a focus, the final output was not that detailed. There is too much noise which avoids giving us a sharp image in low light. The algorithms certainly need a lot more work and Xiaomi has to look into this aspect, as this is one thing that sticks out in this otherwise great phone.
Moto G5S Plus
The Motorola Moto G5S Plus sports a dual 13 MP camera setup on the back with a f/2.0 aperture, colour balancing dual-LED flash and depth editing software, along with an 8 MP camera module with a wide-angle lens, f/2.0 aperture and LED flash. One 13 MP camera sensor shoots in colour while the other one shoots in monochrome for better image quality in low light conditions. Users will be able to shoot 4K video at 30 fps.
The pictures were good with a fair amount of detail and texture. Though, the pictures fell flat in that they looked like paintings at instances when we tried to pixel peep. Again, this is not limited to photos shot in low light but extends to the photos shot in sufficient daylight; as well as those shot in the HDR mode. Some amount of noise crept in, but that is completely fine at this price.
However, I would want the company to improve the low light performance of the camera as the photos turn blotchy when you shoot in darkness. Thankfully, Lenovo has added a professional mode that allows users to tinker with shutter speed, focus, white balance and the ISO settings of the camera. The professional mode does help with the noise but that means experimenting with the settings with makes it less than ideal for casual users. The front-facing camera of the smartphone is decent with no issues. The camera software feels very snappy in performance.
Coolpad Cool Play 6
One of the most striking features of Coolpad Cool Play 6 is that it sports a dual camera setup with two 13 MP camera modules at the back. This camera setup includes one monochrome sensor and one colour sensor for better low light performance along with an 8 MP front camera. The camera packs a number of features apart from the usual 'Video', 'Photo', 'Beauty' and 'Night' modes. Other options include 'Slow Video', 'Long exposure', 'Panorama', 'GIF', 'Mono photo', 'Mono video', and the 'PRO' mode. 'PRO' mode allows you to select White Balance, ISO, Exposure, Exposure Time and Focus of the shot.
The phone can allow 16-second long exposure photographs at any given time. On the top of the interface, you will find the flash, 'SLR Mode;, HDR, Switch camera and advanced settings options. SLR mode is an interesting mode which fuses images from both the camera modules to create a shallow depth of field image. The 'aperture' here, ranges from an impossible f/0.95 till f/16. The camera still needs to improve on the low light performance of the device.
Updated Date: Oct 13, 2017 10:10 AM