tech2 News StaffNov 02, 2017 16:25:24 IST
Several Google users received an alert yesterday saying that their docs had been been flagged as inappropriate. The flagging is done if the content is found to be abusive or violative of Google's terms and condition of services.
Several people flooded the Google Docs help forum with complaints of not being able to access their files. Later on, it was also found that the files had disappeared and were not retrievable.
A Google spokesperson, replied saying that a 'code push' had been activated. This led the files being marked as inappropriate. People expressed discontentment and also raised privacy concerns with the tech giant.
According to a report by the New York Times, a Google spokesperson had said that Google scans the files of the people which helps it in detecting any kind of abuse. This helps them in protecting the user. Also, the files are secured against malware, phishing detection, and viruses.
This clearly puts the confidentiality of files into question. People on the Google forum have raised privacy concerns.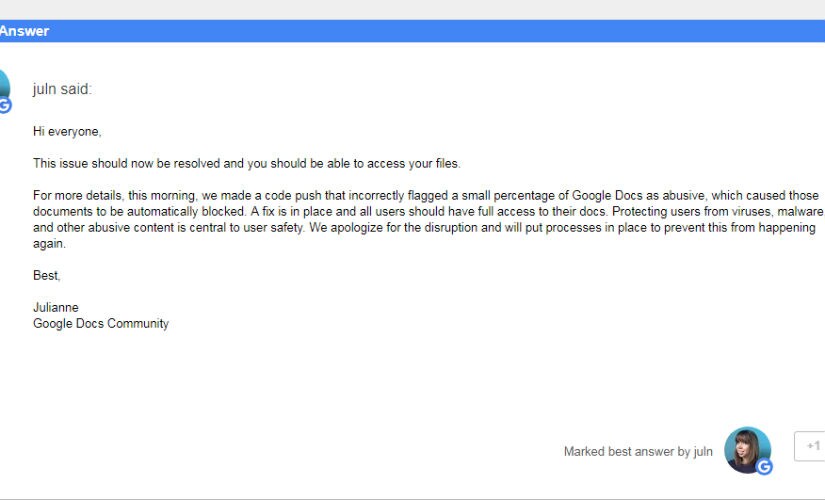 Meanwhile, cyber security experts say, according to the New York Times, believe that Google is using machine learning and artificial intelligence to go through the content. Considering the vast amount of data which is usually shared on Google docs via Google Drive; it can scanned via an automated process.
A previous report had said that technological advances such as artificial intelligence were a time-consuming process. The limitation of a data set also makes it difficult to work. Considering the complexity of data, the process can be difficult.
As consumers of technology, maybe it is inevitable to understand that automation, regarding services, will have pitfalls. These services will have to face the human aspect since algorithmic accuracy cannot always be in line with mortal aspirations.
Find latest and upcoming tech gadgets online on Tech2 Gadgets. Get technology news, gadgets reviews & ratings. Popular gadgets including laptop, tablet and mobile specifications, features, prices, comparison.