tech2 News StaffOct 09, 2018 18:09:30 IST
After it was revealed that Google accidentally exposed private information of as many as 5,00,000 users, Google has decided that it is time to pull the plug on Google+.
While a lot of us have Google+ accounts and even though it isn't the most popular social media platform, it does host a lot of sensitive data. Google in a blog post mentioned that data of all these users may have been exposed to external developers by a bug that was present for more than two years in its systems. Now that certainly isn't very reassuring.
Google did go on to state that they had found no evidence of misuse of user data or that any developer was aware or had exploited the vulnerability. But considering it will take roughly 10 months for Google to shut the service completely, it might be a good idea to get rid of it right away.
But the strange bit here is that most of us don't even know whether we're on Google+. Well, thankfully, finding out is quite simple.
The simplest way to check is to open your Gmail inbox and click on your profile picture in the upper right-hand corner of the screen. If it says "Google+ Profile," you do have a Google+ account tied to your general Google Account.
Deleting your account
Once you know you do have a Google+ account, the next step involves clicking on the "Google+ Profile" which as the name suggests, brings you to your profile page on Google+.
Click on "Settings." You'll find that in the left-hand column, above the links for "Send feedback" and "Help." Next, you'll see a bunch of settings that you can change.
Scroll all the way to the bottom. There, under the "Account" section, you'll find a link which reads, "Delete your Google+ profile" and click on it.
Google will give you some information on the implications of what you're about to do. You can click on each category to expand it and get more details.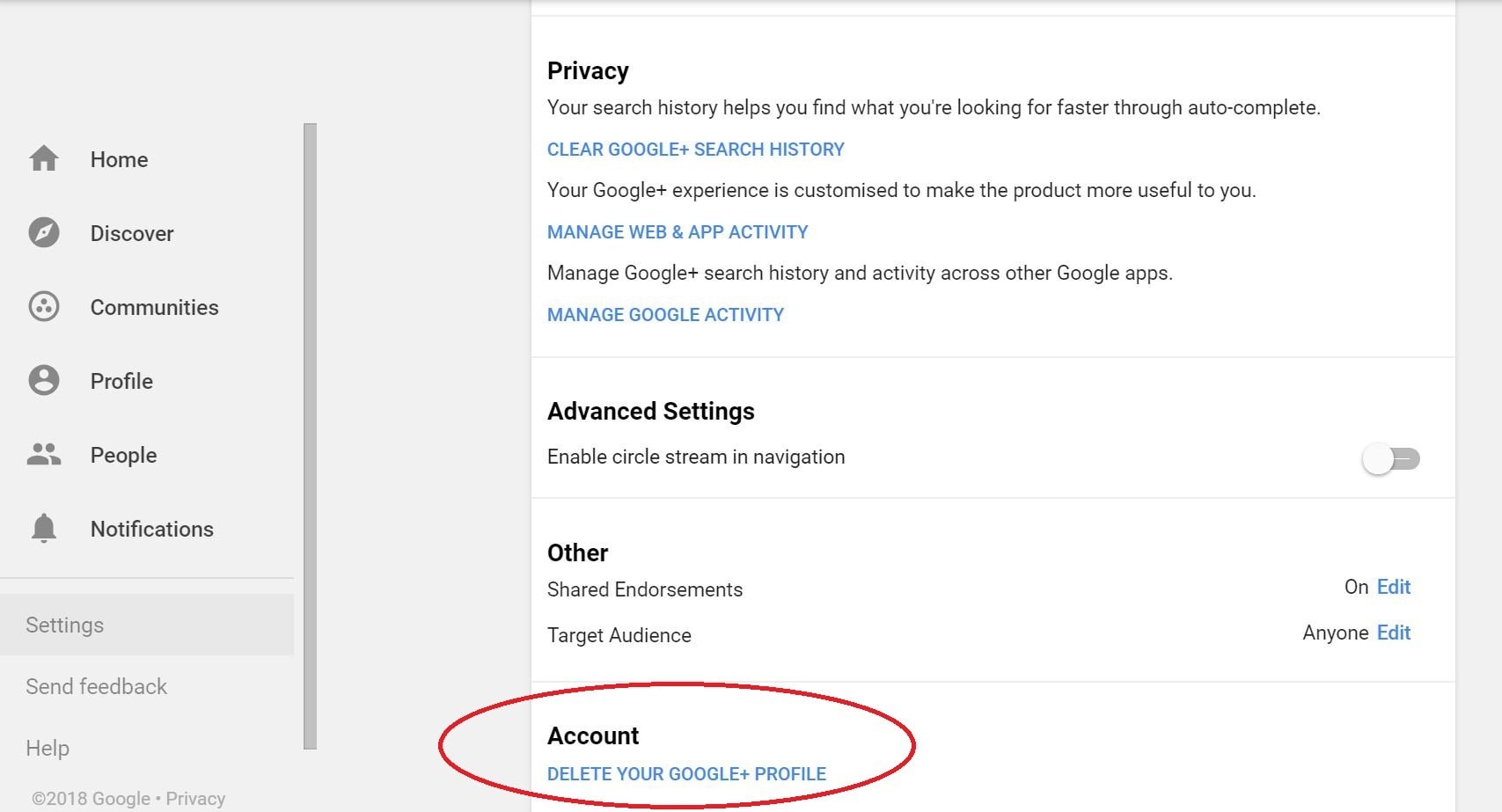 At this stage, Google confirms that by deleting your Plus profile, you're also deleting your account on Google+. Don't worry because doing so won't delete your general Google account, nor will it delete any of your photos or contacts. What it will delete though, is all your posts and "+1s" which is the Google equivalent of a Facebook like.
Once that's done, all you need to do is to acknowledge that deleting your profile can't be undone and click "Delete". That's it, you're done deleting your Google+ account.
Recovering Google+ Data
If you do belong to the select few who actively and extensively used Google+ and now want to recover all that data, that's possible too.
The first step here is to visit Google Takeout. If you're new to downloading any data linked to your Google account, then takeout is your one-stop solution. Takeout is a tool that lets you download any of your data from Google account, all from a single page.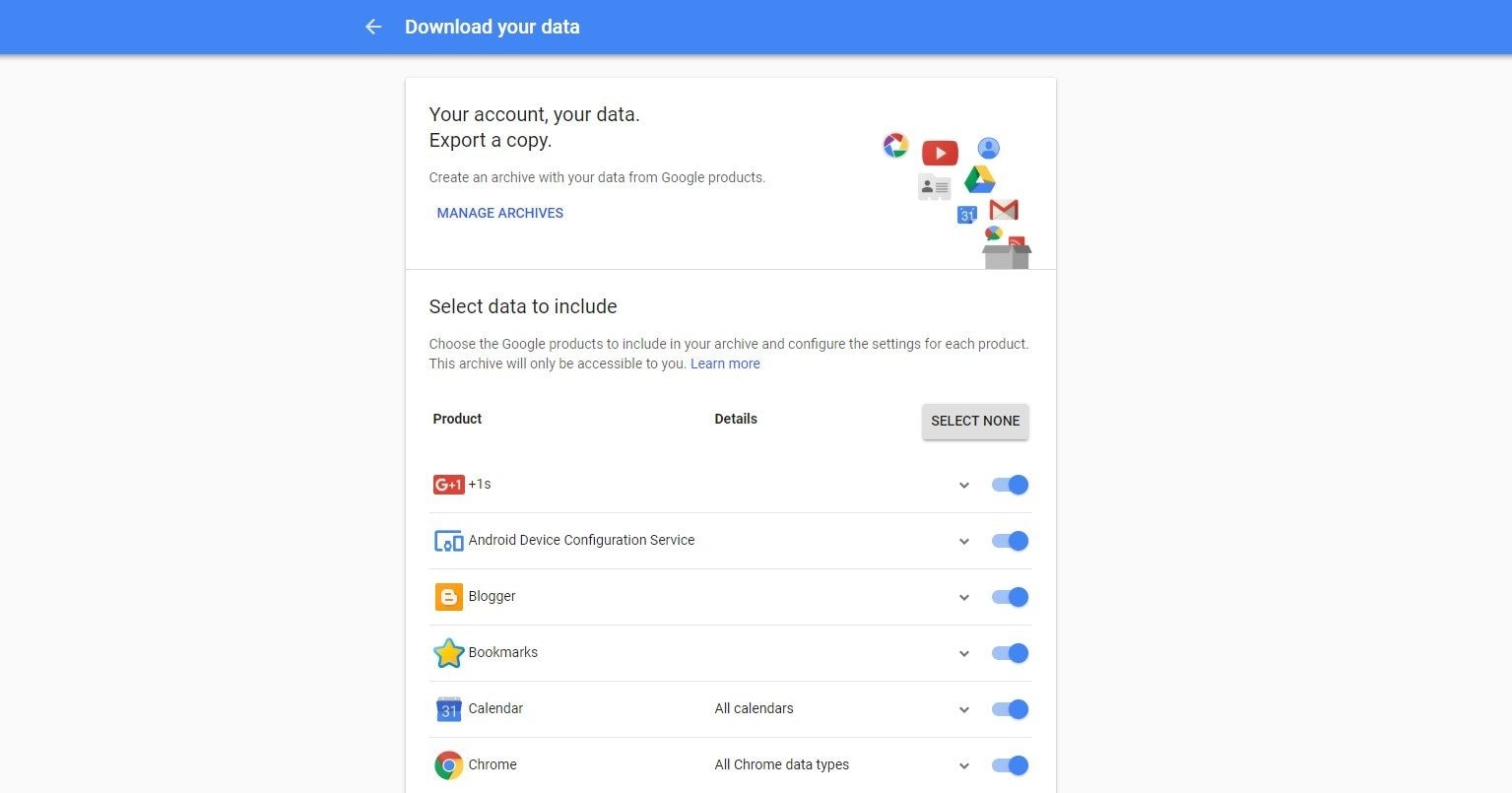 Takeout features a drop-down list of all Google services, allowing you to simply select the service (in this case Google+) and then select the sub-sections where you want your data from.
You're then asked to select the format in which you can download data from each sub-section. For example, Google Circles can be stored as vCard files or as an HTML or CSV file.
The next step involves you selecting where your data gets stored. Google lets you store the file as a .zip or .tgz file with file sizes ranging from 1 GB to 50 GB (2 GB is the default). The data compilation bit is then done by Google and you can even upload it directly to your Google Drive or Dropbox account. Alternately, Google compiles the data and sends you an email with a link, letting you download all the selected data as a zip file.
Find latest and upcoming tech gadgets online on Tech2 Gadgets. Get technology news, gadgets reviews & ratings. Popular gadgets including laptop, tablet and mobile specifications, features, prices, comparison.