Facebook has rolled out its jobs feature to 40 more countries including India. The feature, a part of the Facebook dashboard, allows both businesses and job seekers to post and apply for jobs.
As another job-hiring platform LinkdIn is mostly focused on skilled jobs, the new Facebook Jobs focuses on strengthening the local business and low-skilled workers.
According to Alex Himel, VP of Local, local businesses create more than 60 percent of new jobs and Facebook wants to help people find those jobs. The feature which already existed earlier in other countries such as US and Canada allows the users to directly apply for jobs on Facebook.
Himel also mentioned that one in four people searched or found a job using Facebook in the US and Canada since its introduction last year. Facebooks Jobs can create job posts on mobile, manage applications, and schedule interviews for local businesses.
How does Facebook Jobs work?
Jobs can be found on the Jobs dashboard at Facebook.com/Jobs on the web version of the social media platform. On mobile, the Job section lies in the 'Explore' section of the mobile app. New job openings can be also found on the business page of a company looking to hire employees.
The job location is limited to 161 Kms from the location you choose on Facebook and only jobs within that radius will show up on your dashboard.
How to apply for jobs on Facebook 
A candidate can click on the 'Apply' button, on the vacancies showing on their feed. After clicking apply button, an application form pops up with filled-in details from the applicant's Facebook profile. Facebook will only take the public details mentioned on your profile. The details filled in the form can be edited before submitting the form.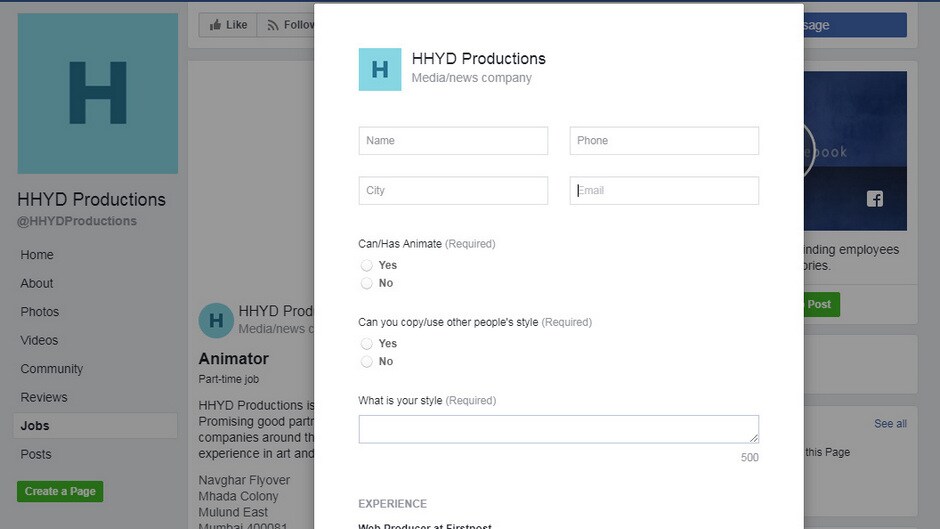 The form once filled can be sent to the company which put up the listing. The company can then contact the applicant through email, phone number or on Messenger and schedule interviews and ask for more details of the candidate.
How to subscribe to Facebook Job alerts
A user looking for jobs can subscribe to the various openings in their ocality by choosing the industry and job type they're interested in. Once you make the selections and click subscribe, you will get notified if there is a relevant job opening.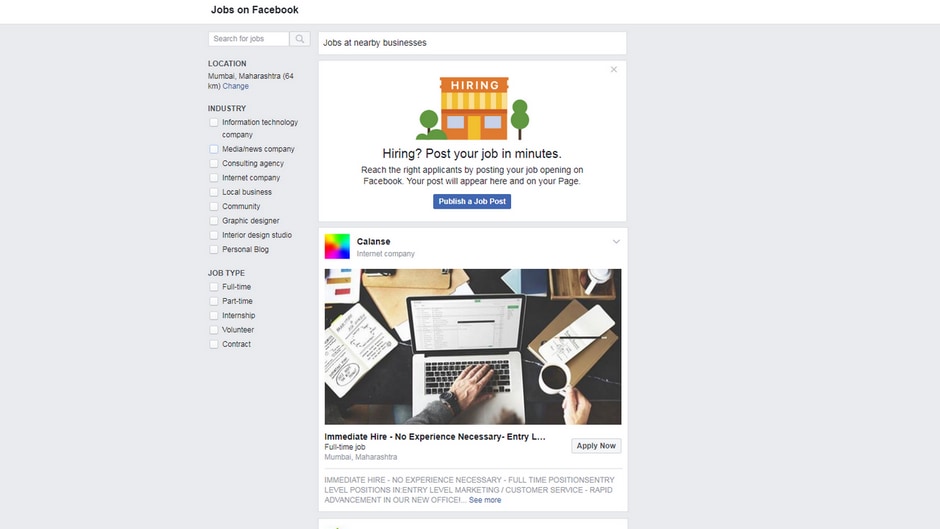 How do you create job listings on Facebook?
Page admins can put up job listings. They will need to put in details such as job title, job type (full-time, intern, part-time), salary and more. Jobs opening mentioned by the admin will appear on multiple places including the business' Facebook Page, Jobs dashboard, Marketplace and in the News Feed of a user who is interested in that kind of job.
Businesses can also choose to boost posts to increase the reach to find the right candidate. Businesses can also manage their applications and communicate with applicants, including scheduling interviews and sending automated reminders, directly through the Messenger app.
Facebook also mentioned some testimonials of business which have hired through the new Jobs feature in US and Canada. Troy, the owner of Striper Sniper Tackle in North Carolina said that he had trouble finding people with the specific skills he needed until he posted the job on his Facebook Page. He then received 27 applications immediately, and hired 10 people.
The tech giant has invested more than $1 billion to help local businesses grow and people find jobs since 2011 and plans to invest the same amount in 2018.