Nandini YadavMay 16, 2018 19:22:41 IST
In an India-first release, Facebook has announced three new features for Stories on the primary app.
Facebook says the features will be rolling out to users in India first, then to the rest of the world. In India, the roll out is expected 'in the next few weeks'.
Originally a feature by Snapchat, two years ago Facebook-owned Instagram adopted 'Stories,' then it was baked into WhatsApp as Status, and soon Facebook's primary app, and then Messenger got it too. While Instagram and WhatsApp have been really benefiting from the feature, rather way better than Snapchat itself, it hasn't been very well accepted on Facebook yet.
People do use Facebook Stories as well, but it is not the rage it has become on Instagram. And in order to mend that, the platform is releasing a few new features, some of which, ironically too, seem inspired by Snapchat.
Save photos and videos for later
Similar to a feature that Snapchat rolled out over a year ago, Facebook will soon allow users to save the photos and videos they capture through the Facebook camera for Stories instead of saving it on the device. Sort of like a draft.
Only the Facebook user will be able to view these saved images and videos. Save for later is helpful in the sense that if you create a story for Facebook with stickers and text, and don't want to publish it yet, instead of going through the entire process, you can save it on Facebook. That way, the space in your phone also doesn't get used.
As of now, this feature has only been announced for Facebook for Android. We are yet to know when the rollout would take place for iOS users. Facebook Lite users will have to wait for it as well.
Voice posts in Facebook Stories
The second feature carries similarity to a less-popular app called VoxWeb, which basically lets you share pictures with audio clips placed on top. And that's exactly what the second Facebook Stories feature does.
Facebook will be rolling out the ability to post a still image or just a blank template with a voice recording on top of it. So essentially, when you play the Story, you would see a still image, a solid color background, or maybe some doodle, as the user pleases, with their audio being in focus.
A voice post can be up to 20 seconds long. There is currently no limit for a voice post that is shared to News Feed, but the recording time will also be in respect to the local storage on your device. Voice posts, similar to Stories, disappear after 24 hours.
Additionally, other users will also be able to share your voice posts like they would a story or a post on News Feed. The audience of the shared post by a friend would still be determined by you in the privacy settings.
Voice posts has specifically been rolled out for Facebook Lite users. Android users will be receiving the feature in the coming months. However, there is no news on when it will be released for the iOS app.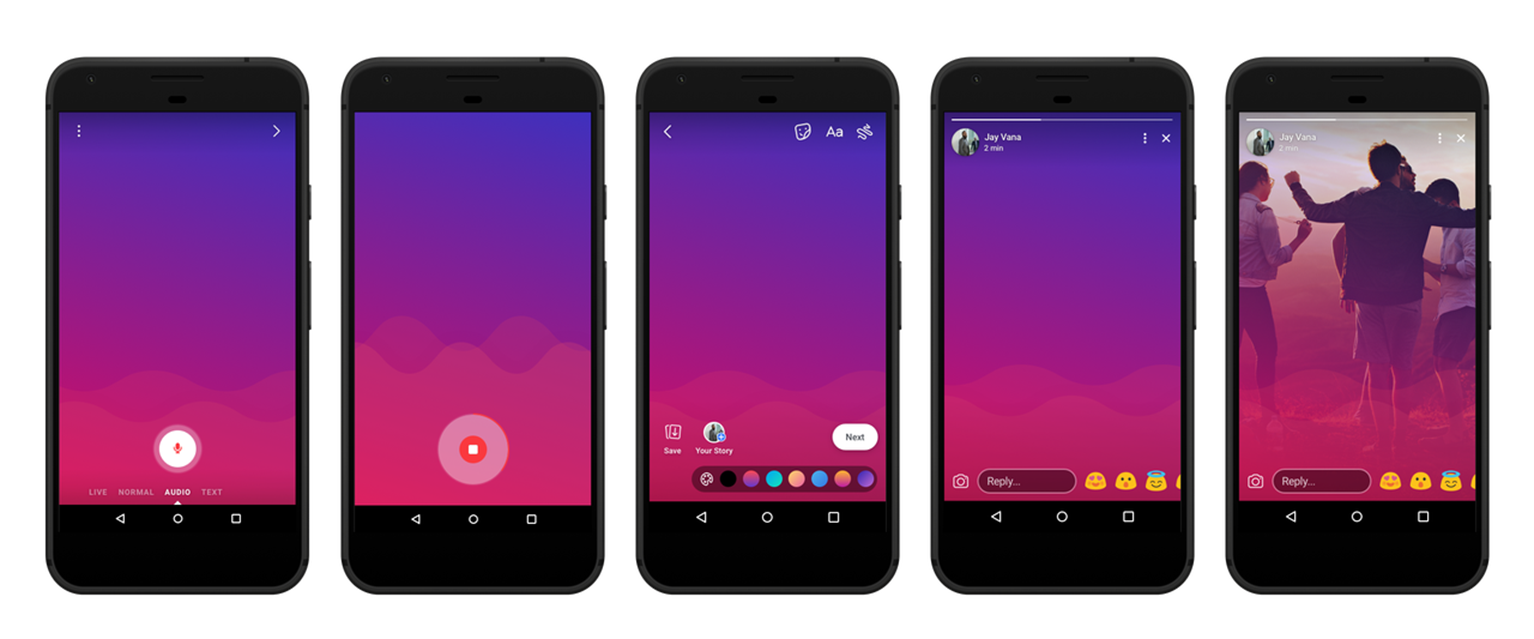 Stories Archive
The final feature is something Instagram and Snapchat have both had for a while. As the name of the feature suggests, Stories Archive lets you save your stories within the app, so you can revisit them when you like. The feature is quite helpful, considering that up till now, you either would have to download the story on your phone or you would lose it after 24-hours. Archived Stories, on the other hand, will be visible to you until you delete them from your archive.
Only you can see your archived Stories, unless you choose to share them to your Stories again, or post them on your News Feed. After the feature is rolled out, Facebook will ask you if you want to archive your Stories. If you tap "OK", the feature will be enabled, or you can choose to do it later in Stories settings as well. You can't manually archive a story.
And in case you want to delete something from the archives, tap the Archive button (it looks like a little clock) which is located in the Stories section above your News Feed. Select the story you'd like to delete from the archive, tap more, and select the delete option.
Finally, a very genuine query I had here was if the support for these features and the ability to save Facebook-shot images online would cost users a lot more data than usual. Facebook however, clarified that these features have been built with data restrictions in mind, and so they will be optimized for low data and network conditions.
Find latest and upcoming tech gadgets online on Tech2 Gadgets. Get technology news, gadgets reviews & ratings. Popular gadgets including laptop, tablet and mobile specifications, features, prices, comparison.