IANSJan 14, 2018 14:47:18 IST
For new projects commissioned in 2017, electricity costs from renewable power generation have continued to fall significantly compared to the fossil fuels, according to a new report from the International Renewable Energy Agency (IRENA).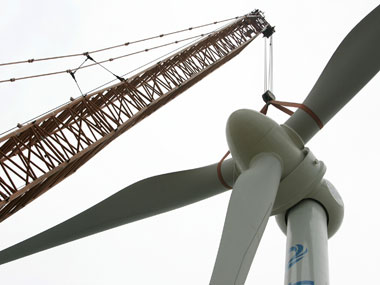 It estimates onshore wind is now routinely commissioned for $4 cents per kilowatt hour (kWh). The current cost spectrum for fossil fuel power generation ranges from $5-17 cents per kWh.
The IRENA with more than 150 member countries says the cost of generating power from onshore wind has fallen by around a quarter since 2010, with solar photovoltaic electricity costs falling by 73 percent in that time.
It also highlights that solar costs are set to fall further with another halving expected by 2020. The best onshore wind and solar photovoltaic projects could be delivering electricity for an equivalent of $3 cents per kWh, or less within the next two years.
"This new dynamic signals a significant shift in the energy paradigm," an official statement quoting IRENA Director-General Adnan Z. Amin said.
"These cost declines across technologies are unprecedented and representative of the degree to which renewable energy is disrupting the global energy system."
Released on the first day of IRENA's eighth assembly in Abu Dhabi on Saturday, 'Renewable Power Generation Costs in 2017' highlights that other forms of renewable power generation, such as bioenergy, geothermal and hydropower projects in the last 12 months have competed head-to-head on costs, with power from fossil fuels.
The findings note that by 2019, the best onshore wind and solar photovoltaic projects will be delivering electricity for a $3 cents per kWh, significantly below the current cost of power from fossil fuels.
Global weighted average costs over the last 12 months for onshore wind and solar photovoltaic now stand at $6 cents and $10 cents per kWh respectively, with recent auction results suggesting future projects will significantly undercut these averages.
Competitive procurement practices together with the emergence of a large base of experienced medium-to-large project developers competing for global market opportunities are cited as new drivers of recent cost reductions, in addition to continued technology advancements.
Tim Buckley, the Energy Finance Studies Director with the US-based Institute for Energy Economics and Financial Analysis, told IANS: "IRENA's analysis is spot on. The tipping point has already been reached in renewables in many markets for solar and onshore wind."
"One only has to look at the auction outcomes in 2017 in Brazil, Chile, Mexico, Saudi Arabia, the UAE and India with tariff outcomes down 50 percent in just the last two years to make renewables the low cost source of new supply. 2017 also saw a step change down in the cost of concentrated solar power in Australia and offshore wind in Germany and the UK. The technology and finance driven global electricity market transformation is accelerating and unstoppable."
Global Director of Economics with the World Resources Institute Helen Mountford said: "By 2019, the best wind projects will be delivering electricity much cheaper than traditional fuels. For investors and business, this is the opportunity of a generation."
The IRENA report also highlights that auction results are signalling that offshore wind and concentrating solar power projects commissioned between 2020-22 will cost in the range of $6-10 cents per kWh, supporting accelerated deployment globally.
IRENA projects that all renewable energy technologies will compete with fossils on price by 2020.
Find latest and upcoming tech gadgets online on Tech2 Gadgets. Get technology news, gadgets reviews & ratings. Popular gadgets including laptop, tablet and mobile specifications, features, prices, comparison.