Abhilash PavuluriOct 18, 2017 23:54:44 IST
Fireworks: We've all seen them at one point or another, and their vivid colours and imagery will always be in our minds forever. But what if the mind isn't the only way you want to preserve these memories?
Fireworks aren't brought out on all occasions, and you'll want to photograph them at one point or another. And with Diwali just around the corner, those residing in India are in for a real treat that is worth taking photos of.In this article, we'll show you what it takes to photograph fireworks.
In this article, we'll show you what it takes to photograph fireworks.
CAUTION: As pretty as they are, fireworks can also be a cause for multiple injuries and may be harsh on the eyes for people, with conditions like seizures being commonplace. The author or Firstpost is NOT liable for any harm that may occur, and there IS a slight element of risk if you are shooting closeby to the source of the displays.
Trying your luck
Fireworks photography, unfortunately, involves a lot of trial and error more than anything else. Because you really can't predict them(unless you are at a whole event planned around for them) and also because of the other weather conditions. If you're photographing in the middle of the city, expect a lot of light pollution and haze from the smoke(especially during Diwali).
The technical part of this is really limited since a lot of the image is left to your imagination. You can either go for a bright, trailing firework image or a darker but clearer image.
Ideally, since this is at night, some settings are slightly the same: for instance, you'll have to use a long shutter speed(anywhere from 5-15 seconds), as wide an aperture as possible and a mid-level ISO(you don't want too much noise in the image since there's already a lot of artefacts like clouds, other lights etc interfering with the photo).
Equipment:
Without a doubt, the most important piece of kit while shooting fireworks is a tripod. Tripods are absolutely essential because even the slightest nudge WILL disturb the exposure and therefore the entire image.
If you can, weigh down the tripod with a heavy bag or similar: all the better in case wind disturbs the tripod a little. Remember, firework images can easily be ruined by the slightest interference.
Camera: We're going to say the same thing we say in every article: use the best camera you have with you. But we'll also say(again) that a DSLR is your best bet in such a scenario both because of the wide lens selection and also because of manual mode. Alas, unless you're very close to the source of the fireworks, you'll also need to think about what lenses you're going to be using. Your average kit lens won't do much justice if you're shooting from afar, and the standard cheaper zoom lenses have very narrow apertures making the photos much darker. Still, they should do a decent job if you don't intend to print these photos or use them for professional purposes.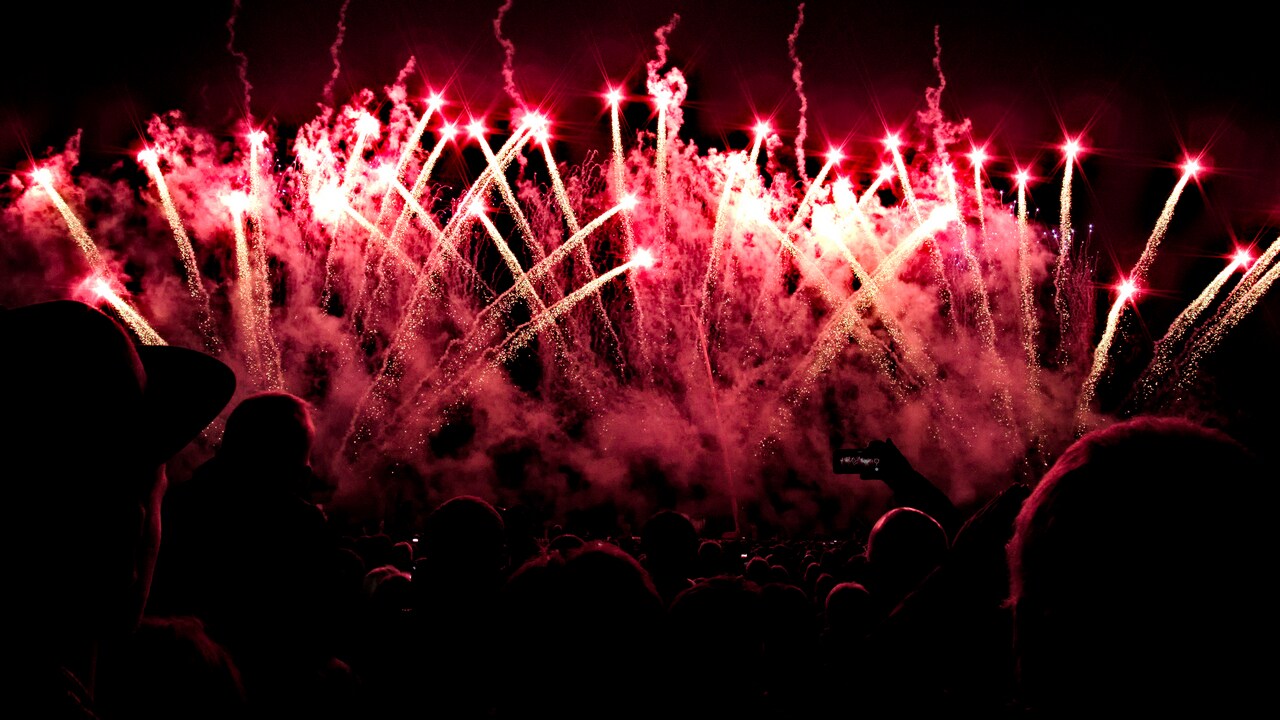 Other Things to make sure of:
Battery: You'll be using a lot of battery life if you're continuously clicking throughout the event. Keep spares in handy and DO NOT use the LCD screen of your camera as much as possible. Chimping, for example(a habit where you look at the DLSR after every single photo), is a bad habit that wastes battery life. At most, your first few shots should be the ones that help you adjust your camera settings, and then you can even leave the camera alone to do its work.
Invest in an intervalometer: You may be wondering: how can the camera take photos continuously without interference? An intervalometer(or some other form of remote shooting) is the answer. If you've bought a DSLR in the past 2-3 years, chances are you can connect to it via your smartphone and operate it remotely, eliminating the need for an intervalometer. If not, they're super cheap and are highly useful for any sort of photography where you cannot be near the camera.
Find latest and upcoming tech gadgets online on Tech2 Gadgets. Get technology news, gadgets reviews & ratings. Popular gadgets including laptop, tablet and mobile specifications, features, prices, comparison.