Karan KumarOct 20, 2017 11:45:21 IST
Diwali is here. And as is the case every year, it brings with it lots of pollution. In fact, this year despite the ban on firecrackers, air pollution levels have risen by many times over the safety limit.
The disorders or diseases caused because of pollution is one of the most common problems occurring every year. A lot of people fall sick during and after Diwali. The worst affected are children, elderly, pets and those having allergy or issues like asthma.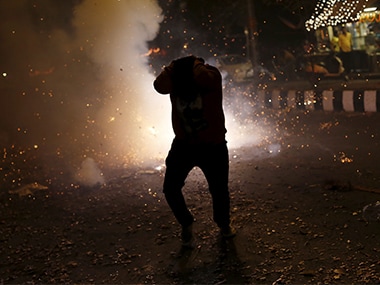 While it is difficult to completely eliminate the pollution created by others, we can surely take measures that will protect us from few of the predicted problems. Apart from relying on medicines and altogether avoiding yourself from participating in the outdoor festivities, you can take some measures that will keep you safe from these problems.
Technology does come in handy in preventive measures. Of course, if the problem is severe, you have to consult with your family physician. Here is how you can protect yourself using certain gadgets and apps.
Air Purifiers
Air purifiers are used to purify the air inside a house, car, office or inside an industrial space. Most of the air purifiers filter out ultra-fine particles such as dust, pollen, floccules, hair and other particles up to the size of 0.3 micro-meter to 10 micro-meter. The size of the particles hanging in the air depends on the location and surroundings. Industrial places have larger particles as compared to the residential areas. So, while choosing an air purifier location and size of the place should be kept in mind.
The minimum efficiency reporting value (MERV) rating is used to measure the size of the particles filtered by an air-purifying device. It categorises ultra-fine particles according to their size. A filter with MERV rating more than 14 can filter particles up to 0.3 micro-meter and larger than it. Similarly, a MERV rating of 13 to 16 filters out particles of the size up to 1-0.3 micro-meters.
Most commonly found particles found in indoor places include virus, dust, smoke and pollen grains. These come under the MERV rating of less the 0.3 micro-meter. Bacteria, paint pigments come under 13-16 MERV rating that contains particles up-to 1-0.3 micro meter.
Other factors to be kept in mind before buying an air purifier include the Clean Air Delivery Rate (CADR), the area it is able to effectively purify, power consumption, noise produced and the longevity of the filter used in the air purifier. Since, smartphones are capable to control our home appliances, an app to control the air purifiers can also be desired from the product.
Based on the above factors, here are a few air purifiers you can invest in.
Mi Air Purifier 2: It is one of the cheapest air purifier with standard specification in the price range of Rs 8,000- Rs 10,000. The purifier comes with High efficiency particulate air (HEPA) filter plus another added layer of activated carbon filter which is missing in few of its competitors. It consumes 31 W power, which is the lowest in the segment.
The Mi purifier has 310 meter cube per hour of Clean Air Delivery Rate (CADR) and effective area is 21-37 meter square. The device can be controlled using an app on your smartphone that makes it more convenient to use.
Mi Air Purifier 2 is priced at Rs 8,499 on Amazon India. The filter of the purifier is priced at Rs 2,499.
Honeywell Air Touch A5: The Honeywell air purifier provides a CADR of 250 meter cube and covers 323 square foot room with a height of 9 feet. The purifier comes with HEPA filter supported by a carbon filter. It consumes 53 W power. The filter lasts up to 3,000 hours and can work for one year if used for 8 hours daily.
The Honeywell Air Touch A5 is priced at Rs 8,999 in India.
Philips 1000 Series AC1215/20: This air purifier by Philips can filter PM 2.5 particles and provides a CADR of 270 meter cube per hour. It can cover a room of 63 meter cube.
The Philips 1000 comes with two filters that include a HEPA filter and a Carbon filter. The HEPA filter is priced at Rs 2,237 and the carbon filter comes with a price tag of Rs 1,999.
The Air purifier is priced at Rs 8,499 on Amazon India.
Air Masks
Air Masks work quite similar to the air purifiers. They too filter out fumes, vapor, gases and particles of different sizes depending on their capability and build quality. There are different types of face masks used in various situations but we will focus on the domestically used filters that can protect us from the outdoor pollution.
Air respirators are rated based on particle-resistance capabilities. The N95 and N99 rated masks are not able to filter out oil containing particles, whereas the P95 and P99 can protect you from oil containing particles. The 99 and 95 indicates the percentage of particles these masks are capable to filter.
The face masks come in different sizes and can be bought for children too. They should be bought based on the size of the particulate matter they are able to filter. It can be also used for outdoor use or while travelling to a polluted areas. These air masks come with a limited period of usage and should be thrown away after its dedicated time period for usage is over. One should also keep these masks inside a zipped package if it's not being used.
Few of the good quality air masks available at affordable prices are mentioned below:
3M Particulate Respirator 8210: This mask by 3M is available at Rs 93 on Amazon India. The mask according to the website is NIOSH approved and comes with N95 rating. As mentioned above the N95 rating filters up to 95 percent of the non-oil based particles. A pack of 10 ten can be bought for Rs 688.
Smart Air N99WHT Mask: The Smart Air mask is manufactured by Venus and comes with FFP3 rating. The websites claims that it filters out 99 percent of the PM 2.5 particles and will last up to 3-4 weeks if used for 3 hours daily. It is priced at Rs 245 on Flipkart.
Clair Filters 3M Pollution N95 9504 Inv N95 Mask: The Clair mask comes with N95 protection rating and is approved by the European standard EN149:2001 FFP2. The websites claims it to be equivalent to N95 rating. A pack of three of the mask is available at Rs 3,23 on Amazon India.
Apps and Websites
Apps and websites can also be used to get useful information that might help you to protect yourself from pollution. There are apps which can be used to measure the current noise level around you and websites to show you the quality of air in your area at a certain point of time. There are few smartphones that come with dedicated noise sensor, so, smartphones with dedicated noise sensor will be able to measure accurate noise level around you. Before installing the app, one should check the compatibility and then use it for more accurate results. If things are getting too noisy beyond regular hours, you can use the decibel meter readings to let authorities know about the situation.
Sound Meter: Sound meter has been downloaded 5 million times on Google Play store and can be used to measure the level of noise around you. The app can be downloaded from the link provided.
Decibel 10 - dBA Noise Meter: The app developed by By SkyPaw Co. Ltd is only available on iOS devices and available for free. You can measure the noise around you using the app.
Sound Meter & Noise Detector: The Sound Meter & Noise Detector app measures noise and is available for free on the Google Play store.
There are both private and government websites showing the current data of air quality in different parts of the world. Some of the data from these websites might lag by up to 15 minutes. This information will help you to take proper precautions according to the air quality in your surrounding. Few websites showing realtime air quality of your area and your city include breezometer.com and safar.tropmet.res.in
Electronic crackers
If you still want to experience crackers, then there are electronic ones which simulate the effect of crackers. These are not replacements for crackers, but can be surely used to reduce the pollution caused by crackers. They use electricity to produce noise and light. They produce no harmful gases and the level of noise produced by them is also minimal decreasing the chances of an hearing loss because of loud noise.
Find latest and upcoming tech gadgets online on Tech2 Gadgets. Get technology news, gadgets reviews & ratings. Popular gadgets including laptop, tablet and mobile specifications, features, prices, comparison.