RaghunathMay 31, 2013 09:33:10 IST
Firstpost was launched two years ago at a time when we were acutely aware, that anything we did on the internet would have to be social or 'shareworthy'.
It would have to have opinion, feelings and be accessible to a wide and hugely interactive, growing digital audience. We didn't want distance. We therefore conceptualized a product around opinion journalism, live news, provocative headlines and sharp images.
Two years later that we are a social news product is beyond doubt. Our audience through social networks and the interaction on our site, have proven, unequivocally, that social relevance will drive our future.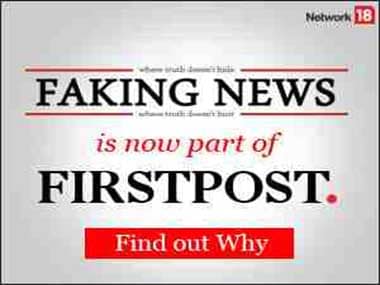 Our first step into this future, is the acquisition of Faking News, a site that has defined satire and humour writing in India. With outstanding takes across every human folly, vice, or shortcoming, Rahul Roushan's digital product has made us all laugh and look at India news and the caricature of it so smartly.
Our strong belief is that those who are digital news addicts, are also those who have an enormous appetite for satire.
Firstpost readers should know that we are deeply conscious of the seriousness of news and views and while we will produce from the same newsroom we will take enormous care not to confuse or undermine your Firstpost experience.
On the other hand, Faking News readers should be confident that in keeping with Firstpost tradition, Faking News will remain as outspoken as ever.
Finally, we are both very excited about this product integration and feel that our digital efforts for you the reader, will only be richer, at a time when India is so ready for it.
Rahul Roushan of Faking News adds:
When I started a blog called Faking News in September 2008, I didn't have any plan, let alone a business-plan. I thought I'd explore if there is any 'demand' for news-satire in India. And more than that, whether I can 'supply' it (yes, I'm an MBA, and I'm sorry).
I started blogging anonymously under the pseudonym Pagal Patrakar (sorry again, but I was a real journalist once).
It was an experiment in writing, and I wrote grammatically wrong sentences that touched the right senses of the readers. But it remained a blog, a personal effort, and I was not sure how long would I continue with it.
There were weeks when I'd not update the blog, and I'd get e-mails from readers if all was well. Such instances made me take blogging more seriously and I started devoting more time to it. By late 2010, I was doing nothing else but Faking News.
While the brand "Faking News" grew stronger, especially on "social media", it faced the challenge of growth. It had to outgrow me. It had to sustain a team that could do justice to the idea of popular web-based news satire.
The search for the right team got me in touch with various people and entities. The first and foremost of them are the contributors, most of whom contributed out of sweet free will and to whom I am indebted for life.
It was clear that the "next step" involved finding the right partners for growth, and growth in the right direction. Faking News had to continue being a "news satire" website and not lose its focus.
And after a lot of thinking and evaluating various options, I decided to go ahead with Firstpost.
Firstpost is not your typical "mainstream media" outlet. It values its readers, it believes in interaction, and doesn't see the "social media" as its antithesis. In fact, as Durga Raghunath has pointed out, Firstpost believes that social relevance will drive the future.
News satire requires a reference point of real news, and with Firstpost, Faking News could afford to continue its focus on "news satire" and get the right environment to grow in the digital space.
Firstpost will break it, we will fake it!
Find latest and upcoming tech gadgets online on Tech2 Gadgets. Get technology news, gadgets reviews & ratings. Popular gadgets including laptop, tablet and mobile specifications, features, prices, comparison.