BlackBerry is back! It's another year, there's a new flagship: the KEYone. But this time, BlackBerry seems to have broken the norm. It's offering a flagship that arrives with a chipset that is present in Xiaomi's Redmi Note 4 (a budget smartphone) but has priced it at a rather decent (or high, depending from which end you're looking at it) Rs 39,990 in India.
That price tag may sound ridiculous to a budget smartphone owner. But it's not what you have, but what you do with it that really matters. Keeping this in mind, BlackBerry's KEYone Limited Edition Black, comes with some additions that will help you brag in front of your North American friends (the tides are changing indeed).
But apart from the budget chipset and the additional bits, there's some impressive hardware inside that few will notice, those that seem to make up for that price tag.
Build and Design
Starting with the differences in design compared to the model that is on sale in the US, Canada and Europe, BlackBerry has given the new KEYone, the blacked-out treatment. Literally!
Every single bit about this smartphone has been given a black finish. Most of it is finished in matte black, with the only polished bits being the physical QWERTY keypad on the front, the camera ring on the rear and the BlackBerry logo, which also sits on the rear panel that is rubberised and feels grippy.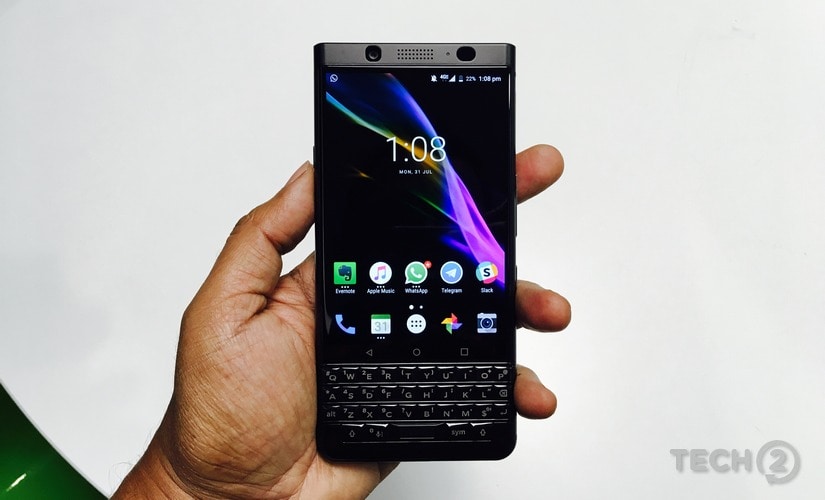 The BlackBerry KEYone looks different compared to every other smartphone out there
One detail you need to note here is that the BlackBerry KEYone Limited Edition Black will be manufactured by Opteimus, which is an original design manufacturer from India. Optiemus will manufacture the KEYone for India in India. Initial units have been been manufactured by TCL. Devices manufactured by Optiemus in India will start hitting the market from September onwards. The unit we have received for review is a TCL manufactured unit with all the quality issues faced by international buyers fixed.
Fit and finish are top notch and the device feels solid. Adding to that polished look and feel is the weight, which is not too light at 180 grams.
The design for once breaks the norm, it looks fresh and modern with industrial tones and is instantly recognisable as a BlackBerry thanks to the keyboard on the front, and that subtle logo on the back. The camera ring itself is large and is one of the design traits of KEYone. In short, this is a BlackBerry that looks different and unique, not just as a BlackBerry handset, but for Android as a whole because every other Android smartphone out on sale comes with the same form factor and has gotten stale and boring over the years.
In case, you were looking for that fingerprint reader, it is embedded into the space key on the physical keyboard, another cool detail on the BlackBerry KEYone.
As for the physical keyboard, which is rare and almost unheard of these days, it finally feels good after years of problematic ones starting from the Passport series. The KEYone's keyboard comes with a good amount of travel and also brings in touch sensitivity, that lets you scroll through pages, lists on both native and third-party apps. I will deep dive into the keyboard in my full review.
Display
The display on the BlackBerry KEYone, is 4.5-inch (diagonal) IPS LCD display with an odd 3:2 aspect ratio. The display features a 2.5D curved Gorilla Glass 4 screen and packs in a resolution of 1620 x 1080 pixels. It's an odd array, but is surprisingly sharp at 434 PPI. You will have to use a magnifying glass to spot the pixels indeed. It looks great in sunlight and does not feel too cramped. Those used to larger displays can use the display scaling feature in the Display settings to view more text and using the smaller display. The aspect ratio of 3:2 sure is odd though, but more of this in my full review.
Chipset, RAM, Storage
While I am pretty sure, that many would ignore the device, after checking out its processor and then its price, BlackBerry fans need not bother. The Qualcomm 625 has now been termed as budget smartphone chipset thanks to the Chinese invasion, but is quite the capable work horse that has been purpose built to deliver better battery life and stay cool using the 14 nm manufacturing process.
There's 4 GB of RAM as opposed to the 3 GB RAM available in standard KEYone model. Add to this 64 GB of internal storage compared to the 32 GB your friend from the US is getting and it should make owners feel special if the 'Limited Edition Black' tag does not impress you. The 64 GB of internal storage can be expanded up to 2 TB using a microSD card, one that is sadly, a part of the hybrid dual SIM tray.
Operating system
The BlackBerry KEYone, packs in Android Nougat 7.1.1 with a plenty of BlackBerry customisations. There's DTEK for security, the all-important BlackBerry Hub and a lot more. These software customisations go really deep. When I say really deep, they go down to the root which will also make this smartphone very difficult to hack if its stolen.
Other deeper customisations I noticed is the impressive Power Center app that literally lets you optimise every app to run on a particular resolution (three to choose from), brightness and even choose the frame rate (between 30 fps and 60 fps). Mind you, these are the settings for individual apps and not the OS as a whole. The battery life savings should be enormous indeed. But software does play a big role on the KEYone, something that needs a deeper dive in the review.
Camera
This has to be the largest camera ring we have seen.
Often tagged as business or productivity smartphones, BlackBerry's smartphone offerings until the Priv did not really focus on the camera. The Priv changed all of that delivering a very capable camera using Schneider Kreuznach optics. The results were pretty good for a BlackBerry, but this time around, it may have taken things up a notch.
You see that big camera ring on the back houses a 12 MP (1.55 um) sensor with Phase Detection Autofocus (PDAF). It may not sound like much until you realise that it comes from Sony and is called the IMX378. For those not in the know, this is the same camera that comes inside Google's Pixel smartphones. We loved the camera performance of the Google Pixel, but the KEYone skips on the laser-assisted focusing system and it does not have the Snapdragon 821 chipset to back it up, but coming from a Pixel our first photo samples from the BlackBerry KEYone sure look impressive both for a BlackBerry and an Android flagship.
Battery and connectivity
Recent BlackBerry models (and even some of the older ones) were not exactly known for their battery life. The new KEYone features a 3,505 mAh battery that also offers QuickCharge 3.0 and more importantly, it is paired to a Qualcomm Snapdragon 625 built using the 14 nm FinFET process. Add to this plenty of software tweaks from BlackBerry and we should hopefully see good battery figures in daily usage.
Coming to connectivity, there's plenty of it save for an infrared port. You get Dual 4G SIMs with VoLTE support using a hybrid SIM tray that lets you swap one out for a microSD card. There's Wi-Fi 802.11 b/g/n (2.4 GHz), 802.11 a/n and ac for 5 GHz 4G mobile hotspot, Bluetooth v4.2, NFC, an FM Radio and a USB Type C connector with OTG support.
Conclusion
Going by the specifications on paper, and my first few days with the BlackBerry KEYone Limited Edition Black, the Canadian smartphone maker could be back in business. 2017 is the year of comebacks indeed. It is the year Nokia resurfaced with Android onboard, and HTC with its U11 delivered a premium flagship smartphone with literally no compromises dethroning every Android flagship in its path.
Can BlackBerry rise from the dead with the KEYone? Will it be a capable Android flagship smartphone compared to the current competition? Will it be a better BlackBerry? Or is the KEYone just an afterthought? Find out in my full review in the coming days.