tech2 News StaffSep 18, 2018 18:02:22 IST
Apple's iOS 12 is finally out as a stable update and once you're done downloading and installing it on your iPhone, the single most important change you'll see is how your phone now handles notifications.
While they work the same way as they did essentially, iOS 12 brings changes which make it easier to manage notification cards. Apple seems to have finally woken up to realise how dated the whole notification system functioned and though the new additions aren't perfect, they do strive to make things more organised.
Grouped Notifications
This might sound like a revelation of sorts to iOS users, but we finally, finally have notifications from the same app to be stacked together, greatly cutting down on the clutter.
To view individual notifications, one can tap a set of notifications from a particular app to expand the stack and them tap on the exact notification to view it.
Clearing all notifications from a particular app is also as simple as tapping on the "x" icon which appears once you open a stack of notifications. Easier still, you can simply swipe a stack left to clear all notifications from that particular app.
Apple also lets you manage the way these notifications are stacked. These options are limited but they do help to organise the notification stacks better. To change how these stacks work, all you need to do is to head into Settings and open the 'Notifications' menu. Tap on any app to see the "Notification Grouping" preferences which provides three options — Automatic, By App and Off, if you'd rather see all of the incoming notifications as it is.
Selecting Automatic sorts notifications by app for the most part, but in our experience, you might get two notification groups if you have two separate email accounts or multiple conversations in Messages, for example.
If you want all your notifications to be grouped strictly app-wise then choosing the 'App' option will do the trick for you.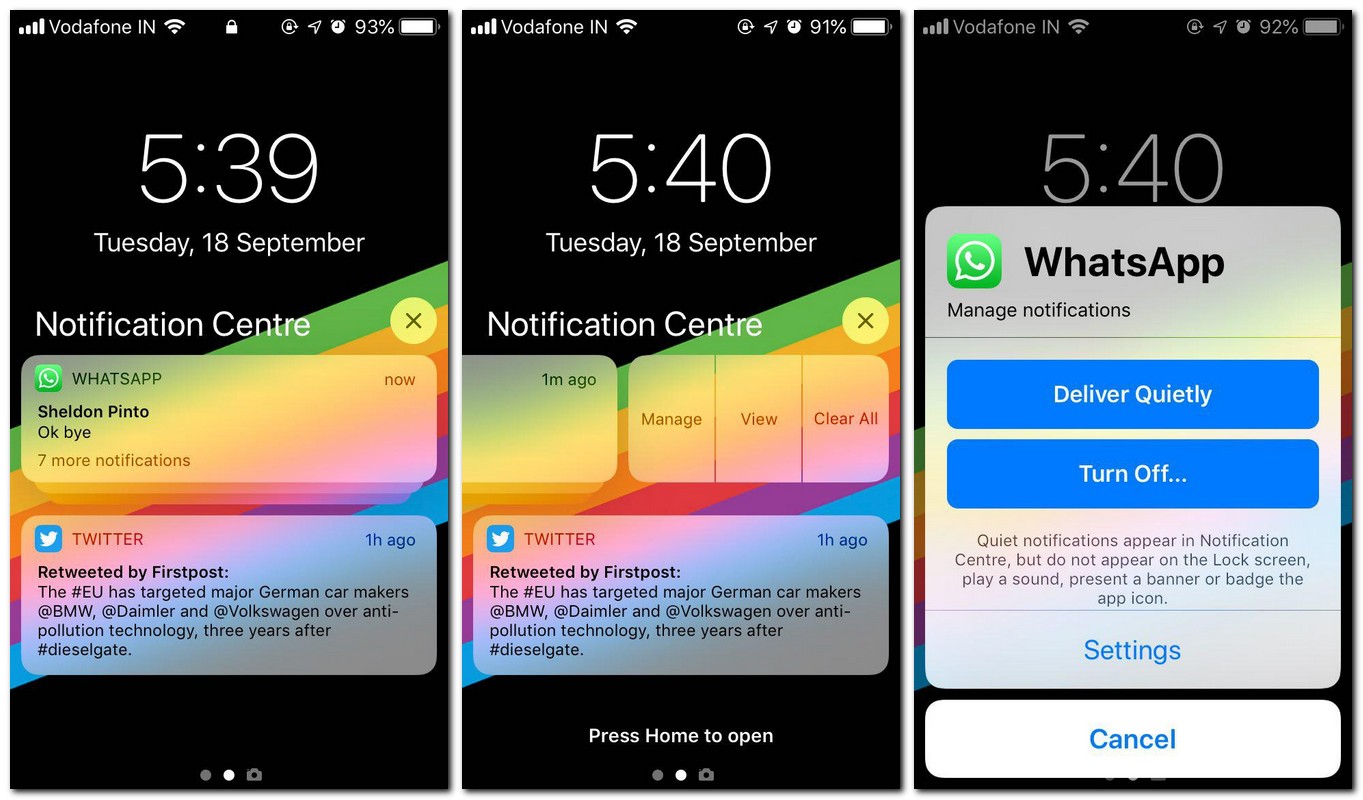 Instant Tuning
Along with making your notification space more clutter-free, iOS 12 also lets you manage notifications from an app you don't want to see notifications from, right on the Lock screen. These options let you turn notifications for that app off entirely or send notifications right to the Notification Center.
Swiping down or swiping left on any notification on the Lock screen or in the Notification Center, now offers three options — Manage, View and Clear All. While 'View" and "Clear All" existed earlier in iOS 11, the new 'Manage" option lets you act on how you want your notifications delivered.
Notifications set to "Deliver Quietly" will be visible in Notification Center, but you won't see them on the Lock screen and neither will you hear a notification ping for it. There will be no banner, and there won't be a badge, but you will be able to tend to it later from the notification centre.
To reverse this, tap on a notification from the muted app again and follow the same instructions to choose "Deliver Prominently." These notification settings can also be changed in the Settings app, also accessible from the Instant Tuning popup.
Critical Alerts
Apple also allows a new type of notification in iOS 12 which it calls "Critical Alerts". These are alerts that can bypass your 'Do Not Disturb' mode, to alert you about things that need immediate tending to.
These alerts are limited in scope and are available for medical and health-related information, home security and public safety. Developers with apps appropriate for critical alerts will need to apply for an entitlement that needs to be approved by Apple. You still do get the option of turning off Critical Alerts as and when you wish.
Find latest and upcoming tech gadgets online on Tech2 Gadgets. Get technology news, gadgets reviews & ratings. Popular gadgets including laptop, tablet and mobile specifications, features, prices, comparison.