tech2 News StaffDec 07, 2018 10:55:15 IST
Apple Watch Series 4 will now help users in the US take an electrocardiogram (ECG) right from their wrist, capturing heart rhythm in a moment when they experience symptoms like a rapid or skipped heartbeat and helping to provide critical data to physicians.
"New electrodes in Apple Watch Series 4 now enable customers to take an ECG directly from the wrist," Apple said in a statement on Thursday.
"Starting today, the ECG app on Apple Watch Series 4 marks the first direct-to-consumer product that enables customers to take an electrocardiogram right from their wrist," added the Cupertino-based tech giant.
The irregular rhythm notification feature on Apple Watch can now occasionally check heart rhythms in the background and send a notification if an irregular heart rhythm that appears to be atrial fibrillation (AFib) is identified.
When left untreated, AFib is one of the leading conditions that can result in stroke, the second most common cause of death around the world.
"Apple Watch has helped so many people around the world and we are humbled that it has become such an important part of our customers' lives," said Jeff Williams, Apple's chief operating officer.
"With the release of these heart features, Apple Watch takes the next step in empowering people with more information about their health," he added.
Apple worked with the US Food and Drug Administration (FDA) for several years to receive "De Novo" classification for the ECG app and the irregular heart rhythm notification.
Both the features are now available as part of a free update to watchOS 5.1.2.
Apple Watch Series 4 ECG app: Here's how it works
To take an ECG recording at any time or following an irregular rhythm notification, open the new ECG app and hold your finger on the Digital Crown.
As you touch the Digital Crown, the circuit is completed and electrical signals across their heart are measured.
"After 30 seconds, the heart rhythm is classified as either AFib, sinus rhythm or inconclusive. All recordings, their associated classifications and any noted symptoms are stored securely in the Health app on iPhone. Users can share a PDF of the results with physicians," Apple informed.
Using the optical heart sensor in Apple Watch Series 1 or later, the irregular rhythm notification feature will occasionally check the user's heart rhythm in the background for signs of an irregular heart rhythm that appears to be Fib and alerts the user with a notification if an irregular rhythm is detected on five rhythm checks over a minimum of 65 minutes.
"The role that technology plays in allowing patients to capture meaningful data about what's happening with their heart, right when it's happening, like the functionality of an on-demand ECG, could be significant in new clinical care models and shared decision making between people and their healthcare providers," said Nancy Brown, CEO of the American Heart Association.
The ECG app's ability to accurately classify an ECG recording into AFib and sinus rhythm was validated in a clinical trial of around 600 participants.
The irregular rhythm notification feature was studied in the Apple Heart Study with over 400,000 participants, said Apple.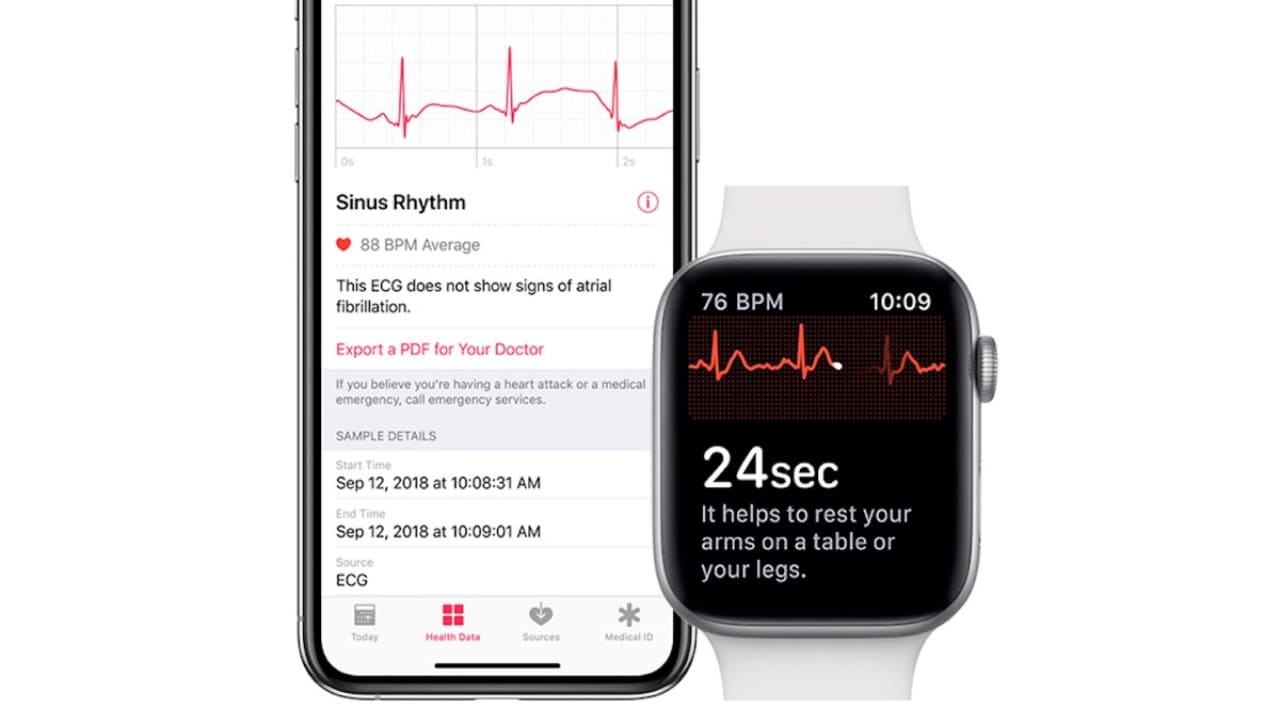 Is Apple Watch Series 4 ECG app certified for Indian use?
Not really. So far the ECG app which will help you measure your electrocardiogram from your wrist has only been activated in the US. For activation in India, Apple would need to get the right approval from Indian authorities.
Back when the Apple Watch series 4 was first annonuced, we spoke to a leading cardiologist from Mumbai, Dr Ashok Punjabi, who had a few reservations against the ECG data recorded by the app from being used for medical diagnosis in India.
tech2: Does the ECG report from the Watch hold any medical value?
Dr Ashok Punjabi: Firstly, the report that this Watch gives you isn't an 'ECG' in the traditional sense. It's a rhythm strip – a record of the heart's electromagnetic impulses over a period of time.
In a wearable device, it is likely recorded with a single lead (electrode), unlike a traditional ECG that has 12 such leads.
So, it certainly isn't a replacement for an ECG by any stretch of the imagination. It could be useful as a screening tool for heart disorders, but not much more than that.
tech2: Does FDA approval make it any more reliable?
Dr Ashok Punjabi: FDA approval is definitely an important thing for a product from a safety and a quality standpoint. If it passes the stringent tests and requirements of the FDA, it is with good reason.
But whether its reliable is a different question altogether.
tech2: Would you entertain a patient's ECG report from an app?
Dr Ashok Punjabi: Sure, I would have a look at it.
I view it as a screening tool, but not as a reliable scan for a medical diagnosis of any kind. For more serious illnesses, there are complex heart scans that depend on accurate results from an ECG. I would not make any such decisions using a rhythm strip from a watch.
With inputs from IANS
Find latest and upcoming tech gadgets online on Tech2 Gadgets. Get technology news, gadgets reviews & ratings. Popular gadgets including laptop, tablet and mobile specifications, features, prices, comparison.