A leaked iOS 11 firmware has confirmed the names of the long awaited iPhone devices to launch on 12 September. The three phones to be launched were expected to be iPhone 7s, iPhone 7s Plus and iPhone X, but the firmware leak has proved otherwise.
According to a report by 9to5mac, the iPhones to launch at the launch event are iPhone 8, iPhone 8 Plus and iPhone X. This information was extracted from the leaked iOS 11 GM firmware. This was accidentally leaked by the company days before the launch event.
After the leak, it was just a matter of time before developers dug through the code of the firmware to find the latest information of the upcoming iOS devices straight from a source that is as official as it can get.
One thing to note here is that the names of the upcoming iPhones were not the only thing that was uncovered from the firmware. As reported previously, potential users of next generation Apple TV will need a stable internet connection with connectivity speeds of about 15 Mbps to stream 4K content.
Fifth-generation of Apple TV will push out 2160p UHD content on the screen along with support for Dolby Vision and HDR10 format.
The code further revealed colour format options for Chroma sub sampling in addition to HDR10. Chroma sub sampling loses colour information to preserve luminance data and it is available for standard YCbCr colour format in addition to HDR10.
The code also hinted at a variant of Apple Watch with LTE connectivity in addition to new wallpapers and Face ID as part of updated BiometricKit. iOS 11 is also expected to bring 3D emojis along with native support for 4K at 60 fps and 1080p at 240 fps.
Wireless charging is set to arrive on all the new iPhone models, this would include the iPhone 7s, the iPhone 7s Plus and the iPhone 8. Recently leaked components from the factory floor indicate that all iPhones will come with wireless charging capabilities, just that they won't be as special as most would expect. This is because Apple is expected to follow the low-end Qi wireless charging standards, meaning charging your iPhone wirelessly, from a distance, is not going to be possible this year.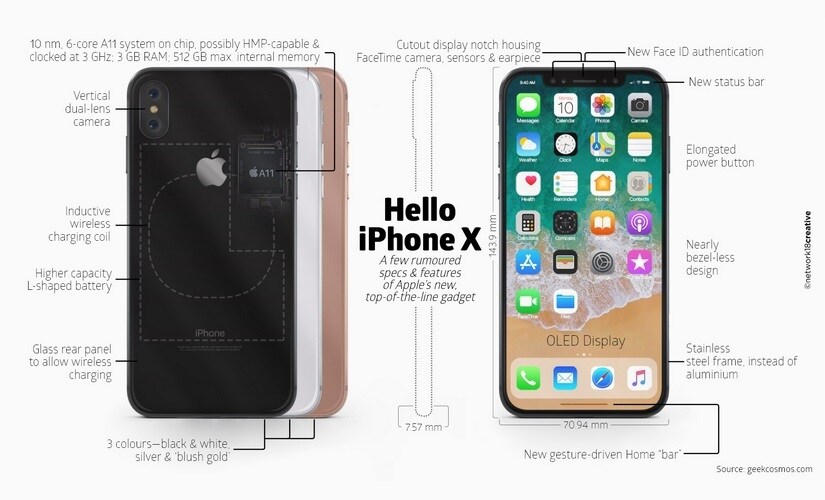 According to a CNBC report, 3D sensors (needed for the augmented reality experience) along with the shortage of OLED displays will be one of the key reasons for the iPhone 8's limited availability or the delayed roll out. In short, Apple will showcase the iPhone 8 at its announcement, but will ship it a lot later.
There is also plenty of talk about the Touch ID. The rumour mill went from an in-display Touch ID sensor to the one on the back and is now hovering around the possibility of Apple getting rid of it completely. Yes, there is a possibility that Apple may not include a Touch ID sensor on the iPhone 8 for two reasons.