Anusha SinhaJan 28, 2018 11:07:47 IST
In this App Weekly, we present a collection of the finest games to hit the app stores in the recent past. A lot of these have been on sale or available for free in the Google Play Store.
The design and curation of apps present in the store have improved in recent times and it would be worth it to explore these features. For now, play a whimsical Victorian in 'The Adventures of Bertram Fiddle' and unleash your avian rage in 'Duck Warfare'. Check out 'Smash Anarchy' and protect coffee as it protects you or explore a Nordic tale in Frostrune.
1. The Adventures of Bertram Fiddle
The Adventures of Bertram Fiddle is a delightfully humorous point and click Victorian adventure. The first episode starts with Bertram's quest for an adventure. If he does not find an adventure by the end of the day, his wife and mother have conspired to have him employed at a marketing agency. Like the intrepid gentleman explorer he is, he takes his pet dog to the grooming salon but misplaces him when he bumps into a mysterious man. Prepare to meet charming characters like the one-eyed Gavin and even Sherlock Holmes in this funny little game.
There are a few mini-games scattered throughout but the best part of this game is the banter. Some of the jokes are decidedly not for children, like the spam telegrams. Play The Adventures of Bertram Fiddle and get embroiled in a Victorian adventure and find who has been committing the 'murderings'!
In this game, you play a smaller circle confined in a bigger one while rectangles hurtle towards you from all angles. You are safe as long as you stay within the circle. The objective seems pretty easy to achieve in the beginning. However, the rectangles proliferate and soon you will find yourself being pushed out of the designated circle along with them. The intensity of the levels is marked with colours, with the hardest one denoted ominously by a skull. I Love my Circle is perfect for some fast, casual gaming.
3. Jodeo
Jodeo is a game where you guide the movements of a blob-like creature who has to traverse all sides of the given shape and paint them. This slick game will bend your perception of shapes and 3D space with its levels. There are rotating shapes and polygons with illusory depths. The mechanics of this game are so intuitive that you will instantly get them after playing the first level. The difficulty quickly notches up and you will need to get a hang of the game's quirky physics to stay on top, literally and figuratively.
4. Duck Warfare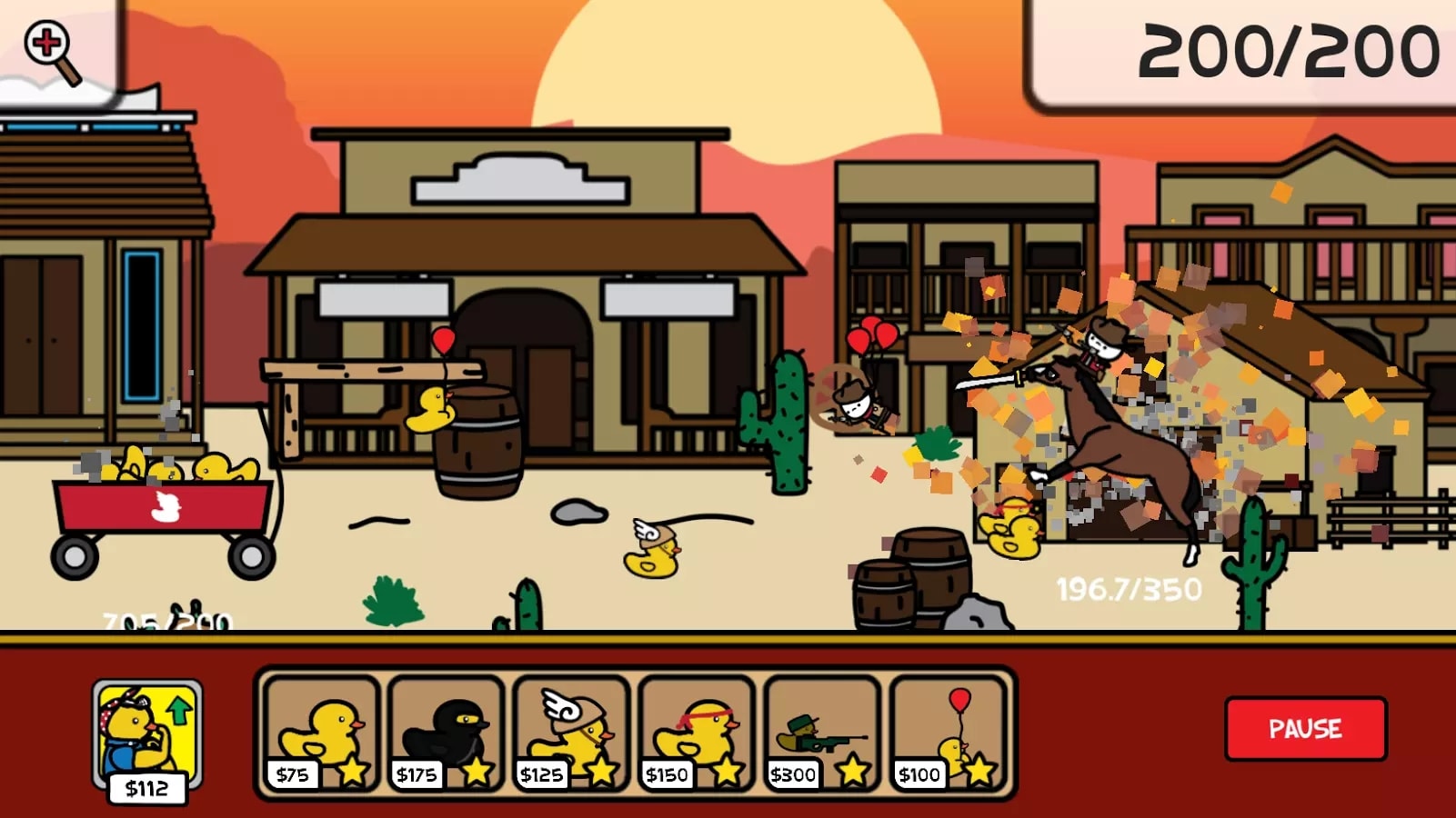 If you have warred with ships, planes and tanks and wondering which frontier you should cross next, Duck Warfare is the answer. This game is a little like Plants vs. Zombies with a set range of ducks and a constant supply of resources to manage. The graphics are not the greatest and are rather crudely drawn cartoons. However, this only adds to the absurdity of the premise and will make you enjoy it more. Unlock all the ducks and face off against the human opponents. Most of this game is cute except where the ducks poke the humans to death with their beaks. There is a bit of cartoon blood involved.
The Frostrune is a haunting Nordic tale where your ship crashes on the shore of a mysterious village. There are no inhabitants visible and the first voice you hear other than your own is that of an ethereally beautiful ghost. She warns you of a great evil and tells that you must stop it. This point and click game loads between scenes instantaneously, making it easier for you to travel to different places as you attempt to solve the different puzzles. The Frostrune is beautiful, right from the first screen. The atmospheric sound and art will drag you into the epic Norse mythology the game is based on. Be prepared to be completely immersed in the storyline and also to appreciate every painted frame of this game.
6. Sticklings
In Sticklings, you have to save as many of the stick figures as possible by navigating the level expertly. The Sticklings are delivered via a box of implausible volume and walk in any random direction without stopping to see if their chosen path will lead to immediate death. This is where you come in and guide them by granting a few Sticklings special abilities. Using special powers like block or stairs, you can solve the puzzles and prevent most of your Sticklings from dying. The graphics could do with a little more polish but the end result is still a neat game which is worth your time.
Smash Anarchy is a game about violence being used to settle one of the oldest, most fraught debates known to mankind; tea vs. coffee. When Professor Oolong creates monsters to destroy coffee plantations around the world, it is up to you, a coffee farmer to save the last sprout of a coffee plant. This deeply enjoyable shooter starts from 9:00 AM on the day the newspapers cover Oolong's monsters. Be prepared for an onslaught of monsters so cute, you almost wouldn't want to kill them. This first-person shooter is easy to control with two fingers, one for panning and the other to shoot. The game is quite special for featuring lovable monsters instead of the usual zombies in a shooting game. Because Smash Anarchy is all about wholesomeness, you shoot at them with cherries and other fruits. The graphics are adorable and the cause of saving coffee for all humanity is sure to fire you up!
Find latest and upcoming tech gadgets online on Tech2 Gadgets. Get technology news, gadgets reviews & ratings. Popular gadgets including laptop, tablet and mobile specifications, features, prices, comparison.