Mehul Reuben DasMay 22, 2023 19:42:43 IST
Pros:
– Big display
– Bluetooth call function works really well
– Pretty accurate SpO2 and heart rate sensors
– Light and comfortable to wear
– Standard-sized straps
– Simple and easy-to-use UI for both, the watch and the app
– Great battery life
Cons:
– Colours can seem a little washed out
– Sleep tracking is very unreliable
– Sports tracking can be a hit or a miss
– Crown has very limited functionality
Rating: 3/5
Price: Rs 1,299
Budget smartwatches have actually gotten pretty good over the years, at least in terms of design, no matter how basic they may be. However, most of them, have one glaring issue – instead of functioning as smartwatches, they function as fitness trackers. Moreover, most of them have some major issues in keeping track of your activities, making them woeful as fitness trackers.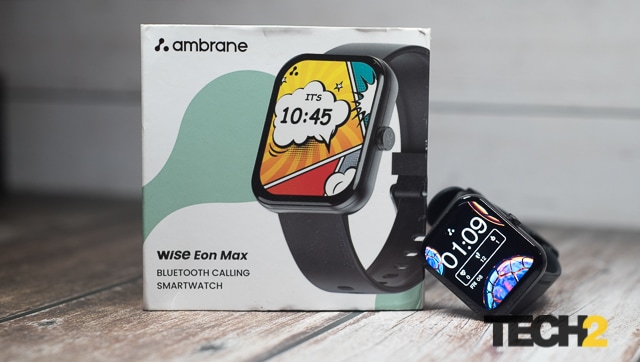 Ambrane's Wise Eon Max Smartwatch, in this regard, is a rather decent piece of wearable that does most of the things that its makers advertise and ticks most of the boxes that first-time smartwatch buyers want from their device.
It has a pretty good display, has an amazing battery life, has a bunch of different workout modes and does most of its tracking pretty well. However, it ails from most of the issues that befall a budget smartwatch.
Design and Built Quality
The Wise Eon Max watch has a rectangular shape and a physical button located on its right side. Despite having a glossy finish, it doesn't attract many fingerprints or smudges, and all of its edges are smoothly curved. The build quality is also pretty good. The watch has an IP68 rating which means it can resist dust and water, but we aren't confident enough to take it out for a swim. You can wear it while strolling in the rain, but it's not advisable to wear it while diving into a pool.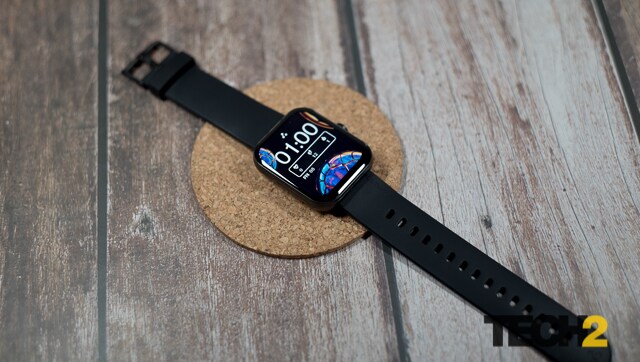 The watch's polycarbonate shell makes it relatively lightweight, weighing about than 160 grams including the straps. Its pre-installed silicone straps are comfortable to wear all day and do not cause skin irritation. They have a standard locking mechanism, and the Ambrane branding only appears on the strap. As the straps have a standard width, they can be replaced with any third-party straps that are of the same width.
The speakers for the Bluetooth calling feature are on the left-hand side, while on the right-hand side, you get the crown. The crown's functions are limited – you can use it to wake the watch up or put it to sleep. It doubles up as a back button in certain scenarios, and in certain workouts, it can be used to act as a pause or a lap button. Rotating the crown doesn't do anything, which is a wasted opportunity.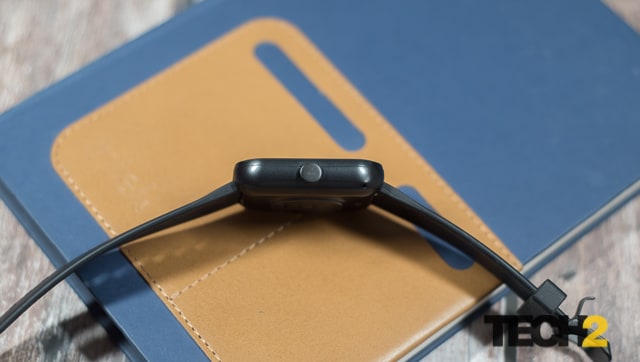 Specifications and Display
The Ambrane Wise Eon Max Smartwatch comes with a 2.01-inch Lucid Display and has a resolution of 240 x 283 pixels. Lucid Display, is just Ambrance's fancy way of marketing their LCD displays and isn't anything groundbreakingly different. Having said that, the display gets pretty bright and "lucid," and poses no issues to visibility, even under direct and intense sunlight. Ambrane claims that the Wise Eon Max has a peak brightness of 550 nits and it looks like the number might be accurate.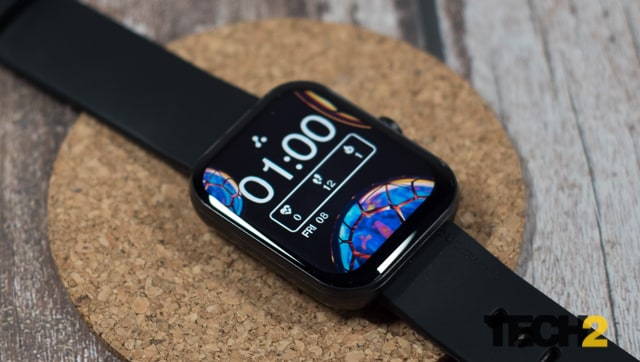 The display itself looks quite large. There are some bezels around the display. The bezels around the top and the side are pretty thin and actually not that bothersome. The chin, however, has a very thin bezel, which is always a telltale sign of a budget smartwatch.
To Ambrane's credit, the bezels that we see on the watch and what we see on the box are somewhat similar, unlike most other smartwatch brands.
Although the company did not mention the presence of scratch-resistant glass or an oleophobic coating on the screen, we did not observe any scratches on the screen after using it for three weeks.
The colours shown on the display are good enough – the display does get bright, but the colours do not get as vibrant, and look a little washed out. The display itself is sharp enough, something that most other smartwatch brands somehow miss at this price point.
One major downside of the display panel that Ambrane is using for this watch is its advertised 60Hz refresh rate. No matter how you set it up, it just doesn't feel smooth. Scrolling through apps or in between faces felt jittery from the first day itself. Also, do keep in mind that you do not get an always-on-display. Having said that, the flick-to-wake feature works well most of the time.
Sensors and Tracking
Ambrane says that the Wise Eon Max can track over 100 different sports. However, in some way or the other, all of these supported sports are some variation of walking, running and cycling. The good thing is it does support a few other sports as well, like badminton and football etc. But were the readings accurate?
Well, this is a bit of a mixed bag if we're being honest. The Ambrane Wise Eon, like all other smartwatches at this price point, is pretty accurate in certain activities, but surprisingly woeful in certain.
For example, its heart rate monitor and oximetre are pretty accurate and were off by just one point from a trusted oximetre that we have been using for years now. However, it had some pretty weirdly inaccurate readings for sleep. During our testing, the smartwatch showed that we had slept for less than 2 hours, despite sleeping for 7 hours or more, on two separate occasions. It also has a blood pressure monitoring feature, which again, wasn't very accurate, but gives you a rough idea about the range.
Furthermore, the readings for a number of exercises can be a hit or a miss. It always underreports the distance covered by a significant margin, and it either overcounts or undercounts reps and steps by a noticeable margin.
Also, for those interested, the watch supports Menstrual Tracking, although to what accuracy, it would be hard to tell.
Software and UI
The watch's user interface is pretty straightforward and easy to navigate. To access the settings, you can swipe down on the home screen, and to check notifications, swipe up. When you swipe left, you can view various widgets such as step count, heart rate, sleep data, SpO2 level, etc. Swiping right on the home screen displays shortcuts to some of the most recent widgets and a couple of other functions. Users can also add more widgets directly from the watch.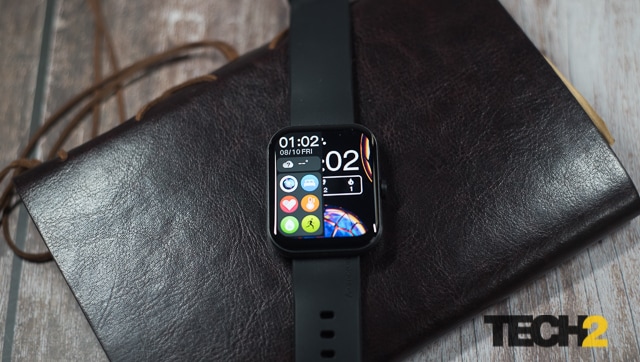 However, as we said the user experience while browsing through the watch is pretty jittery, mainly perhaps because of the display.
You have the choice of selecting a small icon grid or a list format to display all the functions of the watch in the app drawer. Similar to other watches in this price range, you cannot install any extra applications.
To sync the watch to your smartphone, you need to download the Da Fit app. The setup process is smooth and easy, but the app itself is relatively simple. The app provides a summary of your daily activity, including step count and sleep data, along with health metrics such as heart rate and blood oxygen level. It tracks all of your data well but doesn't give you an in-depth analysis. The app also has a pretty intuitive and easy-to-navigate interface.
You can also add a ton of other watch faces through the app, and design some of your own,
using photos from your gallery.
You also get a couple of games to vile away your time, which, on a watch of this size, is actually pretty cool.
Bluetooth Calling
The Wise Eon Max features Bluetooth 5.0 for its calling capabilities, allowing you to make calls directly from the watch using its built-in microphone and speaker. The watch also includes a dialer so users can place calls directly from the watch. Users will need to pair their watch to their phones for that. As for call quality, it is surprisingly loud and clear. The speakers on the watch get pretty loud as well.
Also, there are no issues with calls getting dropped or unwarranted delays when you take calls using the watch. If you're looking for a smartwatch under Rs 2000 with the ability to make and take calls, then going for the Ambrane Wise Eon Max is a no-brainer.
Battery Life
Ambrane claims that the 280 mAh battery that you get with the Wise Eon Max will last you about 10 days. During our testing, we found that to be pretty accurate. Even with extensive usage and a lot of calls taken using the smartwatch, we had to charge our smartwatch just once a week.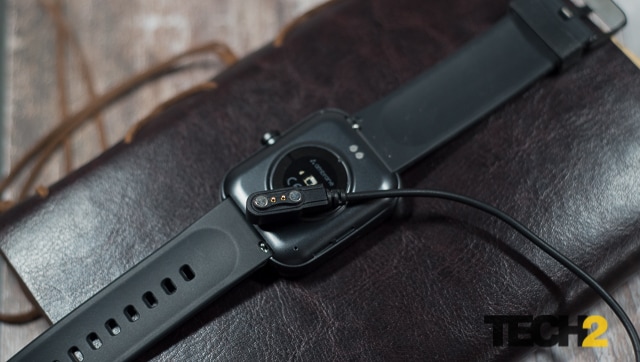 Do note that this was with the brightness level set to 1, which to be fair, is pretty bright enough. If you spend a lot of time outdoors, then you'll have to crank the brightness up all the way. This will have a serious impact on the battery life.
Verdict
All in all, the Ambrane Wise Eon Max is a pretty decent "smartwatch" for people seeking a cheap option that has most of the basic features such as step counting, heart rate monitoring, and notification alerts. The reason why we put the term smartwatch in inverted quotes, as stated before, is that most smartwatches at this price point are actually glorified fitness trackers.
As for the Wise Eon Max, it performs and tracks just adequately enough. Even though it has a few issues, most of them can be ignored considering what you pay for it. On top of that, it provides excellent battery life, has a pretty big display and works really well in Bluetooth calls. If you're looking for a budget smartwatch, especially for its Bluetooth calling features and don't want to spend a lot on it, Ambrane's Wise Eon Max presents a strong case for itself.
Find latest and upcoming tech gadgets online on Tech2 Gadgets. Get technology news, gadgets reviews & ratings. Popular gadgets including laptop, tablet and mobile specifications, features, prices, comparison.