tech2 News StaffSep 02, 2018 13:23:04 IST
In a bid to make banking more accessible to the citizens, the union government on Saturday launched the India Post Payments Bank (IPPB), offering banking services through channels such as counter services, micro ATMs, and a mobile banking app.
The mobile banking app which was launched as part of the unveiling is currently exclusively available for Android users on the Google Play Store for download. Oddly though, the app does not index under the results section of the Play Store when searched for.
The link provided on the IPPB website does not redirect to the right page either. However, after a little digging, we did manage to locate the app on the Play Store which can be accessed here.
Once installed, the app can be used to open a new account or login to an existing account to manage the account entirely using the app. The steps for setting up a new account is otherwise quite simple but there are certain prerequisite documents that you need to have with you handy before signing up. This includes your PAN, Aadhaar number and a phone number to which the new account can be linked to.
To sign up, you need to first tap on the 'Open your account now' option highlighted on the opening screen. This will open the 'Basic Information' tab which requires the user to fill in one's phone number and PAN details.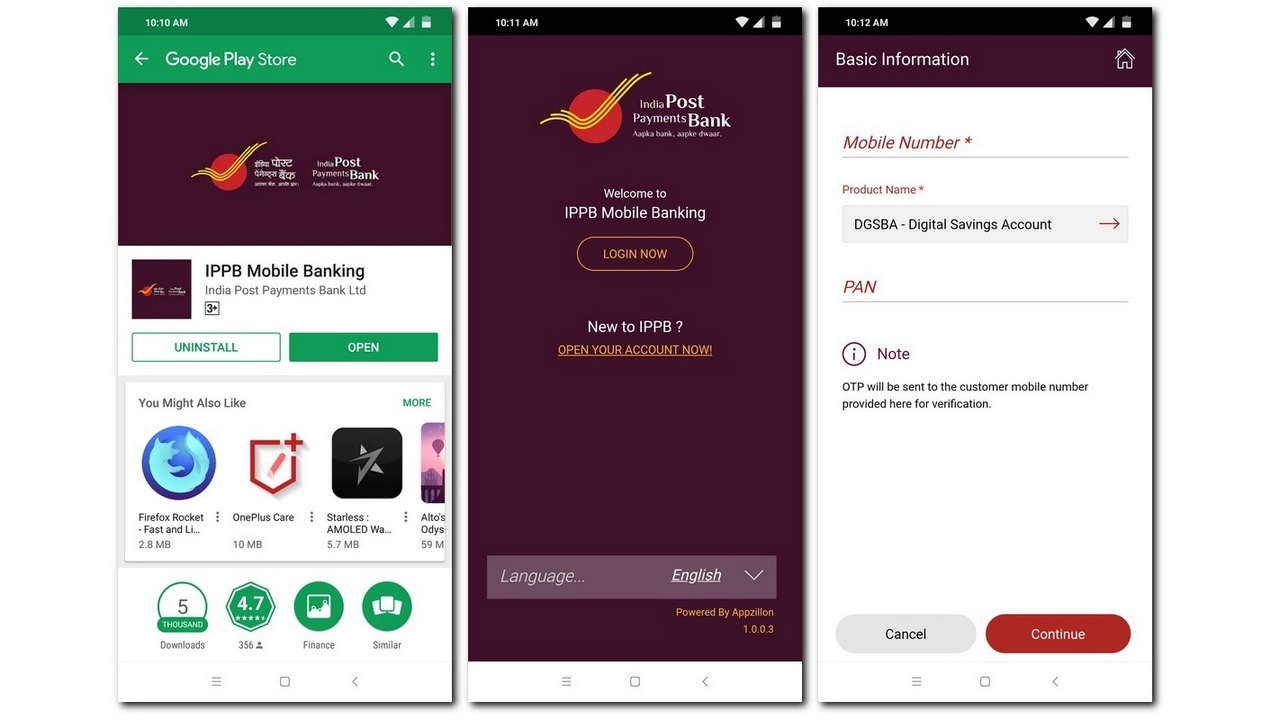 Once that's done, the next page requires you to fill in your Aadhaar number and then mark a checkbox to specify whether you have an Aadhaar based OTP account with any other bank. Once that is done, an OTP will be sent to the provided mobile number after which the authentication process will be completed.
On our testing, however, we were unable to receive an OTP to proceed beyond this stage, despite trying it through various accounts.
Once the sign-up process is complete, you can head back into the start screen and enter your credentials after which you will need to register for the mobile banking service.
This requires you to fill in your IPPB Account Number, Customer ID and Date of Birth and the registered mobile number. Another OTP will be sent after this to the registered number for authentication after which one can set up the MPIN to complete the setup process completely.
Find latest and upcoming tech gadgets online on Tech2 Gadgets. Get technology news, gadgets reviews & ratings. Popular gadgets including laptop, tablet and mobile specifications, features, prices, comparison.