Anirudh RegidiDec 16, 2017 12:01:11 IST
Kingston is a well-established brand in the PC space and has plenty of chops in the gaming world. It's headsets are excellent and if its recently released HyperX Alloy Elite keyboard is anything to go by, the peripherals are only going to get better.
Today, we're looking at the HyperX Pulsefire gaming mouse, which promises a hassle-free, no-frills gaming mouse which packs in the essentials at a reasonable price. Does it deliver?
The first thing that hit me when I unboxed the Pulsefire FPS was its striking similarity to my beloved Razer DeathAdder. I make no bones about the fact that I love my 2013 DeathAdder, and if the Pulsefire is aping the design, it better one-up that stellar piece of hardware.
The Pulsefire is as barebones as it's possible for a gaming mouse to get. You get a six-button layout (left and right click, scroll, two thumb switches and a DPI switch), features a braided cable and an excellent Pixart 3310 sensor. The only upgrade from 2013's DeathAdder is the addition of a dedicated DPI switch.
In terms of feel, the mouse is a little more boxy when compared to the free-flowing awesomeness of the DeathAdder. The left and right sides feel more, for lack of a better word, vertical. Personally, I prefer the DeathAdder, but then again, I've been using that mouse every single day for over three years, and I'm unlikely to like anything else.
In terms of aesthetics, this is a black mouse with red accents around the scroll wheel and a glowing HyperX under you palm at the back. The DPI button changes colour.
DPI tops out at 3,200, but don't let that number dishearten you. Yes, gaming mice routinely hit the 8,000+ DPI mark – some hit 16,000+ – but few gamers need anything beyond 3,200. I myself play at about 800-1,000 DPI, so the Pulsefire was perfect fine for my needs. The dedicated DPI button lets you switch DPI in steps: 400, 800, 1,600, 3,200. An indicator LED embedded in the button changes colour to indicate the DPI mode.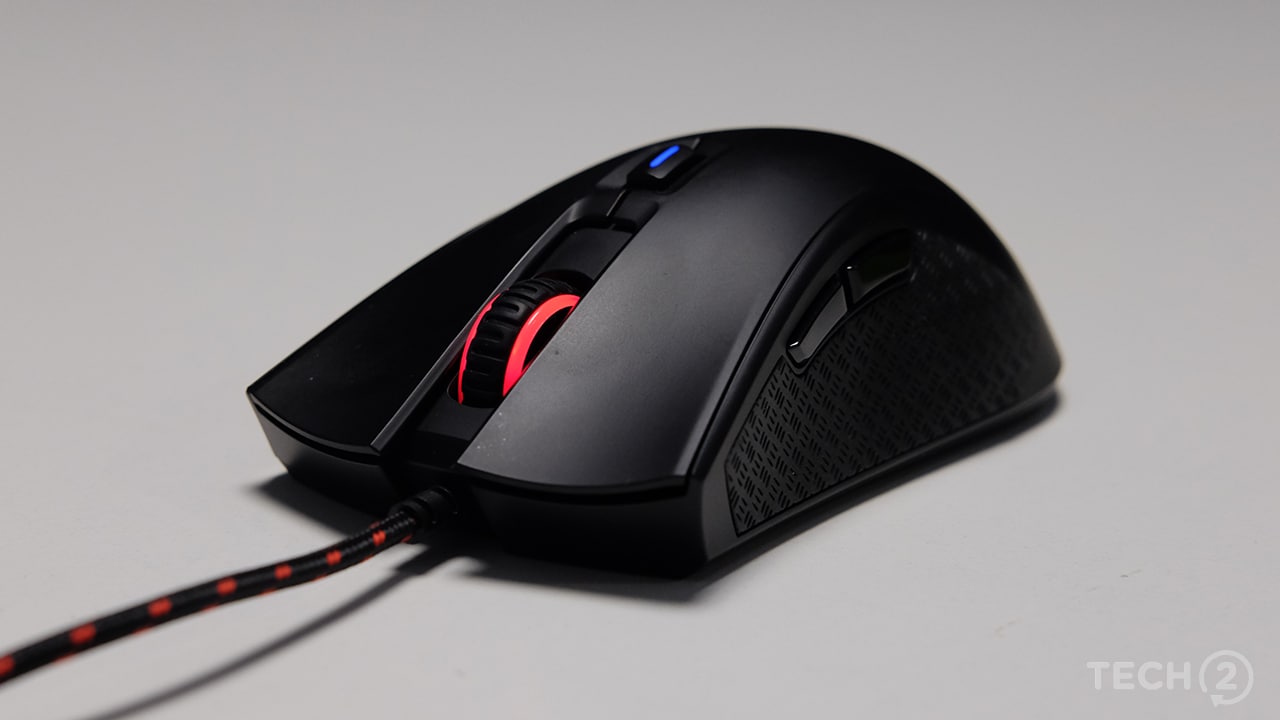 That sensor is precise and tracks beautifully. I used it on a variety of surfaces, including grippy and smooth mousepads and a plain wooden table. The mouse tracked accurately on all the surfaces and never interfered with my game. Lift-off detection was also very good.
I enjoyed my time with the Pulsefire, but at an asking price of Rs 3,999, I'm not sure if I can wholeheartedly recommend it to a gamer.
The Razer DeathAdder 2013 Essential is available for the same price, features better ergonomics and a better sensor (6,400 DPI 4G sensor). For Rs 4,400, you'll get the spectacular Razer DeathAdder Elite which features RGB lighting and a 16,000 DPI sensor.
Even if you're on a budget, Logitech's G402 Hyperion Fury is a great option for two-thirds of the price. The 402 comes with 8 programmable buttons and an excellent, 4,000 DPI sensor.
While the HyperX Pulsefire FPS can be had for around Rs 3,600 on Amazon, it sits at that odd price point where you can spend just a little more to get a spectacular mouse or a little less to get a comparable (or better) option.
It's a great mouse, but it's also a little overpriced for what's on offer. If you can get it for around Rs 3,000, it might be worth picking up.
Find latest and upcoming tech gadgets online on Tech2 Gadgets. Get technology news, gadgets reviews & ratings. Popular gadgets including laptop, tablet and mobile specifications, features, prices, comparison.