Rolls Royce is arguably the superlative of automotive luxury, building some of the best limousines known to man. But going with the trend that is cemented by its compatriots like the Bentley Bentyga and the Range Rover, Rolls Royce has finally revealed its first SUV in its glorious history that pans beyond 112 years.
They are calling the Rolls Royce Cullinan, named after the largest natural diamond that the world has ever seen. But the Rolls Royce Cullinan isn't just a high-riding limousine with a polished name and the enviable Spirit of Ecstasy on a boxy bodywork. It has a powerful design expressed through a classic three-box design.
The tail protrudes out, while the long nose gives it a cab-rearward design typical to a Rolls Royce. The proportions beautifully mask the humongous dimensions of the Cullinan, which stands 200mm taller than the Phantom. At 5.3m in length, it is 200mm longer than the Bentayga and 350mm longer the long wheelbase Range Rover.
The headlights and air dams are set further into the face compared to the saloons, while the polished grille isn't overly large, contrary to what the purists feared. The Cullinan weighs about 2,660kg which makes it 200kg heavier than the Bentayga.
With a wheelbase of 3,295mm, the cabin is typical limousine class. The Cullinan welcomes you to a flat floor and uber-luxurious individual seats by lowering itself by 40mm. There is the typical Rolls Royce minimalism in here. The dashboard is done with in open-pore wood and a new box-grain leather.
Driver aids comprise of 360-degree cameras, heads-up display, night vision and attention assist. There is wifi hotspot capability, amongst a host of other creature comforts meant to pamper the owners.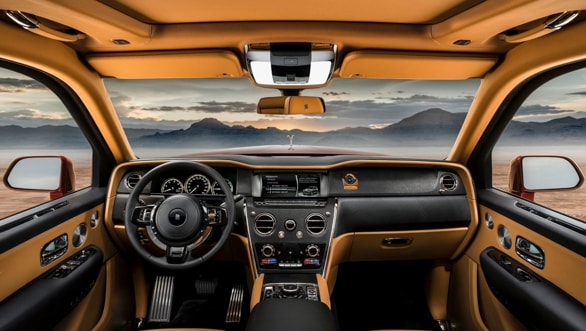 The Rolls Royce Cullinan is built around the new 'Architecture of luxury'aluminium space frame that debuted with the new Rolls Royce Phantom 8. It is suspended by all-independent air-struts in all four corners mated to double wishbones up front and a multi-link setup at the rear.
The suspension is setup for a magic-carpet-like ride than long travel. That said, the Cullinan proudly hints that it will do everything that a Range Rover can. It even gets an 'Everywhere' mode to that effect, which alters chassis and drivetrain components to take on the trickier outdoors. Snow, rocks, sand or similar loose terrain will not worry the Cullinan, hints Rolls Royce.
The 6.75-litre V12 petrol that debuted with the Phantom 8, motivates the Rolls Royce Cullinan too. Under the hood of the Cullinan, it puts out 570PS of power and 850Nm of torque. 0-100kmph is estimated around the 5s mark (no official word), which the top speed is restricted to 250kmph.