FP StaffApr 11, 2018 08:42:03 IST
On the 114th birth anniversary of singer-actor Kundan Lal Saigal, Google honoured the legendary artist with a doodle on Wednesday. Born on 11 April, 1904 in Jammu, Saigal is known as the true singing superstar of the Hindi film industry.
As noted by The Indian Express, he lent his voice for 200 film and non-film songs, which find their relevance even today. Saigal — a popular artist for the Indian films between 1935 and 1947 —  acted in 36 feature films, 28 of which were in Hindi, seven in Bengali, and one in Tamil. His films such as My Sister, Zindagi, Chandidas, Dushman, Shahjehan and others became hits.
According to NDTV, Saigal's music education came informally as he would sing along with people at a local shrine or during religious ceremonies with his mother. It was only in 1932, when New Theatres cast him in three movies, that he got his first big break.
Some of Saigal's popular songs include Koi Preet Ki Reet Bata De, Tu Aa Gayi Dil Ki Tamanna Jag Gayi, Kadam Chale Aage Man Paachhe Bhaage, Jhumar Jhumar Nupur Baaje.
At the age of 43, the celebrated artist drank himself to death. His last film Parwana (1947), was released posthumously.
Wednesday's doodle, designed by Vidhya Nagarajan, features KL Saigal "doing what he does best" (says Google), against the backdrop of Kolkata, where the Hindi film industry was initially based.
The search engine also shared initial concepts for the doodle. Have a look: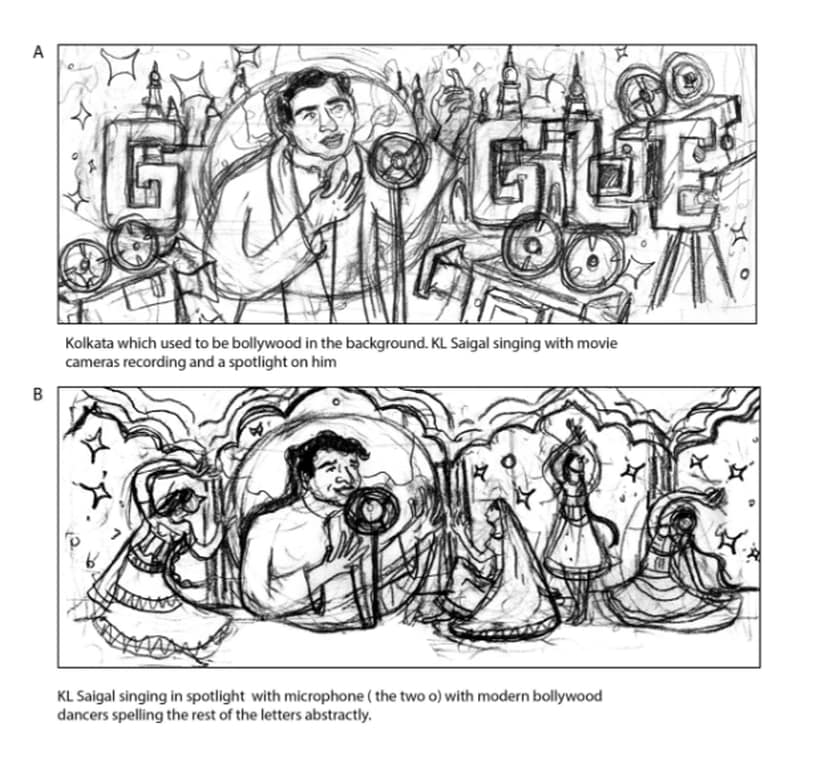 Tech2 is now on WhatsApp. For all the buzz on the latest tech and science, sign up for our WhatsApp services. Just go to Tech2.com/Whatsapp and hit the Subscribe button.