Zinedine Zidane steps down: Champions League hat-trick, dealing with star players and more, here's what defined his managerial career
Zidane, a former Real Madrid player, took over the managerial job from Rafa Benitez in January 2016, and helped the team win three Champions League titles along with one La Liga trophy.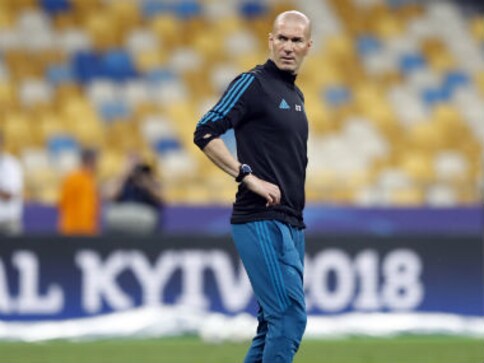 In a shocking decision, Zinedine Zidane stepped down as Real Madrid manager on Thursday, just days after winning third consecutive Champions League title. Zidane, a former Real Madrid player, took over the managerial job from Rafa Benitez in January 2016, and helped the team win three Champions League titles along with a La Liga trophy. In his two-and-a-half years stint at the Madrid club, Zidane ended up winning nine trophies with the team.
Here's some of the highlights of his career as manager of Real Madrid:
Winning three successive Champions League titles
Zidane was a phenomenal player for Real Madrid, winning La Liga and Champions League trophies with the club. But when he took over the role of the manager, he still had a thing or two to prove. Under Benitez, Real were struggling with consistency and were losing important matches. Players' morale was understandably down. Zidane stepped in during a very tough time and ensured that Real salvage the season with win over arch-rivals Atletico Madrid in the Champions League final. In the very next year, Zidane upped the ante with another European Cup victory against the mighty Italian side Juventus. Zidane led his team to a 4–1 win in the final. Next year, Zidane became one of three managers, alongside Bob Paisley and Carlo Ancelotti, to win the European Cup three times when Real Madrid overcame the challenge from Liverpool 3-1 in the final.
Issues with players
Being a star player himself, Zidane was the perfect manager to handle the big players of the club. But even for Zidane, managing some players became an issue. A case in point is his relationship with star player Gareth Bale. The Welsh international has been facing quite a few injury problems, but he thought those issues are being used unfairly against him. In the recently-concluded season, Bale struggled to start in the playing XI, leaving him frustrated with the Zidane. After coming off bench and scoring a brace in the Champions League final against Liverpool, Bale went on to say, "I need to be playing week-in week-out and that hasn't happened this season for one reason or another. I have to sit down in the summer and discuss my future with my agent and take it from there," Bale said.
Apart from Bale, Isco was also vocal about not getting enough playing time with Real Madrid. He went to say that at Real, he doesn't enjoy the confidence of the manager.
Lifting La Liga trophy
The 2016-17 season was a remarkable year in Zidane's managerial career. Apart from winning the Champions League, Zidane's Real Madrid also clinched La Liga title, losing just three matches in the league. They ended up with 93 points on the table, three more than their rivals Barcelona. Zidane's Real Madrid scored in 73 consecutive games across all competitions from April 2016 to September 2017, equalling the record of Brazilian club Santos. This was their first league title since 2012.
also read
Football
Brazilian winger Vinicius received racist abuse against Valencia on Sunday, but was watching on from the president's box because of a knee problem.
Football
Vinicius Jr, 22, drew global support after making a stand against racist abuse he received from Valencia supporters at their Mestalla stadium.
Football
Spain's football league, LaLiga, has been engulfed in a racism scandal after Vinicius was subjected to racist taunts during Sunday's 1-0 defeat at Valencia and later sent off.