Zinedine Zidane steps down as Real Madrid manager five days after third consecutive Champions League title
Zidane ended his Real Madrid stint with three consecutive Champions League titles besides a La Liga crown.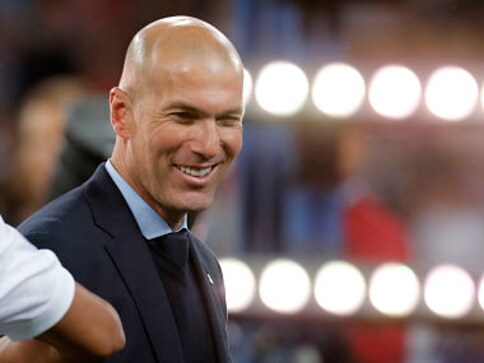 Madrid: Real Madrid coach Zinedine Zidane announced at an unscheduled press conference on Thursday that he will be stepping down as the manager of the glamorous club. The Frenchman was at the helm of the Madrid club for two and a half seasons, during which they won three consecutive Champions League titles.
Zinedine Zidane has announced he's stepping down from his position as Real Madrid coach

🏆🏆🏆 @ChampionsLeague
🏆🏆 #ClubWC
🏆🏆 UEFA Super Cup
🏆 @LaLiga
🏆 Spanish Super Cup

👏👏👏 Chapeau, Zizou pic.twitter.com/4wzJoQSfeO

— FIFA.com (@FIFAcom) May 31, 2018
Zidane had raised eyebrows on Thursday after calling for a previously unannounced press conference at 11.00 GMT just days after winning the Champions League for the third year in a row.
Zidane said that he felt it was the right moment — for him and for the club — to make a change.
"I think it's the moment, both for me, the team and the club (to step down). It's a strange moment to do so, I know, but an important one too. I had to do this for everyone," he said.
"This side should carry on winning and needs a change for this. After three years it needs another voice, another method of work, for this I took this decision."
"I love this club a lot, the president, who gave me everything – to play first at this great club. I'll always be thankful. Today I need to change, for me, for everyone, for this I've taken the decision," Zidane added.
Zidane, who had an illustrious playing career with the Los Blancos, first took charge of Castilla, Real Madrid's academy side before being appointed as the first team manager following Rafael Benitez's sacking in 2016. The 45-year-old arrived at his first major head-coaching job surrounded by doubts because of his lack of coaching experience but quickly surpassed expectations.
Zidane won nine titles as Madrid's coach, including the three Champions Leagues, one Spanish League, one Spanish Super Cup, two UEFA Super Cups and two Club World Cups.
Real beat Liverpool 3-1 in the final in Kiev on Saturday, making Zidane the first coach in history to win three successive Champions League titles.
With inputs from AFP, Reuters and AP
Sports
Arch-rivals in football and cricket will be in action on Sunday while Formula One enthusiasts will once again get to witness the ongoing rivalry between Lewis Hamilton and Max Verstappen.
Sports
With Ansu, Barcelona have hope, the 18-year-old, who wears the number 10 shirt previously belonging to Lionel Messi, now the symbol of what the club are promoting as the 'Dream Teen', and optimism for an exciting future.
Sports
Julen Lobete fired inside the near post in the 90th minute to snatch a 1-0 victory for Real Sociedad.