Your comeback is inspirational: Twitter reacts as Novak Djokovic beats Kevin Anderson to win third Wimbledon title
Novak Djokovic beat Kevin Anderson in straight sets to win the Wimbledon men's singles title. Here's how twitter reacted to the Serbian's 13th Grand Slam title win.
Novak Djokovic beat South African Kevin Anderson in straight sets on Sunday to win his fourth Wimbledon title and bring an end to a tournament that enjoyed more than its fair share of drama.
It's not often that Wimbledon gets second billing on television screens around the world, but the almost inescapable spectacle that is the World Cup is hard to ignore at the best of times. With England performing better than anyone expected them to, discussions about whether Wimbledon should reschedule their men's singles final began as early as June, shortly after England's 6-1 mauling of Panama.
The suggestion was firmly declined by Wimbledon chiefs, who insisted that playing the Wimbledon final on a Sunday was a time-honoured tradition which would not and could not be changed. The verdict rang out like a statement of intent, and in spite of the hype that football's largest tournament generates, Wimbledon unfolded like an enthralling soap opera, with the women's top seeds falling like ninepins, Kevin Andersen and John Isner playing the second-longest match in Wimbledon history and Serena being beaten by Angelique Kerber in the Women's finals.
The drama culminated in Sunday's final where the stage was set for Novak Djokovic to crown his comeback with his first Grand Slam win since the 2016 French Open. The Serbian duly obliged, making quick work of Kevin Anderson in straight sets, beating him 6-2, 6-2, 7-6.
Djokovic's twitter mentions were off the charts, as congratulatory messages poured in shortly after he won his 13th Grand Slam title.
Congrats to #GOAT @serenawilliams for her awesome comeback on the court making it to #wimbledon2018 final and my friend @DjokerNole for winning men's final. I never thought I would like tennis so much but champs like you both made me love it.

— Mike Tyson (@MikeTyson) July 15, 2018
Like one of those coiled, canned novelty snakes, Djokovic has popped out in a big way...Major No. 13. These tennis plots, they turn fast.... #wimbledon — Jon Wertheim (@jon_wertheim) July 15, 2018
Many were quick to point out that this was Djokovic's return to tennis after many months of being sidelined through injury. 
One year ago, Djokovic retired at #Wimbledon QFs and finished his season. Four months ago, he lost three consecutive matches for the first time in 11 years. — José Morgado (@josemorgado) July 15, 2018
Bravo @DjokerNole - a commanding performance worthy of 50 years of Open tennis. I am sure there will be many more crowns to come. Your comeback is inspirational #Wimbledon

— Rod Laver (@rodlaver) July 15, 2018
Djokovic's wife Jelena and his son stole a bit of the limelight with their reactions to his win, which touched a few heartstrings.
A hug for the #Wimbledon champion... pic.twitter.com/PlAlq1EnZv

— Wimbledon (@Wimbledon) July 15, 2018
#Djokovic about his son Stefan: "For the first time in my life, I have someone screaming, daddy daddy!" Adorable #Wimbeldon pic.twitter.com/Tihk98eMxP — Live Tennis (@livetennis) July 15, 2018
More than a few eyes were on events transpiring several hundred miles away in Moscow as France prepared to take on Croatia in the World Cup final.
Djokovic: What times the #WimbledonFinal ? Official: 2pm. Djokovic: And what times the #WorldCupFinal ? Official: 4pm Djokovic: Hold my Evian. — Paul Schofield (@schofey27) July 15, 2018
Those who've just watched Djokovic win (congratulations to him), if you now switch to @BBCOne there's a hell of a World Cup final going on. — Gary Lineker (@GaryLineker) July 15, 2018
The Wimbledon audience was filled with familiar faces, as royalty, film stars and tennis greats were in attendance, leaving several Twitter users a little star-struck.
We spy royalty in the Royal Box #Wimbledonpic.twitter.com/3SJvA9SFEs — ATP World Tour (@ATPWorldTour) July 15, 2018
They're assembling...is there something we should know about?#Wimbledon pic.twitter.com/0zG5t12lgJ — Wimbledon (@Wimbledon) July 15, 2018
In spite of Novak Djokovic putting in a masterful performance, he drew the ire of some users of the social media platform, who took offense to his elaborate service routine.
Waiting for Djokovic to finish bouncing the ball between serves #WimbledonFinalpic.twitter.com/7oTDMmnu5p — Nicole Hardy (@NicHardy) July 15, 2018
Regardless of the widespread critique of his style, Novak Djokovic will hope to carry forth the momentum of this win and continue his comeback in the US Open later this year. The Serbian is expected to re-enter the top 10 in World Rankings after months and for the moment, it seems like everything is going his way.
Subscribe to Moneycontrol Pro at ₹499 for the first year. Use code PRO499. Limited period offer. *T&C apply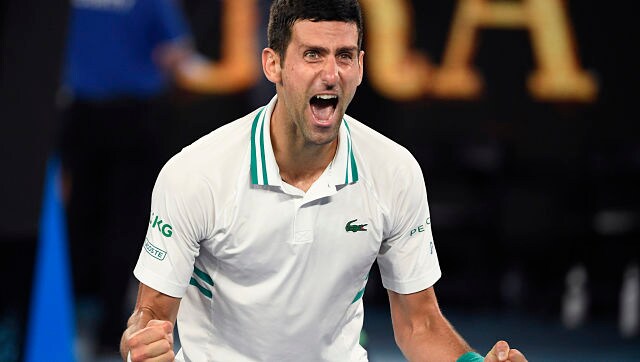 Sports
Novak Djokovic's Australian Open dominance improved to 18-0 combined in semi-finals and finals. On Sunday, Daniil Medvedev joined the ranks of Roger Federer, Rafael Nadal, Andy Murray, Stan Wawrinka, Dominic Thiem, all of whom have lost to Djoko in semis or finals in Melbourne.
Sports
The 39-year-old hasn't played a match since a semi-final defeat to Novak Djokovic at the Australian Open in January 2020 and acknowledged it was unusual for a player of his age to return after injury.
Sports
Time and again, Djokovic has produced incredible tennis against some of his biggest opponents, especially against Nadal and Federer. Fans will obviously remember the 2019 Wimbledon final against crowd favorite Federer after being down two Championship points, but the transformation from good to great to legend started after his memorable Australian Open final against Nadal in 2012.