Young stars, fresh talents break status quo in women's tennis, lay promising template for next year
It was at the start of 2018 that women's tennis was first hit with the force of a hurricane that was Simona Halep. There could be many more such shake-ups in 2019 – not just from Halep, but from the women's tour on the whole.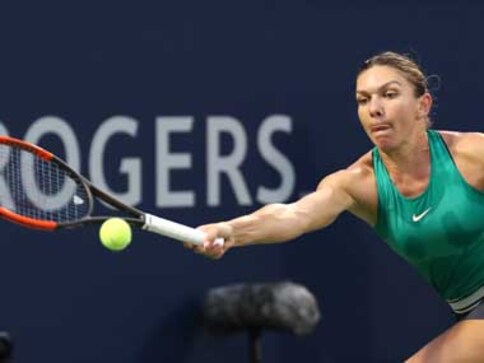 At the 2018 Australian Open, there was a force that nobody – not the players, nor the fans – knew what to do with. It was a phenomenon that threatened to drown everything else around it; Roger Federer made headlines by winning his 20th Slam, and Hyeon Chung became the first player from the NextGen to register a statement result, but we all knew the real story was elsewhere.
Simona Halep wasn't just a player in Melbourne this year; she was an all-encompassing hurricane. She played through an ankle injury right from the start, saved three match points against Lauren Davis in the third round, produced the best women's match of the year in the semifinal, and finally gave Caroline Wozniacki all she could despite being in stark physical discomfort.
Rarely has a player who didn't end up winning the trophy hogged the spotlight as much as Halep did in Melbourne. And a few months later, she actually did win the trophy – the Roland Garros one – to reinforce just how big a star she had become.
With Serena Williams on a break after giving birth, there were widespread fears that the WTA would descend into unbridled chaos. And 2017 was, in some ways, a realisation of those fears; there weren't many compelling storylines to follow, nor many certified champions to root for.
But 2018 has been the exact opposite; it has seen the women's tour give a fitting riposte to those questioning their quality. There is life beyond Williams, the players seem to be shouting out with their performances, and the world has duly taken notice.
Halep was undoubtedly the star of the first half of the year, and her twin matches against Sloane Stephens at Roland Garros and in Canada showed just how difficult she is to beat when on song. Injury, fatigue, lack of power (relatively speaking)… none of that seemed to affect her. She just kept running, kept firing her down-the-line groundstrokes with confidence, and kept asking one question too many of her opponent.
Stephens, on her part, gave a good account of herself too. While Halep is known for her tireless retrieving, it was the American who actually showcased defence in its purest form this year. She would still frustrate everyone by inexplicably refusing to go after the ball, but what she did instead – using her electrifying foot speed to get literally everything back in play – made for a fascinating spectacle.
Stephens won Miami and reached a string of other high-profile finals, proving once again that she's one of the best and steadiest big-match players in the world.
Then there was the resurgence of Caroline Wozniacki and Angelique Kerber who won a Slam each, and at some points threatened to take over the World No 1 ranking. For Wozniacki, it was the fulfilment of a long-cherished dream – she finally put the tag of 'Slamless No 1' to bed – and for Kerber, it was an evidence that 2016 was not a fluke.
By the time Wimbledon was over, it looked like the 'Middle Gen' – the one between Serena-Sharapova and the Under-25 – had finally made the tour their own. Wozniacki, Halep and Kerber had split the Slams between them, and one of the other most high-profile of that clan – Petra Kvitova – had dominated the Premier-level tournaments.
Then something strange happened. The second half of 2018 saw that status quo being reversed, albeit not in a way most would have expected.
Williams made an inevitable return to her former self, reaching the final at both Wimbledon and the US Open. And as the Middle Gen started showing signs of reverting to type – Halep, Kvitova, Wozniacki and Kerber all lost early in New York – it seemed we were on the verge of going back to 2015. But that's when the Next Gen finally made their much-awaited charge, and this time their rise had the suggestion of long-lasting impact.
Naomi Osaka defeated Williams in the US Open final, and perhaps just as significantly, Aryna Sabalenka made the first moves of what promises to be a long and successful career. The fourth round match between Osaka and Sabalenka at Flushing Meadows – which the Japanese edged 6-4 in the third – had all the makings of a future tug-of-war of epic proportions. I, for one, am glad the rivalry has got off to such a thrilling start; the Osaka-Sabalenka match won my vote for best match of the US Open.
Meanwhile, Madison Keys – who is still just 23 – made another nearly-there attempt at breaking through by reaching a second straight US Open semifinal. Elina Svitolina – who is also still surprisingly young at 24 – won the biggest title of her career by playing some scary good tennis in Singapore. Elise Mertens made a stirring run to the Australian Open semi-final and seems primed to do more damage in the future with that devastating two-handed backhand. And two other youngsters, Daria Kasatkina and Ashleigh Barty, were always hanging around, frequently threatening to upset the top players with their beguiling bag of spins.
It almost seems like there are too many names in the mix right now. I recently participated in a prediction game of sorts where I had to name the eight players who would qualify for the 2019 WTA Finals, and after just two names I started drawing blanks. And that's not because there aren't a lot of good enough players; it's because there are too many of them.
Williams and Halep are the players to beat and Stephens is the hardest wall to crack, but Kerber, Wozniacki and Kvitova are not going anywhere, and Osaka, Svitolina, Sabalenka, Kasatkina, Keys, Mertens and Barty are only just getting started.
That's not to mention Maria Sharapova, Garbine Muguruza and Victoria Azarenka – three players down in the doldrums right now but still capable of tearing through a draw if they're on their game – and Jelena Ostapenko, the 20-something who probably hits the ball harder than any woman alive. Karolina Pliskova is also still there and thereabouts, while Kiki Bertens and Anastasija Sevastova are showing that the late 20s are as good a time as any to make your top-15 debut.
The question has to be asked: Does the WTA have more interesting plotlines right now than the men's tour? Two years ago it would have been unthinkable to even suggest something like that. But now, not only can we ask that question, but we also have a clear answer.
It was at the start of 2018 that women's tennis was first hit with the force of a hurricane that was Simona Halep. Something tells me that there could be many more such shake-ups in 2019 – not just from Halep, but from the women's tour on the whole.
Tennis
A look at what happened between points, in the media rooms, and away from the tennis courts on Day 1 of the Australian Open
Tennis
Novak Djokovic had missed last year's US Open due to the country's COVID vaccine rules for international visitors, and is set to miss the upcoming Indian Wells and Miami events in spring for the same reason.
Tennis
Australia has a long history of strong doubles teams. This pair was the 16th all-Australian team to win a Grand Slam men's doubles title in the Open era.