Year in review 2017: How India's women's hockey team transformed under head coach Harendra Singh
Aggression became the buzz-word in the Indian team. India's women's hockey team head coach Harendra Singh wanted his players to believe in themselves.
There is a struggle on in Indian hockey. Irrespective of how they performed, wins and losses, in comparison to the men's team, India's women hockey players have always felt like they were running on the outer lane. They run fast, dribble with ease, show flashes of extraordinary skill, yet they are considered the outer boundary of the sport; never a part of the exclusive club.
But all that might change soon. As someone in the women's team put it – the side dish is desperate to be the main course. In short, that has been the story of the women's national hockey team. Anguished, hurt and unable to come to terms with the 12th place finish at the Rio Olympics, the women had nowhere to go. With just one point from the Olympic Games after a 2-2 draw with Japan, arrival back to India was quiet with that urgent rush to go back home and shut the door on Rio. The Olympics had taken 36 years to come and the excitement had turned into deep, dark disappointment.
Neil Hawgood, Indian coach at Rio said, "We have fast hands but not necessarily fast feet. You could have the world's best, most talented, most skillful players but if they can't run, the game is over." Hawgood also said that the style of players has to change. Suddenly, the very core of the athletes was being questioned. "Everyone has 5'9, 5'10 and 5'11 in fast athletes. We don't have those fast athletes," he explained. India's past had 4th place at the 74' World Cup; 4th at the 80' Moscow Olympics, gold at the 82' Asian Games; gold and silver at the 2002 and 2006 Commonwealth Games; five medals at nine Asian Games; five medals at seven Asia Cups. Yet, all that now seemed so far in the past. Things couldn't have changed that dramatically, some of the players asked. Defeats have a tendency of lingering on. And it stayed with the players, like moss.
In came Dutchmen Sjoerd Marijne and Eric Wonink as the chief coach and analytical coach for the women's team till the 2020 Tokyo Olympics.
But like a lot else, things change quickly in Indian hockey. Overnight, the men's coach Roelant Oltmans was sacked and Marijne, who was then in Europe with the women's team, was asked to take over the men's side. And the man who coveted the job after taking the India's junior team to the World title, Harendra Singh, was asked to take over the women's team. If there is something that Harendra, a former Asian Games silver medallist, cannot say no to, it's a dare, a challenge.
"I am not disappointed at all," said Harendra. "If one has to serve the nation, he should not look at what the job is. When the offer came to me, I did not hesitate even for a second. I instantly said yes. India is looking for women's empowerment and I want to start with the hockey team." The Indian women's team, who were desperately looking for some stability, might have had apprehensions. Under Marijne, they had beaten the junior Belgian men's team and suddenly they had to readjust their bearings under Harendra's philosophy.
In Indian sports, athletes adjust quickly. They understand all too well what's in control and what's not. After a short training camp which was to understand what Harendra wanted from the team, Hockey India announced Rani Rampal as the captain of an 18-member Indian team for the ninth women's Asia Cup. India still had not qualified for the 2018 London World Cup and only a win at Kakamigahara could achieve that. Otherwise, they were left to the vagaries of complex, unpredictable qualification processes. Harendra created a blend of youth and experience with Sushila Chanu coming back into the team. Harendra was clear on one aspect – the team will play attacking hockey, relying on speed and counter-attacks. Before leaving to Japan for the Asia Cup, Harendra said, "We have made several minors adjustments and improvements in our game and will keep out unforced errors in our play. We want to win the women's Asia Cup 2017 in order to qualify for next year's World Cup." Aggression became the buzz-word in the Indian team. Even though he had less time to understand every player and lesser time to push them on increasing their endurance, he just asked one thing from the team – have self-belief. The challenge had become a crusade for Harendra and that like a virus was passed onto the team.
Playing a tight game, controlling the pace with quick counters, the Indian women won their biggest title in recent years beating China after a shootout in the final. This was India's second Asia Cup after they had beaten Japan in 2004 in New Delhi. Playing the final for the first time since 2009, India managed to hold off China 5-4 in the shootout. India had also beaten defending champions Japan 4-2 in the semi-final. In the group stages, India had beaten China 4-1. It was a triumph over adversity. India had won all their matches in the group stages beating Malaysia, Singapore and China. Importantly, India had qualified for the 2018 World Cup. From 12th, they had jumped two spots to 10th.
"The important thing about the win was that the team got the belief that they can do it," says Harendra. "I asked for pace and aggression. There were moments in some matches we had to defend. But we kept looking for counters and that made the opposition uneasy."
Harendra believes this is a first step towards climbing the FIH rankings. He does dream of a top six position, quite tough for a team that will have to jump over China, South Korea, Germany and the USA. "But isn't that the challenge now for the team," he asks. "Next year is important not only in wanting to be on the podium but also in finding out whether you have it in you or not."
The Indian captain, Rani Rampal, who made her debut at 15 and now the captain, feels confident. "2018 is crucial for us as a team," she says. "We have the Commonwealth Games, World Cup and the Asian Games."
All the three tournaments are once in a four year cycle. The team knows this is a chance they cannot miss.
It seems that Harendra has already done the math. "The CWG is a podium tournament and doing well there would push us towards the requirements physically for the World Cup. We need a quarter-final at the World Cup and anything can happen from there on. It's at the Asian Games that we need to win gold. Top team at the Asian Games goes to Tokyo 2020."
Rampal has matured enough to understand that an Asia Cup win doesn't necessarily make you a top contender. "We have only competed at the Asian level. To compete at the world level we have to put more hard work into our game. We are doing all these in the national camps."
The area where Harendra wants the team to improve is regaining the ball and create space immediately. "Pressure and only pressure works in intense matches when you play at the world level," he explains. Harendra agrees that strength is a core part of the team improving. And that area will improve gradually. "But I will like to combine flair with speed and strength and once the team gets a big win, their confidence in their own play will go up."
Rampal's striking skills, Deep Grace Ekka and Sunita Lakra's defensive play with the ever improving goalkeeper's Savita and Rajani, Harendra also has the penalty corner abilities of Gurjit Kaur and the experience of Sushila Chanu to balance off a side that would be more youth than experience when they start off an eventful 2018.
It's a team that will be chasing better ones, up in the pecking order. At this moment of time, as 2017 melts away, passion and perseverance will be their 2018 clarion call.
Find latest and upcoming tech gadgets online on Tech2 Gadgets. Get technology news, gadgets reviews & ratings. Popular gadgets including laptop, tablet and mobile specifications, features, prices, comparison.
Sports
A SAI source in Bengaluru confirmed that there is no way the national camps can resume on the earlier earmarked date with the Karnataka capital going into a seven-day lockdown till 22 July.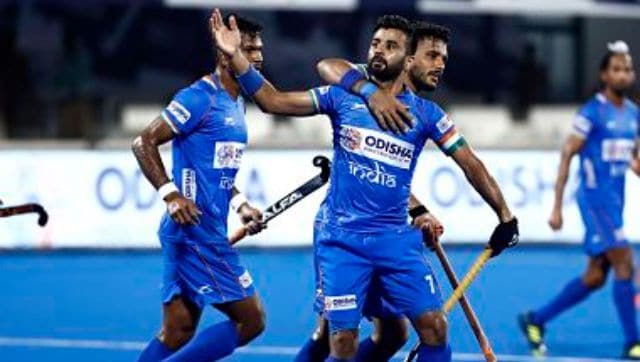 Sports
India men's hockey team captain Manpreet Singh said the scheduling provides enough time for the team to prepare for a major event like the Pro League.
Sports
Suman Devi and Co were hoping to book their FIH Junior Women's World Cup ticket through the 2020 Women's Junior Asia Cup, which was to be held in Kakamigahara, Japan, from 6 April, but was cancelled because of the pandemic.