Wuhan Open: Struggling Monica Puig relies on newfound discipline to restore belief after shock 2016 Olympics gold
Winning tennis gold at the 2016 Rio Olympics remains one of the greatest moments of Monica Puig's life, but the pressure and media scrutiny that followed made her wonder if it was also a curse.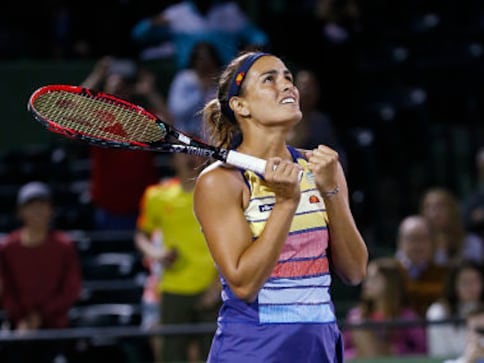 Wuhan: Winning tennis gold at the 2016 Rio Olympics remains one of the greatest moments of Monica Puig's life, but the pressure and media scrutiny that followed made her wonder if it was also a curse.
The Puerto Rican said she has a newfound discipline and perspective that is helping her manage the stress of top-level tennis and restore belief – skills that will be tested after a humbling defeat in the Wuhan Open quarter-finals on Thursday.
Puig was propelled into the limelight by the gold medal at the 2016 Summer Games – Puerto Rico's first – and rose to a career-best WTA ranking of 27.
But plagued by injuries and a loss of form, she has since failed to achieve similar success, with many wondering if she is just another one of the sport's one-hit wonders.
"I think I let the pressure get to me, all the expectation and everything," Puig said at the tournament in China this week.
"I was... not really feeling comfortable with myself, not really believing in what I had, what I could do out there on the court."
Puig, who turned 25 on Thursday, has had a see-saw 2018. There was an impressive run at the Miami Open in March, which included a shock win over world number two Caroline Wozniacki, and a semi-finals appearance at the Connecticut Open in August.
But there were early exits from the Australian Open, Wimbledon and the US Open, and she was unable to compete at Roland Garros because of a hip injury.
Her ranking dropped to 83 in March, the lowest since her Olympic triumph.
Puig, whose only other title came at Strasbourg in 2014, is not the first to struggle with the challenge of staying at the top.
Among many others Ana Ivanovic, the 2008 French Open winner, never matched that success. Last year's US Open winner Sloane Stephens has had an up-and-down 2018.
Puig said, however, that she is now far better equipped to deal with setbacks than in the immediate aftermath of the 2016 Olympics.
"Now I'm just trying to take care of all the little stuff... to make the big picture seem a little bit easier to manage," she said. "I think I've been doing a really good job of that as of late and the results are starting to show."
"My lesson from Rio has been learned."
'A little bit crazy'
Puig will need to put those lessons to use to achieve a strong end to the 2018 season after exiting Wuhan.
She had marched into the quarter-finals with another upset of Wozniacki, playing some exceptional tennis that showcased her physical and technical prowess.
But she went out of the tournament with a whimper, offering little resistance to China's Wang Qiang in the last eight.
Currently ranked 51st, Puig says she is focused on just enjoying tennis instead of being swept away by expectations.
"I'm just going to put my head down, continue to work... focus on the process," she said after her thrashing of Wozniacki in Wuhan.
"I'm not going to get wrapped up in the results or anything."
Puig, who is also pursuing a degree in psychology at Indiana University East, said she needed to change her lifestyle to not get overwhelmed.
"I have deadlines to meet with the school. I have to know... when I can work, when I can't work," she said.
"A big thing for me actually is, like, putting my clothes away as soon as I get to the hotel, unpacking, packing, all that stuff."
"It might be a little bit manic, a little bit crazy, but those... things help me stay level and just disciplined."
also read
Tennis
Novak Djokovic scrawled "Kosovo is the heart of Serbia. Stop the violence" on a camera on Monday in Paris amid clashes between ethnic Albanians and Serbs in the territory.
Tennis
Seyboth Wild, who came through the qualifiers and had never previously won a Grand Slam match, triumphed 7-6 (7/5), 6-7 (6/8), 2-6, 6-3, 6-4 over world number two Medvedev.
Tennis
Marta Kostyuk was booed at French Open on Sunday after refusing to shake hands with Belarusian Aryna Sabalenka.